This is Beam
The World's Most Advanced Router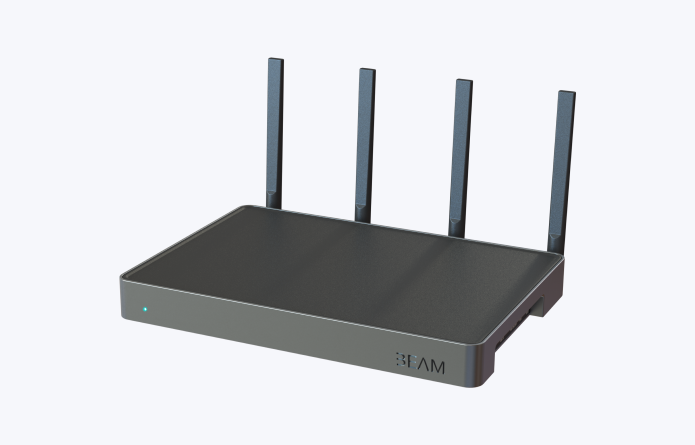 Privacy, Security, and Unmatched Performance
Beam is a router that provides more than just WiFi, it encrypts all of your information so your internet provider can't see what your doing and services can't track you. It protects all the devices in your home from threats online and keeps your physical location hidden so you can access any part of the internet, from anywhere in the world. It's the world's most advanced router and that's just the beginning.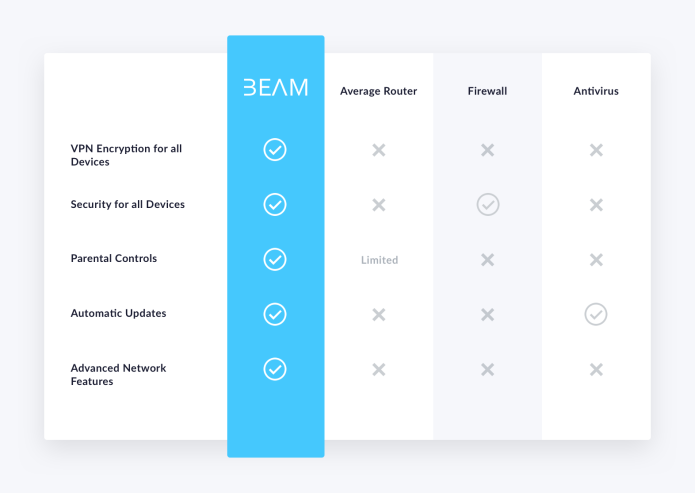 Beam vs Other Network Devices
Unlike other routers, Beam encrypts all your data so your web activity is kept private and and your internet provider can't see or log your web activity. Because the encryption is at the router level, you are also able to use peer-to-peer applications and access geo-restricted content without any software running on your computer.
Beam also provides advanced firewall protection, network scanning, and remote access. The Forcefield software, which is included with Beam, can be used to keep all your devices protected even when you're away from home.
Who is Beam for?
Beam was designed for anyone with an online presence. More information about our lives is being collected than any other time in history. From getting hacked to the misuse and selling of private information, it can seem almost impossible to keep our data safe, but with Beam you don't have to give up your information at all.
Our goal was to make a product that anyone can use, not just the tech savvy. With Beam, the install is easy and the app allows you to stay in charge of your home network and configure Beam in the way that works best for you. You can choose a VPN location, create a new network for guests, time out a device or prioritize bandwidth.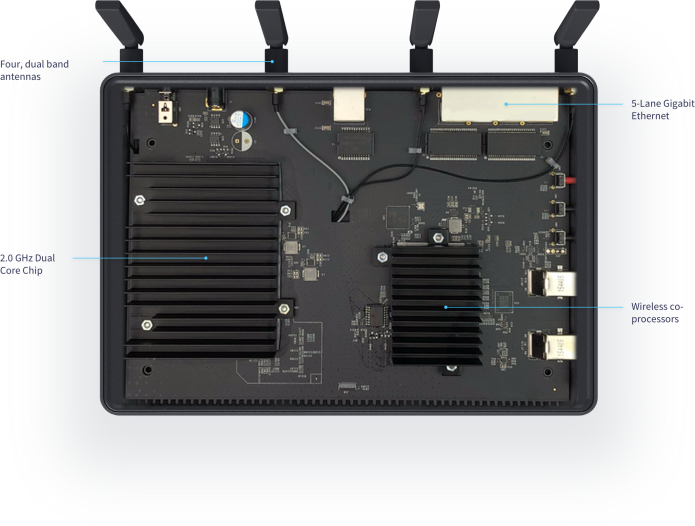 Hardware
Beam is equipped with latest gen wireless technology, gigabit networking, and an incredibly powerful processor and co-processor. This enables Beam to provide every device in your home with breathtaking encrypted speeds.
Four, high-powered antennas
Four, dual-band antennas with high-powered amplifiers provide seamless WiFi coverage making lag, dropped connections, and dead zones a thing of the past.
Serious processing power
Beam sports a 2GHz dual core processor and co processor to maximize the WAN/LAN throughput, encrypt network traffic and provide advanced features that most routers aren't capable of.
Beamforming, AC Wave 2 WiFi with MU-Mimo
With 6 separate wireless antennas, Beamforming allows direct signals to be sent to your device so the WiFi is stronger and faster reaching speeds of up to 2500mbps and 250mbps through the VPN.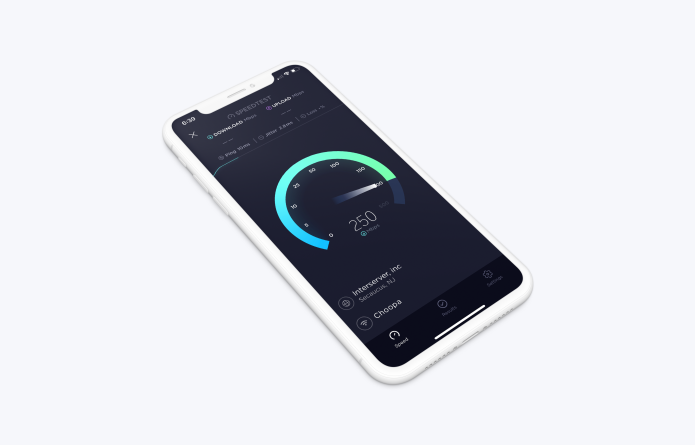 Performance
Beam is an improvement over Flter in every way. Beam's VPN speeds are 10x faster and also comes with Firewall protection and advanced network control features to keep your devices safe.
Beam has gigabit Ethernet and 2500mbps WiFi speeds. Traffic through the VPN is encrypted and can reach 250mbps, faster than any other router on the market.
What Is A VPN and How Does It Protect Me?
A Virtual Private Network (VPN) encrypts all of your incoming and outgoing web traffic so that no one, not even your internet provider, can see your online activity. Our servers act as middlemen that hide your IP address from the websites you visit and the services you use.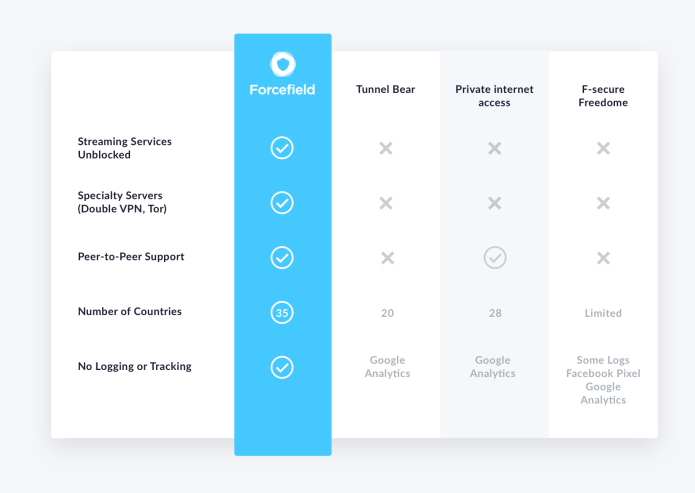 Forcefield VPN
Every Beam router comes with a subscription to Forcefield VPN. Forcefield is our standalone, no-log VPN service. Beam utilizes Forcefield VPN technology to encrypt all data entering and leaving your home, keeping your online activity, identity, and physical location hidden. This prevents data theft from hackers, snooping internet providers, and tracking services. We've taken what we've learned from the development of our first product to help make Beam and Forcefield work even more seamlessly together. Beam's VPN capabilities offer extremely low latency and breathtaking speeds, you'll never notice that you're connected.
We offer full peer to peer support and unlimited bandwidth. We have servers in over 35 countries and we're expanding every month. We have apps for Forcefield on every major operating system so you can have access to VPN protection while you're away from Beam.
We want to emphasize the fact that we don't keep any logs on user web activity and all of the traffic through our network is encrypted. You can read our very simple privacy policy here.
"We don't collect your information so we won't be able to sell or share it"
Our Privacy Guarantee
At Passel, we have built our company on the core belief you should have the freedom to do anything without being tracked or watched.
We've purposefully designed our servers to not log any traffic through our network and to prove that we're going to have annual code audits from a third party to prove that we are doing what we say we are doing. You can read our very simple privacy policy here.
Yearly Security Audits
What you do online is your business, and it's our business to make sure that make sure it stays that way. We don't want to know what you're up to, which is why we've taken technical measures to ensure we can't.
Our business is built around keeping your information private. This is why we don't log and why we're committed, through doing yearly security audits, to proving that what we say is what we mean. When it comes to staying safe, accountability matters, so our audits will be published in an annual public report.
Privacy
Network VPN Encryption
Beam encrypts all data entering and leaving your home keeping all the devices in your network protected. Traffic through the VPN is encrypted and can reach 250mbps, faster than any other router on the market.
"watch content from all around the world"
No Geographic Restrictions
Beam is able to circumvent geographic restrictions on any device. This enables you to enjoy all the content video streaming services have to offer, no matter where you are. With servers in over 35 countries you can
Security
IoT Protection
IoT protection is a feature that protects the more vulnerable devices in your home, such as smart devices from things like malware and hackers. These devices can easily be manipulated by getting past your router, which is why Beam stops all unauthorized access preventing these devices from being compromised.
Firewall Security and More
Beam blocks unauthorized access using advanced firewall protection and two-factor authentication. Beam scans your network for vulnerabilities and alerts you on how to fix them. If the system detects a threat, it can automatically disconnect the affected devices to keep the malware from leeching data.
Automatic Updates
For ease of use all block lists and security features are kept up to date automatically, so you don't have to worry about security vulnerabilities. Last year we pushed an update to Flter in a day while it took others manufacturers months to patch the KRACK attack vulnerabilities.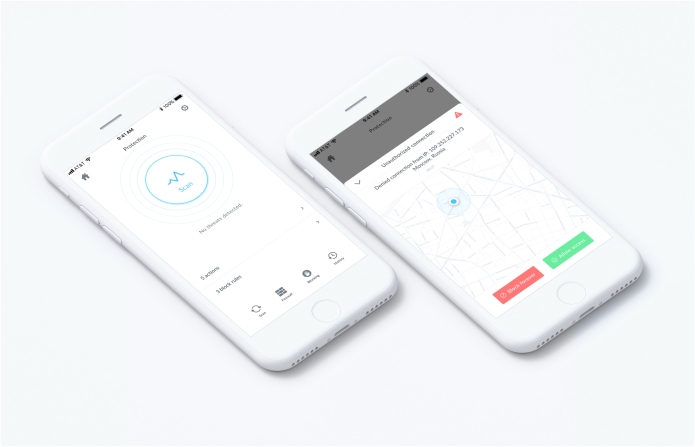 Network Control
VPN Filtering (split tunneling)
You can exclude individual websites and devices of your choice from being tunneled through the VPN, so you don't have to keep turning Forcefield on and off. You get to stay connected all the time, in the places that matter most.
Parental controls
Set up profiles for your kids so that you can pause the internet when it's time for bed.
Remote access
Access your home network from anywhere in the world. You can view files saved on network storage or use your home IP address to get around geographic restrictions while traveling.
Advanced Networking
Beam supports virtual LANs, access point isolation and mac address spoofing to keep your network safer and more private.
Prioritize bandwidth
You have the option to prioritize a device in your home so that it receives better bandwidth which ensures that your most important tasks are never slowed down.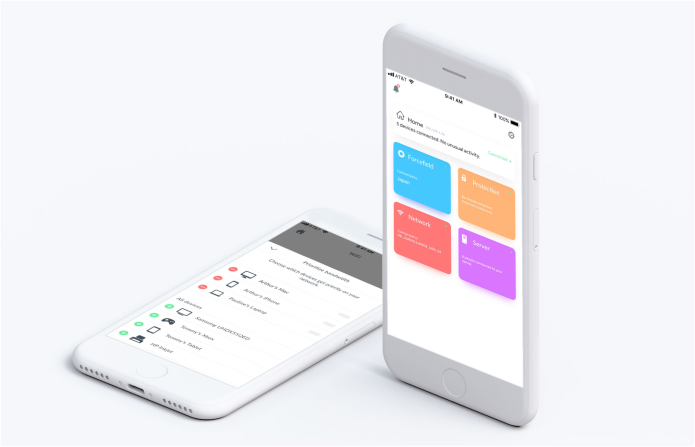 "We were fed up with all the data being collected about our lives and how companies were using it"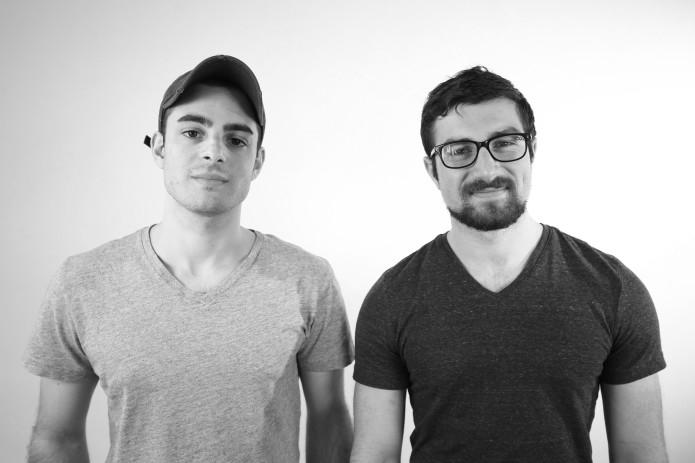 Peter DiPreta, Frankie Primerano
Our Story
Founded in 2015, our NYC-based company consists of five talented and passionate team members. We have backgrounds in financial and information security, hardware and software development, and design. We recognized that no one is looking out for consumers, and most companies are trying to turn personal data into profit in order to make the most money, our entire team is very passionate about changing that.
Last year we released our first project, Flter, it started as a small crowdfunding campaign based on the needs we saw so many of our friends and family expressing; that they were looking to stay more private and secure online, but they didn't know where to begin. We raised half of a million dollars and with no other outside capital, we created hardware and software for Flter, built a standalone VPN service (now Forcefield) with applications on every major operating system, created security solutions for businesses, and delivered over three thousand devices worldwide. As our company grows and evolves our vision will always be the same: to make great technology with privacy and security built in.
This campaign will be no exception, the funds and feedback we receive for Beam will be put toward more innovation and growth and we will continue to work towards our goal of a safer and more private internet and with your help, we know we can achieve it.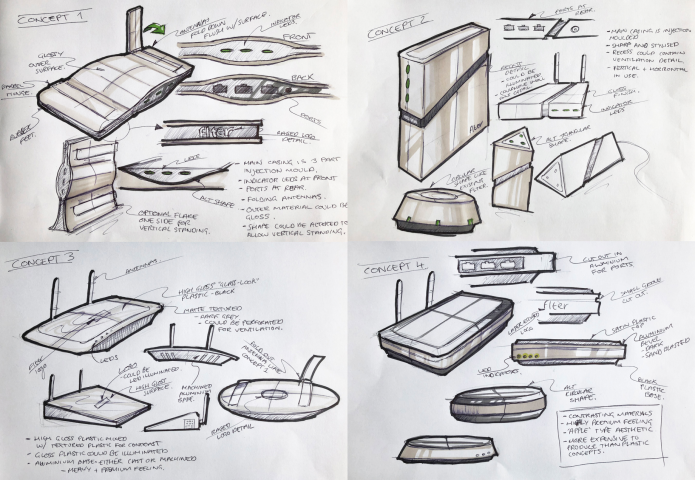 Why We Need Your Help:
We've spent the past few months moving past the design phase, testing our hardware and software, building a prototype and have found the manufacturers we will be using for this project. We believe Beam could change how you experience privacy and security, but we need you to make that happen. Our goal is to raise $30,000 in order to meet manufacturing requirements and volume in order to mass produce Beam and make it affordable for everyone.
With your help we can make Beam a reality. So let's do this!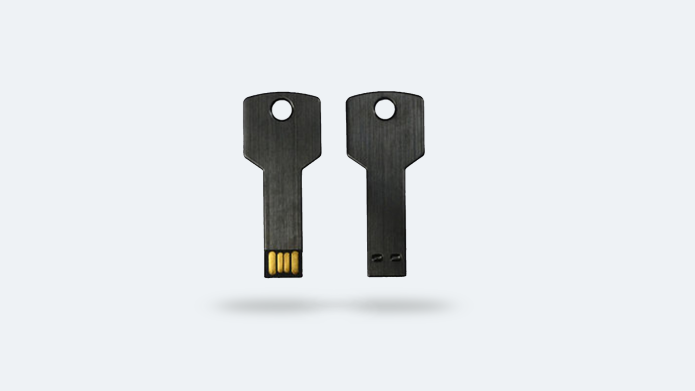 Our BONUS gift to you
Although we were excited at the possibility of hiring a marketing team to help us successfully launch this campaign, after speaking to multiple agencies, we realized that it would never be a good fit.
We've said it before, but your data is important to us. We feel strongly that your information, even when it's not personally identifiable, such as demographics, is not ours to share.
So when we approached agencies about marketing the Beam campaign and they wanted information that we weren't comfortable gathering, we knew we had to rethink our strategy. This invasive push from companies to gather user data goes against our core beliefs, and we feel that this type of parasitic relationship between companies and consumers is not necessary for success.
As a matter of fact, we believe that the incredible success of our last campaign is proof that there is a way for companies to thrive without cannibalizing their users' data. So in keeping our beliefs aligned with our business model, we have decided to forego a marketing agency and offer a FREE GIFT to the backers that share our campaign on social media. We're sticking with what we know works for us, and for you too.
Just comment to let us know if you've shared and we'll include the USB key with your order.
"share the campaign and get a free key-shaped water & shock proof USB thumb drive with your pledge"


Shipping Guaranteed
We guarantee that we will ship Beam to each and every one of our backers if we reach our funding goals. We recognize that backing a crowdfunding campaign is taking a leap of faith, and for giving us your trust, we are giving you our written guarantee. Thank you for believing in Beam as much as we do.
How do I connect Beam?
Beam's setup is strikingly simple, although it works best as a standalone router, it can work with any network configuration and internet service provider. The app will help guide you through setup process and Beam has built-in diagnostics.
All of Beam's security features will be on by default and be configured within the app. It really is that easy.
We have 24/7 live support, we're always here to help.
FAQ
Do you allow peer-to-peer torrenting?
Yes, you can download torrents on every single server!
Do you log VPN traffic?
For our VPN service, Forcefield, we have purposefully designed our server software to not log any traffic through our network. If we were subpoenaed we would not have any information to give. You can read more about our privacy policy here: https://forcefield.passel.io/privacy
Will your lifetime Forcefield VPN subscription be available later?
Due to popular demand the lifetime subscription is available to purchase on Indiegogo again. This is the last time you will be able to purchase a lifetime subscription and it will not be available after this campaign ends.
What are Beam's specs?
We have a full list of specs that can be viewed: https://passel.io/specs
Will Beam work with my internet service provider?
Yes, Beam will work with any network configuration and internet service provider.
Can I use a third party VPN service with Beam?
Beam will work with other VPN services just like our first device did, however, more advanced features like remote access and VPN filtering will not work since we aren't able to edit a third party VPN configuration.
Have more questions?
Please email us at [email protected]
Risks and Challenges
We learned a lot with Flter about the difficulty of bringing a project as complex this to life. Coordinating with manufacturers is tricky and to bring Beam from prototype to production may be challenging, but we have overcome these obstacles before and we will do it again. We have prepared by addressing many of the potential issues with our manufacturers beforehand. We have expanded our team this time around so while building computer hardware comes with it's own inherent difficulties we are more than prepared to handle them. We also have a ready-to-use mould and our suppliers have already been pre-selected. Last time we had some issue shipping out in time but this time around we know the ins and out of international shipping and have improved our strategy to get orders out on time, this ensures that we will be able to stick to our planned timeline.
For our backers that require overseas shipping, we promise to deal with international customs in advance so as to provide you with a clear idea of when you will receive your product.
Being clear and precise with our supporters and backers is important to us. We strive to provide quality customer service, so please feel free to reach out to us about any concerns you may have and we will get back to you as soon as possible. Suggestions and feedback are welcome too!