Whether I'm Hiking, Biking, Dancing, doing yoga or working out in a gym, I almost always have a water bottle with me. I like drinking to be quick and easy, however, none of the straw lids I tried worked very well. They leaked, were hard to get water from, and were just generally fussy. I was convinced that there had to be a better way. I wanted a lid that worked so well it would "disappear", operating effectively and intuitively with no fuss.
The biggest problem with conventional straw lids is not how the water gets out, it's the miserly way they let in air. Without a free flow of air into the bottle to replace the water taken out, you end up sucking against a vacuum.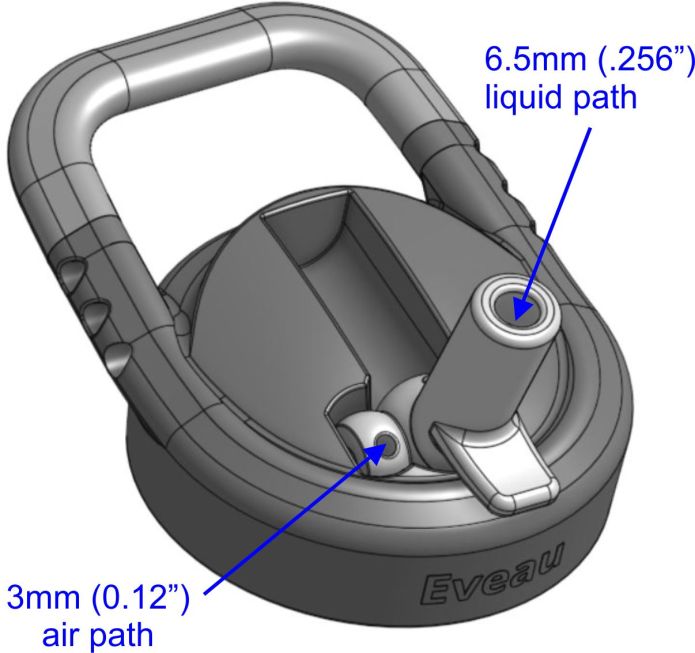 After three years of playing with different approaches, I came up with the dual ball valve design. When open, the ParaValve dual ball valve system has a large zero resistance air flow, so there is no vacuum produced; This also means you can drink quietly without your bottle announcing it with a whistle. The air path is 9 times as big as the pin hole valve used on the Hydro Flask straw lid, while the water path is twice as big (the Hydro Flask uses in internal straw connection that creates a flow restriction). When the spout is closed, both ball valves close, making it fully leak-proof.
Want the technical details?
The dual ball valve design is patent pending. If you would like a more detailed explanation of what's wrong with other straw lids and how the ParaValve is better, watch our explainer video below.
Effortless Hydration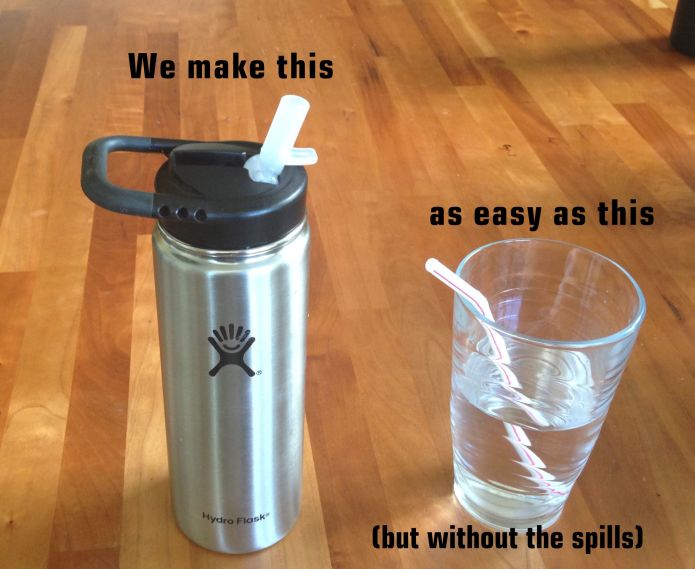 The drinking effort of our lid is as low or lower than just putting a straw into a glass. How can this be? There is certainly no vacuum built up in the glass, but the straw rests on the bottom of the glass, which creates some flow restriction. With a straw lid, the straw is held by the lid, so the bottom of the straw floats above the bottom of the bottle. Although a straw in a glass drinks easy, the ParaValve is even easier. If you want a preview of what drinking from the ParaValve straw lid is like, place a straw into a glass of your favorite beverage, hold the straw off the bottom and sip.
World's First Insulated Straw Lid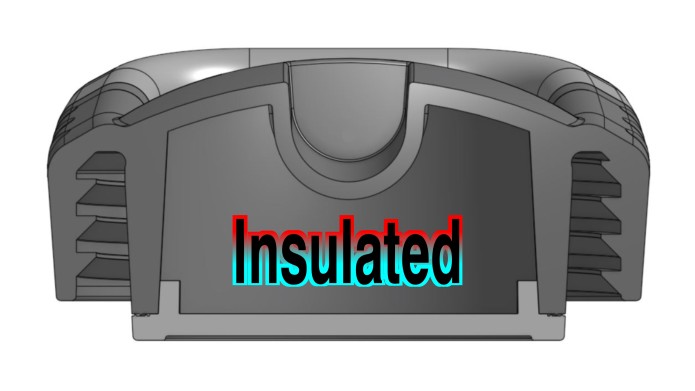 An insulated bottle deserves an insulated lid.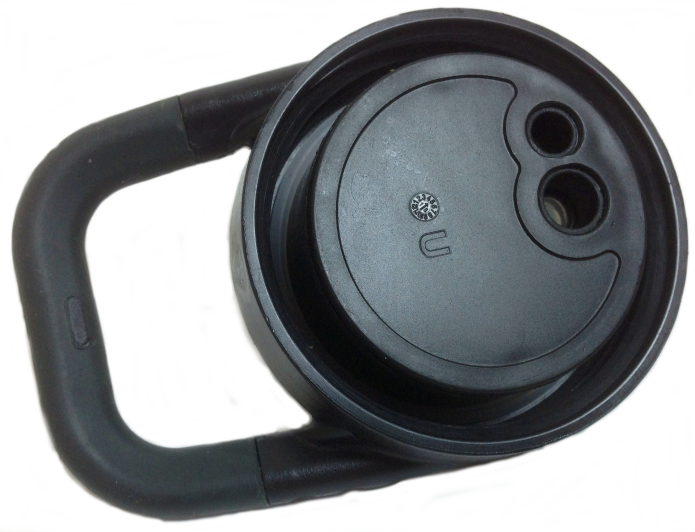 We wanted to create the best straw lid available anywhere, so we added an insulating layer, making it the first straw lid to offer insulation.
If you are using an insulated bottle, it will help keep cold drinks cold and hot drinks hot. We tested our lid against the Hydro Flask lid using a 40 oz. Hydro Flask vacuum insulated bottle. No surprise - cold and hot - it performs much better! See our test results here.
Unlike the single wall lid pictured above, ice water is no sweat for the double wall of the ParaValve, keeping your other belongings dry.
Safe for hot liquids up to 140 degrees (60 deg. C).
Most other straw lids are limited to cold drinks. Now you can enjoy drinking your coffee or tea through a straw - but please be careful! The high flow of the straw can burn your mouth if the liquid is too hot.
We don't recommend using the ParaValve straw with liquids hotter than 140 degrees (60 deg. C); the high flow rate could burn your mouth. There may also be a correlation between drinking very hot beverages and esophageal cancer: https://www.ncbi.nlm.nih.gov/pmc/articles/PMC27...
Ergonomic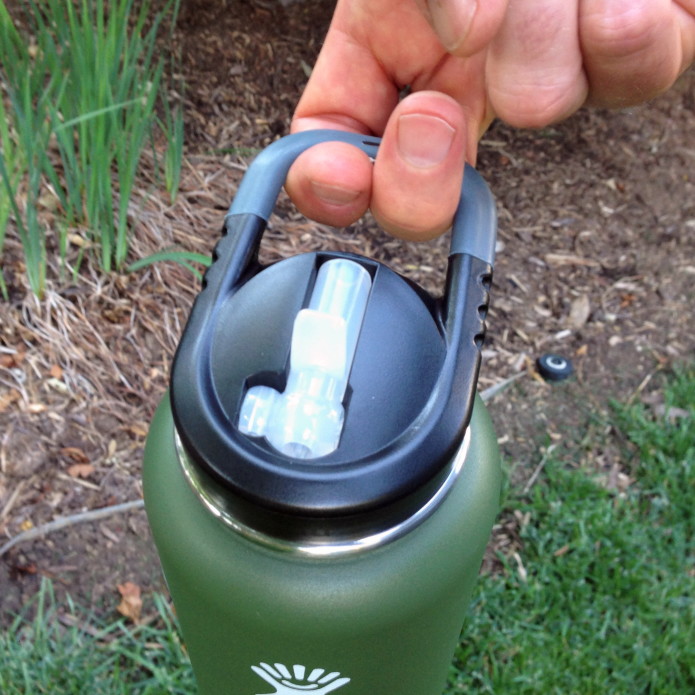 Our two finger rubberized handle is rounded to fit your fingers for superior ergonomics. Two fingers means half the pressure per finger, which is especially important for larger water bottles. A full 64 oz. bottle can weigh more than 5 lbs (2.3 Kg).
Three Position Spout

The spout has three positions as shown above. There is a small detent for the open position with gives you tactile feedback that the spout is in the fully open position. There is another small detent in the closed position giving you tactile assurance that the lid is closed and will not leak.

In between the open and close positions is a vent position to release any pressure inside the bottle that may have built up due to carbonation or the contents heating up. A brief pause in the vent position will eliminate back-pressure release of liquid through the straw.
Compatible with popular wide mouth water bottles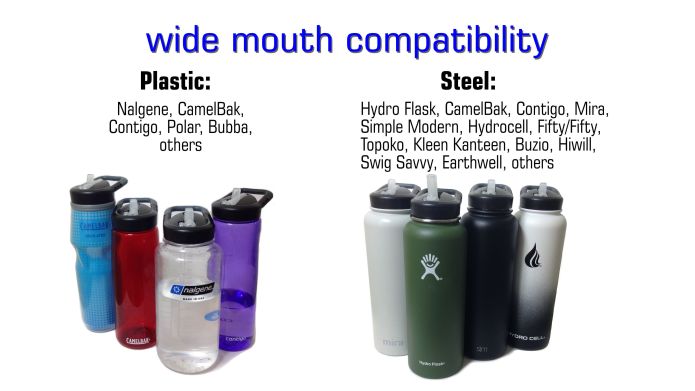 The ParaValve lid is compatible with most wide mouth water bottles, including Hydro Flask, Nalgene, CamelBak, Contigo, Mira, Simple Modern, Hydrocell, Fifty/Fifty, Topoko, Buzio, Hiwill, Swig Savvy, and Earthwell. See the compatibility list on our web site here.
Easy Care & Mold Resistant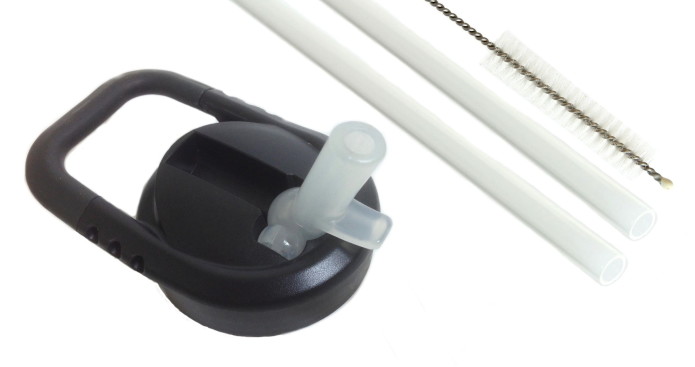 Comes with two full length straws and a straw cleaning brush. Unlike rubber tipped spouts, the solid mouthpiece leaves no place for mold to hide. The lid is top rack dishwasher safe, but we recommend cleaning the straws by hand using the included straw cleaning brush. The straws must be cut to length for your bottle. Thankfully, this is easy, and we have detailed instructions on our web site. Made from BPA free polypropylene for your health and safety.
A Safer way to drink and drive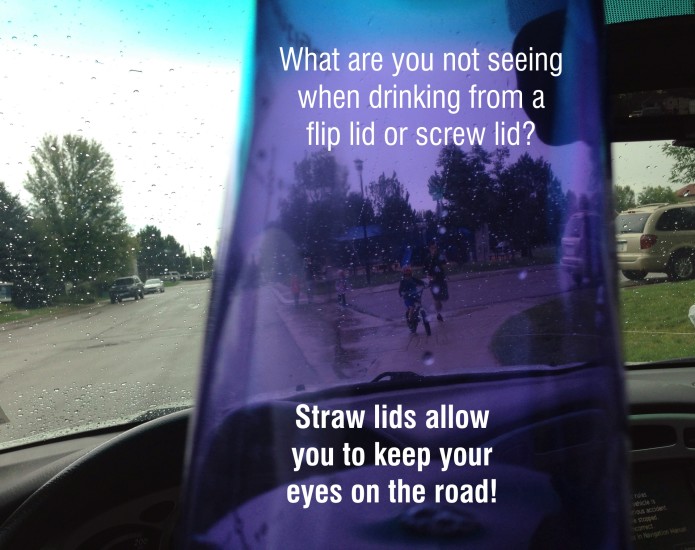 I was drawn to straw lids for the quick access, but after using them for a while, I realized that I can drink without taking my eyes off the road when driving or riding a bike. It's amazing how much of the road can be blocked by drinking from a water bottle. For me a straw lid is the only safe way to drink when driving a car.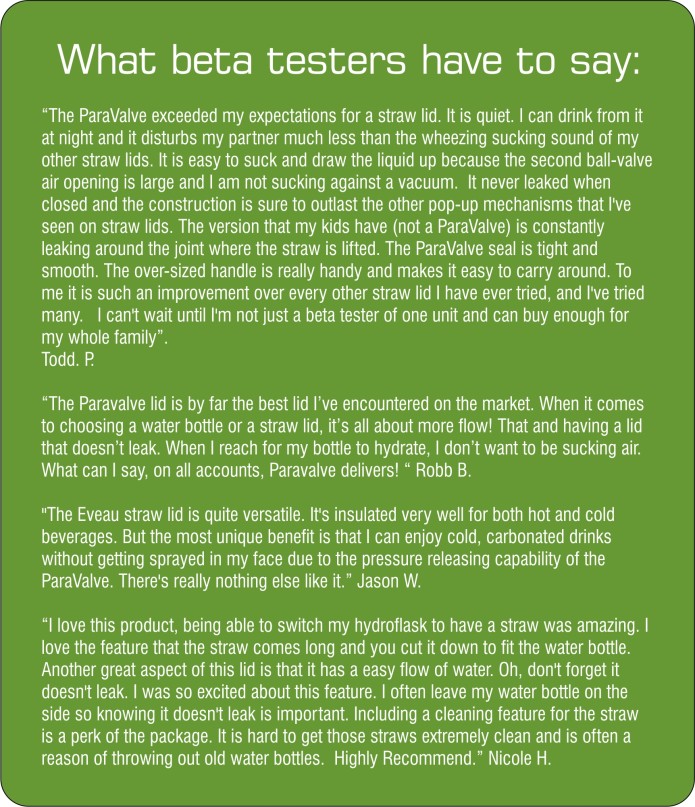 One Hand Bottle Ninja?
With a little practice, you too can become a one hand bottle ninja!
Project Status
We have just completed the injection molds and finished testing the production prototypes. The lids work beautifully. The molds are paid for, as is our initial production run. We had the manufacturer ship us the first box of 100 production units, and they are already here; the first 10 backers will get their perks shipped in December, 2018.
We are asking for funding to pay for international shipping from our manufacturer in China, plus some initial marketing. We are offering special pricing on the ParaValve lid, and the chance to be the first ones using our effortless, leak-proof and insulated straw lid. The best discounts go to the earliest backers.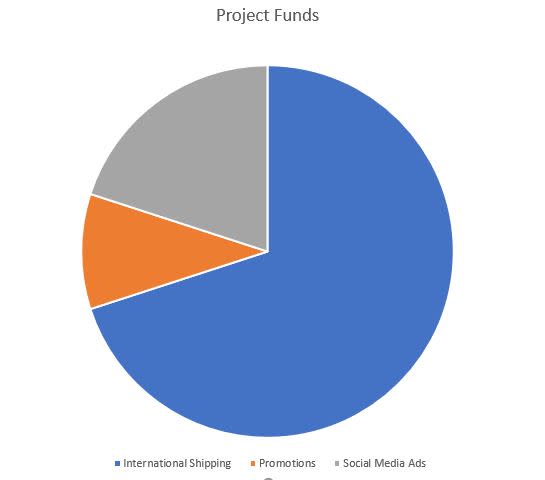 Risks & Challenges
We know that investing in an unknown company is potentially risky, and not all crowd funded projects come to fruition. We've taken out most of the risk by proving our design with the actual production tooling. We've tested the first 100 samples from the production line and found zero production problems. Production is underway now and should be complete by the end of 2018. We estimate an additional 6 weeks for the lids to arrive at our facility in Colorado.
It's possible that there will be some snag in manufacturing, or that shipping will take longer than anticipated. We expect to be shipping rewards in mid February, 2019, but it's possible this could slip by several weeks. There may also be a lot of companies trying to export from China before the new tariffs take effect in 2019, and this could impact our shipping schedule. Since we are so far along with this project, the chance of the lids never being produced is almost zero. We appreciate our backers and take our commitment to sending them the best straw lid ever made seriously. If you back us, you will get your rewards before March 21st.
We've been in the water bottle business for 2 and a half years, and this is the 3rd lid we have designed, manufactured and imported. We sell our other products under the Eveau brand and they can be found on Amazon as well as our web site.

We want your help bring this to the world
You can help us by backing our campaign, and/or by sharing this campaign with your sports minded friends and co-workers. We really believe that the ParaValve straw lid will soon be known as the best straw lid on the market. Other lids just don't match up.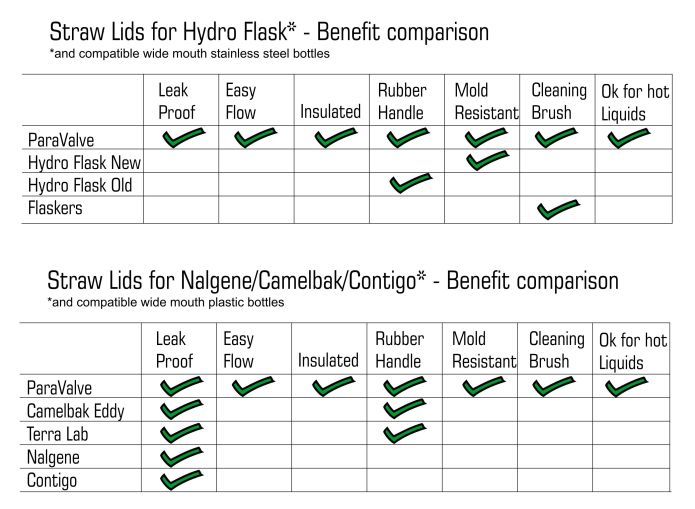 Choose your reward and get ready for spring 2019.
Makes a great gift. Each lid comes in retail packaging with two straws and a straw cleaning brush. The straws must be cut to length for your bottle. Free shipping to USA addresses. We recommend that international customers choose 2 or more lids since the shipping costs is more than the lid, and the shipping costs the same for 1 or 2 lids.
The first 10 backers will get their perks shipped to them in December, 2018 from our first box of production units.
NOTE: The Indiegogo platform doesn't handle autofill of the backer form very gracefully. If you get an error on autofilled entries, simple type over them manually to fix the problem. Here is a message from their support line: "Thanks for bringing this to our attention! Yes, apparently autofilling is not advisable when contributing. We strongly recommend contributors to please manually fill out the fields on the payment form or switch to a browser that doesn't autofill the fields for them."