Press Kit | Help spread the word and earn 10% on your referrals
Introducing Flash 2.0 with 2 USB-C ports
Check out the 9to5Mac hands-on review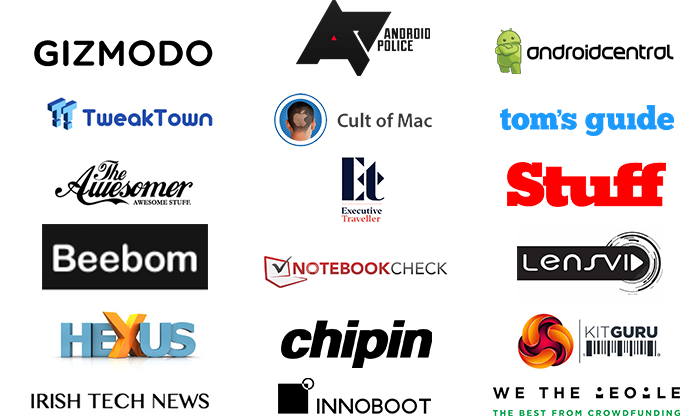 Cult of Mac - "Flash powerbank promises speedy recharges with graphene batteries"
Geek News Central - "total beast of battery pack, packing in a beefy 20 000 mAh of charge and delivering power to four devices simultaneously at a total rate of up to 150W."
Stuff - "considerable amount of oompf in a relatively small box"
Chipin - "The only powerbank in the market which can fast charge smartphones, MacBooks and even an Apple Watch"
Android Central - "There's a lot to like here, and I'm very much happy to see more batteries that are big in adaptability without being too big to comfortably fit in a daypack"
KitGuru - "ideal companion for people who need to power multiple devices when travelling"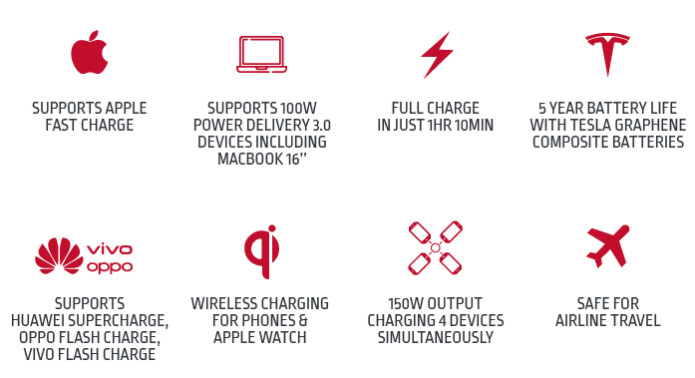 Sick and tired of running out of battery when you need it?

Flash: The world's most powerful 150W USB-C powerbank powered with Tesla graphene batteries.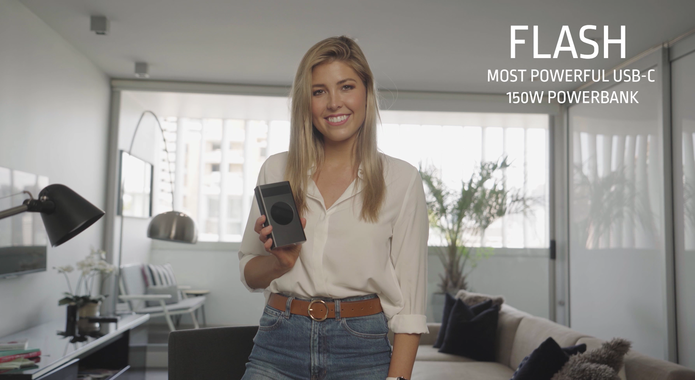 Flash has not 1 only USB-C Power Delivery 3.0 port but also 2 USB-A ports and even a wireless charging pad.
Flash delivers the most powerful USB-C 100W Power Delivery 3.0 charge in a single battery pack while most of the competition struggles to even reach 60W. We've also thrown in a powerful 18W USB-A Qualcomm Quick Charge 3.0 port and a specially designed USB-A port that's compatible with Huawei, Oppo, OnePlus and Vivo's proprietary fast charge technology. To top this of Flash features a powerful 10W wireless fast charge pad and it even supports 2.5W Apple Watch charge meaning 1 powerbank can charge all your devices including all smart phones with wireless and even Apple Airpods/Airpods Pro.
Quick charge a large laptop (e.g. 15"/16" MacBook Pro or Dell XPS 13/15), a flagship phone (Samsung S10/S10+), another flagship phone (Huawei P30 Pro) and your Apple Watch all at the same time! But that's not all, Flash works with any modern USB device and can...
Also charge Cameras, GoPros, Speakers, Headphones, Nintendo Switches and even Drones, you name it.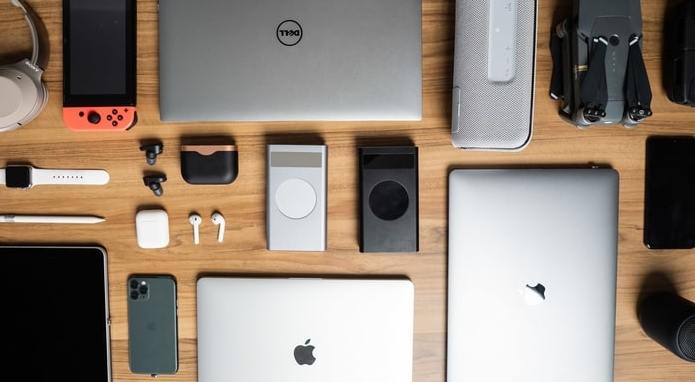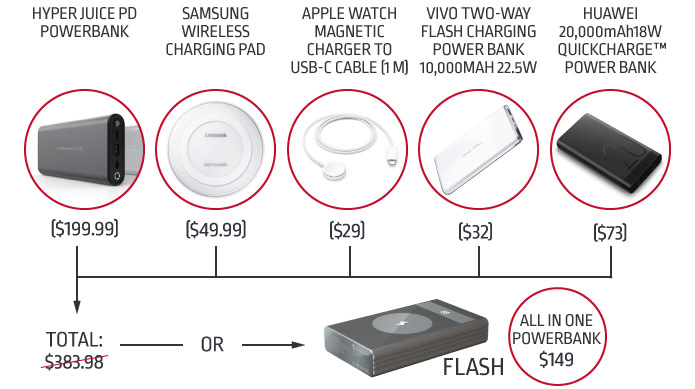 So how does Flash blow the competition out of the water? Check this out, Flash has...
Larger battery capacity and power output in a smaller size 
Almost all USB-C battery packs in the market are underpowered with tiny battery capacity or low USB-C power (Up to 60W). Flash packs up to 100W USB-C Power Delivery in a single port (up to 150W combined power in all ports) and has the maximum 20,000mAh battery capacity allowed on airplanes, yet it is still 17% lighter than the closest competitor.
Better Features, Better Specifications and Better Value For Money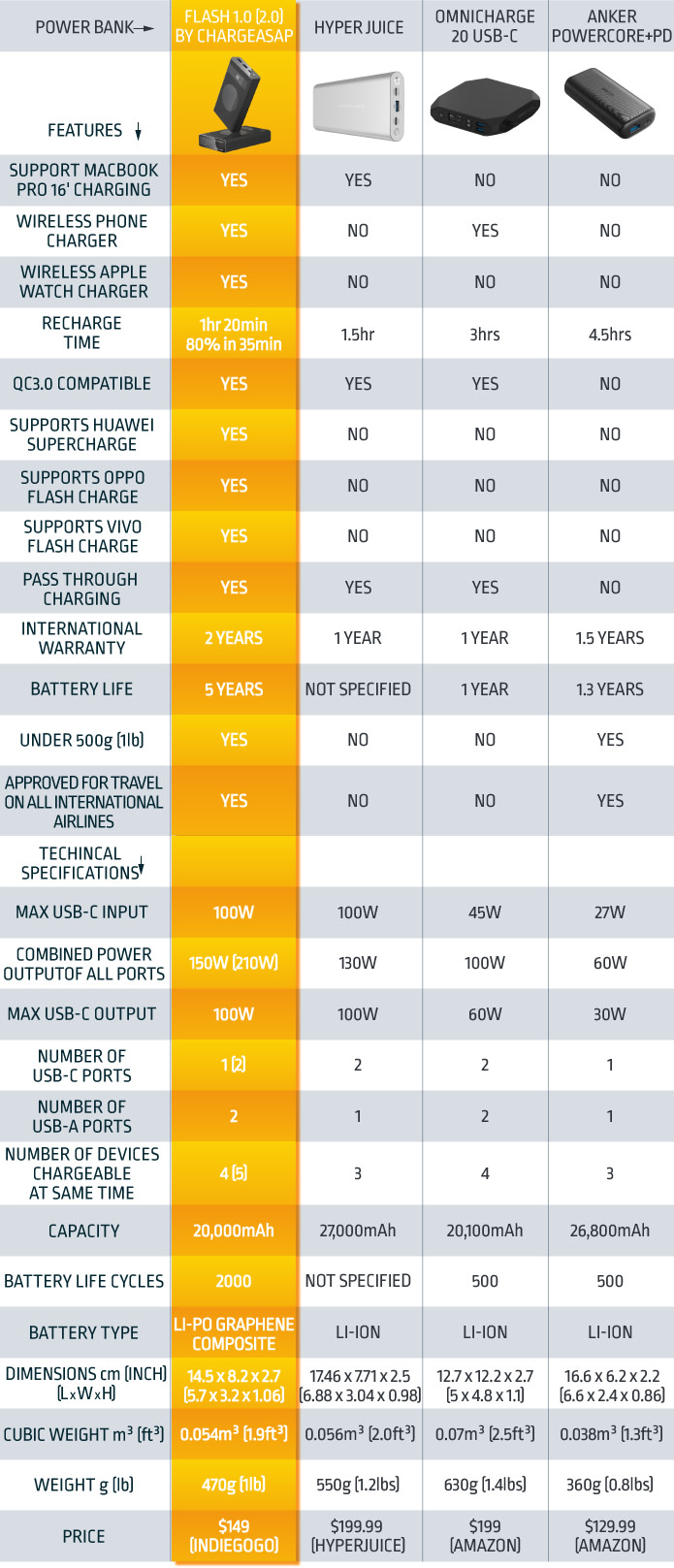 The world's most powerful powerbank just got more powerful.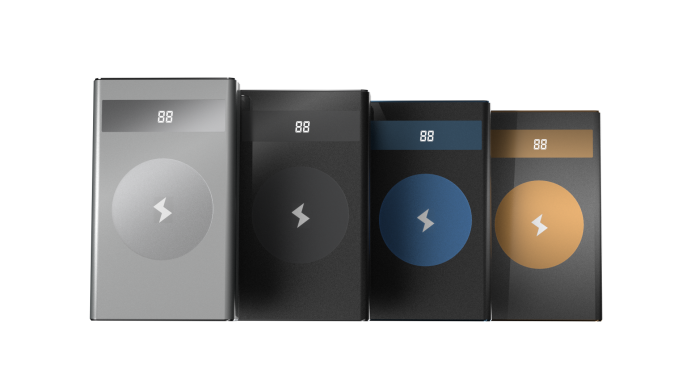 Over the past month we've listened to all our early backer feedback and gone straight back to the drawing board to see how we could incorporate all your suggestions and improve your experience. We're super excited to share with you FLASH 2.0, which packs a whole lot of extra powerful features. Despite the bonus features, we've ensured Flash 2.0 will remain the same size, making it super convenient to carry around with you everywhere. 

Extra USB-C 60W Power Delivery 3.0 port. Flash 2.0 has 2 x USB-C port. This was by far our most popular request, you asked and we delivered!
Increased combined total output of the 5 ports from 150W to 210W, making Flash 2.0 the most powerful powerbank in the world. 
Upgraded PCB, means both USB-C ports no longer draw power from each other when used simultaneously. 
Pass-through is also available on the 60W USB-C port meaning you can charge up your Macbook Pro and Flash 2.0 at the same time. 
Exclusive Indiegogo price of $157 ($8 optional upgrade from Flash 1.0). Saving you 51%  (RRP $320) 
Available in 4 colours Midnight Black, Space Grey, Black and Blue & Black and Gold

Satisfied with the original version of Flash? You'll be excited to know that we've made it even better with a few bonus upgrades that'll be available for both Flash 1.0 & Flash 2.0. Here's the full lineup: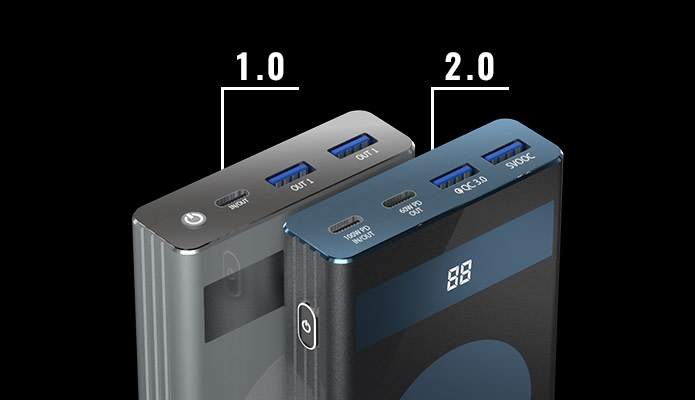 Qi Certification: every unit of Flash will pass rigorous, independent laboratory tests for safety, interoperability and energy efficiency ensuring the built in wireless pad will be of the highest standards.
Full USB-C PPS from 3.3V-21V, which means Flash can support any USB-C device.  (Flash was previously only calibrated to 11V PPS).
Optional universal USB-C to laptop cable, means you can charge all major laptop brands with 1 patent-pending cable and an interchangeable adapter (HP, Asus, Dell, Alienware, Lenovo, Razer, Acer, Huawei, MSI, Samsung). This cable with 10 adapters will be available as an addon at the end of the campaign for $19.
Clearly labelled ports to enable you to easily identify each port
Flash 2.0 available in 4 colours: Midnight Black, Space Grey, Black and Blue & Black and Gold
Flash 1.0 available in 2 colours: Midnight Black, Space Grey

Flash 2.0 is available as an optional upgrade of only $8. To upgrade to Flash 2.0, please select the upgrade option in your BackerKit survey, which will be emailed to you after the campaign finishes.


Charge Flash and your devices at the same time!
To save your even more time, Flash supports pass through charging so you can charge your devices and Flash at the same time through a single power outlet.

Recharge Flash to 80% in 35 minutes, or empty to full charge in only 1 hr 10 min
A huge battery capacity means nothing if it takes forever to charge. You don't want your backup battery to spend more time recharging itself than charging your devices. With its 100W USB-C Power Delivery 3.0 input and Tesla graphene composite batteries, it will take only 35 minutes to charge 16,000mAh (80%), or 1 hr 10min for a full charge of 20,000 mAh. This means you'll have a powerbank that's already ready to go before you are.

Rule the skies with a maximum battery capacity approved by all major and minor airlines internationally. Maximum airline safe battery capacity for TSA/EASA is 27,000mAh / 100Wh, however this has been reduced in some Asian Airlines such as Air Asia where it is now 20,000mAh /100Wh. This means you could be travelling with a powerbank that will be confiscated at customs.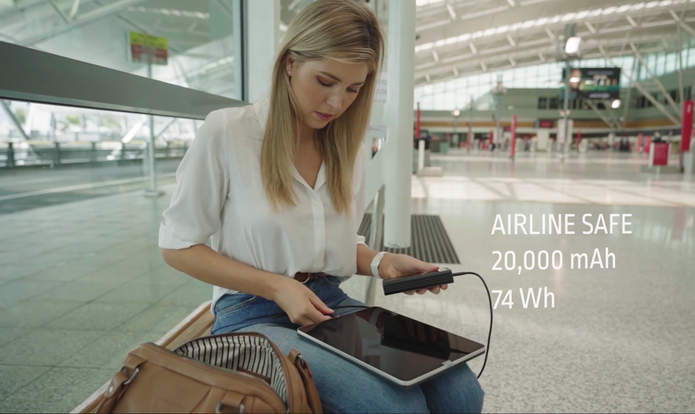 5x the battery life if your iPhone 11 or double the battery life of 13" MacBook Pro with Flash's huge 20,000 mAh capacicty.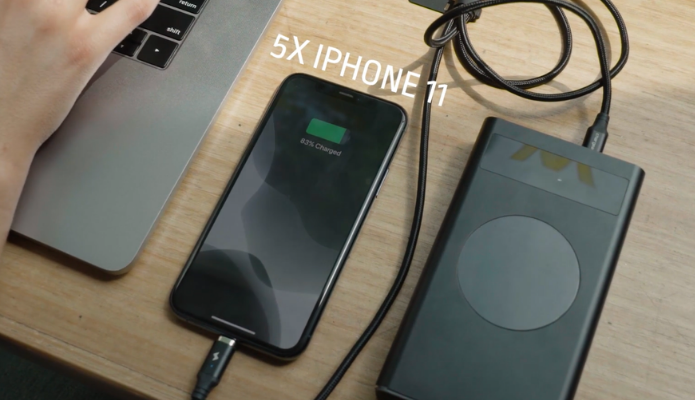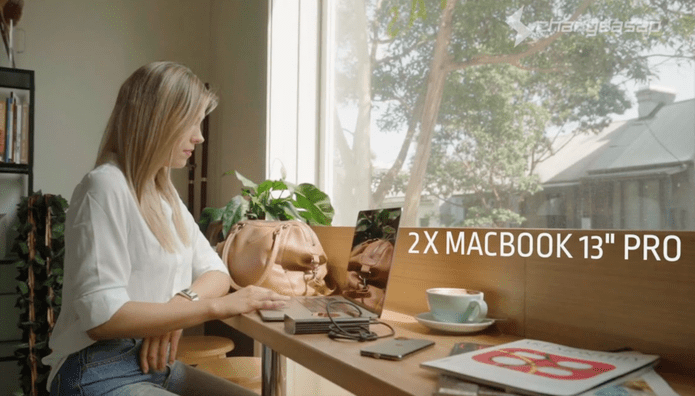 Slim enough to fit in pockets and easily grab with one hand.
Despite all the power, Flash comes in a pocket-sized lightweight 470g (1lb) so you can carry the only battery that matters, that can power all your devices, wherever you go, away from the grid, without fear of ever losing power ensuring your life stays uninterrupted and always on the go.

The magic to Flash's incredible specs is through incorporating 4 x 21700 Tesla Lithium Polymer Graphene Composite Battery Cells. Other brands use Lithium Ion batteries which has lower energy density, is 20 - 30% cheaper to make and has a larger form factor.
These Tesla batteries have been specially designed in partnership with Panasonic who is the manufacturer. Only launched in March 2019 and still not widely available publicly, this unique battery is presently the highest energy density battery in the world, 20% more than its predecessor. This is the same battery technology found in the latest Tesla cars which is how Tesla cars are able to charge so fast and have such long lasting batteries.
We've chosen Graphene as it's the world's most conductive material with ultra-high thermal conductivity and Graphite films are widely used in thermal applications for mobile phones and other high-power devices. Our li-po graphene composite batteries comprise of 5% graphene which is the ideal amount to have in a battery as any less and the electricity conductivity will be reduced and anymore the battery will be unable to function.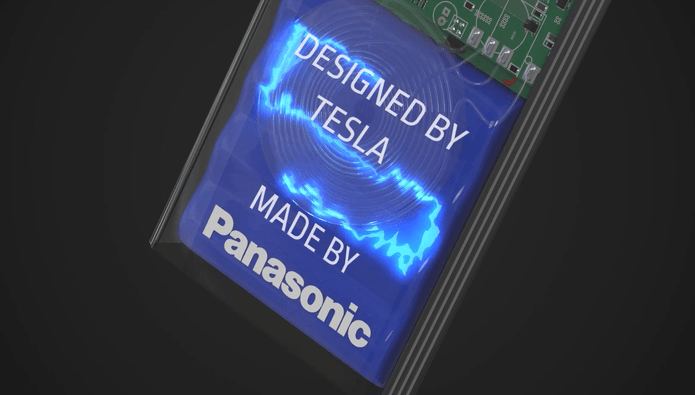 We wanted to be make the most powerful USB-C battery pack so we put in not just but 1 USB-C port but we also added 2 USB-A ports and a wireless pad so that Flash will be compatible with all modern USB devices.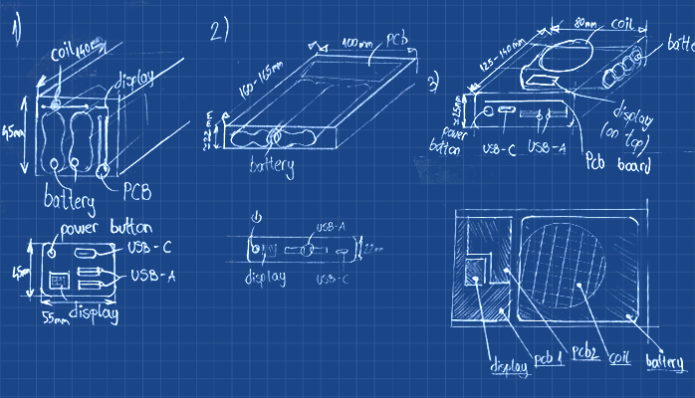 Early product design sketches. Experimented with different shapes and determined if the wireless charging could be built in.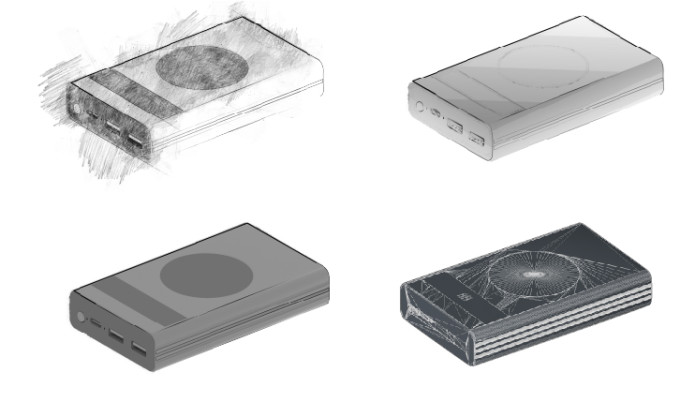 Final prototype of Flash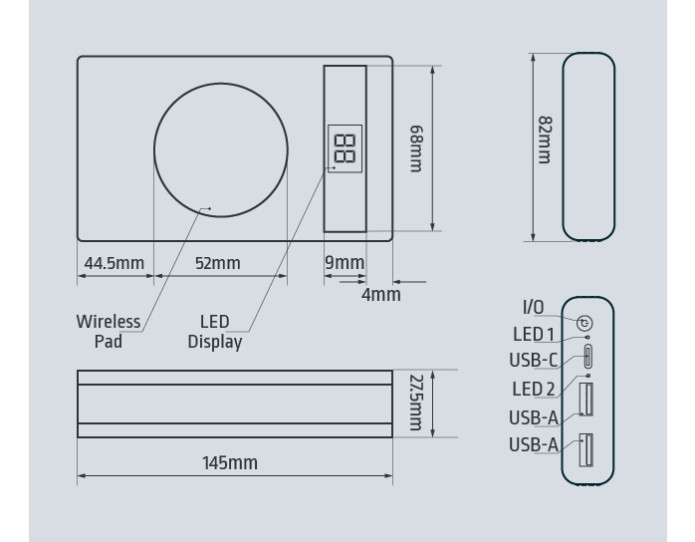 Dimensions of Flash

One of the most useful features of the graphene composite features is that is much longer lasting than traditional batteries. Each Flash powerbank is rated to last 2,000 life cycles vs only 500 cycles of the closest competitors. This means Flash has a 5 years+ battery life, which means you can use Flash every single day for 5 years and it would still seem like its brand new. WOW!
Through laboratory testing equipment, we've tested the battery to last 1,836 cycles and still have a capacity above 87% (a life cycle is considered above 80%), so in reality the life cycle is far greater than 2,000 but we are being conservative in our statement of 2,000.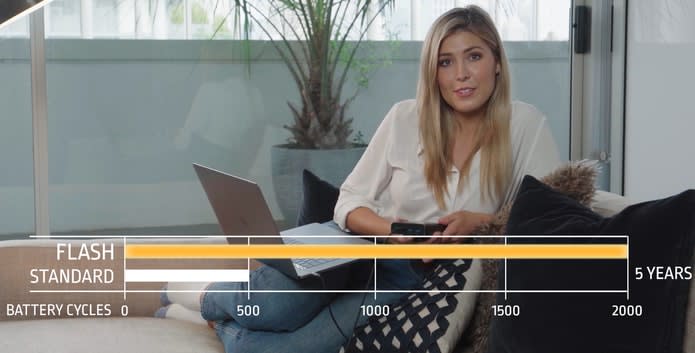 The creating the world's most powerful powerbank, we had to create the Swiss army knife of powerbanks- one that could charge all your wired AND wireless devices, truly replacing all your chargers and wireless pads with just 1 device.
Not only does Flash support USB-C 100W Power Delivery 3.0 and Qualcomm Quick Charge 3.0 which are the 2 international standards for fast charge technology, we've included a specially designed USB-A port with Android users in mind. Finally a powerbank that supports Huawei Super Charge (22.5W), Oppo & Oneplus VOOC Flash Charge/ SVOOC Super Flash charging 40W as well as Vivo VOOC.
Users of these brands know the frustrations they must go through as normally you only experience these proprietary fast charge speeds when you purchase the original brand's charger or powerbank.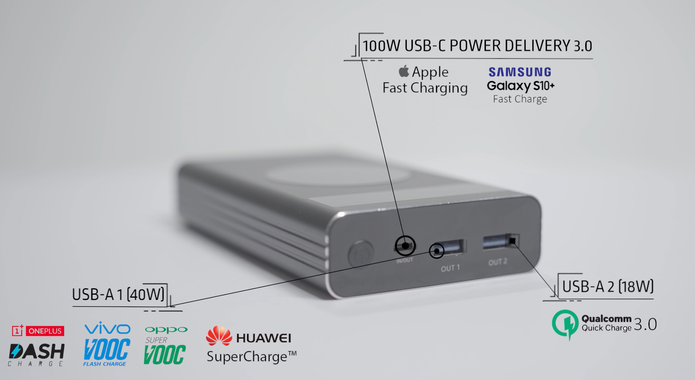 With all new phones supporting wireless charging this is a must have feature for those want the ease of drop-and-go charging. Flash support 10W Fast Wireless Charging for all wireless devices including phones and Apple Airpods. We will also applying for a Qi Certification once the stretch goal is reached, although this isn't required for compatibility.
Wireless charging works through electromagnetic induction with a sender coil in the powerbank and a receiver coil built into the back of the phone. This coil is shielded with a 1.5mm thick tempered glass which will allow the electromagnetic energy to pass through. This glass, in the shape of a circle has been chemical tempered in potassium nitrate for 4 hours at 400°C (752°F) ensuring the glass is drop proof and able to take on all the bangs and drops you experience in your day.
Please note: It is not recommended to use the wireless charger when the powerbank is at less than 2% and this is a standard with all wireless chargers.

We didn't stop there, Apple watch fans we've built this with you in mind! Our wireless pad also encompasses a 2.5W Apple watch coil to charge your Apple watch. Apple watch users know the frustration of having to always carry their wireless pad around since its so hard to find wireless pads and powerbanks that work with your Apple watch and if they do, they are usually very expensive.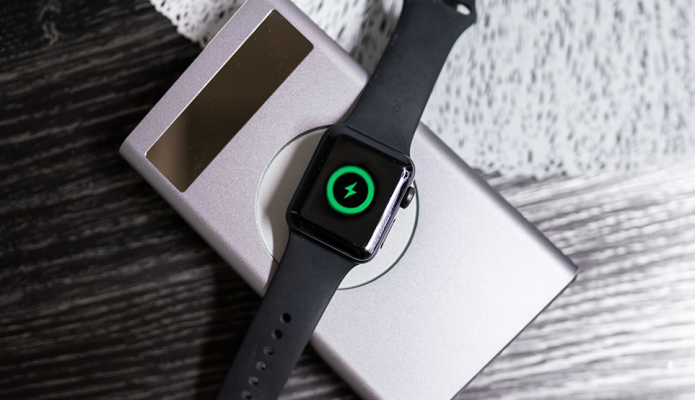 When using the wireless charger, it can take up to 3 seconds for your device to begin charging as the pad is detecting if its a Apple Watch or iPhone due to the dual coil setup.

While designing a high capacity battery, we still wanted a highly compact and portable solution. We've chosen Aircraft grade anodised aluminium as the shell enclosure material due to being strong yet thin and malleable enough to follow the lines of the battery cells, wrapping and protecting it with minimal space wastage. Aluminium is also a very good at heat dissipation to keep the battery cool at all times. The minimalist aluminium design is efficient, functional and matches the MacBook perfectly.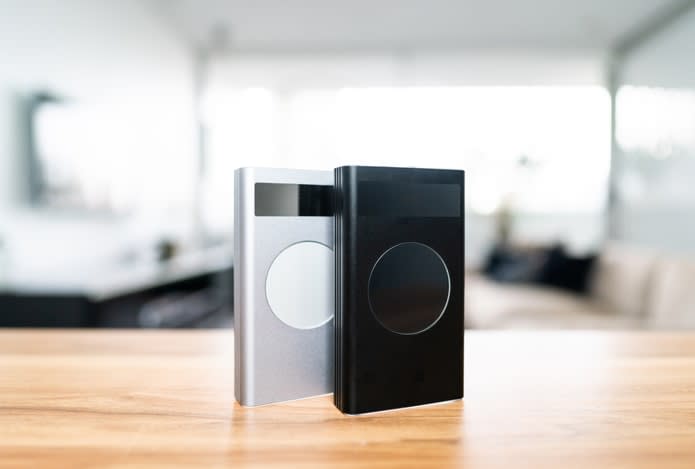 Don't you just hate it when your powerbank indicator is just a few small LED lights that keep changing each time you check it? Flash has been built with a numbered LED indicator with high accuracy so you know EXACTLY how much juice you have left so you're never left guessing. This is only possible with graphene powerbanks as the accuracy of numbered indicators with standard li-ion batteries is very inconsistent.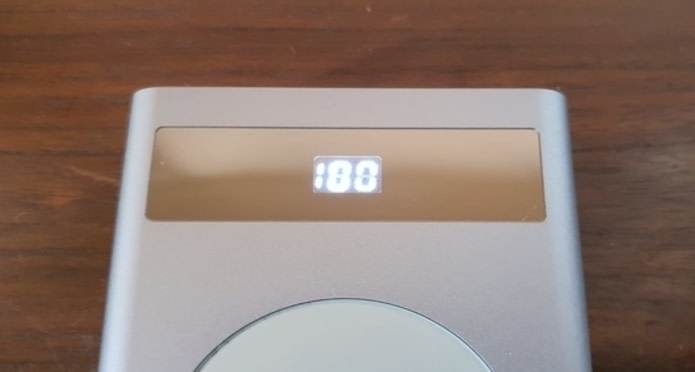 Flash comes with a power button, once pressed the power will output from all ports and the wireless pad for 16 seconds. The white LED indicator stays on and is for the ports whilst the blue LED indicator starts blinking and is for the wireless pad. If a device is connected to any of the 3 ports within this time, a white indicator light will stay on showing the power is being used. If a device is connected to the wireless pad, the blue light will blink showing the device is being charged wirelessly.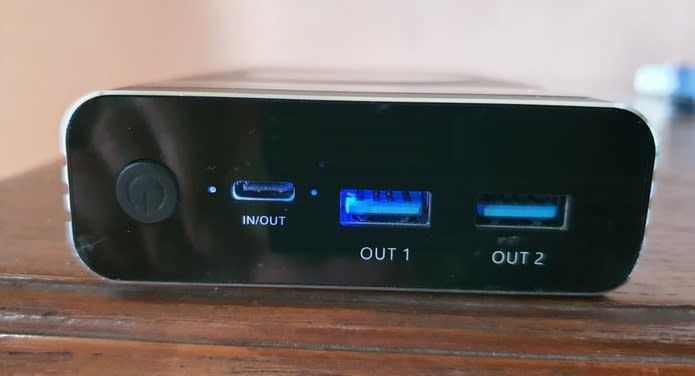 What's convenient is you can charge Flash with your existing Macbook 15" or 16" Pro wall at 100% max speed. Flash is also compatible with all other standard USB-C chargers already used by your devices including Macbook 12 or 13", USB-C, Dell XPS 13/15 and more.
For those who don't carry any of these devices, we also offer a range of wall chargers capable of outputting the 100W needed to charge Flash at full speed.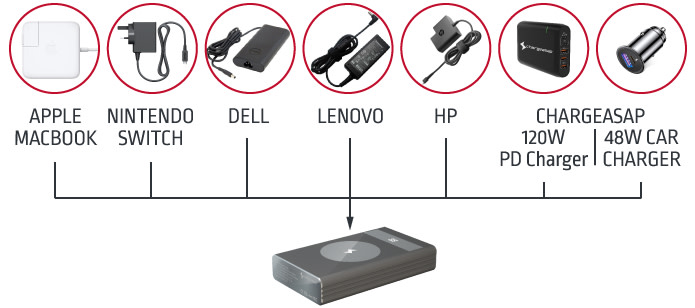 Not only fast and powerful, the Graphene battery technology also makes Flash the world's safest powerbank by allowing it to fast charge at low temperatures compared to standard batteries. Flash will never go above 50°C (122°F) unlike competitor powerbanks which can reach 70°C (167°F) ensuring it is safer and also longer lasting.  You'll feel very comfortable knowing that this baby won't heat up or bulge over time like you see in many of your older USB devices. 
Graphene composite batteries have much smaller internal resistance and better conductivity than traditional li-po batteries. Graphene composite is also added to both the positive and negative poles of the battery cell to further increase the conductivity. Due to the unique thermal dissipation properties of Graphene, no further cooling mechanisms such as heat sinks are required allowing us to keep Flash as thin and light as possible.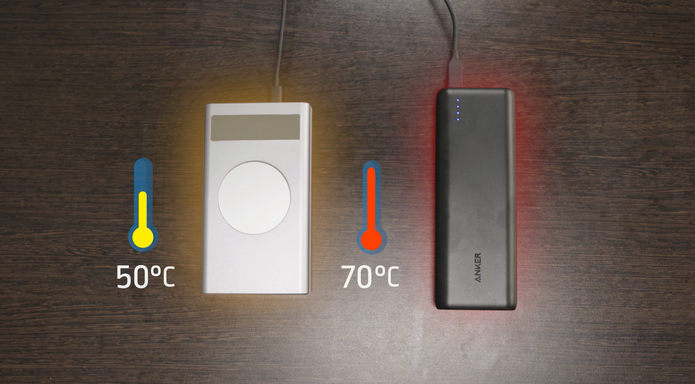 In order to achieve international certification for safe use, all powerbanks are put through a number of rigorous industrial tests to ensure Flash can withstand daily use- even the most extreme of circumstances.

TEMPERATURE TEST
Each powerbank is placed into a temperature chamber and exposed to extreme temperatures of -10°C to 65°C. In the event Flash is exposed to these temperatures, once its been moved to the safe operating temperature it will work perfectly fine.
Device Operating Temperature: -10ºC (14°F) to 60ºC (140°F)
CHARGE/DISCHARGE TEST
Each powerbank is charged and discharged from 0 - 100% 4 times to pass quality control. Each powerbank will be charged to 100% when shipped so you'll receive a product that's ready out of the box.
DROP TEST
The powerbank is dropped from each of the 6 sides at a height of 1.2m (3.9ft) onto a 10cm (3.9")  wooden plate. This test is important to ensure Flash can handle all the accidental drops that you will experience in your daily life.
SHAKING TEST
Each unit is put through a shaking test machine which shakes as a frequency range of 5Hz to 500Hz and tested on each of the X, Y and Z axis for 1 hour.
HUMIDITY TEST
Each powerbank is subjected to a high humidity environment of 60% - 90% and tested to ensure it still works under these conditions.
STATIC TEST
During this test the powerbank has a contact discharge voltage of 2000V and gap discharging voltage of 2000V.

We're setting a new standard with a 2 year international warranty, doubling the current standard of 1 year. This is only possible for Flash due to the use of Graphene batteries which have a battery life greater than 5 years, compared to other batteries which are only protected by a 1 year warranty.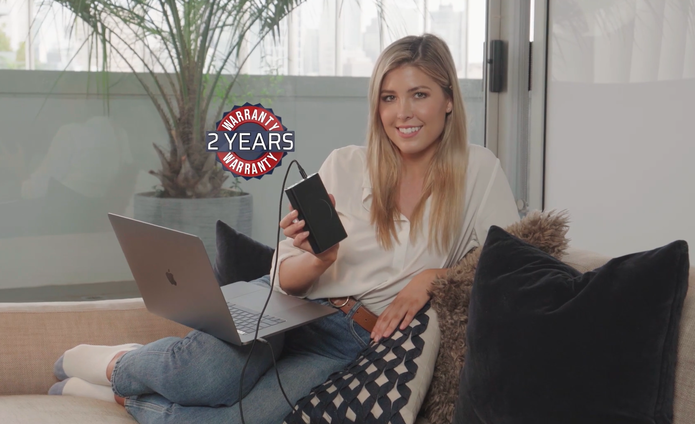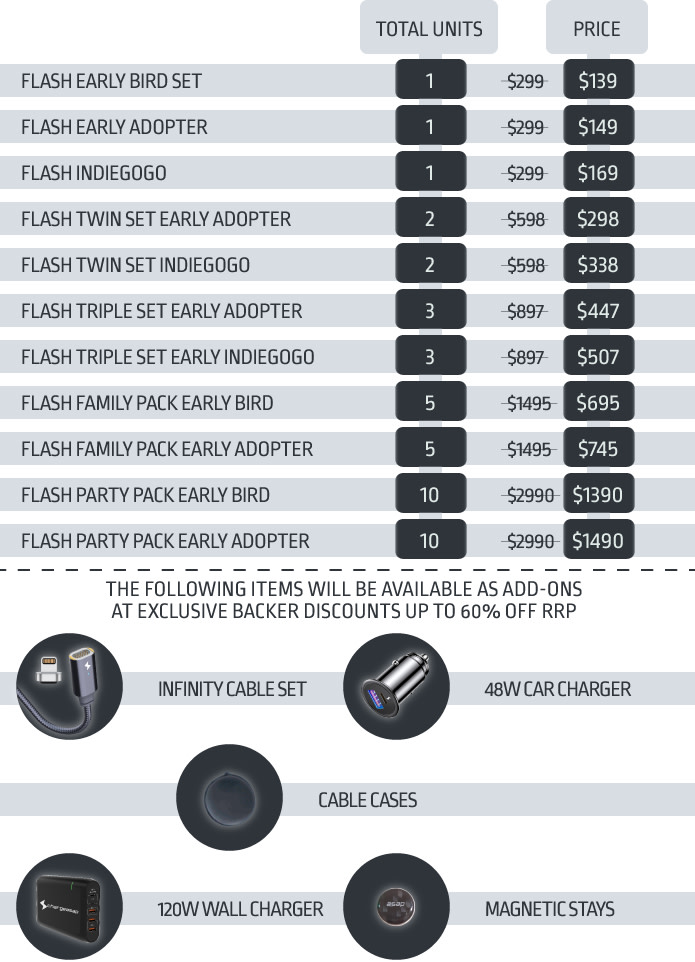 As an early supporter, you also unlock access to a range of Chargeasap's innovative products at a huge discount such as the Infinity cable for only $19 ($55 RRP), getting it at the cheapest early bird price available.  You can add these products to your order after the campaign finishes. You'll be emailed a survey from BackerKit, here you can choose your colour choices, change your shipping address and purchase add-ons.
Please note to support the high 100W charge speeds, your USB-C cable must have an E-Mark chip to prevent the cable from overheating and regulating the Volts and Amps correctly. All Infinity cables come with an E-mark chip which means by pairing the Flash and Infinity cable together, you will have 1 cable and powerbank that can charge all modern USB devices. No more having to carry around multiple chargers or cables around, neat isn't it?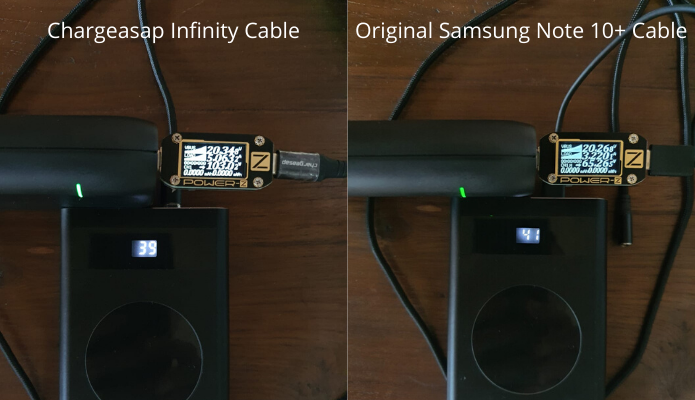 Another innovative product on offer is our laptop adapter heads designed to convert your USB-C cable head into an AC head that's compatible with your laptop. 

Here's a table showing showing compatibility. Please note this is not a complete list and intended only as a guide. You will need to check with your manufacturer if the dimensions and shape of the tips we provide match.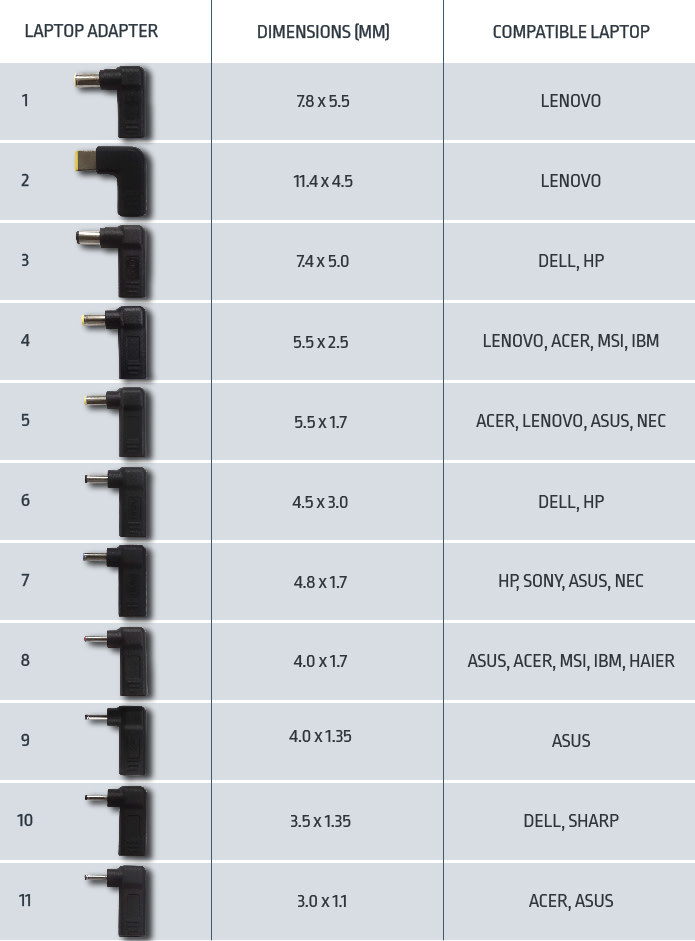 Note: Due to patent issues, we are unable to provide a tip which is compatible with Microsoft Surface laptops.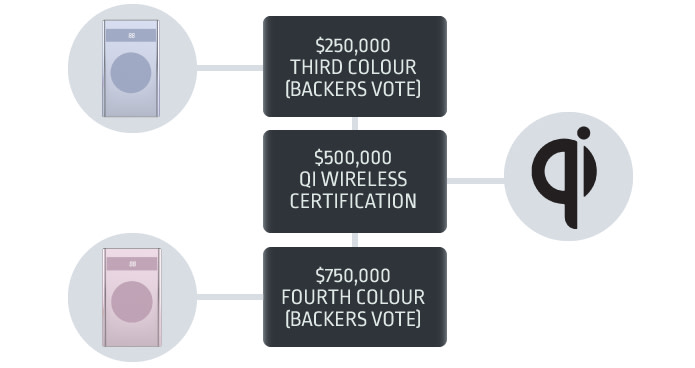 For US fulfilment, rewards will first be sent via sea (which takes around 18 days) from our factory in China to our 3PL warehouse in US and then be shipped to US addresses via DHL or UPS tracked shipping. US based backers are expected to receive rewards within 3-8 days from our 3PL's warehouse. For the rest of the world, rewards will be delivered via air freight directly from our distribution centre in Shenzhen, China. Backers are also expected to receive rewards between 4-20 days from shipping depending on the size of the delivery and your country.



Capacity: 20,000mAh / 74 Whr
Interface: 
Max 100W USB-C Power Delivery Input/Output
Max 40W USB-A Huawei Super Charge 22.5W, Oppo, Oneplus VOOC Flash Charge SVOOC Super Flash charging 40W, Vivo VOOC 22.5W
Max 18W USB-A QualComm Quick Charge 3.0
100W USB-C Power Delivery 3.0 Input: 5V/3A, 9V/3A, 12V/3A, 15V/3A, 20V/5A (PPS)
100W USB-C Power Delivery 3.0 Output: 5V/3A, 9V/3A, 12V/3A, 15V/3A, 20V/5A (PPS)
60W USB-C Power Delivery 3.0 Output: 5V/3A, 9V/3A, 12V/3A, 15V/3A, 20V/3A (PPS)
USB-A 1 Output: Max 5V/4.5A, 9V/2A, 12V/1.5A, 10V/4A
USB-A 2 Output: QualComm Quick Charge 3.0 18W Max 5V/4.5A, 9V/2A, 12V/1.5A, 10/V4A
(A1 + A2 = 40W combined)
Wireless Output 2 coils: 10W Fast Charge+ 2.5w Apple Watch (We will upgrade to Qi certification at $500k stretch goal)
Maximum Power Output: 150W
Maximum Power Input: 100W
Batteries: 4 x 21700 Tesla™ Lithium Polymer Graphene Composite Battery Cells manufactured by Panasonic
Battery Life Cycles: 2,000, 4 times more than li-po batteries
Battery Life: 5 Years
Time to 80% (16,000mAh) from empty: 35 min
Time to full charge from empty: 1 hr 10 min (with 100W input)
DC/DC Input Efficiency: 76% - 82%
Output Efficiency: 70% ± 5%
Discharge Rate: 57mah per day over 350 days
Device Operating Temperature: -10ºC to 60ºC 
Safety Protection: Over current/voltage/temperature, short circuit protection
Enclosure: Aircraft-grade Aluminium and PVC
Dimensions: 14.5cm x 8.2cm x 2.7cm (5.7" x 3.2" x 1.06")
Weight: 470g (1lb) 


Chargeasap is a consumer electronics startup originating from Sydney with a global team who believe users should be the creators and innovators of products. We realize that your mobile phone is the one object you interact with every day more than any other object or person, so why not simplify this interaction? 
Our mission is to create highly innovative phone accessories that simplifies the way you interact with your mobile devices.   
Our team consists of serial entrepreneurs, creatives and engineers who've worked together since 2015 to overcome painstaking obstacles to bring to life the vision of each life-changing product.
We're a startup that is backed only by ourselves. We have no external investors. Instead we launch products through the magic of crowd funding. The funds raised here will not only go towards manufacturing, they will also help us to design future products.
We've already had 5 previous successful campaigns, raising over $3 million and delivering to more than 130 countries.  Our previous campaigns have been featured in hundreds of major publications and online media worldwide. 

We The People (WTP) is a global consumer goods accelerator platform focusing on marketing successfully crowdfunded innovations. They are the largest physical chain of stores in the world to exclusively support, promote and retail products made possible with the power of crowdfunding.
They have spaces in store dedicated to live Kickstarter/Indiegogo campaigns where creators can display their prototypes and engage with customers, turning them into backers and building a unique community on its own. An online to offline initiative.
Flash will be on display at We The People store, Milennia Walk #01-42 in Singapore! Head instore to test out the Flash and give it a test run. Flash will be featured instore til 5th March.