As featured on Yanko Design.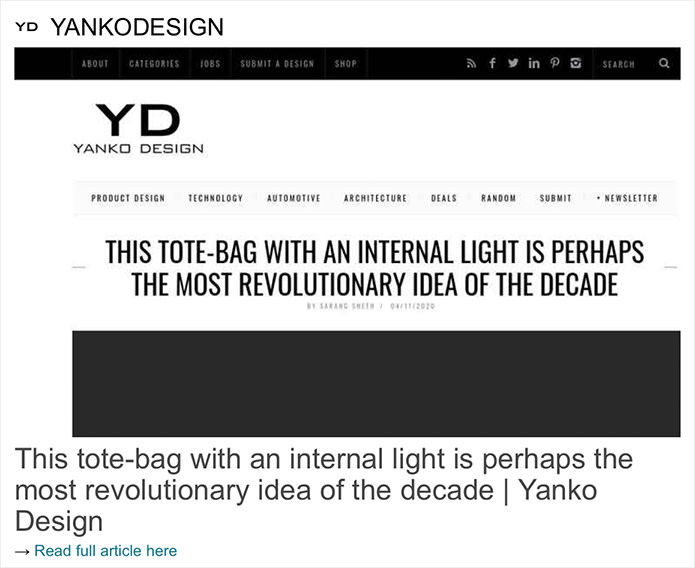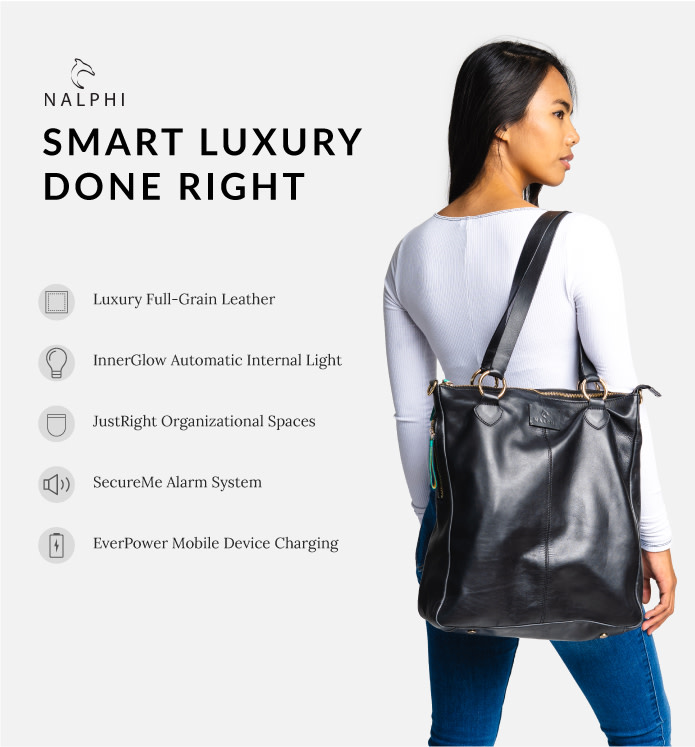 Complete with luxe leather, an automatic internal light, smart design, phone-charging power bank, and built-in security system — NALPHI is smart luxury done right.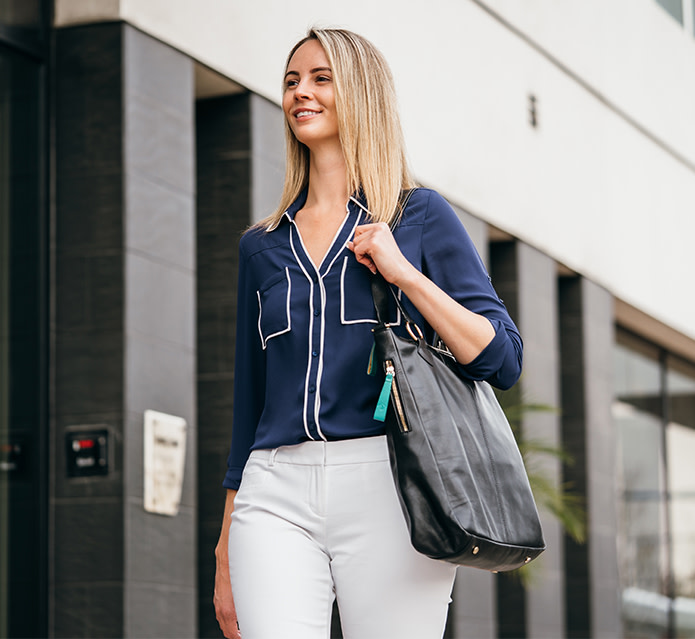 Every component is purpose-built and designed for comfort, style, ease, and function. NALPHI only uses the highest-grade materials to ensure long-lasting longevity, durability, and quality.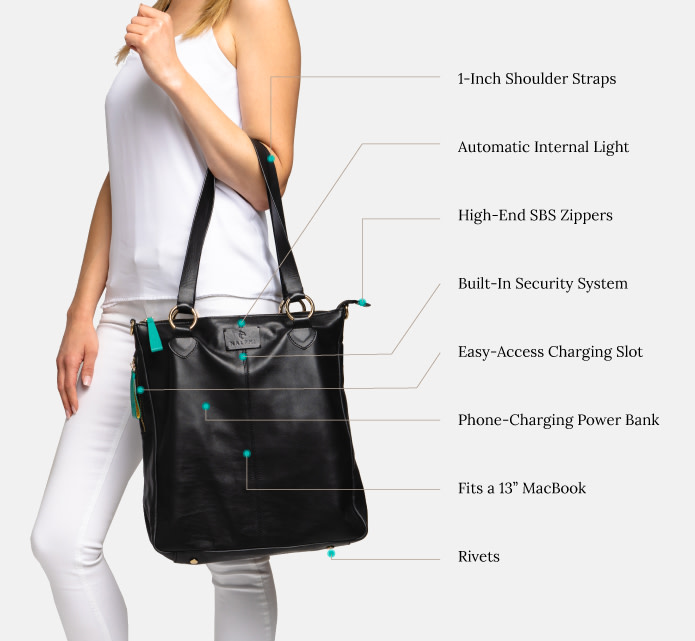 Clever in every way, this smart, luxury leather tote is the handbag you've always wanted.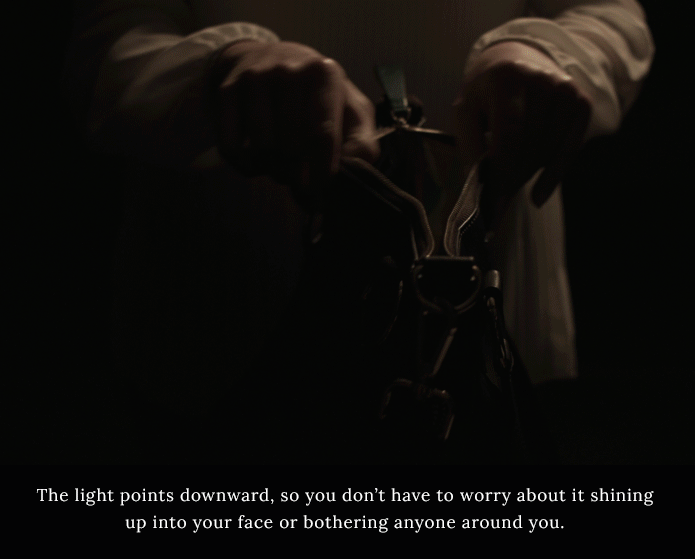 NALPHI uses patented technology to automatically illuminate the interior of your bag when opened — making it easier to find what you need. The built-in InnerGlow LED light turns on the moment you open your bag and turns off after a few seconds.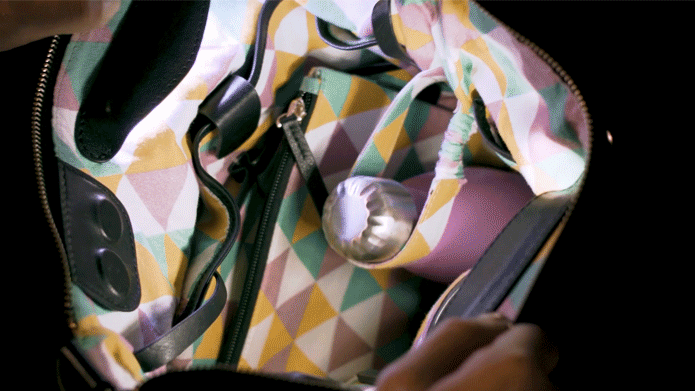 No need to find a switch or hold up a flashlight, Inner Glow will flood your interior with light exactly when you need it, without hassle or frustration. Never fumble inside your bag again.

NALPHI is made from genuine full-grain, natural pigment leather — the same leather used by Europe's most prestigious luxury houses.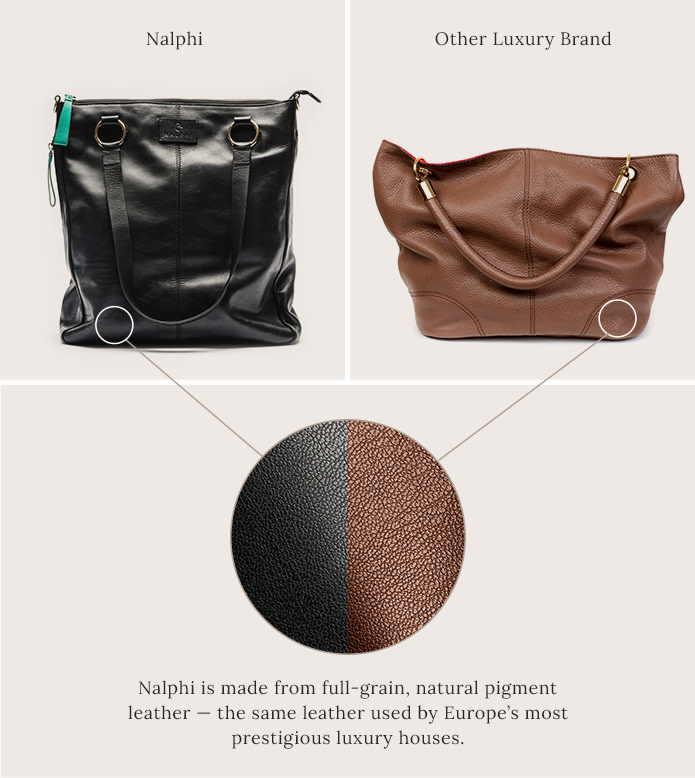 This incredible leather is the highest grade possible and boasts exceptional durability, lifespan, and texture. It is what separates the average bag from top-of-the-line luxury products.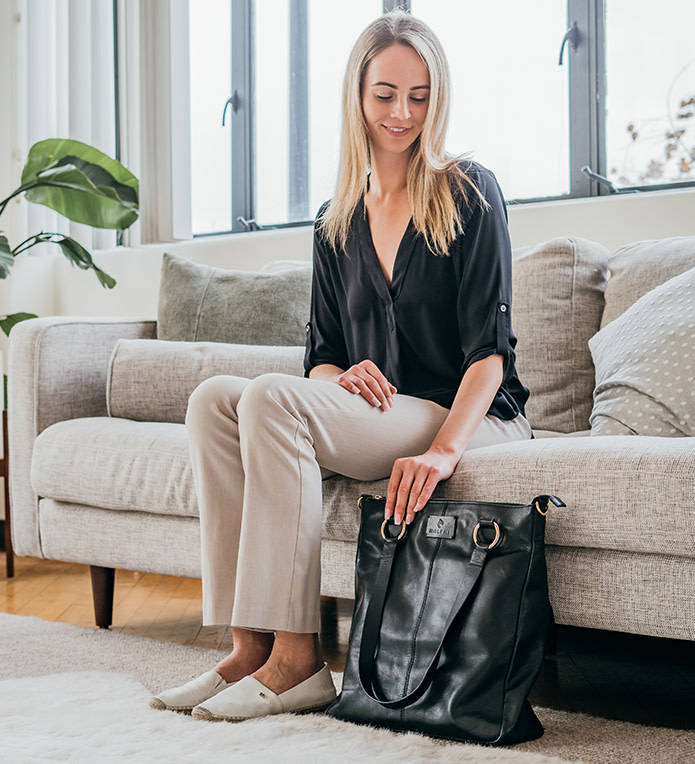 Top to bottom, NALPHI is made exclusively with this luxury-grade, full-grain leather, giving it unprecedented quality for its price.

NALPHI eliminates the markup found in most luxury brands without compromising on materials or design. We do this by cutting out the middleman, selling direct to you, and only offering fair prices.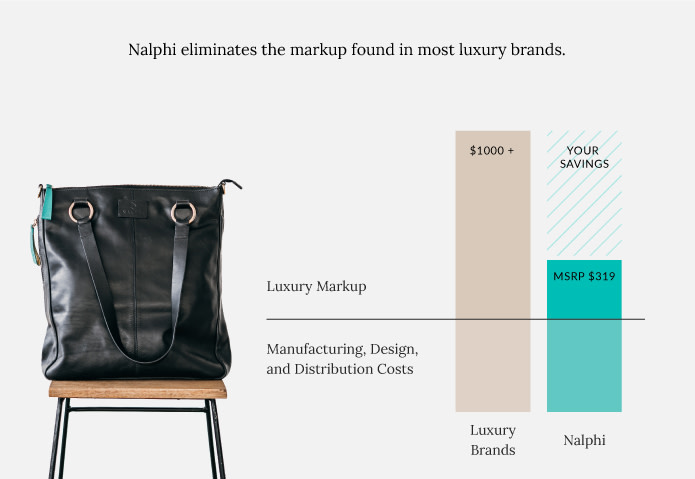 Our leather is premium-sourced and highest quality. Our technology is dialed in. Our design is detailed and styled to exquisite taste.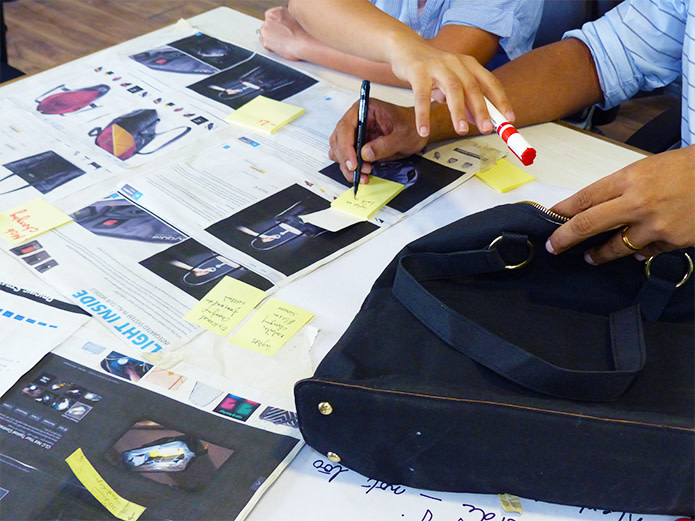 We've done 2 years of extensive User Experience & Usability research before designing. This is why our bag is so different from other bags on the market. We also believe in paying what is right to our employees, and for our materials. This means you get the best quality for the best price in full conscience.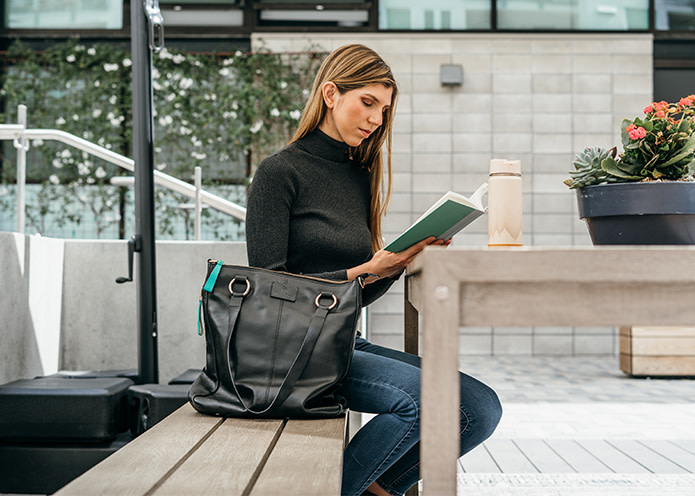 NALPHI is equipped with special JustRight utility spaces for everything you need in your bag. From bottles to keys, keep your everyday items organized and quickly accessible no matter what.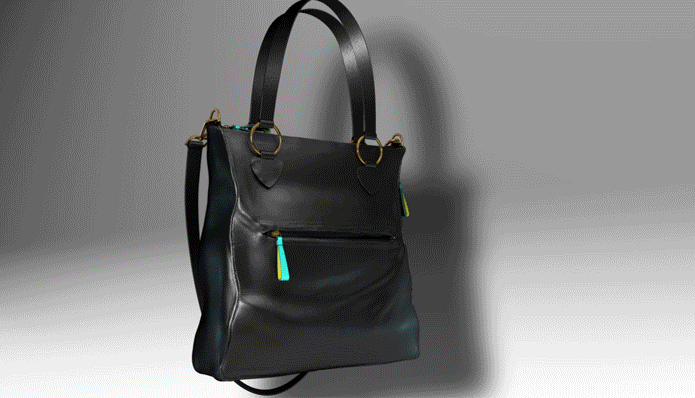 The non-spill bottle loop keeps your water bottle secured inside your bag and easily accessible.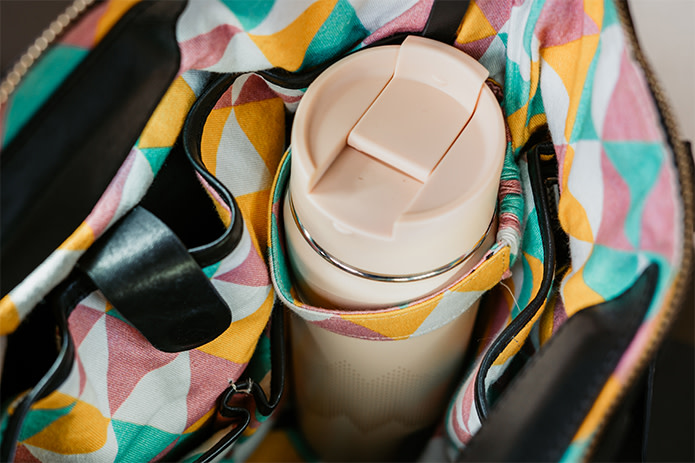 The detachable key loop makes sure your keys are always available within hands reach.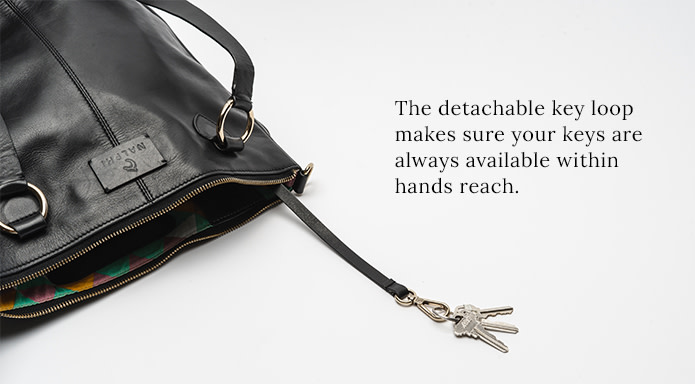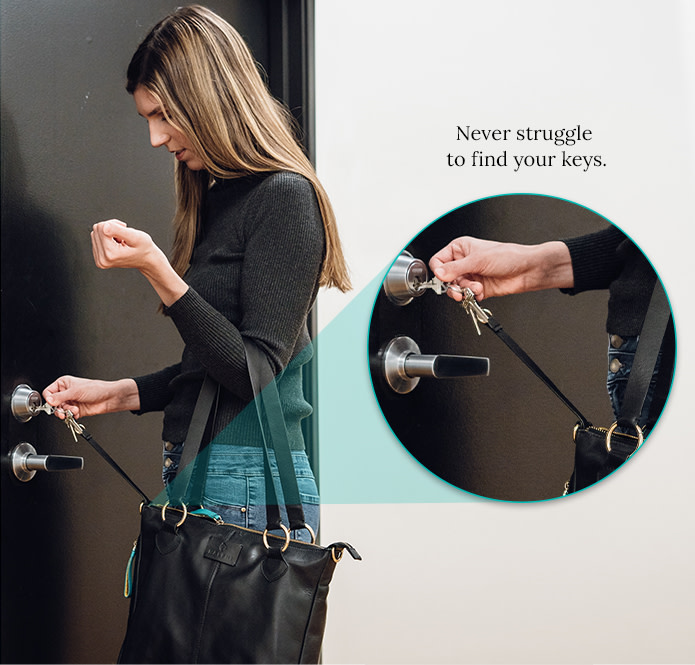 The cosmetics pouch neatly stores all your makeup needs —keeping them consolidated and ready to go at a moment's notice.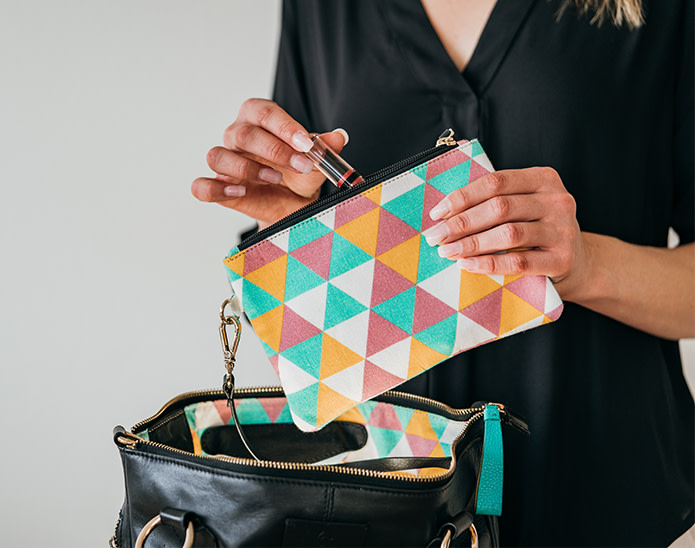 Scratch-proof pockets protect your phone and sunglasses from your other items in your bag. No more surprise scratches on your screens and lenses!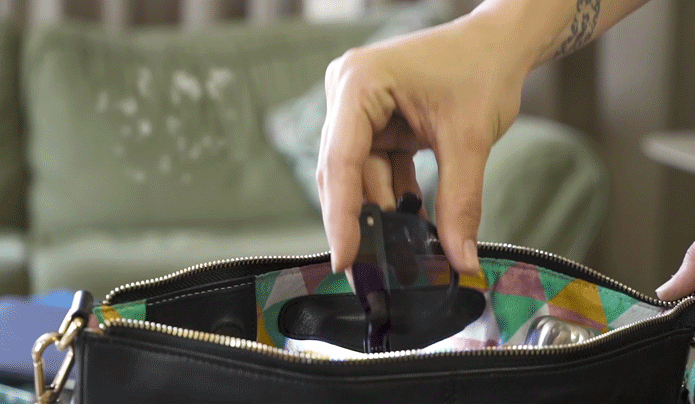 NALPHI is also big enough to easily fit a MacBook Air or iPad Pro. You can even comfortably accommodate in a 13" MacBook Pro!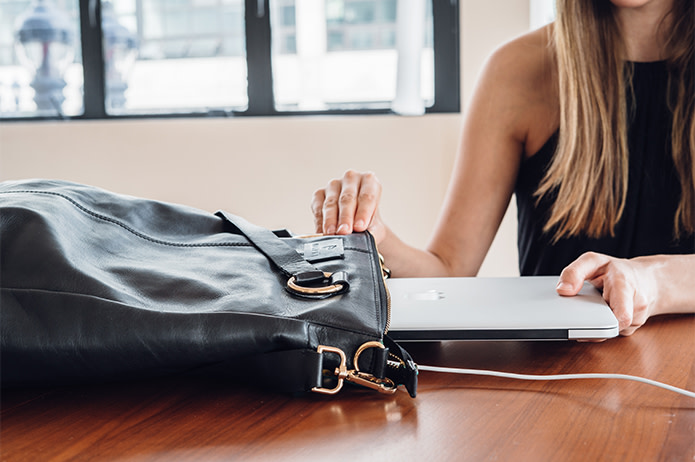 The SecureMe warning system automatically sounds an alarm if any unexpected visitors peek into your bag.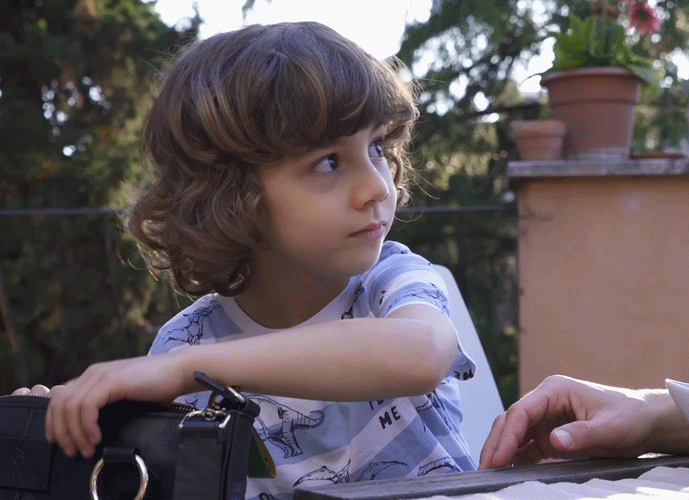 Simply switch it on when you want to secure your bag. If anyone opens the bag, NALPHI will detect it and alert you via a chirping alarm. The sound will also help ward away any potential pickpockets.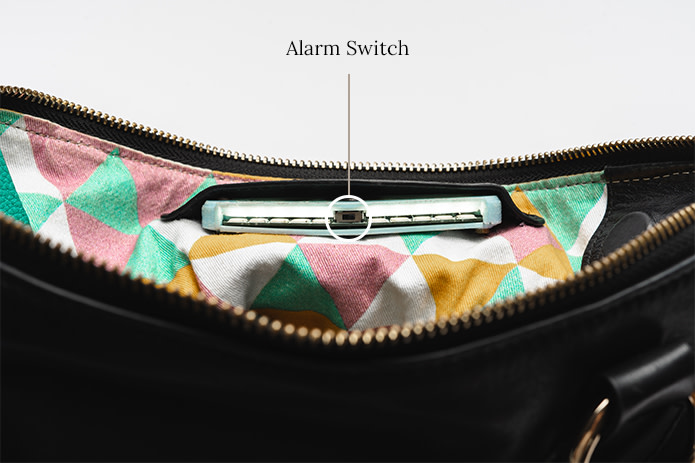 Keep your phone and mobile devices charged with EverPower, NALPHI's 5,000mAh power bank.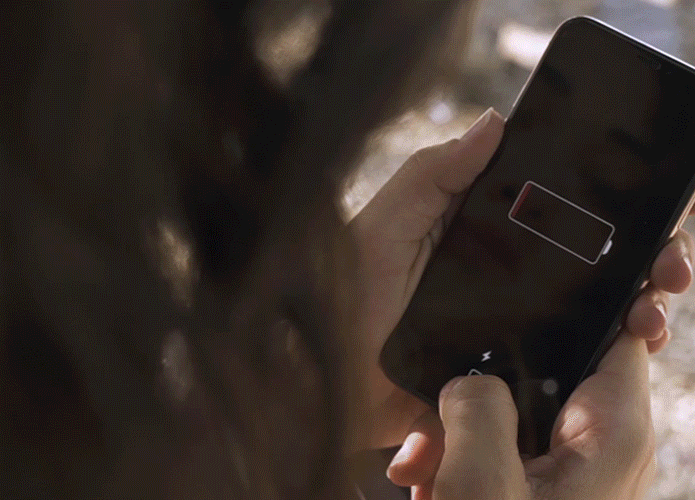 A two-way USB-C port allows you to charge EverPower, as well as any USB-C enabled devices, while a USB-C to USB-A adapter port lets you charge earlier-generation devices.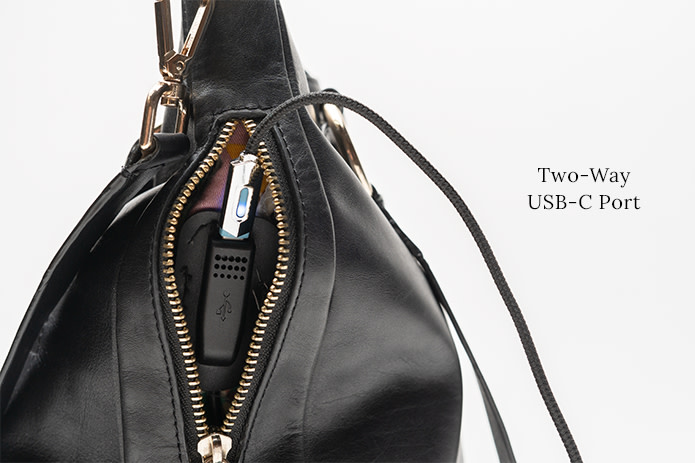 To recharge the EverPower power bank, simply plug the USB-C charging cable, with its own LED indicator, into the USB-C port. When the power bank is fully charged, the indicator changes color to let you know that it's ready.

NALPHI features a comfortable design. Wide shoulder straps distribute the pressure on your shoulders, while lightweight materials make sure you don't have any extra weight from the bag itself.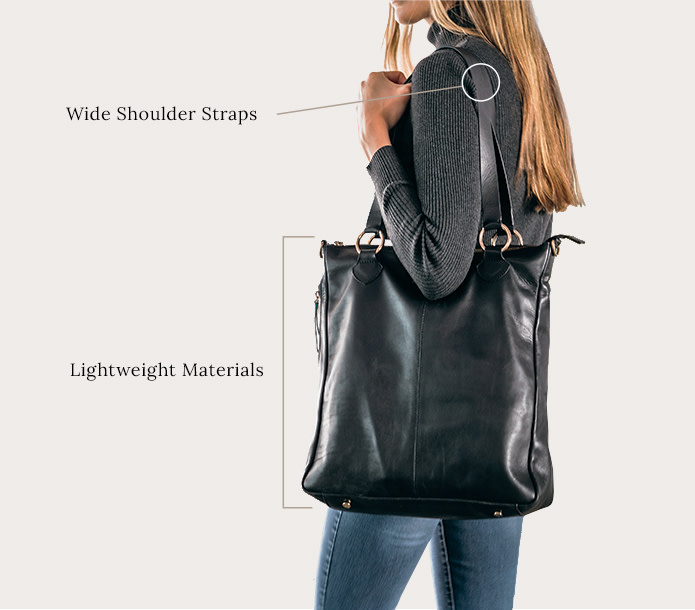 Carry your bag all day long without a problem. NALPHI is designed to give you a seamless, and comfortable experience inside and out.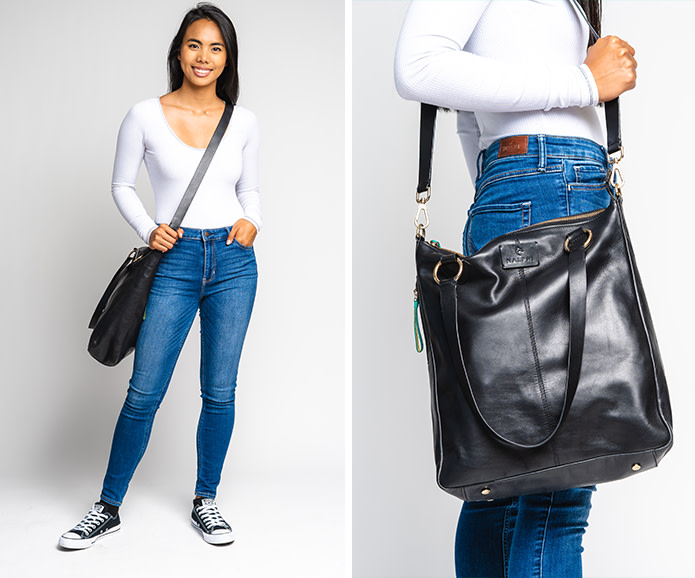 Wear it on your shoulder, or turn it into a beautiful backpack.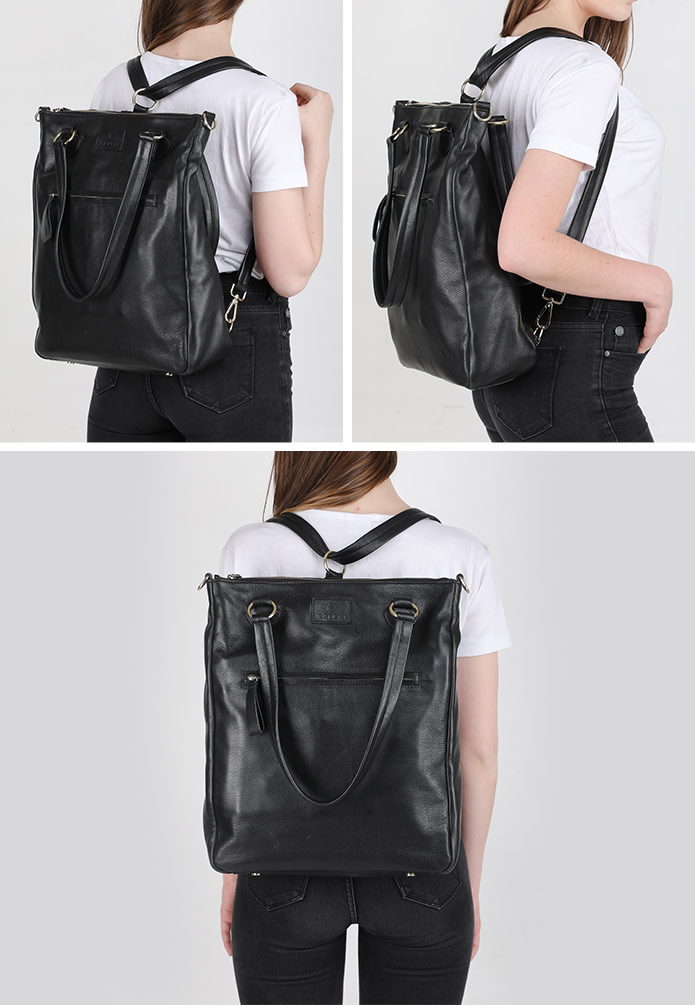 NALPHI includes ForeverFresh perfume pods that are easily removable and replaceable. The pods hide in a tiny concealed compartment inside the bag, so they stay out of your way. If you ever need to remove them, simply slide them out.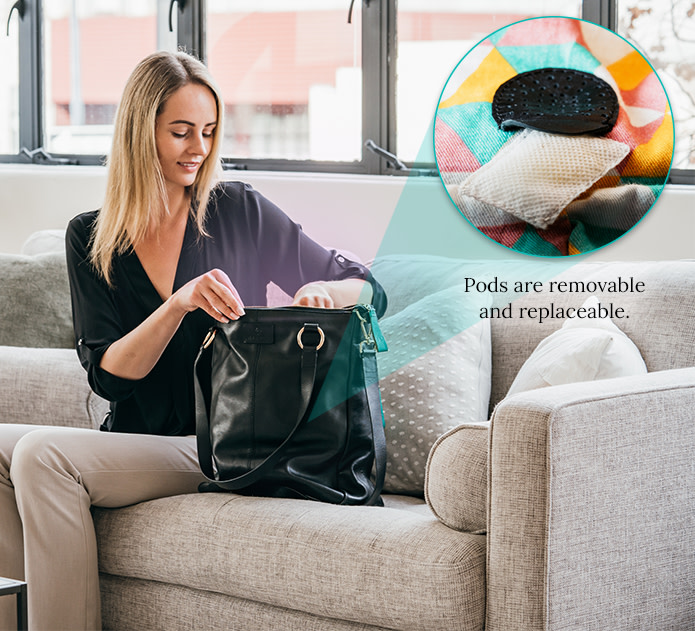 Enjoy fresh scents every time you open your bag.
NALPHI uses two mechanisms to keep your belongings secure — high-end zippers and magnetic closures.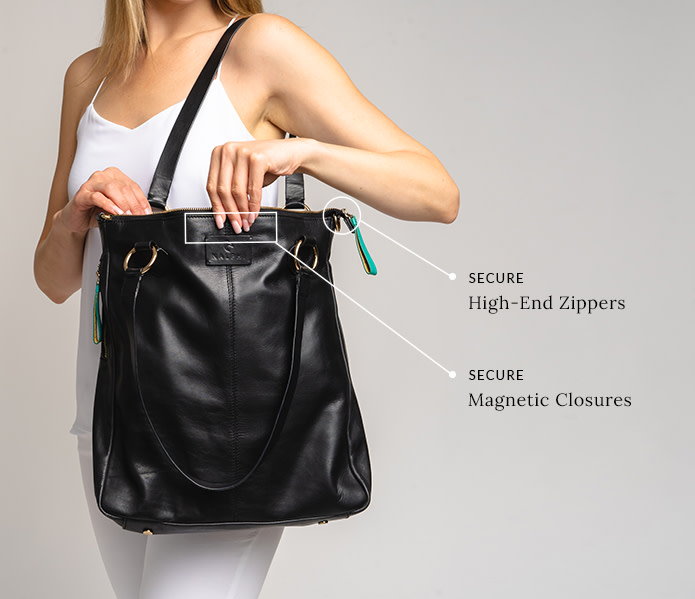 The zippers slide smoothly to open and close your bag, providing full closure with ease. The premium leather tags let you easily pull the zippers while giving a splash of color to the bag.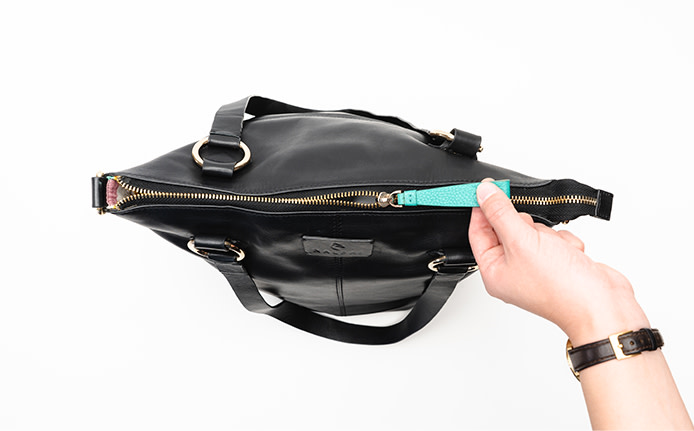 Magnetic closures let you quickly, easily, and securely access your bag without hassle. The magnetic closures connect with both your InnerGlow light and the SecureMe system, activating them upon opening. They also serve as a secondary, no-thought, automatic seal — that way you can access what you need quickly.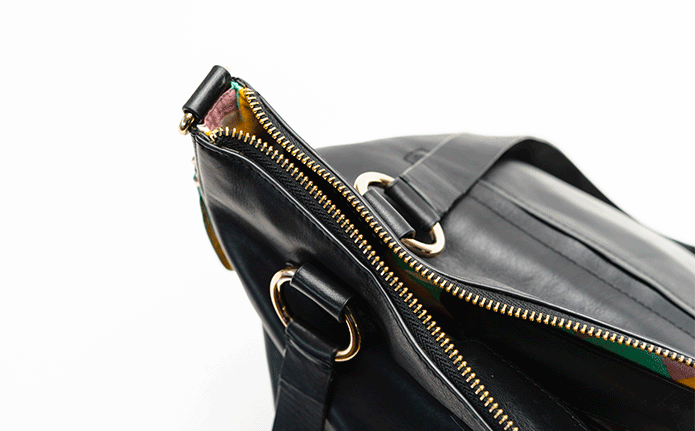 Protective bottom rivets keep the bottom of your bag safe from dust and wear.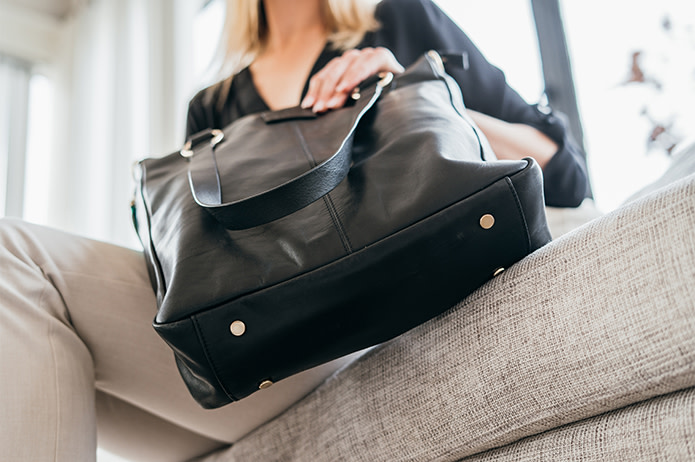 Whether you're a full-time mom, advancing your career, jet-setting to exotic locations, or doing it all at once, your bag should be the last thing you have to worry about.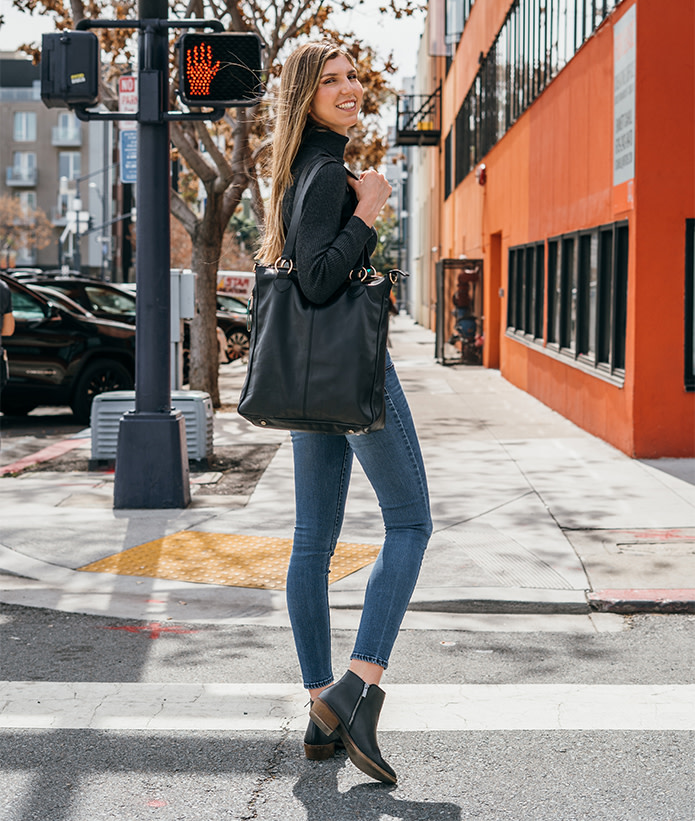 NALPHI SmartBags are designed to be as dedicated and beautiful as you are.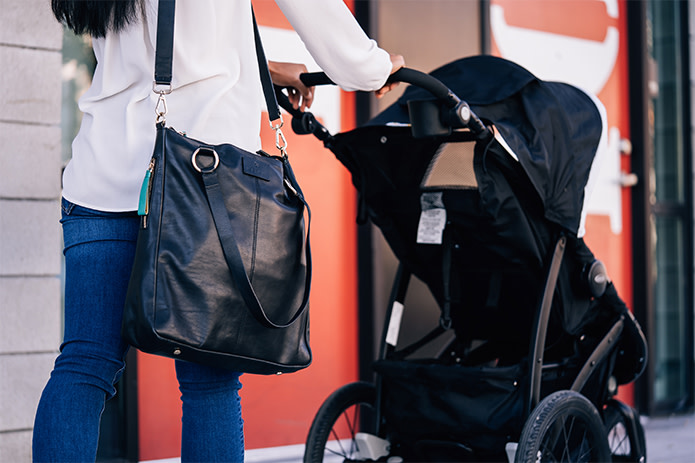 In material, design, technology, and process, NALPHI excels across the spectrum. Enjoy premium quality, premium precision, and premium caliber with every corner and feature.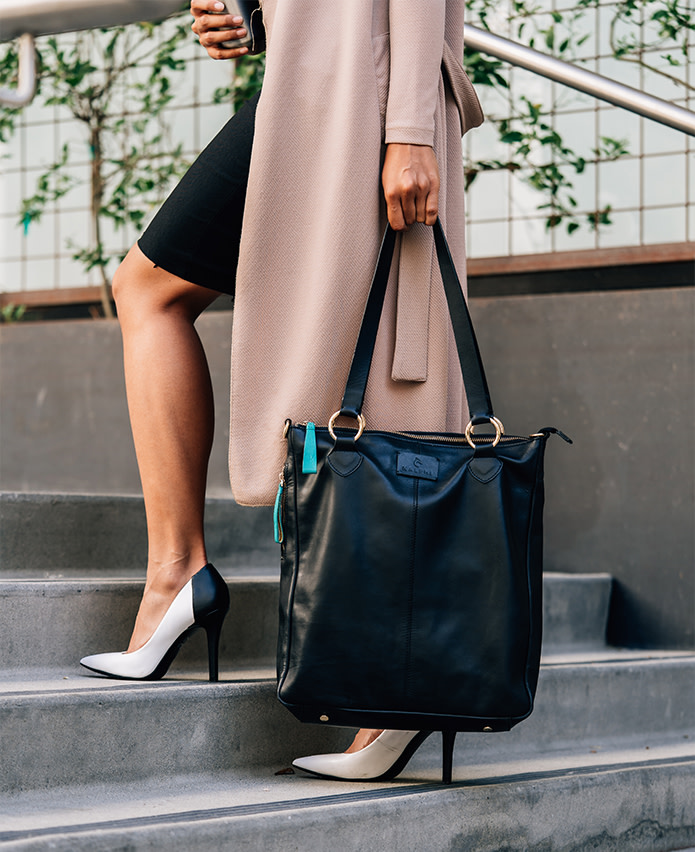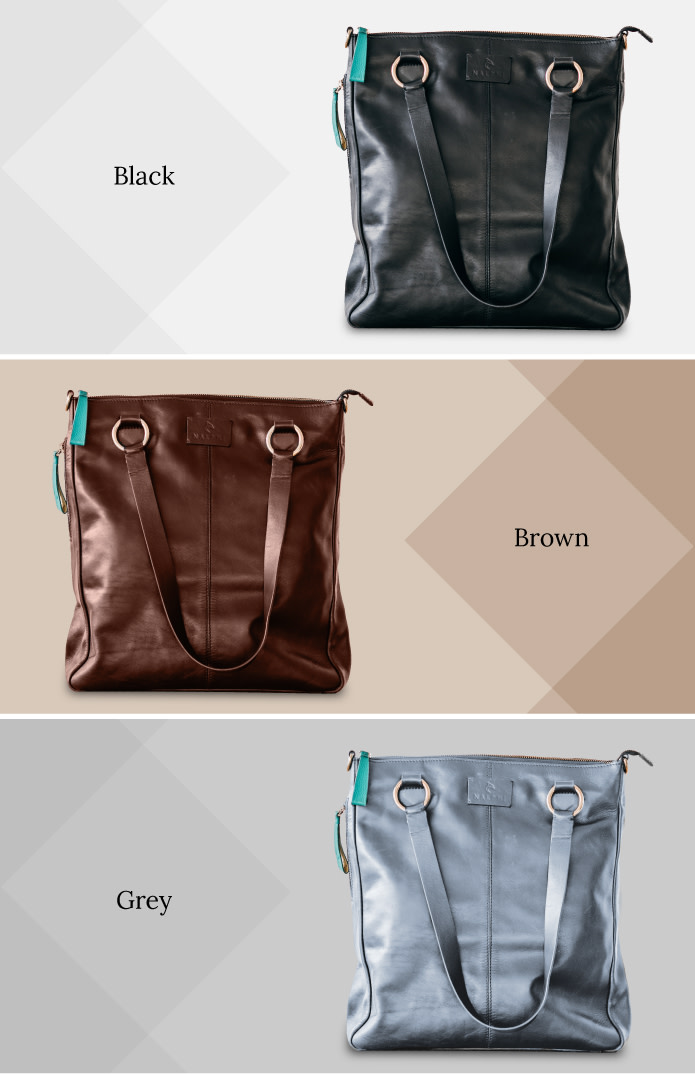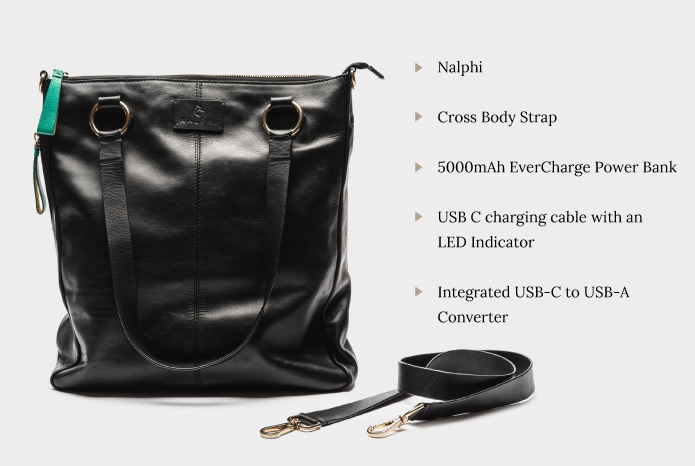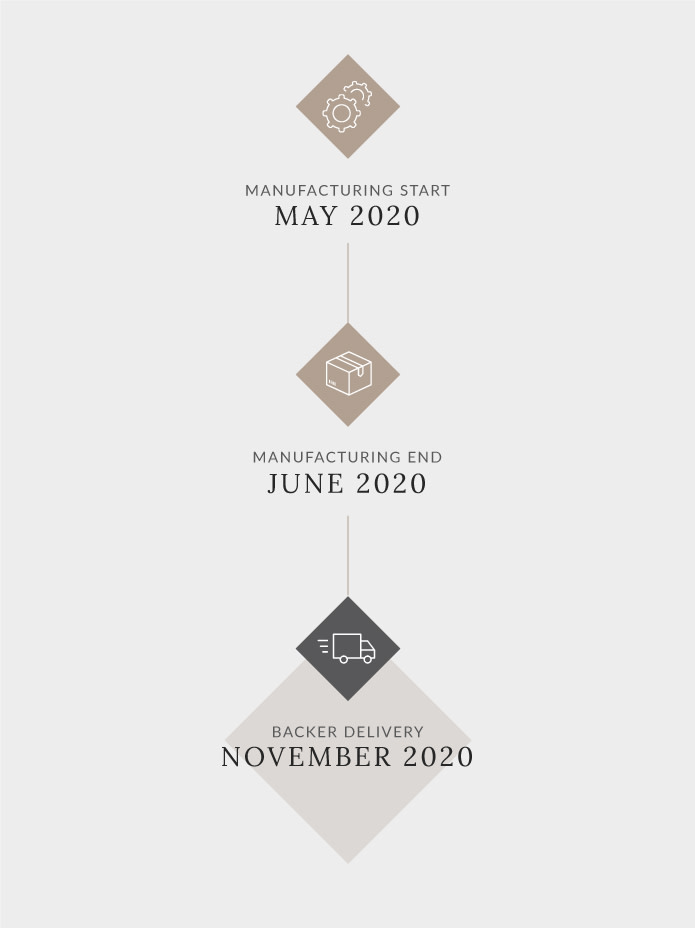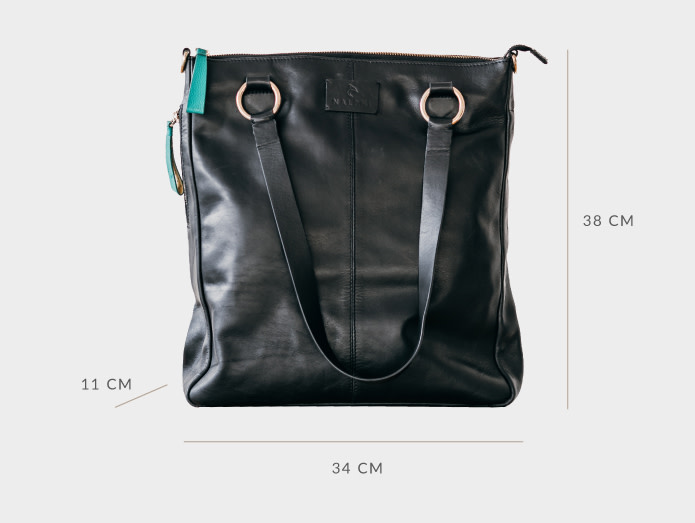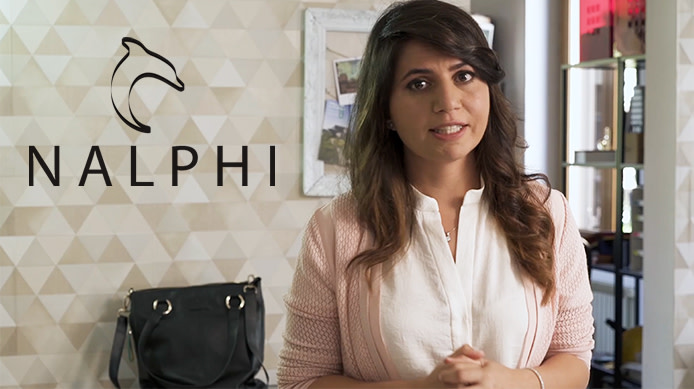 Hello, my name is Naina and I am the Founder & Creator of NALPHI, a company with a mission to create high-end luxury bags that balances style, comfort, and usability.
As a professional and a mother, I understand the problems that women face when choosing bags that are meant for work, then end up becoming a rucksack. They're full of useful and a few unnecessary features.
I was tired of carrying beautiful yet heavy bags with thin straps that dug into my shoulders as I juggled between work, home, kids, and occasional yoga classes. In other words, my bag needed to have a laptop, iPad, notebook, sunglasses, make-up, wallet, keys, lunch, a water bottle, snacks for kids, and yoga clothes at all times! Furthermore, with my busy schedule, I needed to quickly retrieve the correct items from my bag — all from one big black hole. Sound familiar?
According to a prominent usability researcher, Anya Meyerowitz, a woman spends close to 162 days searching for things in her bag. If this wasn't enough, what happens when we have to search for our keys in the dark? We use our phone light to get the keys, but then…no charge, right? Phew, now that's another problem that we have. Late nights out, long outdoor work, or a situation where we can't charge our phone. Hmm...so we carry a 'power bank'. But then we forget the power bank as it's charging on the desk. The list goes on and on and on. And, I was a living testament to that research.
My company was created out of my desire to create the perfect bag that serves the purpose of being comfortable, stylish, and high on the usability-factor. Being a designer by profession and having spent years in the fashion industry — both in Italy and India — I refused to let fashion run over functionality and finally decided to take the matter in my own hands. This was the genesis of NALPHI, a company where we believe that a woman's bag should be beautiful AND practical. So, we designed a beautiful bag made with the finest quality leather that solves the most critical and common problems faced by a busy, modern woman.
Our logo, the dolphin, defines us the best — a harmony between elegance and intelligence. This is our aim. We will continue to listen to all the challenges you face and continue to create beautiful products.