DO NOT PUT ANY OTHER LIQUID OR TAP WATER OTHER THAN FILTERED WATER AND MINERAL WATER. Just put filtered water or mineral water in Silveray bottle and leave it for 10 mins.
DO NOT SHAKE THE BOTTLE. This product contains 99.9% fine silver filter. If you shake it too hard, Silver Filter can be broken or damaged so that you can't use it.
DO NOT SPRAY IT DIRECTLY TO SOMEONE WHO IS ALLERGIC TO SILVER. You can use it with anyone and your pets because all you need is purified water or mineral water without any chemical components. But, please avoid using it if you are allergic to silver.

Difference between Silveray and an average spray
A gentle squeeze can make Silveray-Ⅲ release a burst of fine mist. This mist-like spray with 0.03mm diameter nozzle semi-automatically comes out evenly and consistently from the first to the last drops. Unlike average sprayers, Silveray's ultra fine spray head can cover bulky furniture and larger areas quickly and easily.

The average sterilizing product is not good for your health
Common cleaning agents for family use contain harmful chemical components. Silveray-III has no chemical components so that you can even use it on your skin.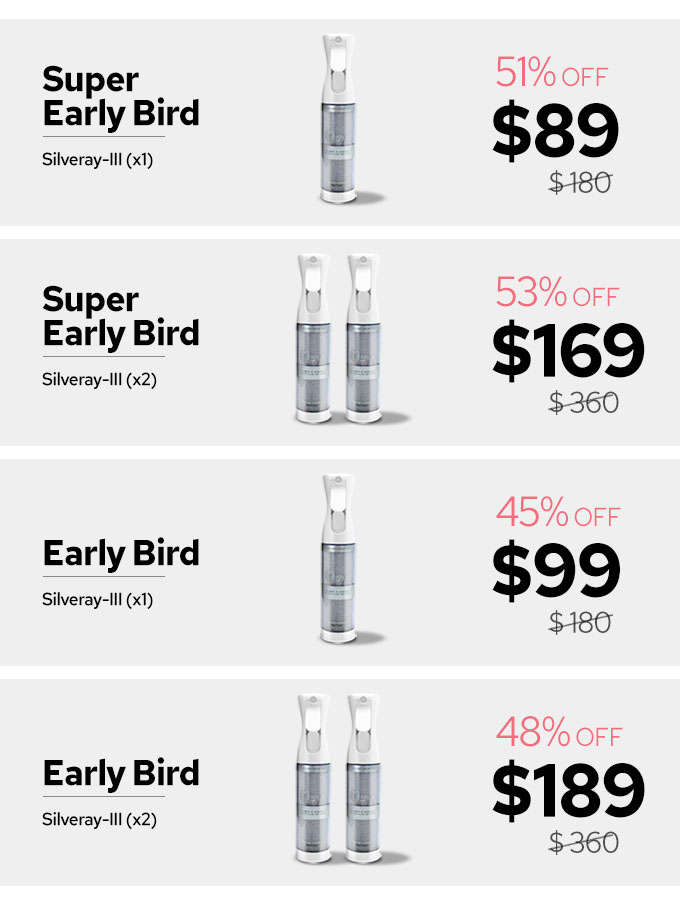 Silverex has developed Silver Foam Filter technology that expands 99.9% fine silver and manufactured mists, humidifiers, showers and soaps including product planning. Silverex's product quality is well known and recognized in many countries including USA, China, Japan, France and Germany as well as S. Korea. And it has been exported to many countries. Silverex will continue to develop products using Silver Foam Filters and strives to constantly evolve itself to meet eco-friendly standards.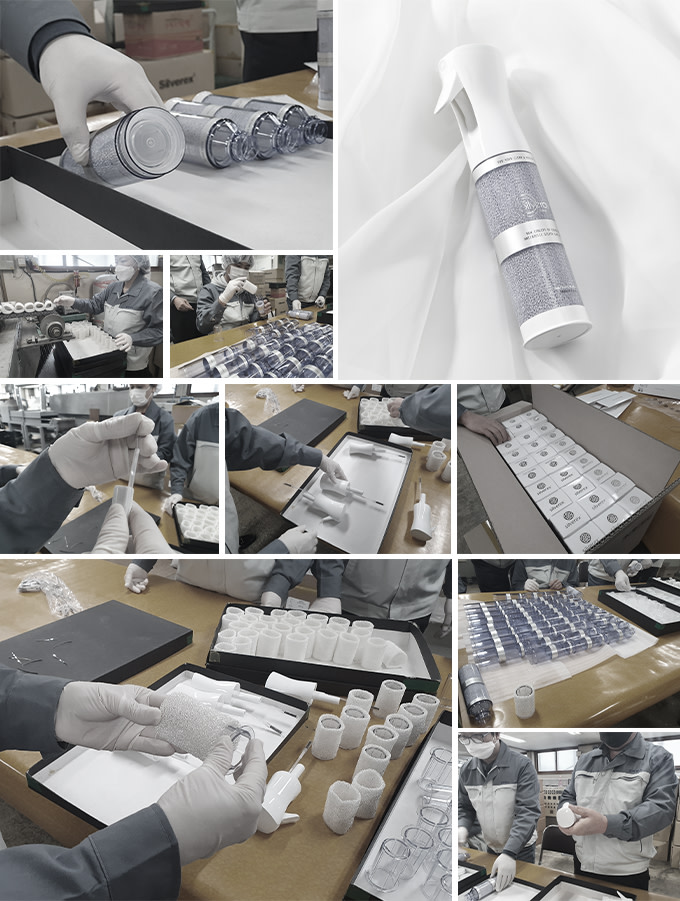 A single Silverex's product must go through hundreds of tests before it goes to market. This product is made of eco-friendly material and Silver Foam Filter. Therefore, each product is manually produced with careful attention. We aim to increase customer satisfaction on products and provide the best quality for our customers. We have made every effort for quality control from A to Z. All products made by Silverex are reliable and safe.
1. Bigger volume – Increased to 200ml. You can use it in different places.
2. Semi-automatic spray – If you just press it, it sprays out for 2-3 sec automatically and 1-2 times more strongly than normal sprayers.