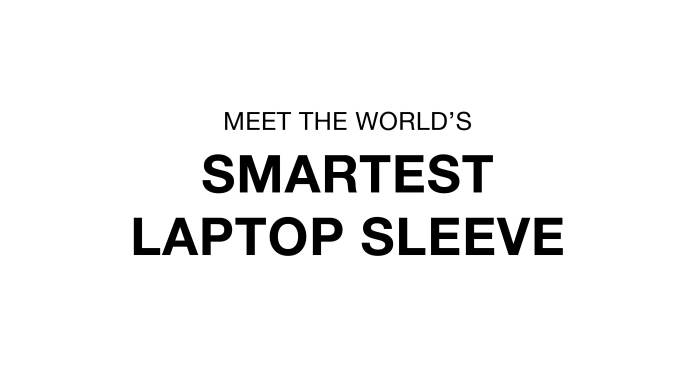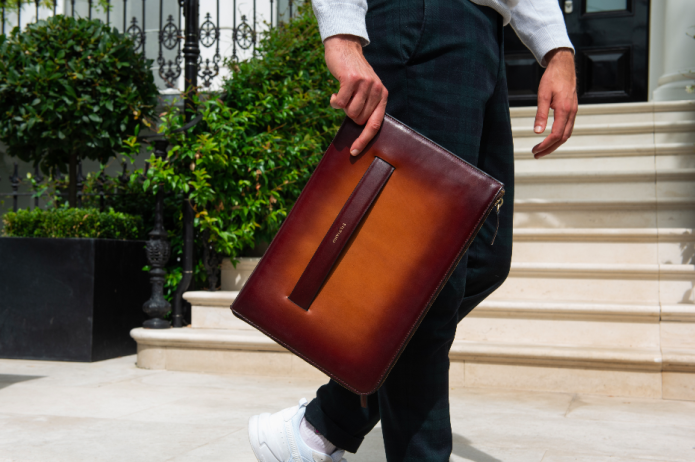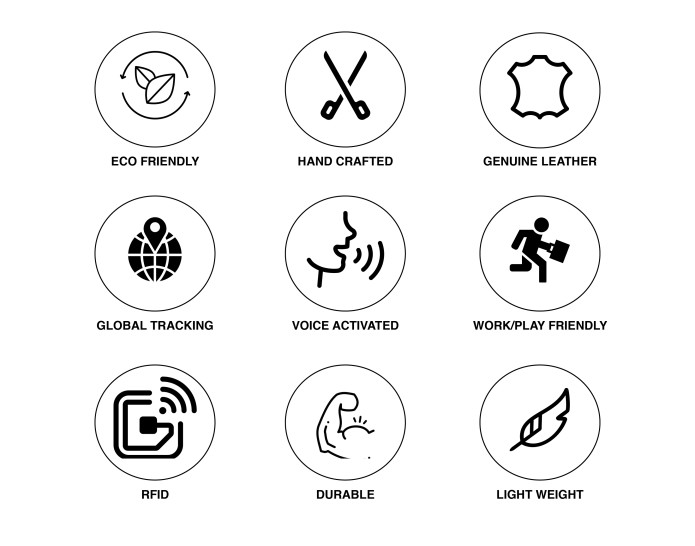 Each Silviano Sleeve is handcrafted using the highest quality vegetable-tanned leather. It is then handpainted using a traditional Italian technique to produce the unique finish of the Tamponata leather. The products are created by a family that has over 70 years of experience in the industry.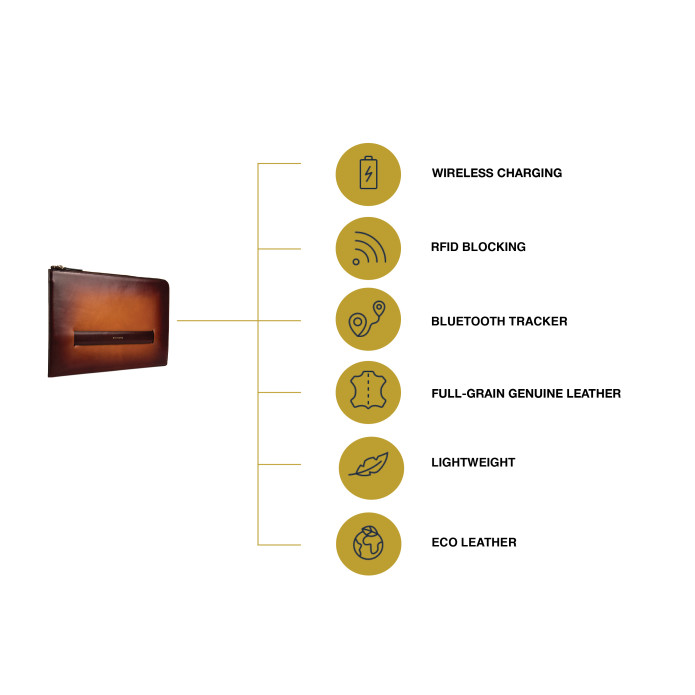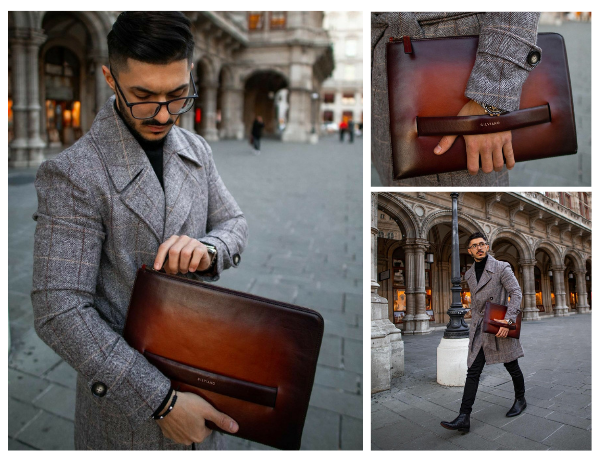 TRACKABLE: Powered by Chipolos Global tracking network
VOICE-ACTIVATED: Compatible with Google Assistant, Amazon Alexa & Siri
WIRELESS CHARGING: Charge up to 3 devices at once
RFID-BLOCKING: Against skimming & private data theft
ECO LEATHER: Made using full grain vegetable tanned eco-friendly leather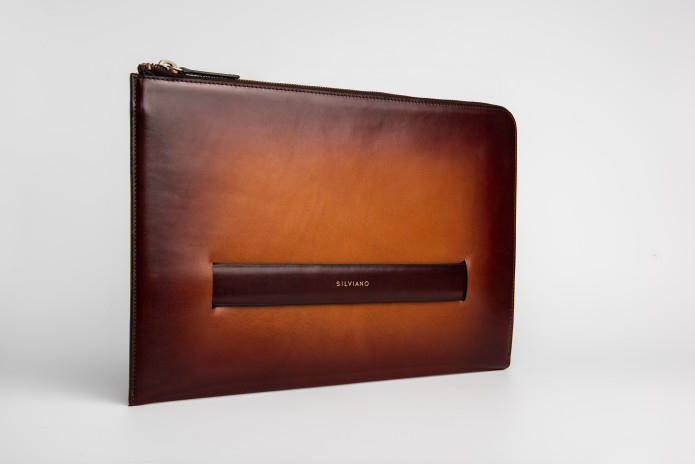 Enjoy the peace of mind of never seeing  "Low Battery" on your phone ever again.
Built with 10W charging capability and to the WPC Qi standard, SILVIANO offers you the fastest wireless charging for Android and iPhone. Just drop your phone in the Sleeve and it will do the rest.
The wireless charging feature makes it easy to just drop your phone in the Sleeve without the excessive cables that get tangled and take up extra space.  Charge your smartphone on the go with our ultra-slim powerbank.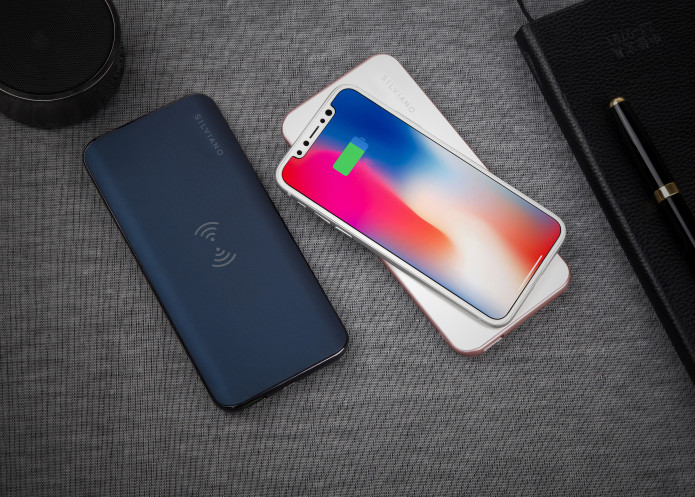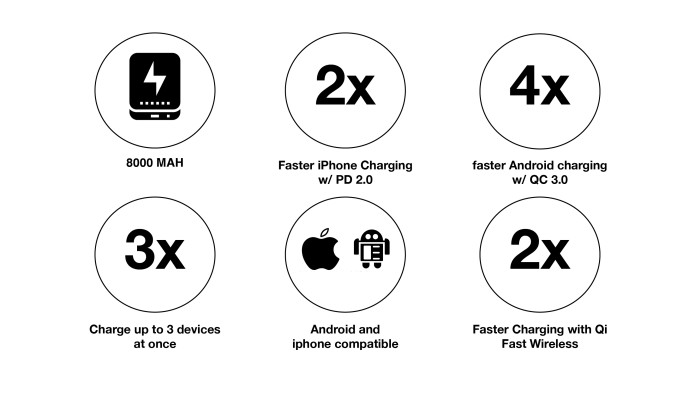 Using our state of the art charger you can charge any of these 3 devices simultaneously, such as your phone wirelessly and 2 other devices with the cable.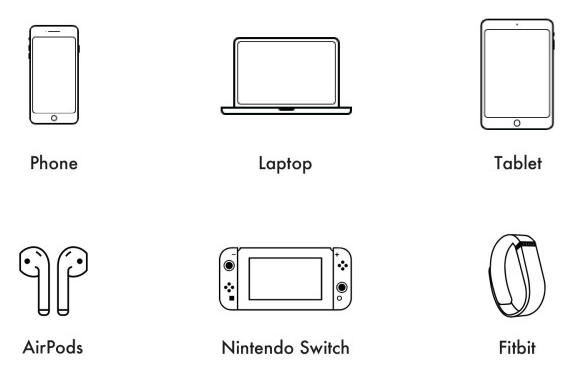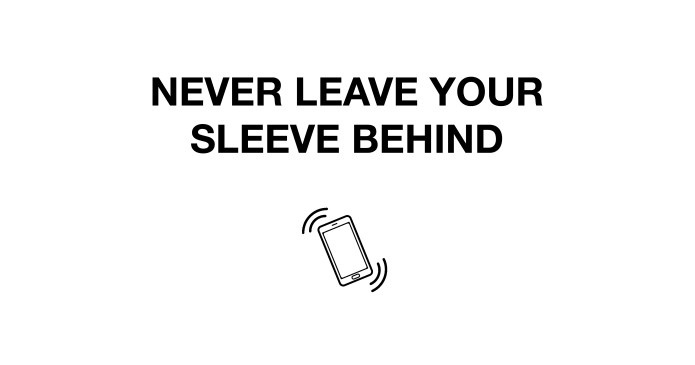 The Silviano Sleeve is the world's first voice-activated sleeve that comes with global tracking!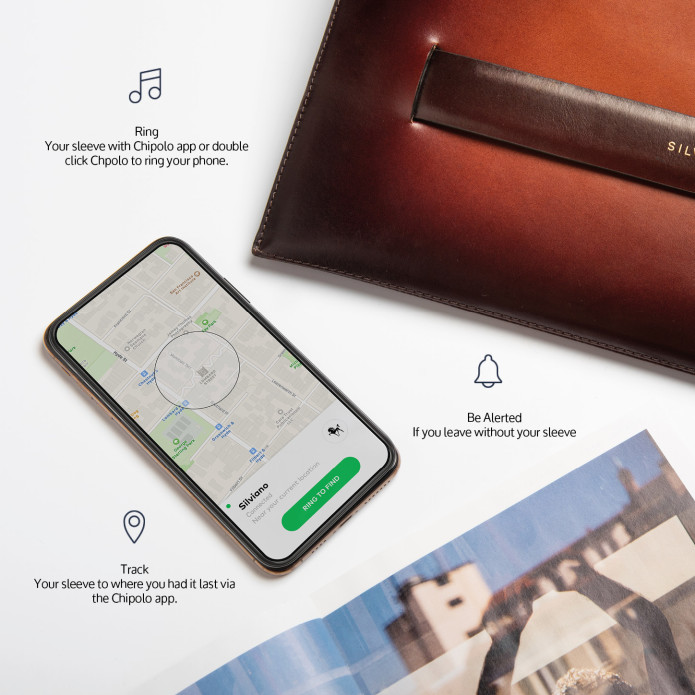 We have partnered with a leading Bluetooth tracker- Chipolo so that you never lose your Silviano products. Chipolo saves the GPS location from your phone where you lost your item. By a simple click on your phone or a voice command, you can track your item to where you last had it. You can simply ask Google Assistant, Amazon Alexa, and Siri about where your Device is and to ring it if needed. All handsfree!
The apps tracking mechanism is so smart, that you can set up alerts so your phone will notify you if you forget to take the Silviano Sleeve with you.
RING CHIPOLO - Ring Chipolo from the Chipolo app on your phone.
FIND YOUR PHONE - Ring your phone by double-clicking the Chipolo.
LAST KNOWN LOCATION - Track your sleeve via the Chipolo app.
COMMUNITY SEARCH - Mark your sleeve as lost in the app. 
VOICE CONTROL – Chipolo works with Google Assistant, Amazon Alexa, and Siri.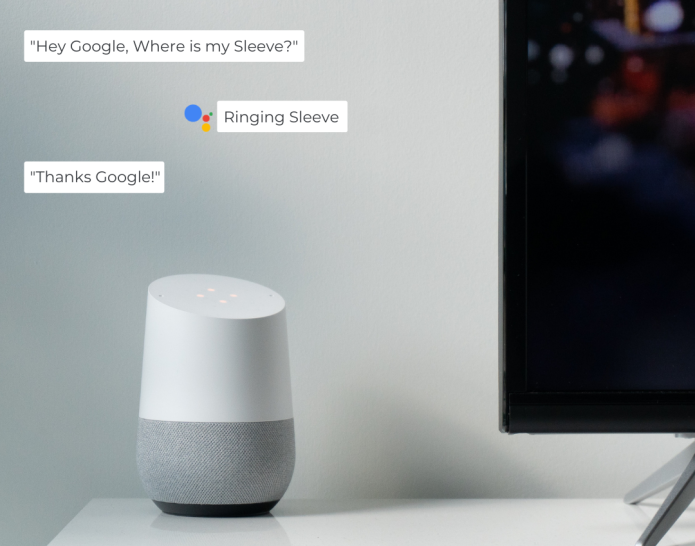 Our sleeve comes with a front loop which gives support to your wrist and makes it comfortable to hold. It can be easily carried with the comfort of the retractable handle by itself, and it can also fit into your backpack or travel case when you pack for the weekend getaway.
Our compact design is designed to be seamlessly from a work meeting to a bar and always be sure to make a statement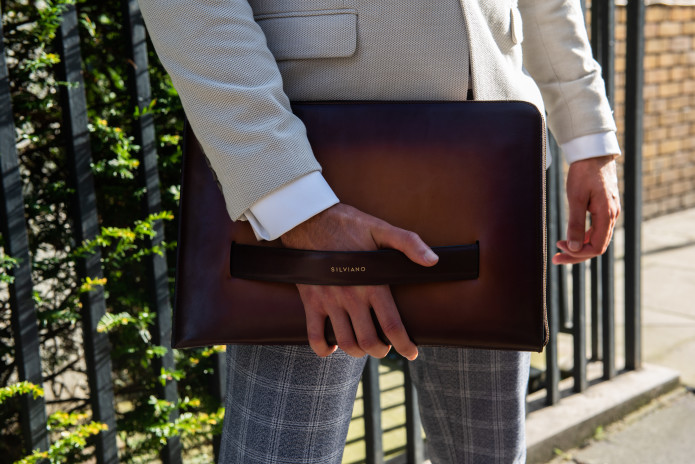 Organize yourself with all our beautifully designed compartments which means you never have to deal with clutter again we have a place for everything.
The Silviano Sleeve has custom-made compartments for all your things.
Our Sleeves come with card slots and RFID lining i.e. a special lining that protects you from digital theft of RFID skimming and electronic pickpocketing, thus keeping your personal information safe from high-tech thieves.
There is a detachable key-ring, slot for pen, designated pocket for your Bluetooth tracker, and several other pockets for your earphones, money, pen drives, etc. 

At the back, there is a zip pocket with small compartments to hold your phone, wireless charger, and other miscellaneous items.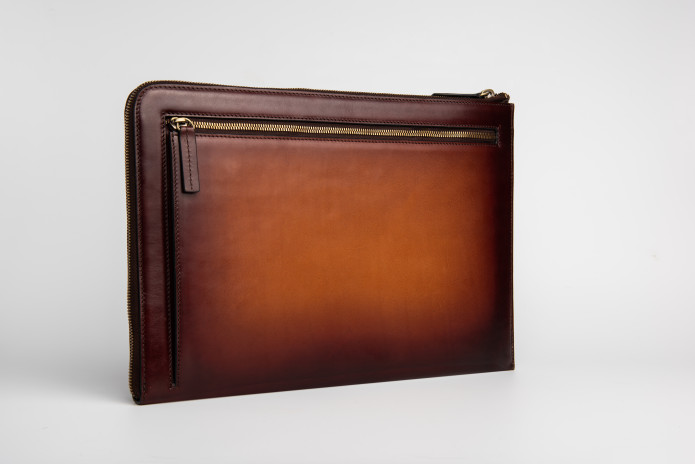 AS FEATURED ON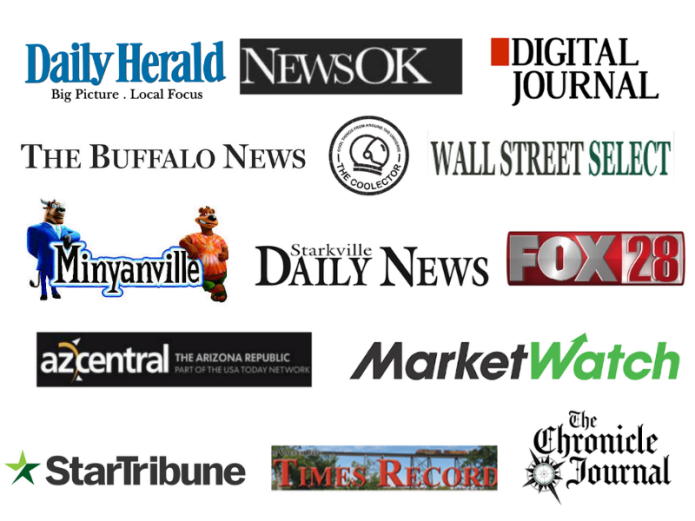 Review rating of 9.2/10
"With legendary craftsmanship and wireless tracking, this sleeve is a must-have for everyday carrying!" 
https://thegadgetflow.com/portfolio/silviano-smart-laptop-sleeve/

"One of the smartest accessories we've seen in a while, and one of the most aesthetically superior designs you're likely to encounter on a sleeve of this nature"
https://www.thecoolector.com/silviano-smart-laptop-sleeve/

"A gorgeous leather laptop case that will change your world. This is an A+ and this is the nicest bag like this that I have seen!"

"The Sleeve looks and feels very nice. The Chipolo app and works really well. Love how easy it was to set up "
https://www.instagram.com/p/CGRpuBxhlTG/
HOW DO WE KEEP OUR COSTS LOW?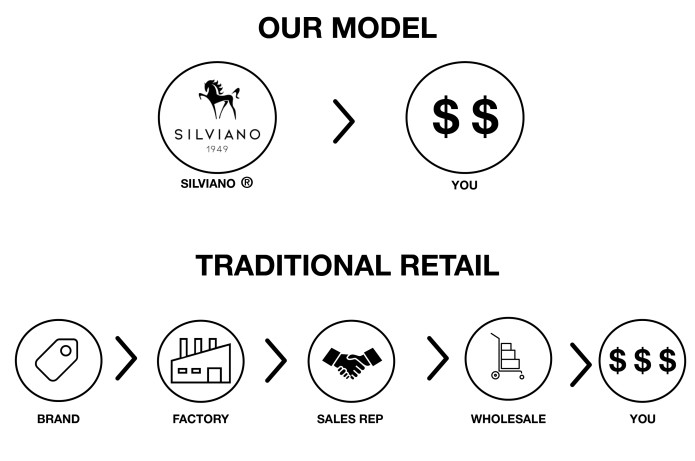 We are a UK based brand, with factories in India, inspired by modern-day technology and classic British fashion. Our aim was to create a high quality and well-designed product at an affordable price.
At Silviano, our entire business is completely vertically integrated. This helps us to keep our costs low and monitor the manufacturing process from end to end to ensure that we are giving you the highest quality product.
We manufacture the products in our factory and sell directly to the consumers, thus eliminating the middlemen and the extra costs. We want customers to buy a luxury product without the extra markup and put the savings in their own pocket.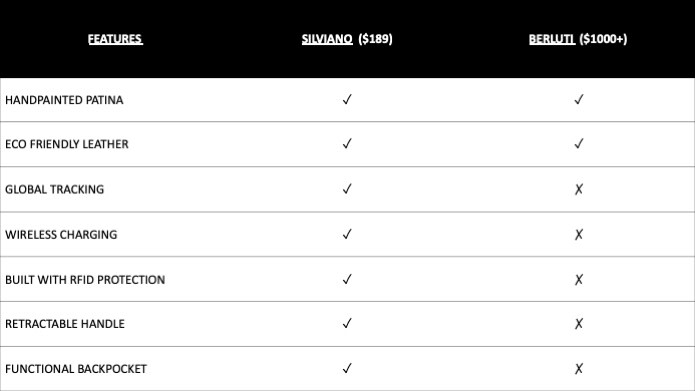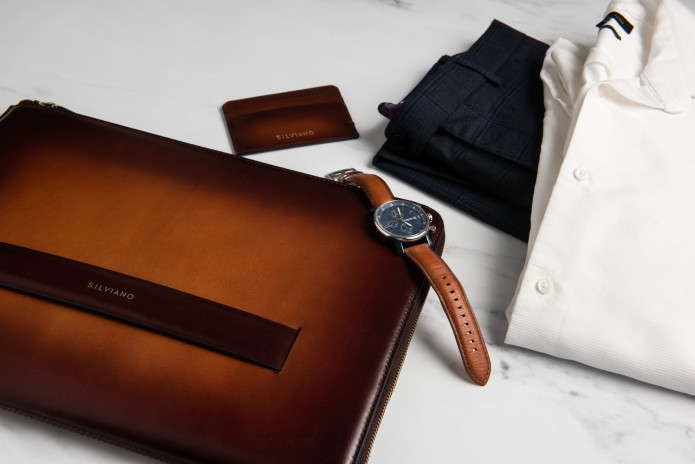 Our leathers are carefully sourced from tanneries based around India. All our leathers and tanneries are LWG certified. We use the highest quality of vegetable-tanned leather to make our Silviano products.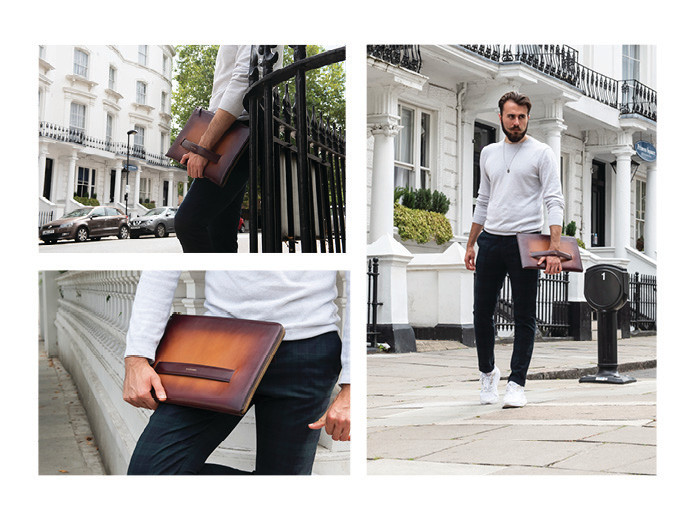 Colouring is done on naturally tanned leather with dye-based colours. A layer-based technique comes with hand spray applied on each panel of the product. After colouring it goes through a burnished wax process and finally a heat plate touch on the panels.
It is a process used to shade leather in gradations, producing a highly organic look that gives character and soul to leather goods.
Leather is a natural product - it becomes more beautiful as it ages. The items change color as you use them over time and develops a beautiful patina, which begins to tell your story.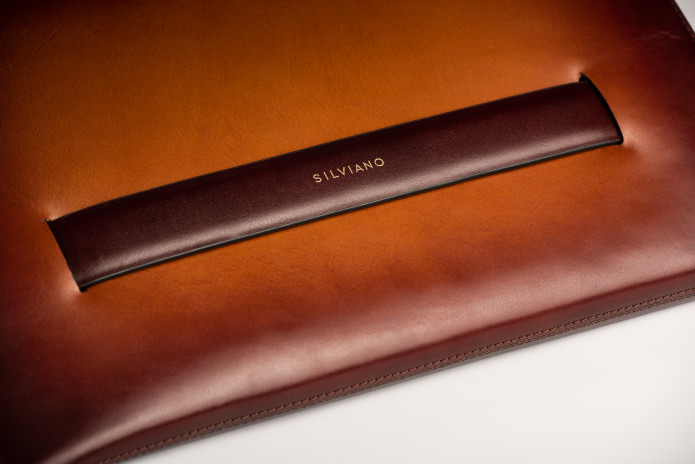 Since vegetable tanning is a more natural process, it is much more eco-friendly as compared to the full chrome leather which produces toxins in its tanning process.
Vegetable tanning is the most traditional form of tanning leather that dates back to 6000 BC. It uses organic materials such as tannins from tree bark, roots of plants, and flowers to tan leather. Less than 10% of leather in the world is made using this natural process. It requires time, skill, and highly experienced craftsmen to make this type of leather.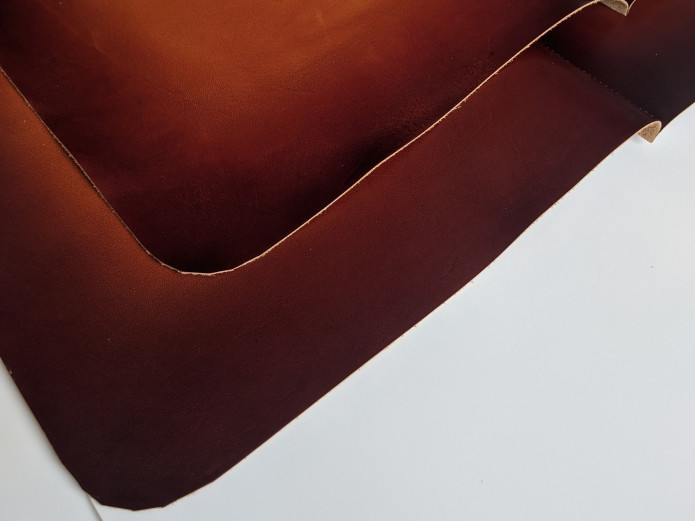 We believe that leather is a fabric of nature, and we use it with great respect for the earth and its natural eco-system. We work with leathers that are a by-product of the food industry rather than bred for stock leather. We also ensure that all industrial waste generated from the production of such leather is recycled and repurposed.

Over the years leather absorbs the traces of its surroundings and the things it comes in contact with - the natural oils of your body, sunlight, water, dirt, dust, heat. Over time, it develops a natural patina. A naturally developed patina is the soft sheen that develops on the surface of the leather, imparting a character to the product. A patina on the leather is like the hallmark of a high-quality leather good. The Tamponata effect is like the natural Patina, given to the leather at the start.
Tamponata is a type of hand-finishing done on leather, where the color is applied with a soft pressure, layer upon layer, to give the leather a shaded effect. The colour is dark along the edges and lighter on the interior. The varying degree of darkness and lightness gives the leather beautiful tones and a great depth.
It's a highly skilled traditional Italian technique that gives the leather a special character and unique finish. We use a vegetable-tanned cowhide as a base for the Silviano Sleeve. Each and every piece of the product is hand painted separately. This natural effect gives the leather a rich and luxurious look, that looks more beautiful with age. 



At Silviano, we want to make your product as special for you as possible!
With our bespoke service, you can personalize your sleeves by embossing them with your initials (up to 3 letters). You can add a personal touch to your own products or gift your loved one a truly unique, thoughtful, and sentimental product that will be cherished for years.
Our personalisation is done using a traditional hot press and brass blocking dies to hand-emboss your Sleeve with a gold foil.
*Available at check out*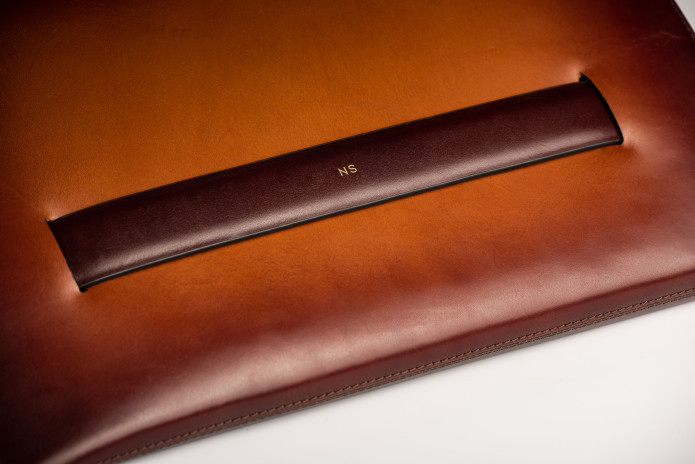 DON'T MISS OUT ON OUR SPECIAL PRICES
VIP BUNDLE
TECH SLEEVE - CHARGER + TRACKER + PERSONALISATION + CREDIT CARD HOLDER + SECRET GIFT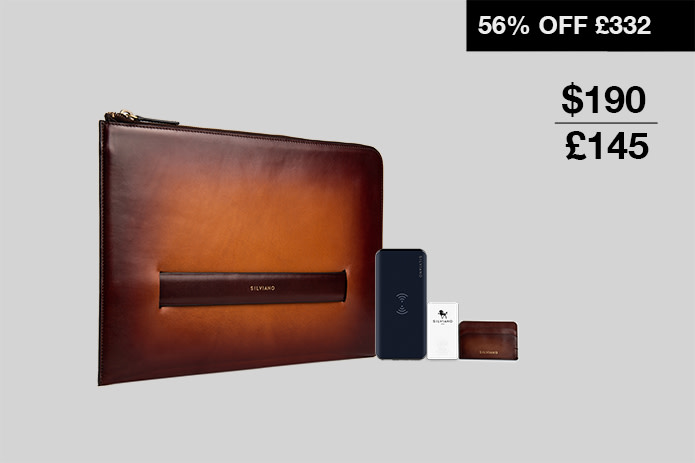 Here at Silviano, we create products of the highest quality and finish that will last you a last a lifetime. In case there are any issues in the future, it is covered under our Two-year product warranty and you could be rest assured top-notch customer service, as unlike start-ups we have been in business for 7 decades and will be here for anything you need help with. 

Silviano Group is dedicated to doing business ethically, which is deeply rooted in human values. We are committed to sustainability and good business practices. We aligned our goals to the 2030 Agenda for Sustainable Development of the United Nations
DESIGNED FOR LIFE 
We believe in buying fewer, but quality. Long-lasting products designed to last for life, are truly sustainable. Unlike leathers commercially available that are loaded with chrome and harmful metals, our vegetable tanned leathers are biodegradable and tanned the way it used to be centuries ago. Several greenwashing brands claim to use 'vegan' materials actually made of plastic, that do not last over a couple of years and end up in the ocean as landfill. We have also tried to add-on products like the tracking device, so you never lose your Silviano products :)
REUSE, REDUCE, RECYCLE 
We use the highest quality of sustainable and recycled materials throughout our production process, starting from our vegetable tanned leather until the recycled packaging paper.
CARBON FOOTPRINT 
The recycled material we use minimizes our footprint and we believe to produce using 100% local and sustainable materials and have finalized talks with partners to offset our carbon footprint. We also plant one tree for each Sleeve sold.
COMPANY WITH A HEART 
We believed our team and artisans are part of our family and our number asset. We continue to create opportunities and give back to all of our touch points – our artisans and their families, our suppliers, management, and our community.
STRETCH GOAL - $50,000
When we reach $50,000 in funding we will release the Blue colour of our Sleeve 

THE STORY BEHIND OUR TEAM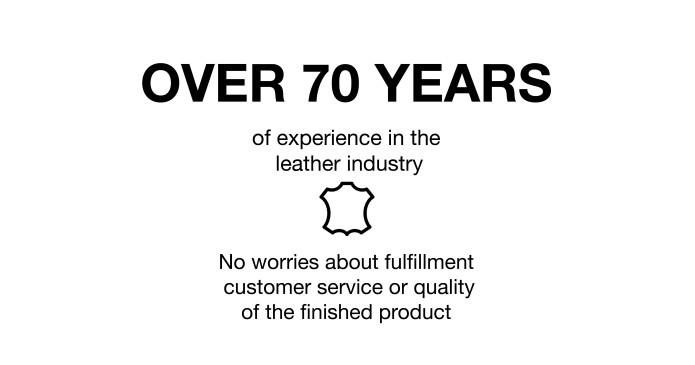 Established in 1949 and headquartered in London, Silviano Group is a family-owned company with over 70 years of experience in leather. We manufacture luxury leather goods/accessories and unique corporate gifting for exclusive luxury brands globally. 
The Group's reputation has been founded on the design and development of high-quality leather products for clients who require exclusivity and innovation. Our team is a seamless blend between traditional and modern. We are proud to have onboard the most skilled artisans, which our team has trained over decades.
Silviano is a dreamchild of the family-run business created by brother-sister duo Nakul & Sonal Malhotra. Nakul and Sonal are both siblings in the 3rd generation family business.
Founders - Brother & sister duo - Nakul & Sonal Malhotra
Nakul comes from a background in Finance and Sonal has a background in International Fashion, Luxury brand management, and Textile Science. They both have been fortunate to be a part of the leather goods manufacturing industry from a very young age and also throughout their working careers. They realized that there were no high-quality leather products available at an affordable price. Hence, they embarked on their journey to create the best laptop sleeve ever. 
They decided to combine the knowledge of skilled craftsmanship and quality passed down by their forefathers, along with their own knowledge of functionality, sustainability, modern design & technology. They spent nearly 3 years creating hundreds of prototypes to create a beautiful functional product that was of the highest quality, affordable in price, adaptable to the modern-day tech market, and most importantly, unique. And thus, Silviano Sleeve was born as the perfect amalgamation of new and old.
At Silviano we used the highest quality of raw materials and created a product that has all the features of a luxury product, yet the price makes it attainable. Since we manufacture the products in our factory and sell directly to the consumers, thus eliminating all middlemen and the extra costs. We want customers to buy a luxury product without the extra mark-ups, and put the savings in their own pockets.
   TIMELINE