CablePower acts as an ultra multi-functional backup charging equipment, with which you never worry about not being able to get your mobile devices charged. It will make your business trip, travel and work more efficient, convenient and comfortable since you no longer have to carry lots of charging equipment and charging cables as before.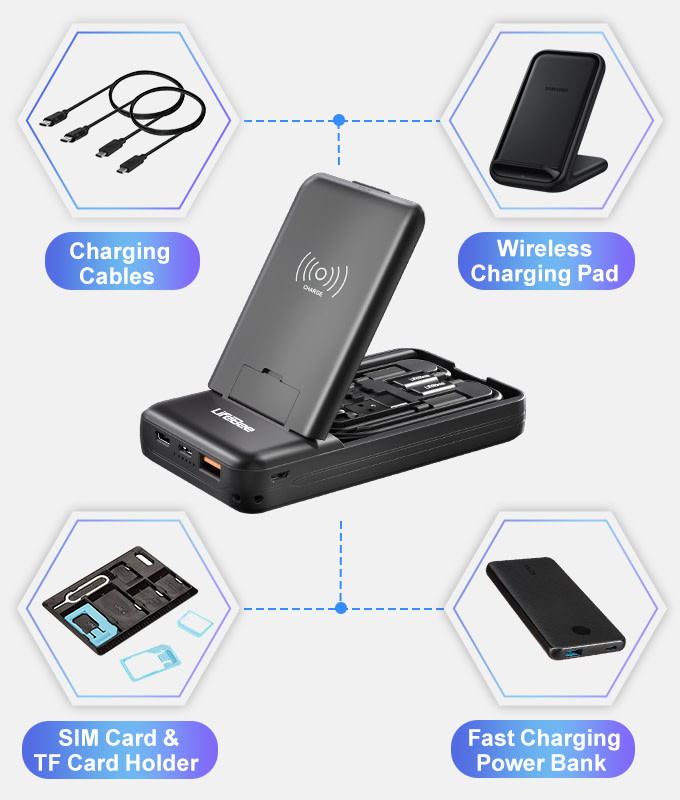 CablePower Charging Cable Kit Features:
✅  6-in-1 Charge Cable Kit
✅  18W Apple Fast Charge
✅  Up to 60W Power Delivery(Can charge laptops and tablets)
✅  480Mbit USB 2.0 Fast Data Transfer
✅  On-The-Go (Transfer your phone into a battery pack)
CablePower Power Bank Features:
✅  15W Wireless Charge
✅  18W PD Fast Charge
✅  22.5W/18W QC 3.0 Fast Charge
✅  10000mAh Lithium Battery
✅  9 Charge Protection
✅  3 Recharge Methods
CablePower Card Holder Features:
✅  2 Nano SIM Card Slots, 1 SD Card Slot, 1 Pin Ejector
Media Coverage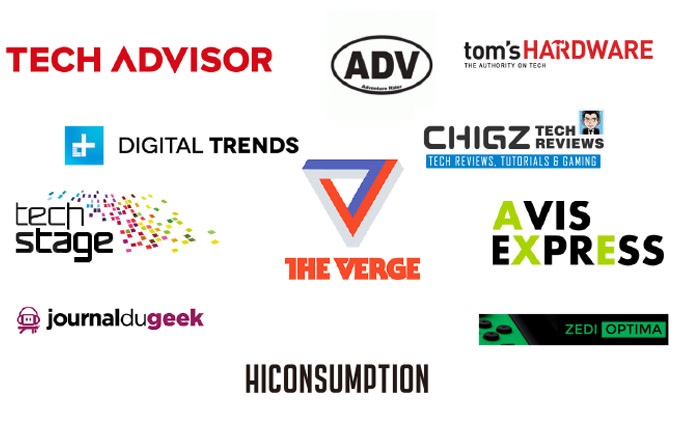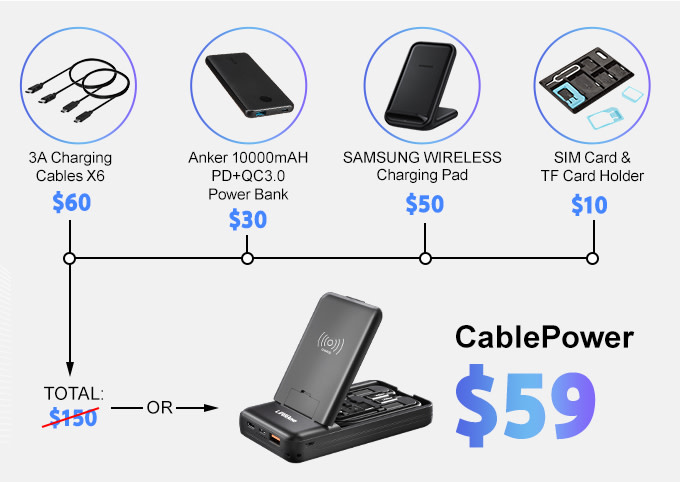 CablePower: The World's Most Convenient Power Bank
 
Six in One, Charge All the Devices
Equipped with a multifunctional charging cable storage function, CablePower has 2 built-in high-quality fast charging cables and 2 changeable charging plugs so as to provide 6 different types of charging modes.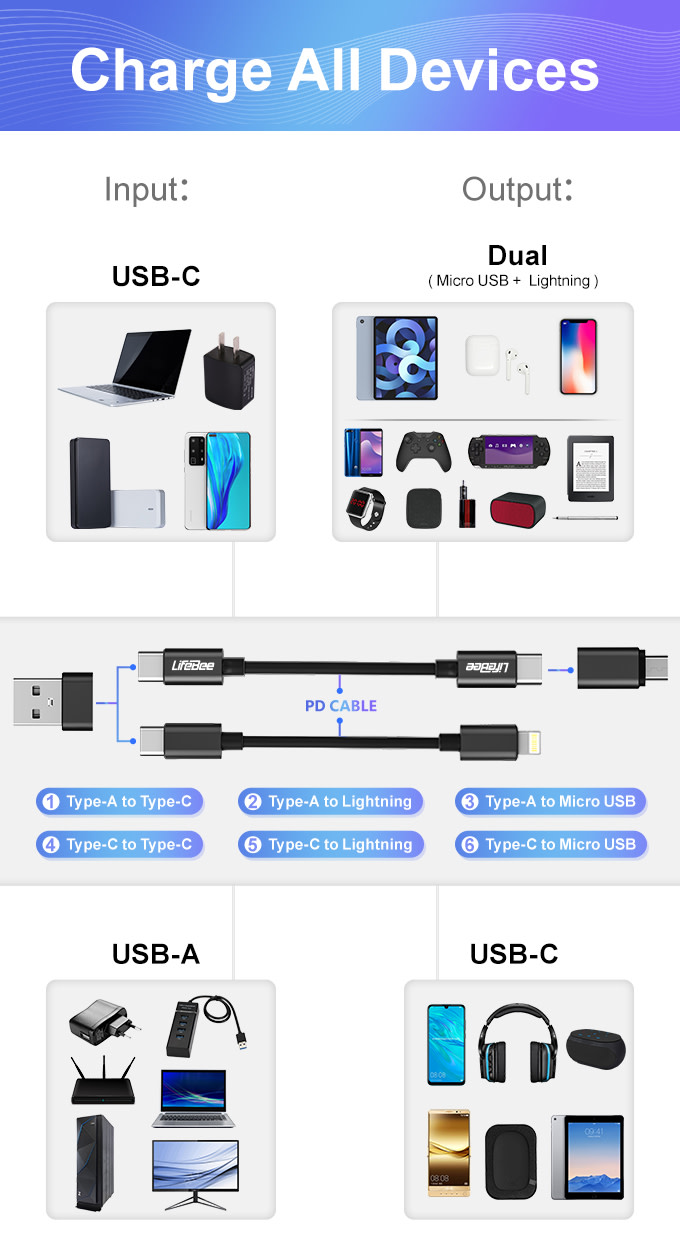 Our 3 connectors (Lightning, Micro USB & USB-C) are designed to be compatible with all your modern devices from headphones to Nintendo Switch, E-Cigs, GoPro the list is endless. It can also work with tablets and USB-C laptops.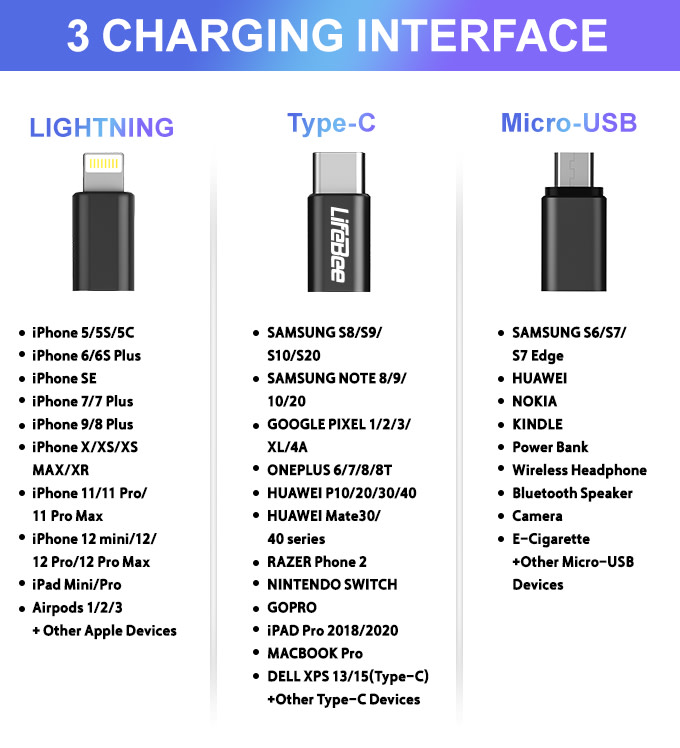 One Cable Kit To Rule Them All And Save A Lot Money!
Big companies try to sell you 6 cables separately to maximize their profit whereas we just want to make your life easier. Why buy 6 cables and clutter up your bag and workspace when you can get 1 cable kit to do everything for all at such an affordable price!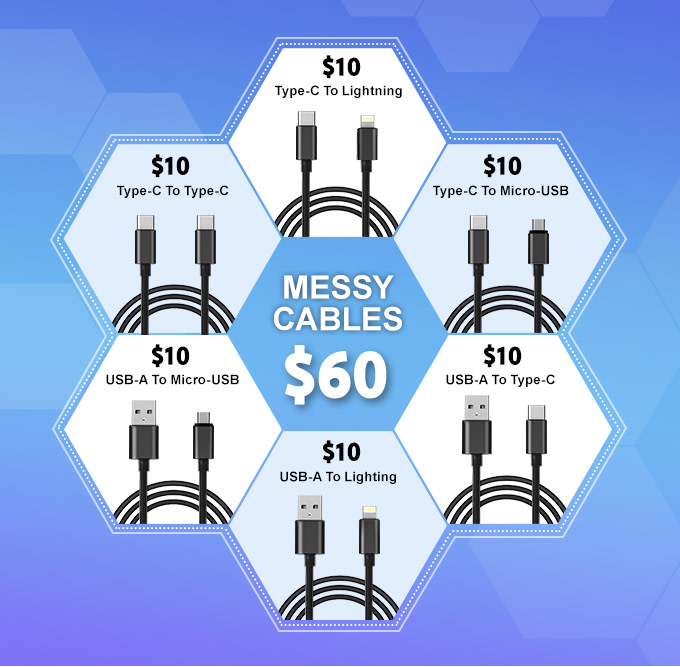 Goodbye Messy Cable!
Not Only Compatible But Also Enhanced
CablePower can meet various devices' charging needs, not only support to charge all types of electronic devices but also support fast-charge of Android and Apple devices.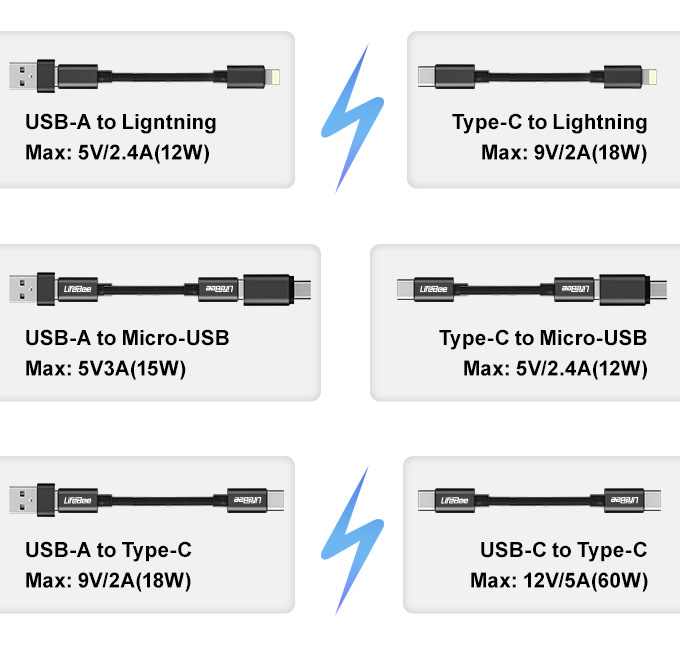 Tired of your slow charging iPhone cable? With CablePower charging cable, you can fast charge your iPhone from 0-50% in just 30 minutes!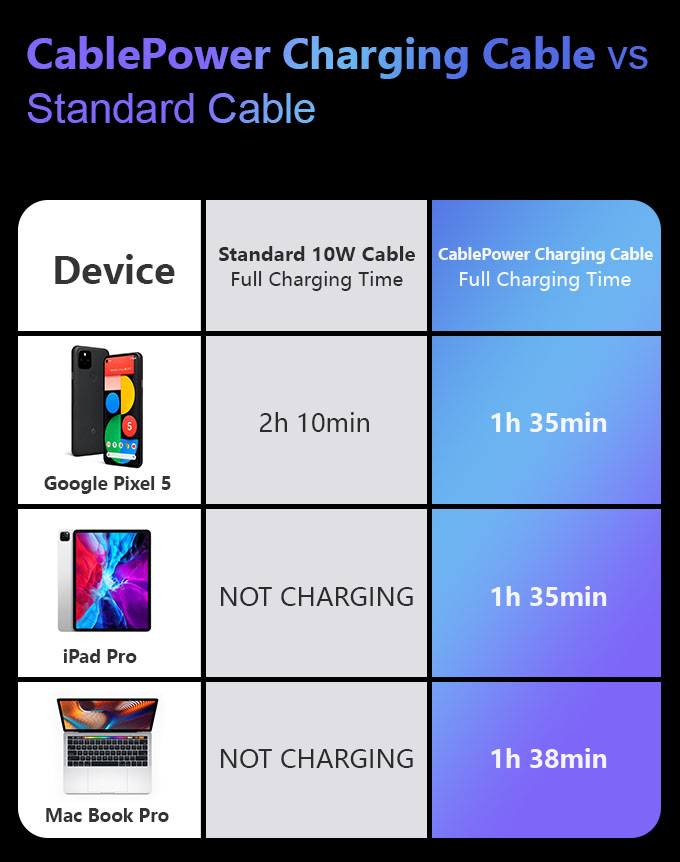 In addition,CablePower cable kit supports 480Mbit USB 2.0 Fast Data Transfer. Less time plugged in, more time going out!
Charge Everywhere with On-The-Go Function
You can now transform your phone into a battery pack with CablePower's charging cables, On-The-Go charging functionality allows you to share charge between your devices without the need for a charger or a power bank.​
Durable
CablePower charging cables have passed the rigorous durability test for the sake of the repeated use in a long time.
User-friendly Storage Function
CablePower's storage function can not only store multiple charging cables but also take in 2 Nano SIM cards and 1 TF card, which are very practical for people on business and travel.
4 Ports Input/Output & Wireless Charge
Output - Charge 3 Devices At Once
The creating the best power bank, one that could charge all your wired and wireless devices, truly replacing all your chargers and wireless pads with just 1 device.
CablePower has not 1 only SCP 22.5W/QC3.0 18W USB-A quick charge port but also 18W PD Type-C quick charge port and even a 15W wireless charging pad, can quickly charge 3 devices at once!
CablePower works with any modern USB device and can also charge Cameras, GoPros, Speakers, Headphones, Nintendo Switches etc.
Enjoy Using CablePower's 15W Wireless Charge
CablePower supports 15W Fast Wireless Charging for all wireless devices including phones and Apple AirPods. And meanwhile, its unique folding charging panel design can serve as a phone holder so as to let you enjoy the fun of video during charging.
Input - Much More Convenient To Recharge
Compared with other power banks, CablePower supports 3 input methods, USB-C, Micro USB and Lighting, to charge, without worrying about the only-one-charging trouble free from a charging problem.
You can also charge other devices when CablePower is recharged at the same time!
3X iPhone 11 Battery Life
3X the battery life if your iPhone 11 with CablePower's 10,000 mAh capacicty.
Longer Lasting Battery
One of the most useful features of the graphene composite features is that is much longer lasting than traditional batteries. Each CablePower power bank is rated to last 2,000 life cycles vs only 500 cycles of the closest competitors. This means CablePower has a 5 years+ battery life, which means you can use it every single day for 5 years and it would still seem like its brand new.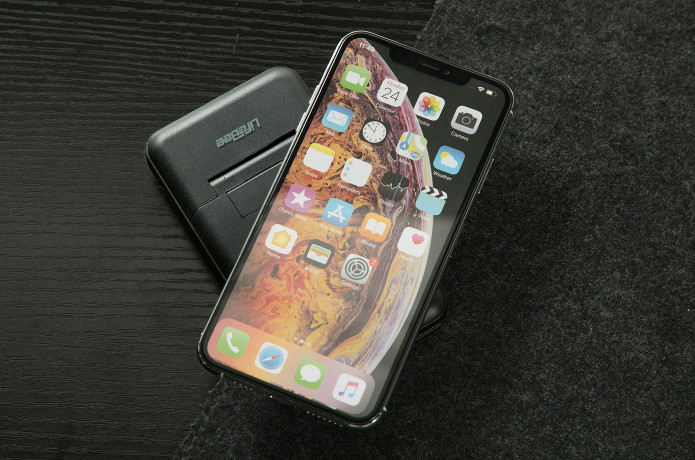 Through laboratory testing equipment, we've tested the battery to last 1,836 cycles and still have a capacity above 87% (a life cycle is considered above 80%), so in reality the life cycle is far greater than 2,000 but we are being conservative in our statement of 2,000.
World's Safest
In order to make the process of charge/recharge more secure, CablePower supports 9 charging protections by means of multiple rigorous tests, providing safety protection comprehensively to let you use it at ease!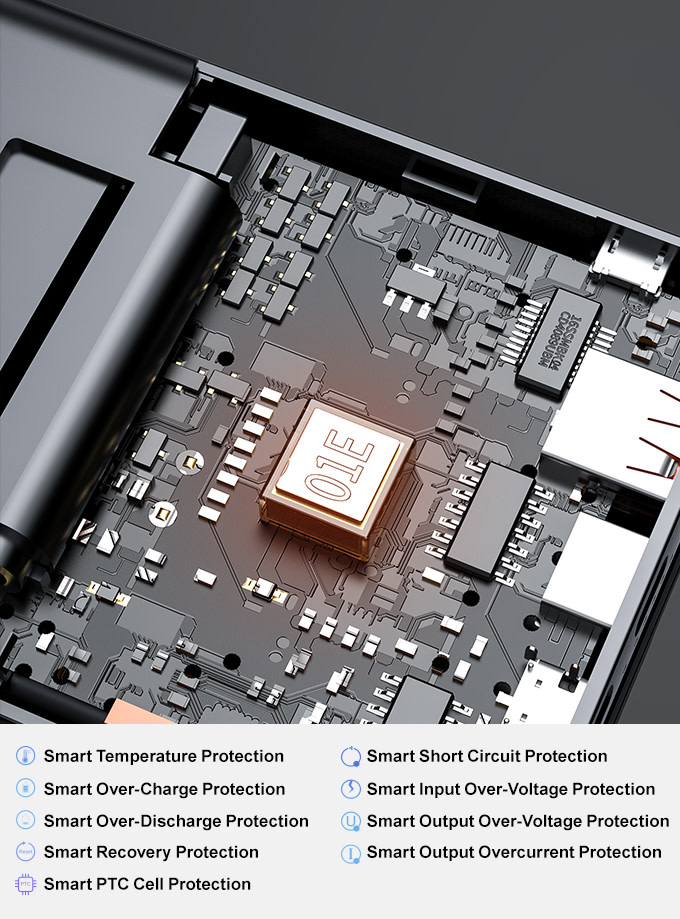 Not only fast and powerful, the battery technology also makes CablePower the world's safest power bank by allowing it to fast charge at low temperatures compared to standard batteries. It will never go above 50°C (122°F) unlike competitor power banks which can reach 70°C (167°F) ensuring it is safer and also longer lasting.  You'll feel very comfortable knowing that this baby won't heat up or bulge over time like you see in many of your older USB devices.
Pocket-sized
Slim enough to fit in pockets and easily grab with one hand.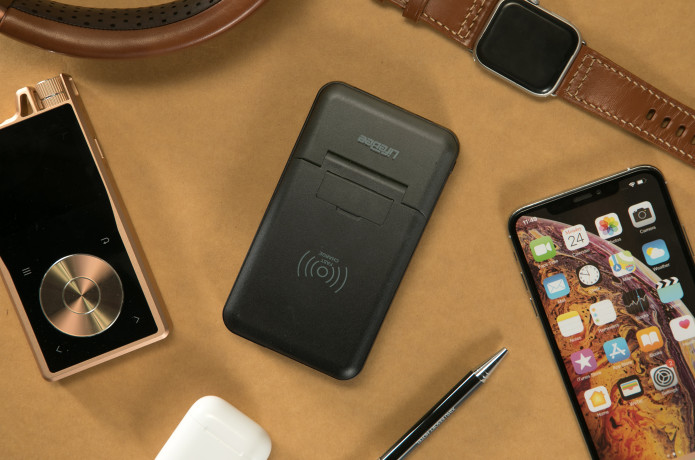 Despite all the features, CablePower comes in a pocket-sized lightweight 270g (0.6lb) so you can carry the only battery that matters, that can power all your devices, wherever you go, away from the grid, without fear of ever losing power ensuring your life stays uninterrupted and always on the go.
Durable And Comfortable
While designing a high capacity battery, we still wanted a highly compact and portable solution. Adopting an ultra-hard PC shell and a surface made of matte, CablePower takes the comfortable hand feeling as well as the fine heat dissipation into account, characterizing anti-corrosion, scratch-resistance and a longer service life!
Certification
In order to achieve international certification for safe use, all power banks are put through a number of rigorous industrial tests to ensure CablePower can withstand daily use, even the most extreme of circumstances.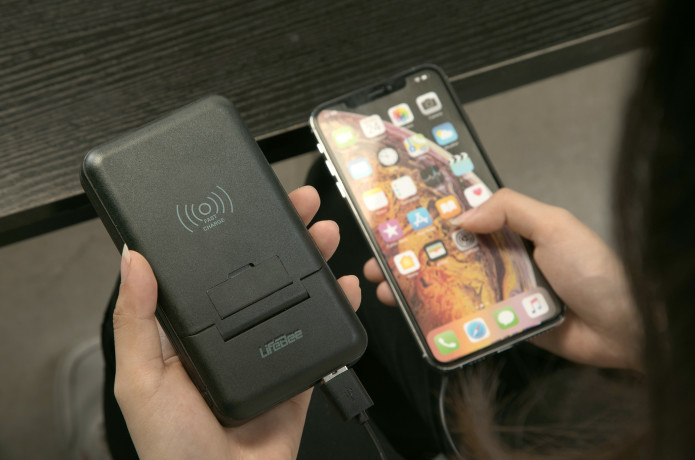 Why Choose CablePower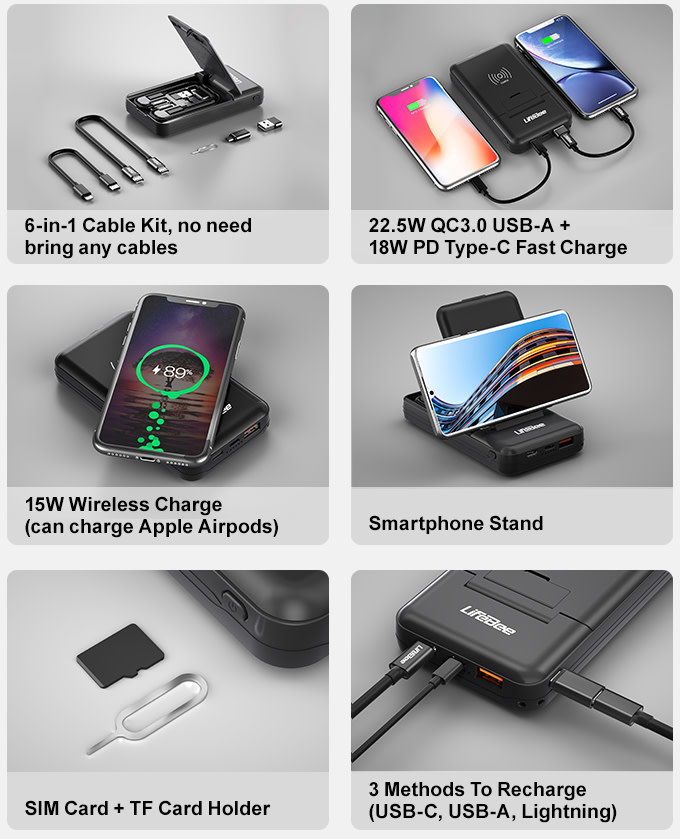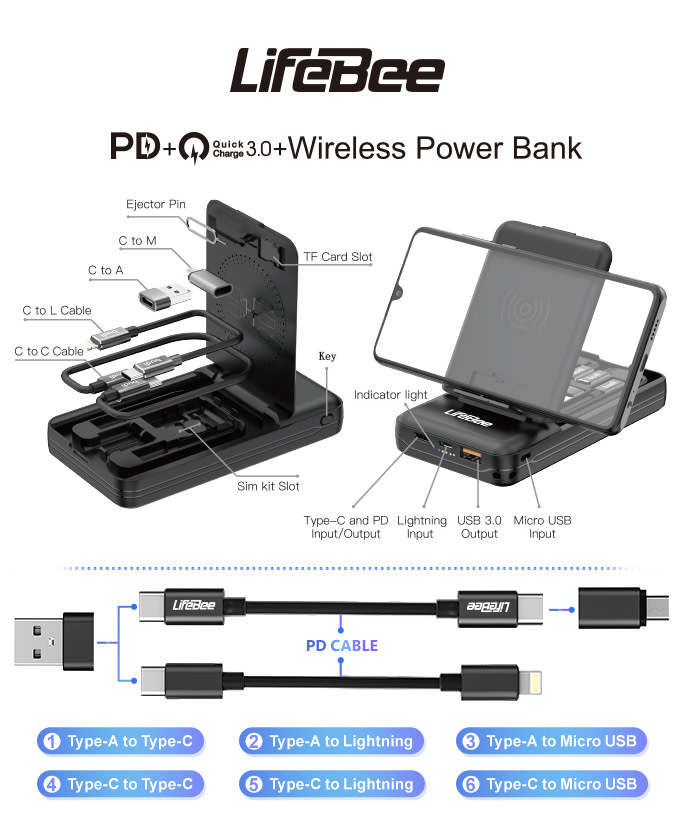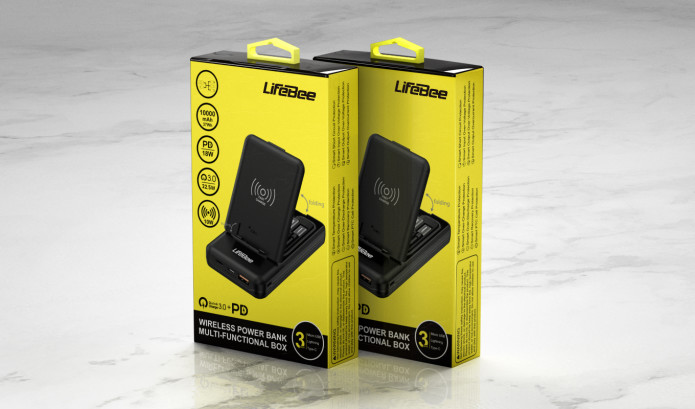 Specifications:
Capacity: 10,000mAh / 37 Whr
Power Bank Interface:
USB-C Power Delivery 18W Input/Output
USB-C Power Delivery Input: 5V/2A, 9V/2A
USB-C Power Delivery Output: 5V/3A, 9V/2A, 12V/1.5A
22.5W/18W USB-A QualComm Quick Charge 3.0 Output
USB-A Output: 5V/3A, 9V/2A, 12V/1.5A
Lightning Input: 5V/2A, 9V2A
Micro USB Input: 5V/2A, 9V2A
Wireless Output 2 coils: 15W Fast Charge + 5W Apple Airpods
Maximum Power Output: 22.5W
Maximum Power Input: 18W
Batteries: High Density Lithium Polymer Battery Cells
Battery Life Cycles: 2,000, 4 times more than li-po batteries
Battery Life: 5 Years
Time to full charge from empty: 1 hr 50 min (with 18W input)
DC/DC Input Efficiency: 76% - 82%
Output Efficiency: 70% ± 5%
Discharge Rate: 57mah per day over 350 days
Device Operating Temperature: -10ºC to 60ºC
Safety Protection: 9 Protection
Dimensions: 130x22x73mm
Weight: 270g
What's In The Box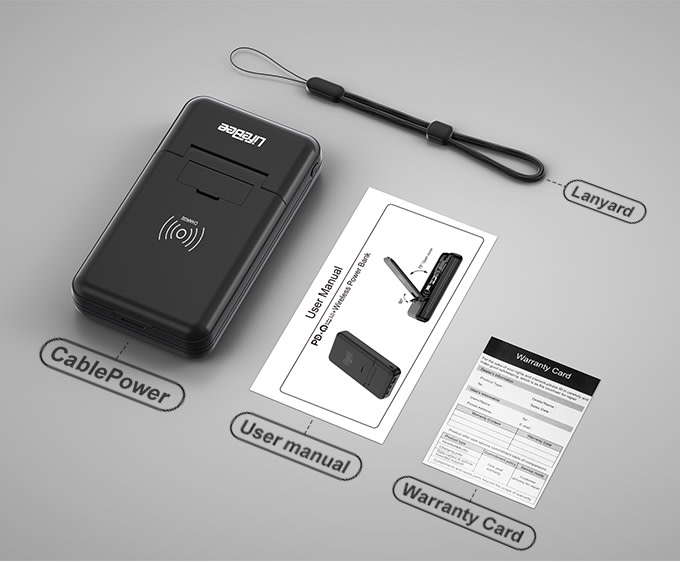 Perks Design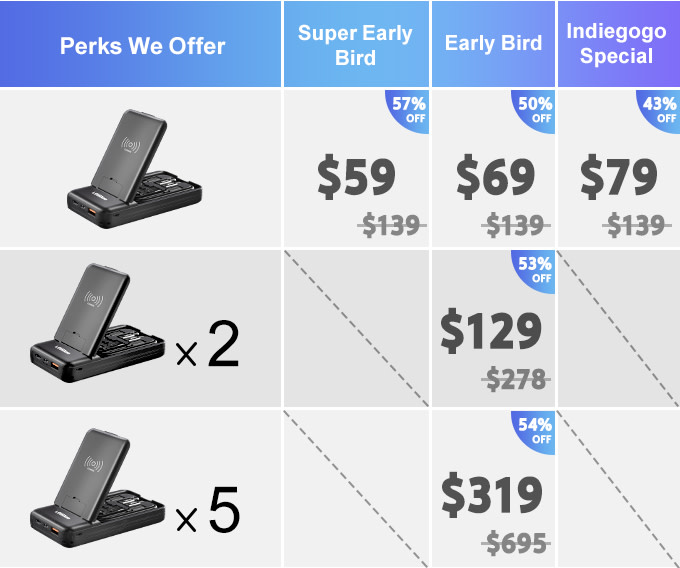 Adds On Perk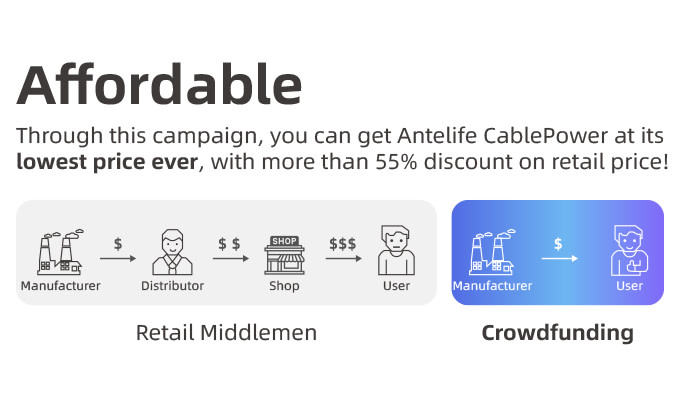 When the Magic Happens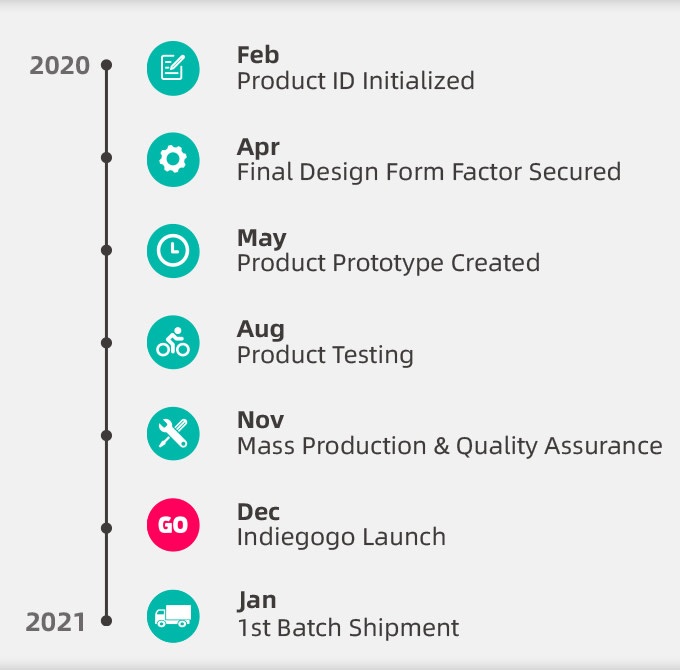 Brand Story
LIFEBEE is a tech company in Innovative products and cool gadgets.The industry, the inventions, the manufacturing, has branded a loyal, patriotic, hard-working ethos into us.  Combining excellent creativity, quality and craftsmanship, we strive to create the finest products available that are both innovative and functional.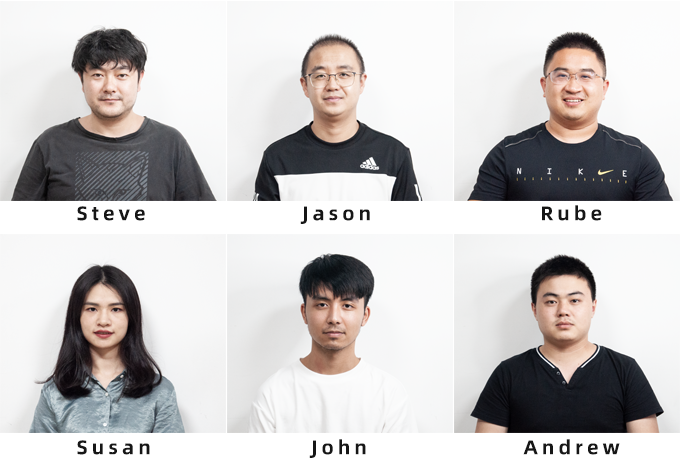 Mass Production
We have begun our mass production!