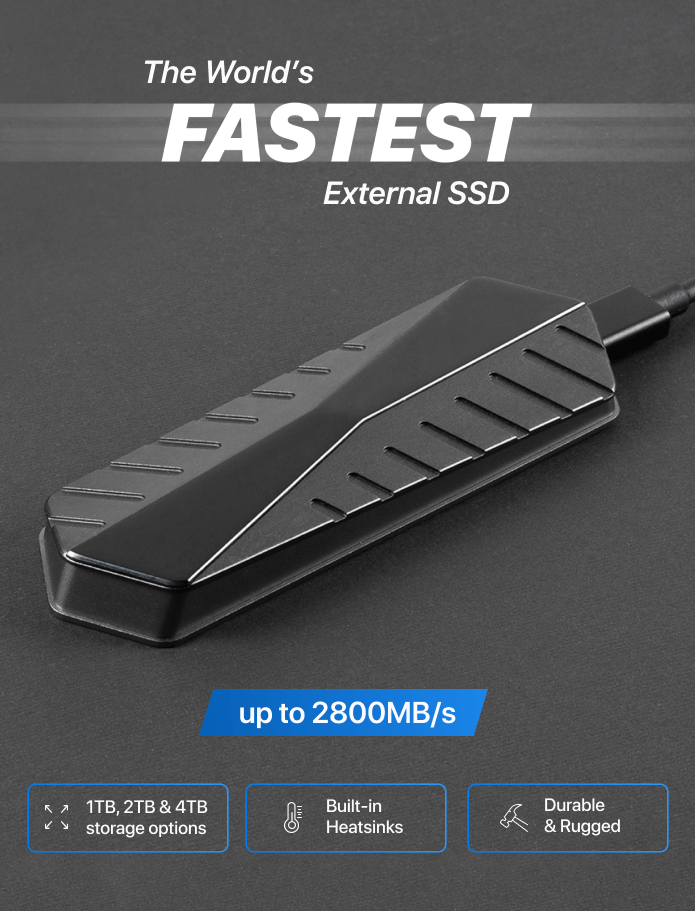 Ushering in a new generation of storage — GigaDrive, the world's fastest external SSD. 
GigaDrive is the hyperfast, water-, dust- and shock-resistant external SSD. The latest Thunderbolt 4 and USB4 tech make the most of its 4TB NVMe M.2 drive to achieve speeds of up to 2,800 MB/s.  
Media About Us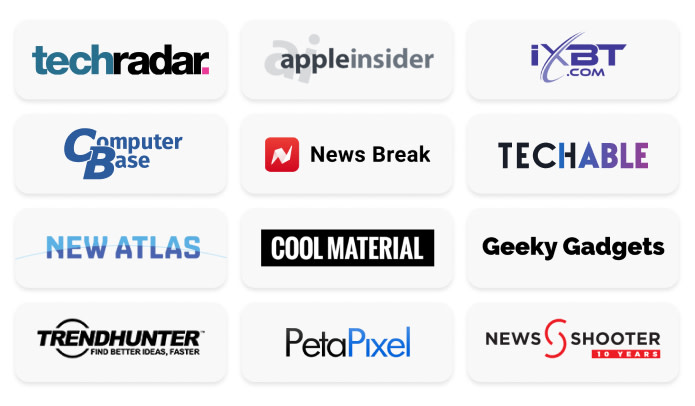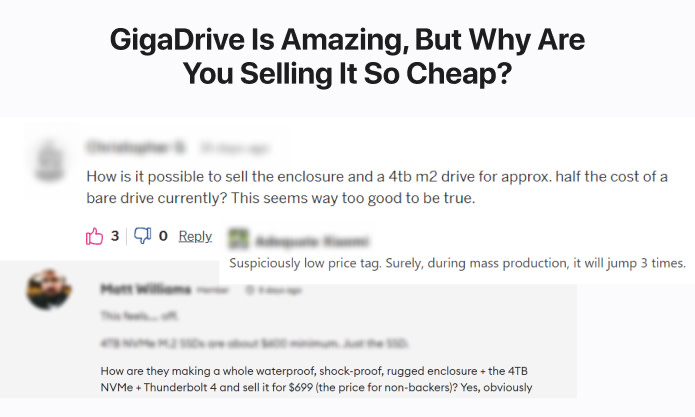 We've been receiving similar questions a lot. Below you'll find two reasons why we've decided to introduce lower prices on our Indiegogo Page. Firstly, when introducing our product through Indiegogo, we've adopted direct to consumer approach, which means that we are in direct contact with our backers, without any middlemen and resellers. And secondly, we've just launched our product, and having a trustworthy and loyal backer community is very important to us. We prefer to have an impactful customer base and have a low margin to reach this very goal. Once we move out from Indiegogo, the product prices will increase by around 48%.

 

GigaDrive is powered by Thunderbolt™4 and USB4. This next-generation universal cable connectivity solution allows GigaDrive to hit stable read and write speeds of up to 2,800 MB/s.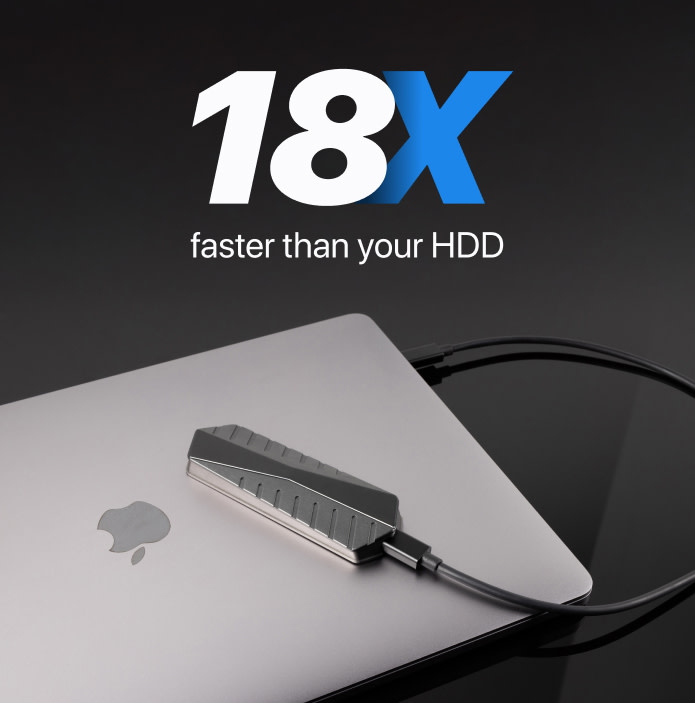 You can backup all your data from laptops, PCs, mobile phones, cameras, and drones in a matter of seconds. 
No need to install additional software, or use non-privacy-friendly clouds. 
What is Thunderbolt 4?

 

Thunderbolt 4 is the latest technology introduced by Intel. The new technology can simultaneously offer high-speed data transfers, 2x 4K video output, and charge your computer and other devices. All Thunderbolt 4 ports offer 40Gbps bidirectional read and write speeds.
Is it compatible with Thunderbolt 3?

 

Short answer — yes, it is. Thunderbolt 4 enabled devices are compatible with many connections powered with USB-C type connectors, including the former versions of Thunderbolt & USB-C.

Throw it! Dip it! Shak it or take it to the Sahara! GigaDrive will still be transferring and streaming data as it did on the first day you got it…
Be it a simple coffee spilling or an accidental drop, with its IP67 rating and rugged design, your GigaDrive will withstand it all and beyond. We've tested GigaDrive in extreme conditions — water, dust, and even drops from 10 feet — so you can safely do so too! Whatever happens, your memories and data are fully safe and intact.
What is IP67?

 

The IP or "Ingress Protection" number shows how resistant products are to water and dust. The first number identifies the SSD's protection against solid objects like dust and sand, where 0 stands for no protection and 6 for 100% protection. The second number indicates protection against liquids, and the numbering ranges from 0 to 8. 

 

IP67 makes sure your GigaDrive is 100% protected from dust and sand and against the effects of full immersion in 3 feet (1m) of water for up to 30 minutes.


When transferring large amounts of data, both internal and external SSDs overheat. The heat build-up can slow down overall performance, throttle transfer speeds, and even damage your device.
But no worries — we've designed GigaDrive to be anti-overheat protected.
Our DRAM cache chip pre-processes transfers so files can copy simultaneously and efficiently. And the proprietary aluminum shell design ensures steady heat dissipation so your GigaDrive never gets too hot. Together, they make better use of USB4's and Thunderbolt 3-4's maximum speed potential, and deliver stable performance without endangering your data.
What's shell design?

 

GigaDrive's shell design incorporates high-grade aluminum alloy for better thermal conductivity.  Dual thermal pads directly applied to your external SSD, and the increased surface area help with heat dissipation, so your files and fingers are safe.
What is a DRAM cache chip?

 

When you start the data transfer process, the system automatically checks the SSD to see where it will store the data. Thanks to this "catalog", GigaDrive already knows where the data is stored and where it should add new data. This is the same system your computer's DDR4 SDRAM is based on, but applied in this case, directly to your SSD.   


Choose the storage size you need. GigaDrive comes in three capacity options — 1TB, 2TB, and 4TB — to handle your needs.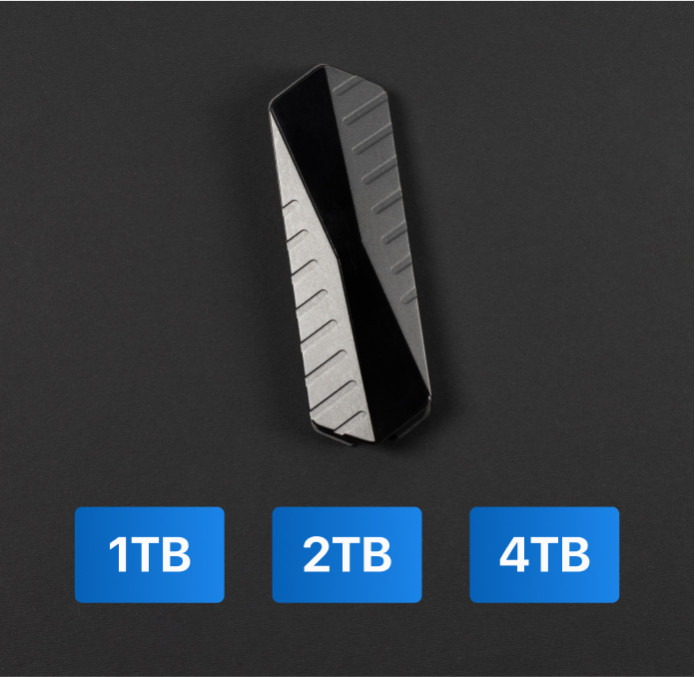 • Over 4,000,000 photos
• About 500 DVDs
• Over 800,000 songs
• About 340,000,000 pages of documents
• About 530,000,000 books
 
Be that thousands of 1GB files or dozens of 100GB ones, GigaDrive's storage capacity is big enough to record HD videos on your iPhone up to 3 hours everyday, every week, every month for a year! From photos of your childhood and high school days, to summer vacation video footage, to computer games and work files, GigaDrive will serve you for years to come.

There is a reason why GigaDrive is one of the most wanted external SSDs for professional videographers and photographers. It allows you to record RAW footage in 8K with cameras like the Blackmagic series directly to your GigaDrive in real-time — without any additional software, gadgets, or computers.

It's also perfect for backing up your video footage and large RAW photos as you go. Shoot comfortably without worrying about running out of space on your SD or CompactFlash cards, and forget about having to invest over $100 in a small 128GB card!



Sleek, sci-fi-inspired styling with premium brushed aluminum finish pushes GigaDrive's Design a couple of steps further.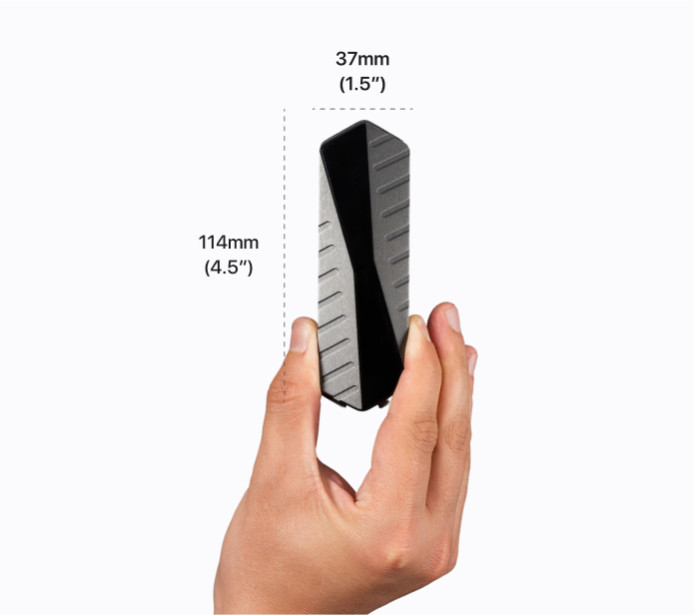 Irregular shapes, tiny notches on both sides, spaceship-inspired design provide a blended mixture of elegance and functionality.
 
With only 74g(2.6oz) weight and itsy-bitsy sizes (114 x 37 x 12.5 mm / 4.5" x 1.5" x 0.5"), hyperfast and large capacity is no longer the synonym for heavy bricks.
Enjoy taking years worth of photos, videos, games and work portfolios with you on just a tiny stick.
 

Running out of space on your PC for the newest Call of Duty or Hitman update? Time to give your computer some extra breathing space with GigaDrive — hyperfast and high-capacity external SSD ideal for gamers.

With speeds up to 2,800MB/s GigaDrive gives a significant boost to your gaming experience and offers an unmatched bootup time for your favorite games.
Modern games with heavy graphics require more and more space. For example Call of Duty: Warzone will take up to 231GB space on your computer and further updates will add to that!

With GigaDrive you can enjoy up to 4TB additional space to host all your heavy-duty gaming!


GigaDrive Speed Test Demo


Guarantees

GigaDrive Is Developed For...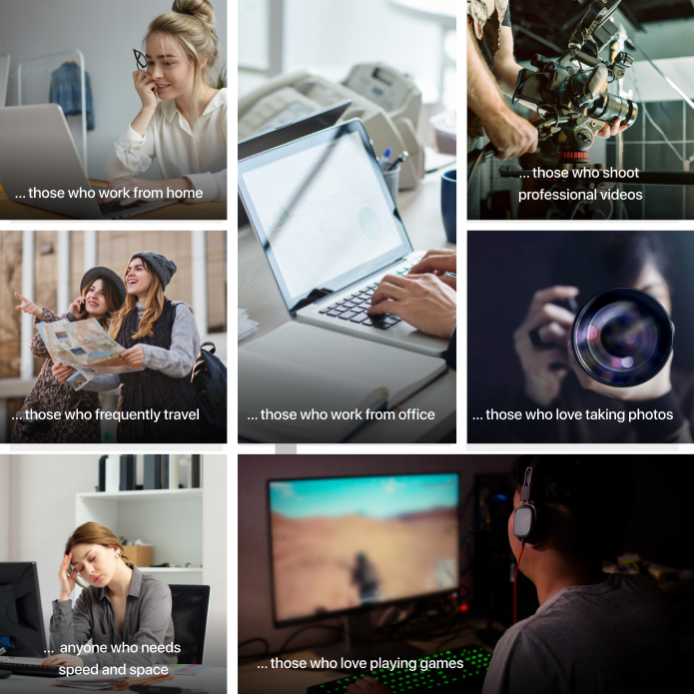 GigaDrive Is Targeted For...

Technical Specifications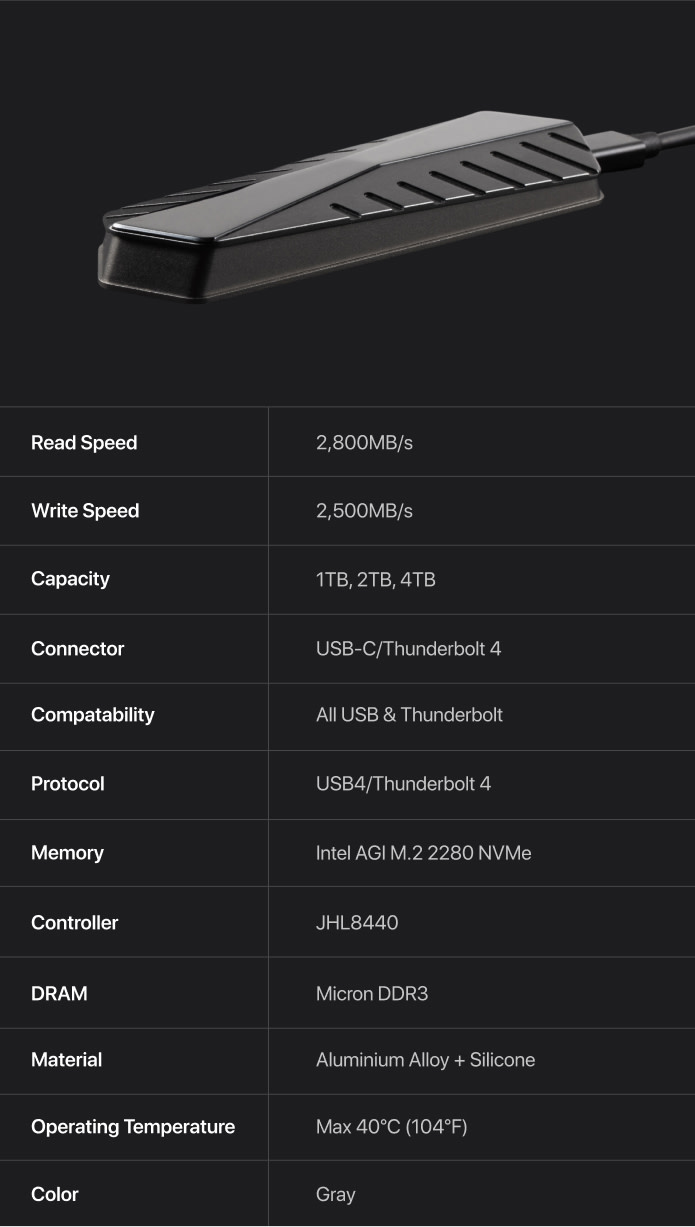 Certifications

Timeline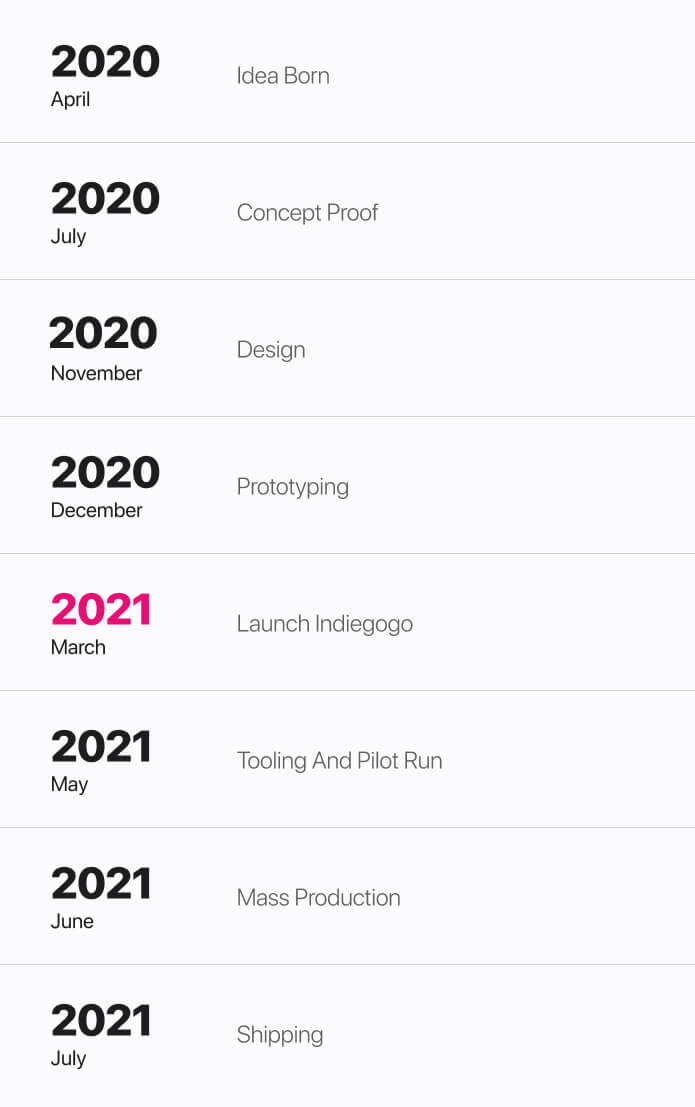 Team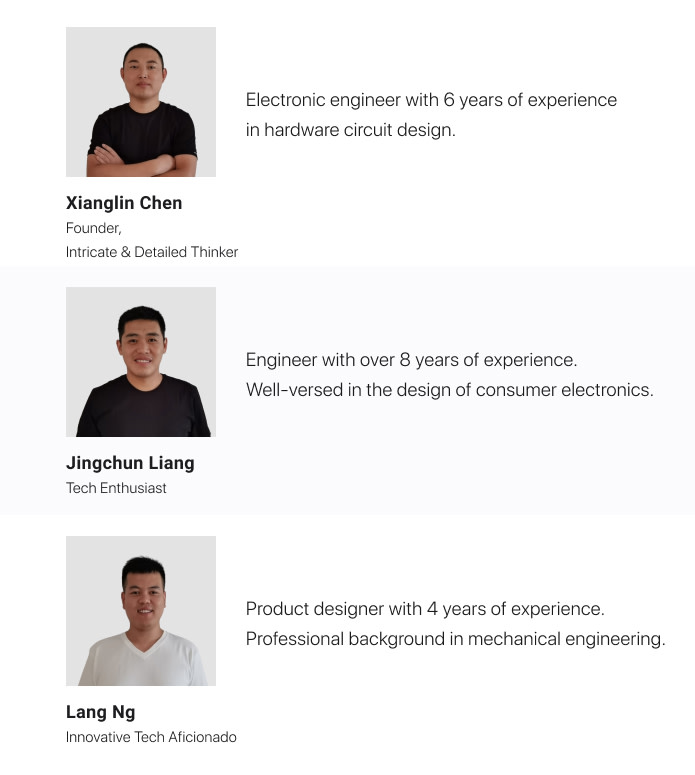 Rewards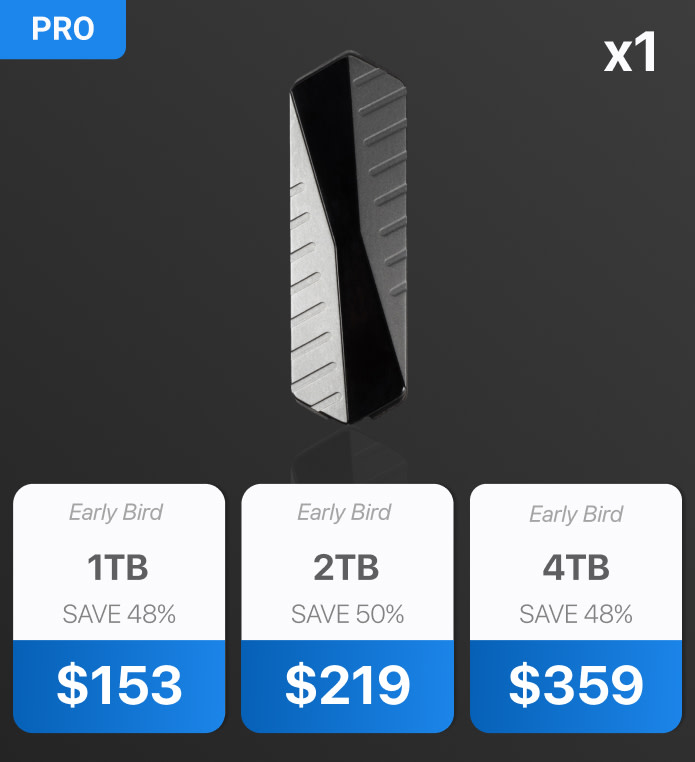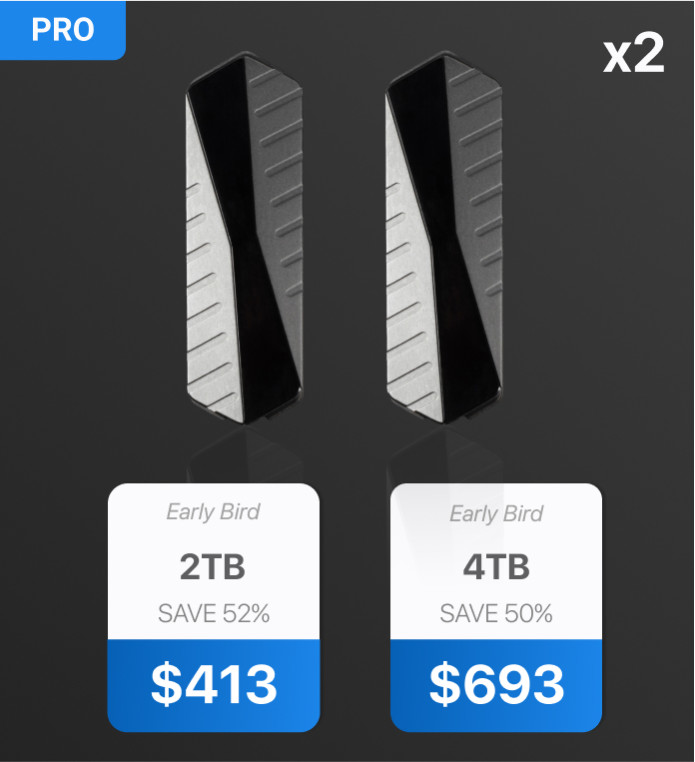 GigaDrive is designed and fully managed by The Crowdfunding Formula (TCF), the biggest digital marketing team responsible for the top crowdfunding campaigns. Join our campaigns in raising an average of $1,200,000.