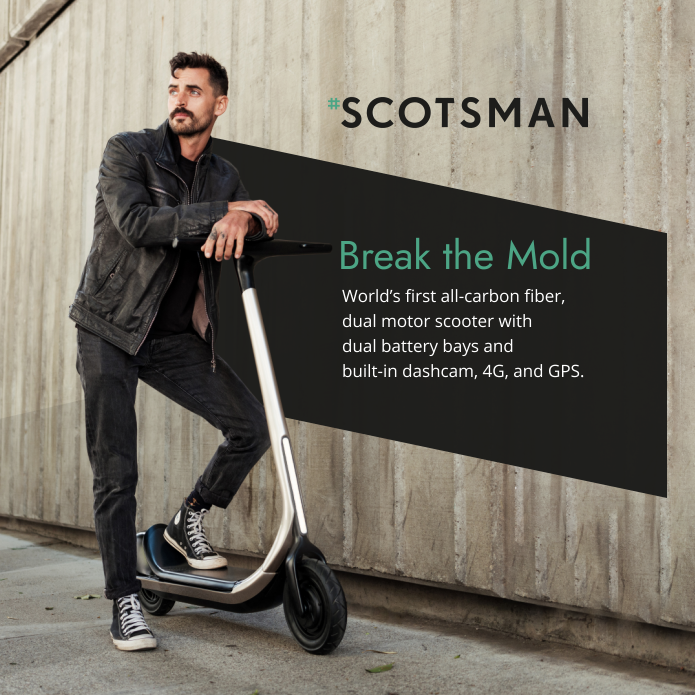 No longer just in the domain of children's toys, electric scooters are winning over commuters in many countries as a convenient, eco-friendly alternative / supplement to driving and using public transport. The bewildering number of brands to choose from end up either as large, heavy shared scooters with lots of power and range, or light, portable personal scooters with flimsy frames and less power/range; and many simply ignore design aesthetics as an important factor.
COMMUTE WITHOUT COMPROMISE. Power, comfort, and portability unite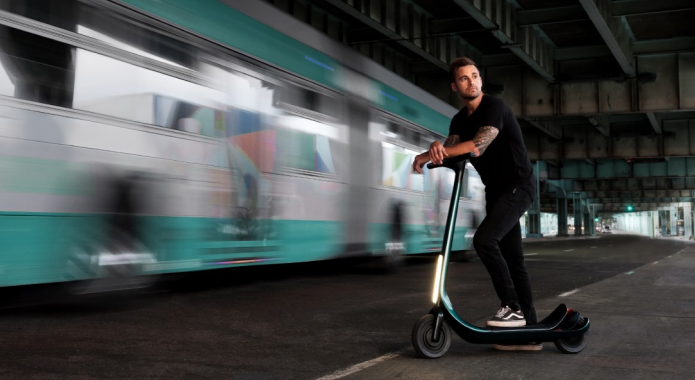 Today, we are breaking the mold with Scotsman and elevating the scooter experience with the world's first fully-connected, all-carbon fiber electric scooter that is custom made for each owner.
Special Edition: You
The Scotsman was born out of top-notch product engineering and allows each owner to choose from a range of three power levels, two battery bays each with two battery levels, five colors, a variety of accessories, and even a wide number of frame sizes based on their body size and weight. Each unit is made bespoke for each user's use case and personal style.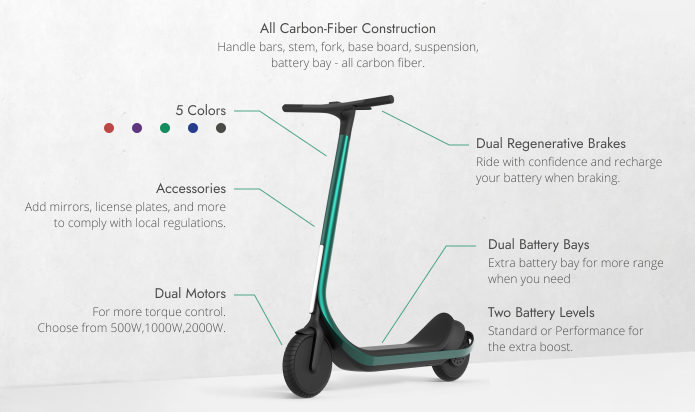 Also, unlike most scooters on the market, the Scotsman was made with the connected generation in mind and is the world's first scooter that has a built-in dashcam, 4G cellular connection, GPS, and color display.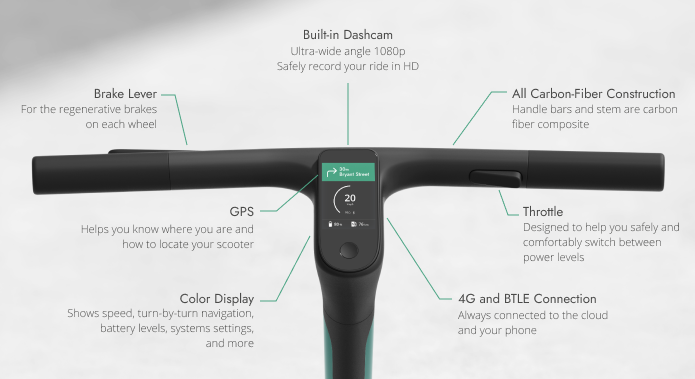 Ultra-premium Materials, Extraordinary Product Value
Each Scotsman is crafted entirely from ultra-premium thermoplastic AS4 (aerospace grade) carbon fiber composite materials, including the handlebar, stem, fork, baseboard, suspension, battery bay, and other support structures. So although this is a large, full-sized scooter, similar in stature to typical, shared scooters and other high-performance electric vehicles, the Scotsman has the weight and portability of lower powered, shorter ranged, and smaller/less comfortable scooters. Giving Scotsman the best of both worlds.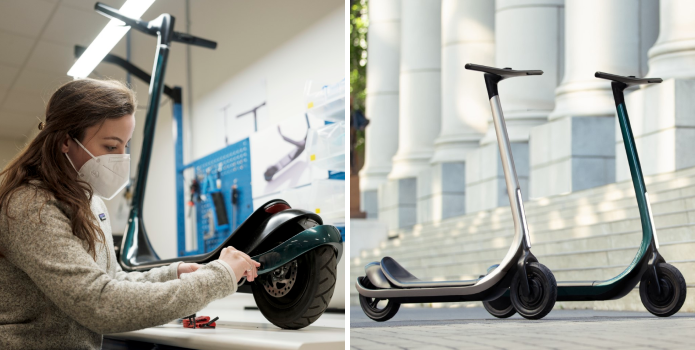 Why Carbon Fiber Composite? Take a Look!
Scotsman frames are fabricated using continuous carbon-fiber technology and nothing else, resulting in a frame with incredible strength-to-weight ratio and excellent durability.

Compared to metals and even other composite materials, continuous carbon fiber reinforced polymer composites are much stronger.

With these incredible properties, it's no surprise many of our competitors wish to attach their names to carbon fiber. But only Scotsman uses a 100% carbon fiber composite body, giving you the full benefits of the material and nothing short of it.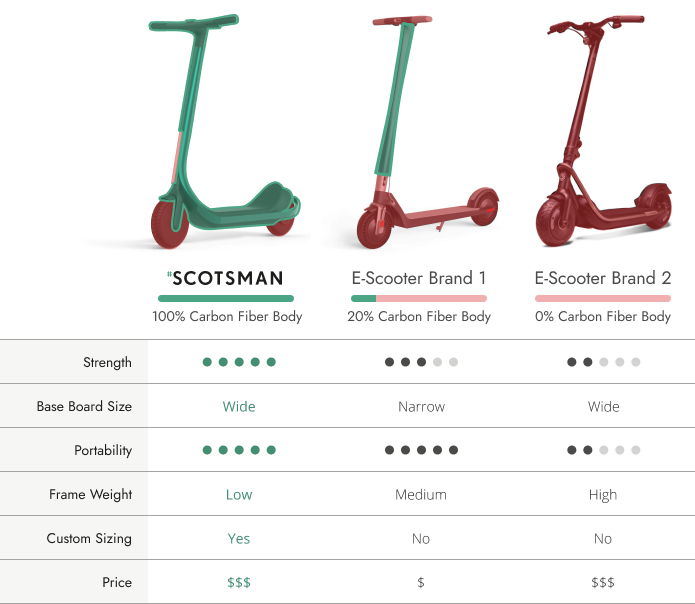 Carry Your Commute
Folds compactly for easy transport and unobtrusive storage. Despite being a full-size scooter and having dual motors, the frame is surprisingly light.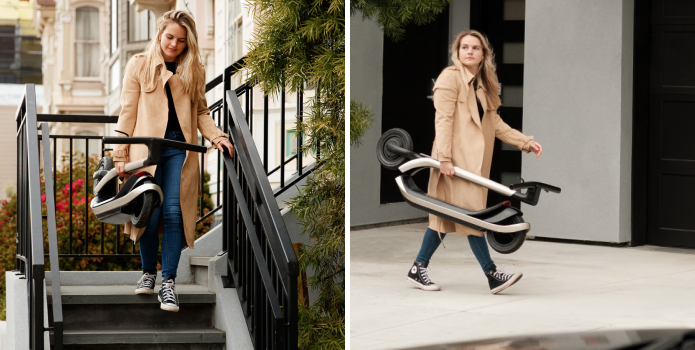 Sleek Goes Steady
Thanks to carbon fiber's high strength-to-weight ratio, we don't have to use much of it to create a large, strong, but light structure. Our large ten-inch wheels, generous 8-inch wide deck, and long-wheelbase work together to ensure a comfortable and safe ride.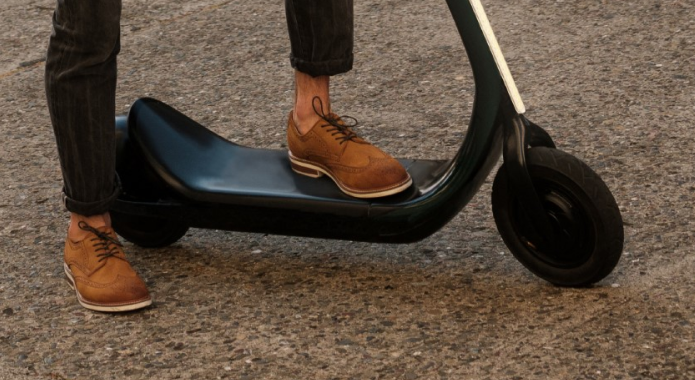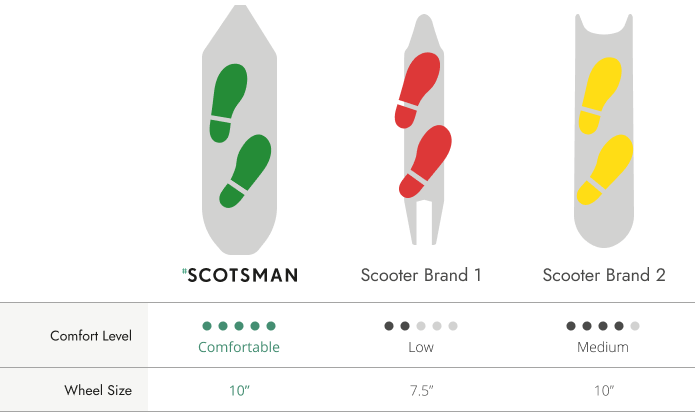 Roll with the Punches
Our advanced 3D printing process has allowed us to design our suspension system right into the baseboard. Most scooters on the road today lack a proper suspension system, meaning they can't absorb curves and bumps on the road, leading to worse performance and a jarring riding experience. While some high-end scooters have suspension systems, most are based on cantilever or hydraulic systems (some older models use metal springs) which wear down and require maintenance / readjustment over time.

Your Personal Power Station
Each PowerPack doubles as a power bank with a USB-C (100W PD) port to charge your computer, phone, or other electronics. More demanding users can opt to get a Performance PowerPack that has more energy capacity (550 Wh) and enables a special turbo mode on the Scotsman (still in development - more on this after we exit beta). Note: the Scotsman 2000 comes standard with a Performance PowerPack.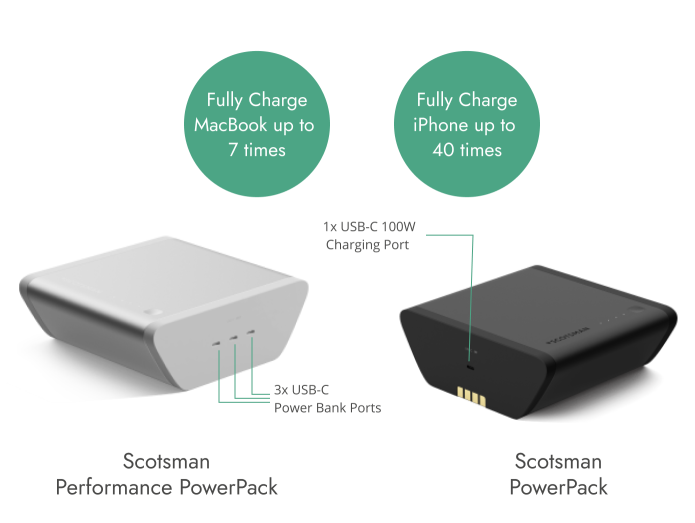 Take Charge, Give Charge
Easily remove your PowerPack and charge it at your desk. With pass-through charging capability built into the battery management system, you can charge your Mac while charging your PowerPack.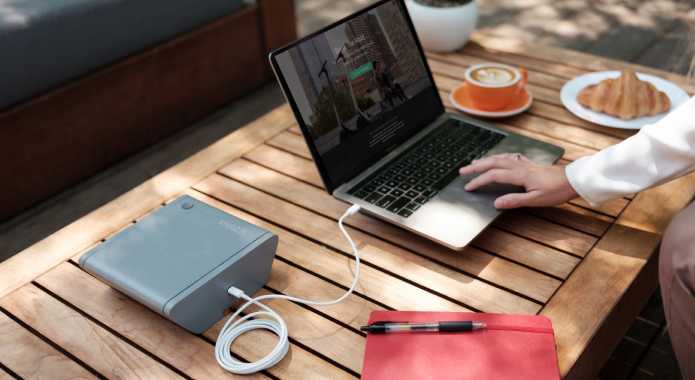 More Power to You
Dual battery bays satisfy the power-hungry. Add a second battery to double your range.
A Mode for Every Road

Brawn, not just Brains
Choose from three different motor power levels.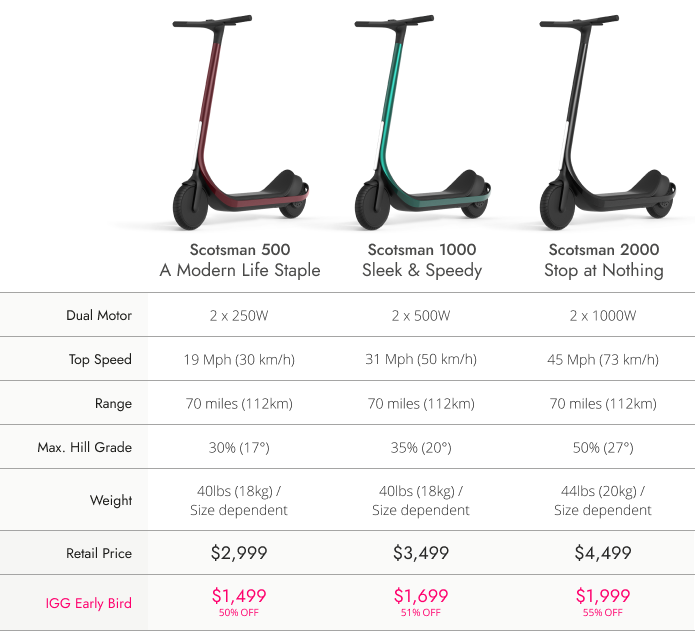 ….more SPECS below!
Connected Software
Aside from the advanced product design, you will not miss out on connected features. 
Ultra Wide-Angle 1080p Dashcam
The world's first built-in dashcam that enables you to capture photos (anytime) during your ride. You can even snap a shot of your scooter's surroundings when the Find My Scooter feature is triggered, letting you know exactly where your Scotsman is, together with its GPS location.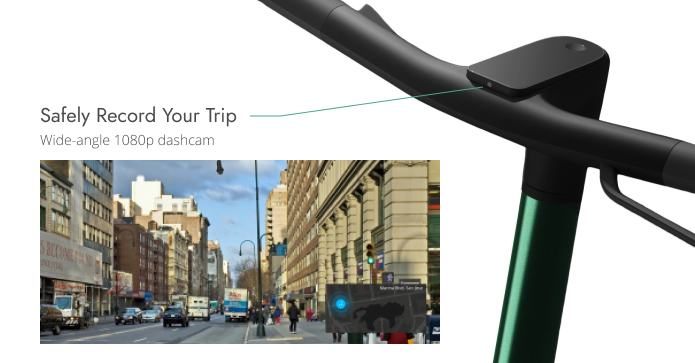 Enter the Cockpit
The LCD panel displays battery level, speed, riding mode, turn-by-turn navigation, distance traveled, and distance remaining. Your Scotsman will remind you when to charge your scooter battery or replace it with a new one.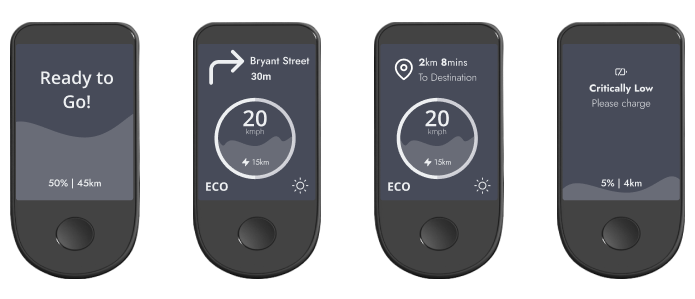 Scotsman App: Smart and Connected
Being a truly modern vehicle, the Scotsman is of course fully connected (4G cellular and Bluetooth) and comes with the Scotsman App which enables a range of functions.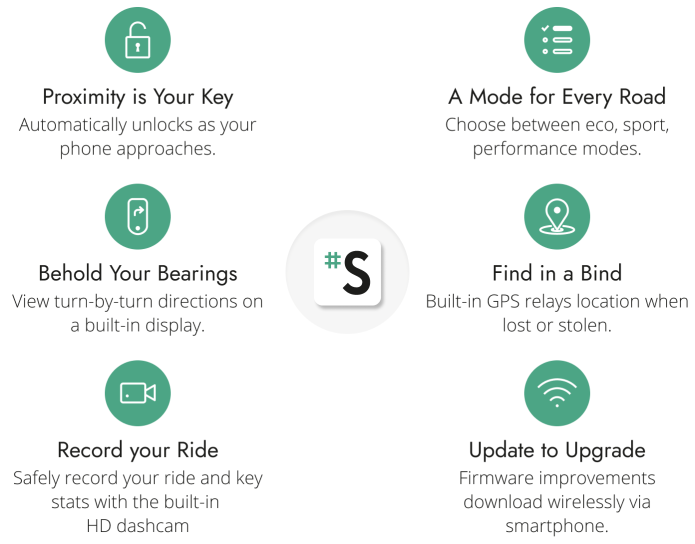 Below is the sneak-peak of how the Scotsman App is turning out. We have a team of designers and software engineers dedicated to developing the app and to making the overall connected experience as simple and easy to use as possible. Performance improvements, including firmware updates to the scooter's internal software itself, and new app/connected features will be rolled out on a regular basis. The full Scotsman App will be ready for both iOS and Android by the time we ship.

With the Scotsman App, you can automatically unlock your scooter when approaching and plan your trip in advance to sync with your Scotsman. Turn-by-turn Navigation will direct your journey on both app and scooter displays. Record your ride and after you finish, check out the record in the app. Choosing riding modes, top-speed, and other setups can be done with one touch in system settings.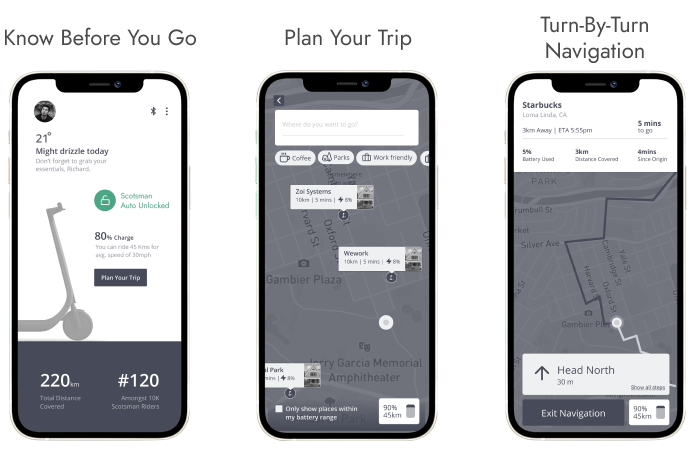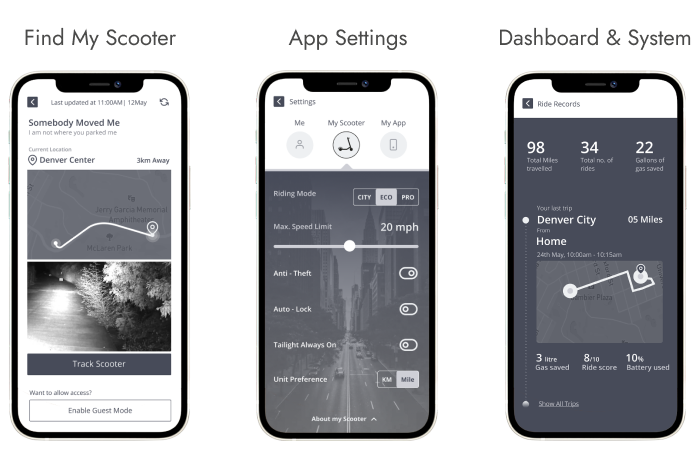 Colors
The Scotsman comes in five standard colors. Understated but unique; pick the one that best fits your personal style.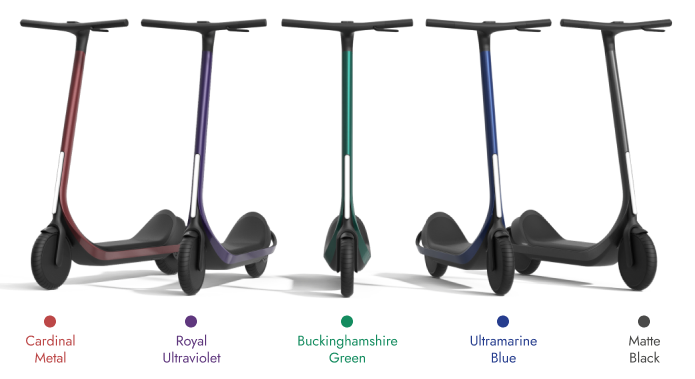 We also have two premium colors for an added splash of class. Both can be found under our special perks for a limited 33%-off price of $199.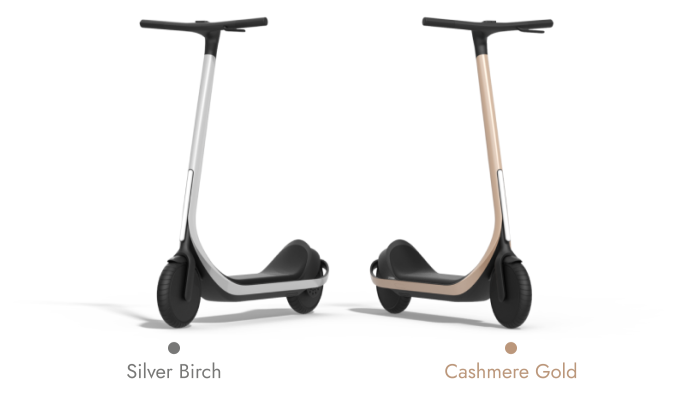 International Upgrade Kit
We're providing an upgrade kit for Scotsman riders to add on accessories such as a license plate holder, horn, two separate brakes, rearview mirrors, tail & brake lights, blinkers, and reflectors.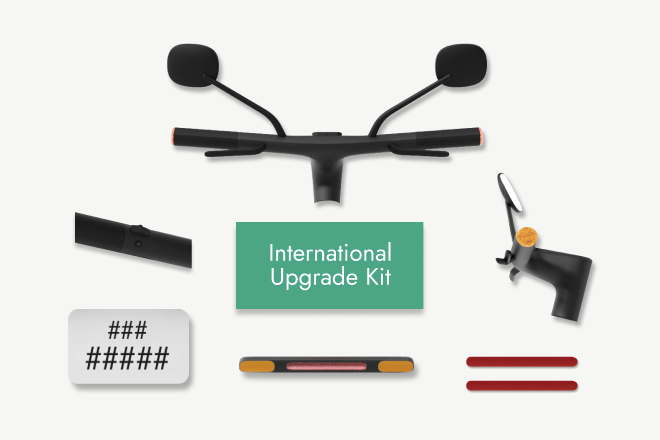 Use these to comply with your countries' local regulations while increasing functionality and customizability.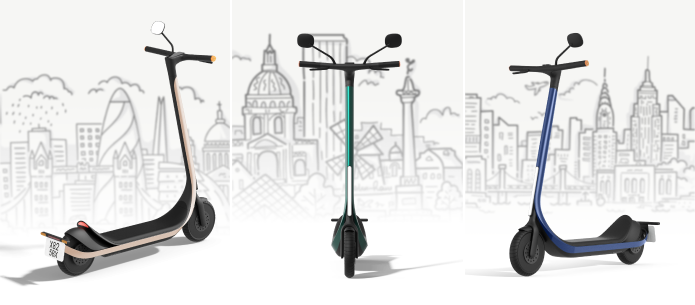 3D Printing = Mass Customization and Impossible Designs
Vroom en Vogue
The Scotsman was designed by Branch Creative, an award-winning design team with deep experience in scooter design. Because each scooter is individually 3D printed for each owner, we are able to provide an unprecedented level of customization as well as achieve design forms not possible using traditional manufacturing methods.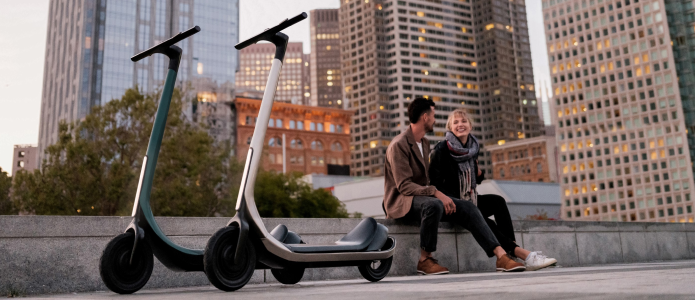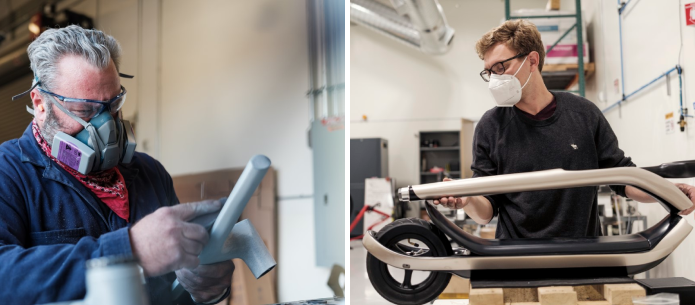 Light has Found its Might
Early in its history, carbon fiber composites were much more expensive to make than they are now, leaving the only possible applications to military planes and spacecraft. It wasn't until the late 1970's, that formula one racing teams began looking towards carbon fiber to improve their performance and designs. With its undeniable performance gains, carbon fiber is now found in many supercars, aircraft, spacecraft… and scooters.

Traditional methods rely on long, expensive processes involving making molds to create each substructure, autoclaving the parts, and then assembling the different parts together to form the complete structure. Incredibly time-intensive, expensive, and slow. Such methods are also limited in the types of design shapes that can be created. With our 3D printing technology, we can achieve similar (and in many cases better) levels of strength and performance while also providing a major advantage in flexibility - any shape done quickly (hours vs. months) without heavy investment.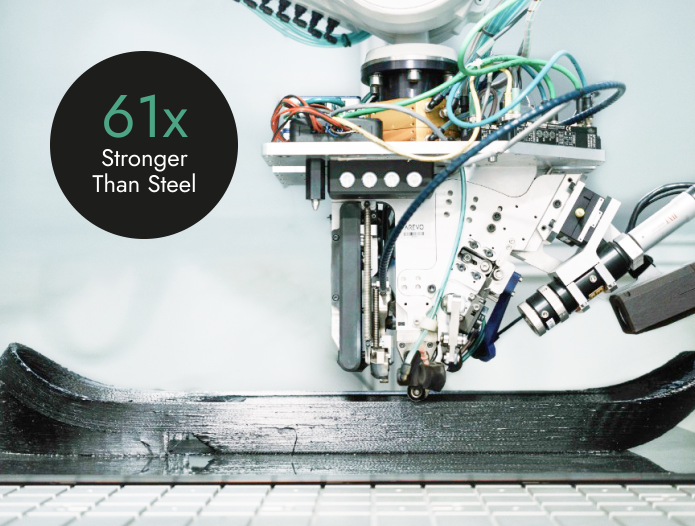 By taking metal out of the picture, we're able to bring composite products to market in record time. For your Scotsman scooter, we can print a handlebar, stem, fork, baseboard, and battery bay specifically for you. Each unit is individually crafted according to a number of precise measurements, accommodating riders from 4'8" to 6'8" (142cm to 203cm).
This Scoot's a Brute
Durability meets agility with an unrivaled strength-to-weight ratio. 3D-printed in continuous carbon fiber for unrivaled strength and weight. The specific strength of a material measures load energy at failure for each unit mass.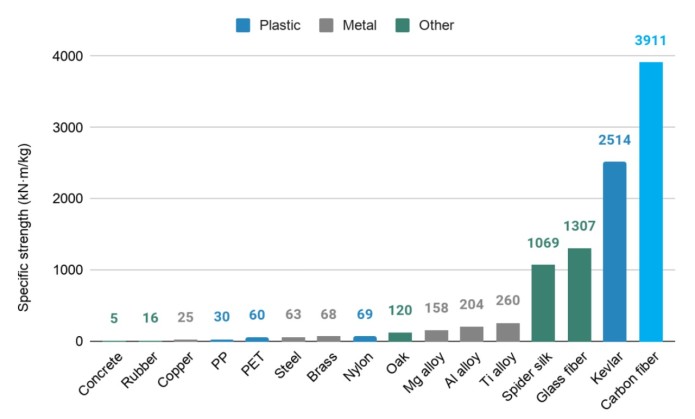 They have high specific strength and stiffness, i.e. strength per unit mass, although those properties are highly directional (anisotropic).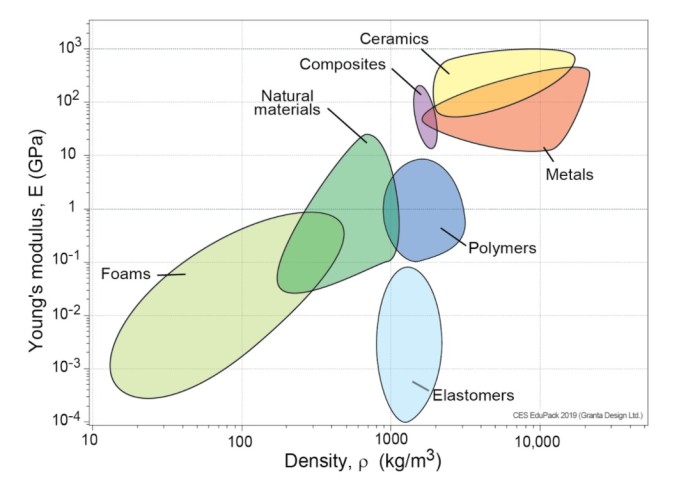 Young's modulus or elastic modulus calculates change of dimension under tensile or compressive loads. This essentially describes the stiffness of a material, or how easy it is to bend or stretch. Materials like foams and elastomers rank poorly, while metals, ceramics, and composites are near the top. Compared to metals and ceramics, composites boast similar stiffness at a much lower density. This means composite materials have extremely favorable strength to weight ratios compared to others.
In the News

Autopresse: Scotsman E-Scooter - Der Roller aus dem 3D-Drucker
CNET: Scotsman is a 3D-printed electric scooter custom made for your body size, riding style
Composites World: Arevo debuts custom, 3D-printed composite scooter
Electrek: This new dual motor carbon fiber electric scooter is 3D-printed to the exact size of the rider
Input Mag: The Scotsman is the spiritual successor to the Boosted Rev
Motor Exclusive: Scotsman E-Scooter - Der Roller aus dem 3D-Drucker
New Atlas: Scotsman electric scooter rolls with 3D-printed carbon fiber unibody
PNP: Der Roller aus dem 3D-Drucker
T3: Electric scooter: meet your new favorite Scotsman
TCT Magazine: Scotsman electric scooter produced with Arevo composite 3D printing tech launches on Indiegogo
Tom's Guide: This $4,500 carbon-fiber electric scooter hits a scary 45 miles per hour
Velobiz: Flaggschiff E-Scooter mit exklusiven Spezifikationen
Welt: Der Roller aus dem 3D Drucker Scotsman E-Scooter
Zarabaza: Scotsman: il primo monopattino elettrico in fibra di carbonio stampato in 3D
and more.....
More Specs for You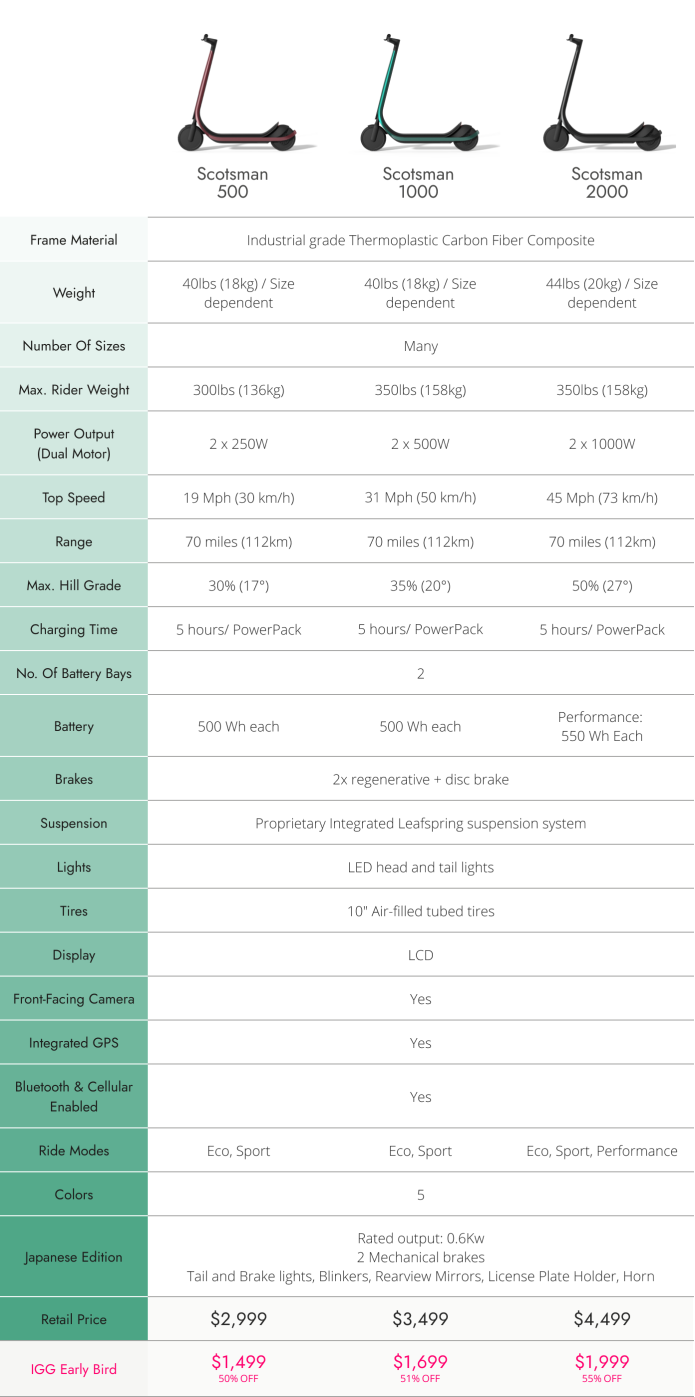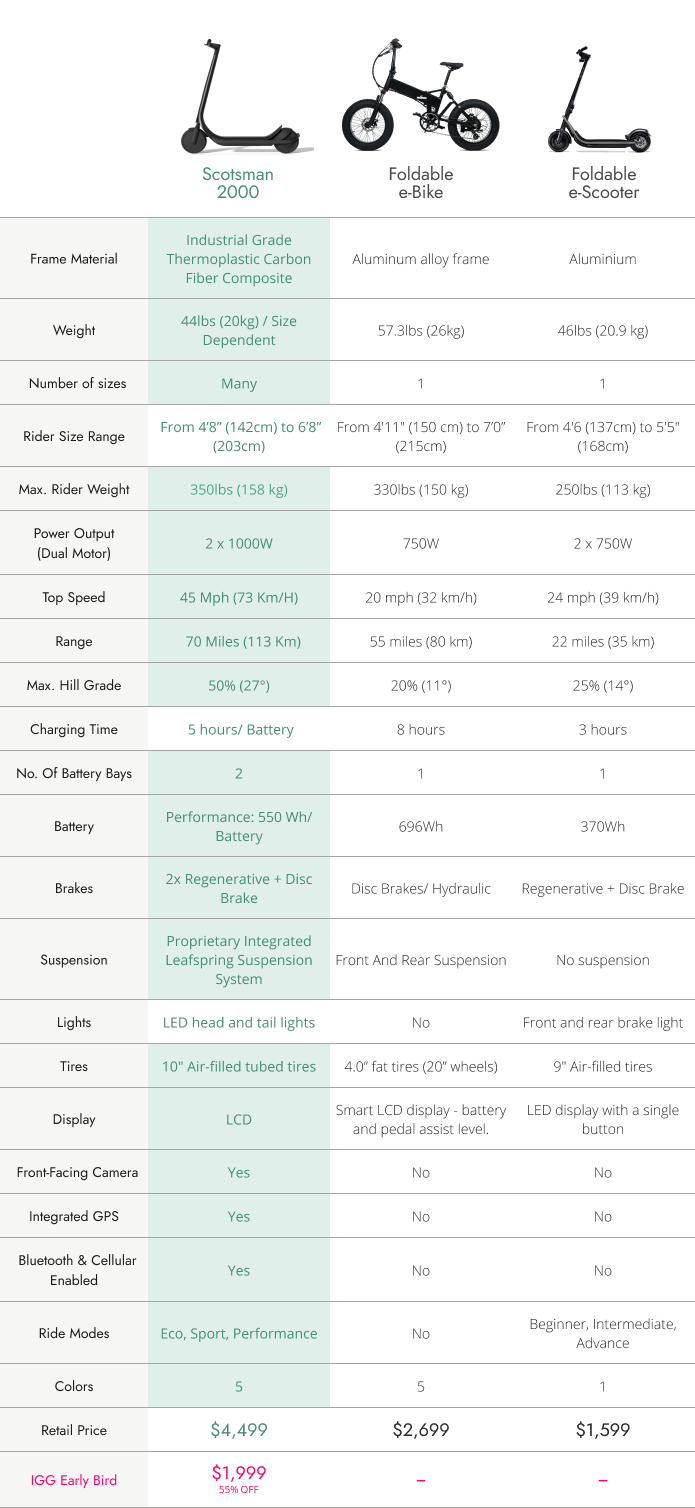 Perks

Japanese Edition
Given the interest we've seen in Japan for electric scooters, we made a special Japanese Edition for the Scotsman with lights, reflectors, blinkers, rearview mirrors, and a license plate to ensure legal compliance in Japan.
This edition is an upgrade option for all products and only available for Japanese backers - simply choose this perk as you check out.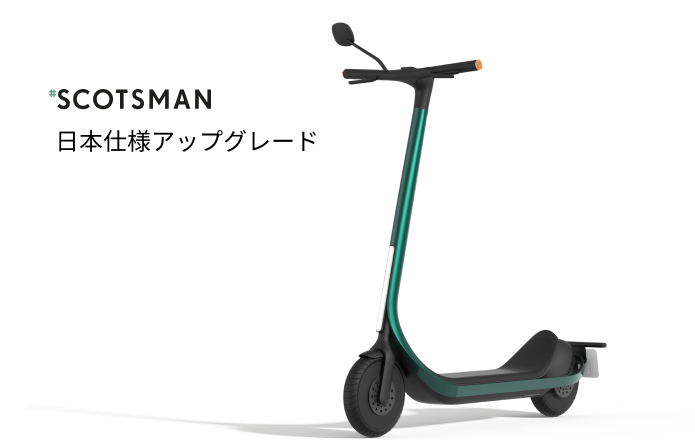 Timeline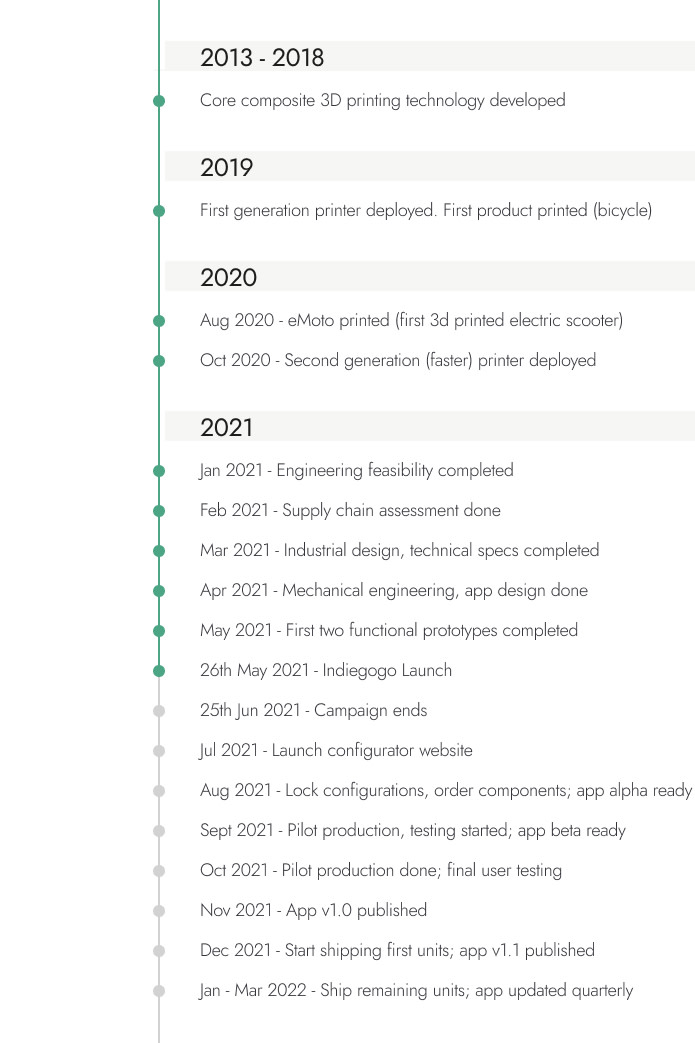 Team