INDEMAND LIMITED AVAILABILITY!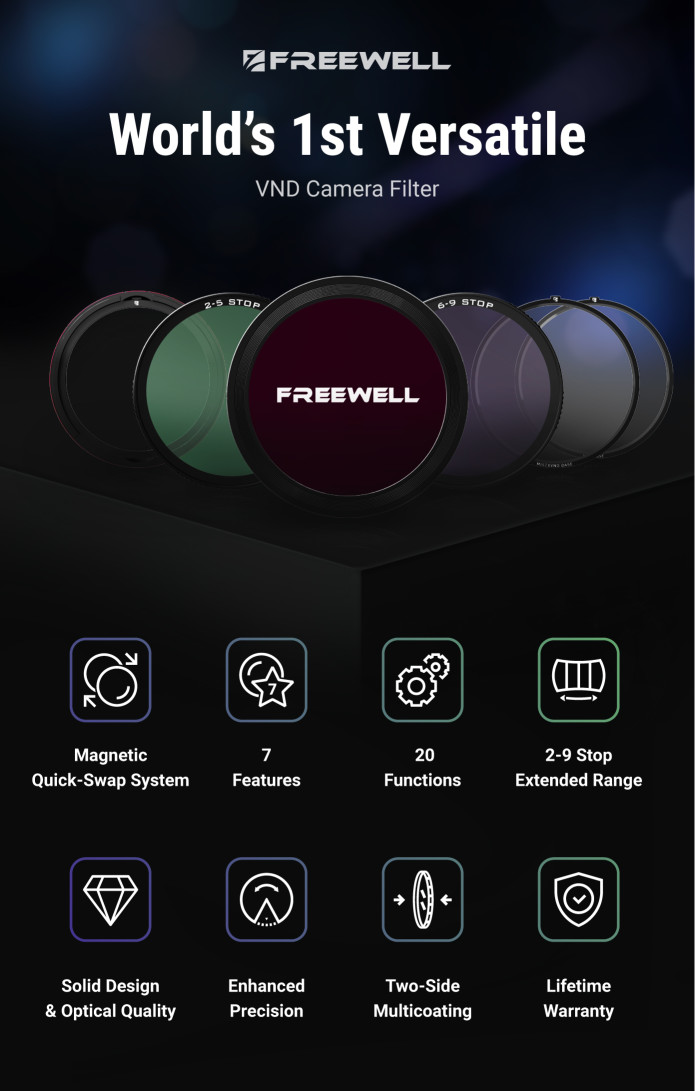 Following the release of our Quick-Swap Magnetic Filter System in 2019, we are proud to announce the launch of the Freewell Magnetic VND Filter Kit, the world's first versatile magnetic variable ND filter for DSLR and mirrorless cameras. 
Providing an extended range of exposure values from two to nine stops using only two filters, the Freewell Magnetic VND Filter Kit is the first-ever all-in-one variable neutral density system that integrates the optical accuracy of hard stop filters with the convenience of a quick-swap magnetic mount. This gives photographers and videographers the most versatile and immediate solution to any shooting need.

Now you have all the filters you need in one single system!
The Freewell Magnetic VND Kit includes 7 features (VND2-5, VND6-9, CPL, ND32/CPL, GLOW MIST, VND2-5XMIST and VND6-9XMIST) and a total of 20 functions in one comprehensive kit. You can now meet all your shooting needs on the go in the most compact, handy and cost-effective solution. At equal or even lower quality, nothing like this is available on the market today.
Check out the chart below to find out why the Freewell Magnetic VND Filter Kit is absolutely one of a kind!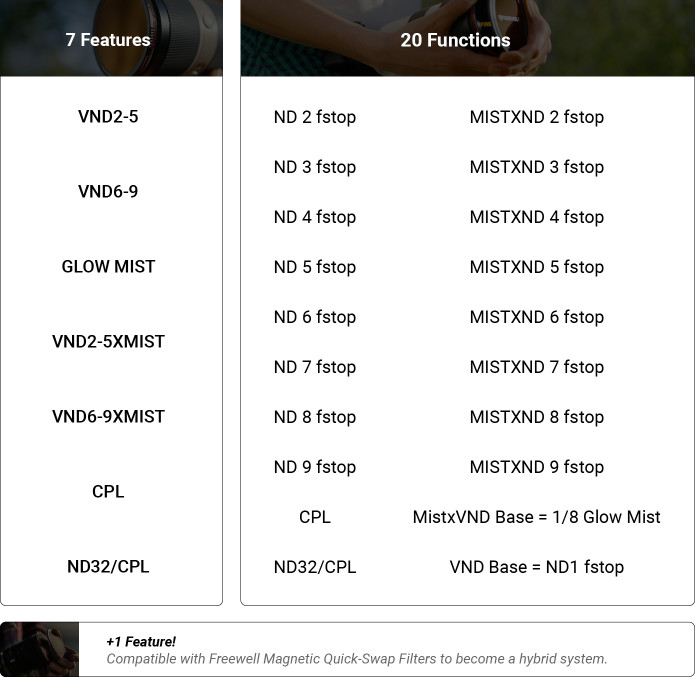 One of the key differences between the Freewell Magnetic VND and every other VND filter is its fully magnetic installation system, which means the filters attach to the front of the lens magnetically. This innovative, patent-pending system works by simply installing the base ring on your camera lens. Then, you will be able to snap or switch your Freewell VND filters in just a few seconds, providing multiple options for any lighting condition. Get ready to shoot outstanding images with incredible ease!
The Freewell Versatile Magnetic VND Filter Kit is a high-quality and precise magnetic system offering an overall extended range of filtering capability with up to 9 stops (ND4-ND512) in just one quick swap.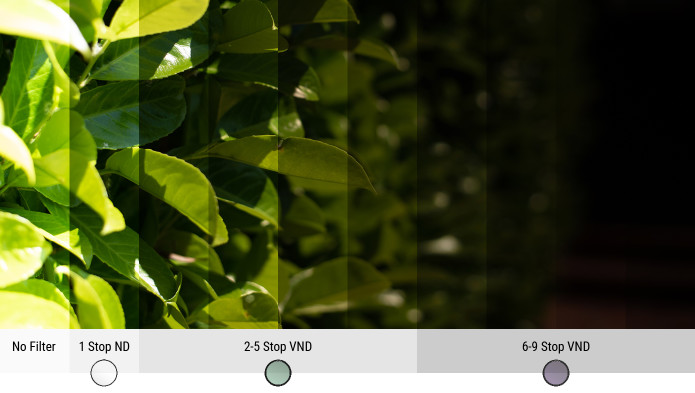 The magnetic adhesion is secure and reliable against vibrations or camera shake while also being easily removable. Freewell Magnetic VND Kit is the ultimate, versatile solution that will take your photo and video production to the next level.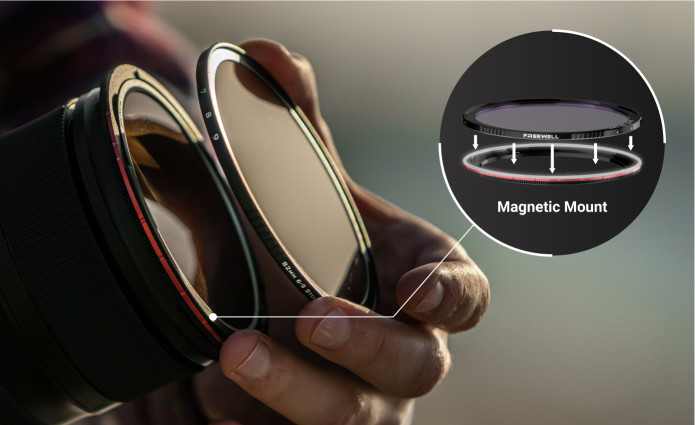 Reduce the glare from ocean waves and capture a perfect blue sky with the built-in CPL technology of VND2-5 and VND 6-9/ND32-CPL filters,
or use the MISTXVND base (Glow Mist) lens to soften tones and add creativity to your images, getting pixel-perfect results right on the spot with practically zero post-production adjustments needed.
Capture what you love in the way you like it! Change, swap and combine the seven filters in twenty different functions... plus one! Yes, the Freewell Magnetic VND kit also offers you full compatibility with the use of our existing Freewell Quick Swap Magnetic ND Filters, easily stackable onto the VND base ring for an additional '+1' option that will turn this VND system into a unique hybrid solution.


Made of premium high-definition optical glass with protective coating on both sides, Freewell Magnetic VND filters are waterproof, dustproof, stain proof, oilproof, and scratch-resistant to ensure continuous and reliable performance in any weather or shooting condition.
All filters included in our Freewell Magnetic VND Kit have been hand-crafted and optimized to be part of a powerful and versatile system capable of delivering sharp images from center to edge without chromatic aberration or loss of detail, and at confirmed zero vignetting on focal lengths over 16mm.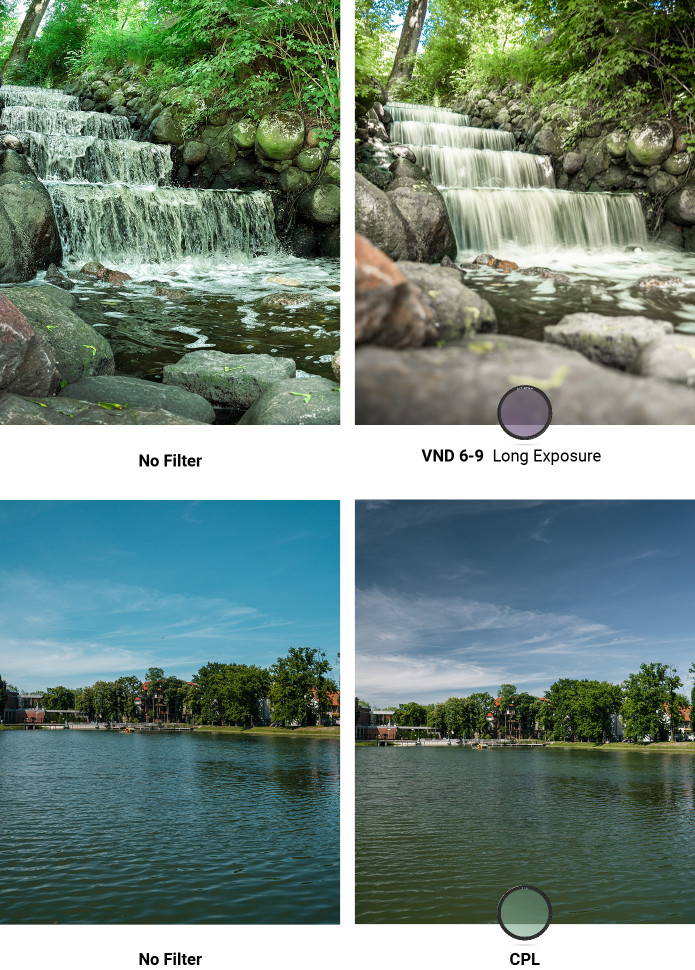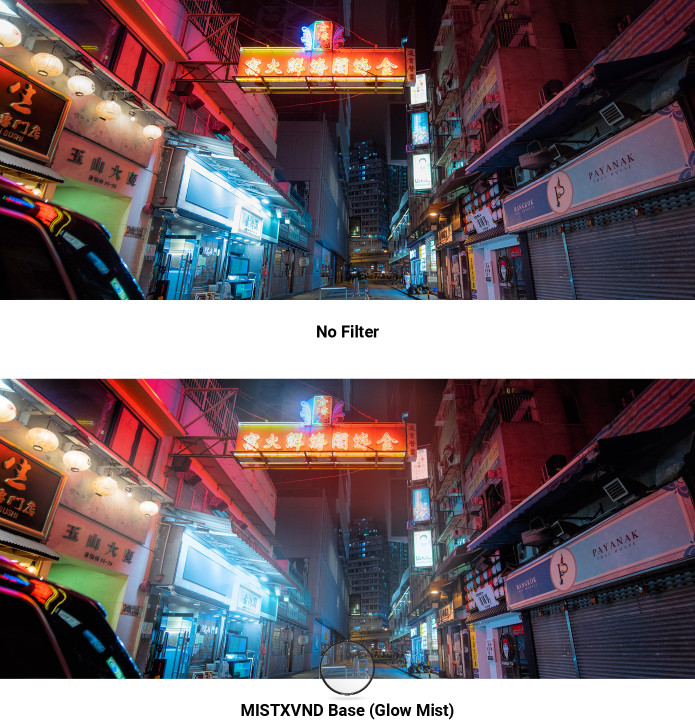 Freewell Versatile Magnetic VND Filters boast a highly resistant build quality. Each filter frame is made with precision and durability, delivering quality imaging for countless years to come.
The filter base magnetic joints are secure and precise to ensure improved stability and withstand camera shake while leaving the ring nut securely fixed on the set value.
The metal knurling on the bezel along each ND level of strength helps grip when turning to change values and provides an intuitive touch, which improves the accuracy of stop setting. This provides a smooth, top-notch user experience for both amateurs and pros.
The transition from one stop value to the next is smooth and gradual, which helps to avoid filter overlap and reduce X-pattern occurrences, already effectively solved by the clear control over the maximum and minimum values of each Freewell hard stop VND filter.

The practical filter cap, with a transparent Freewell logo on it, is well designed, convenient to use and not bulky when putting it on the filter base for protection during storage or transportation.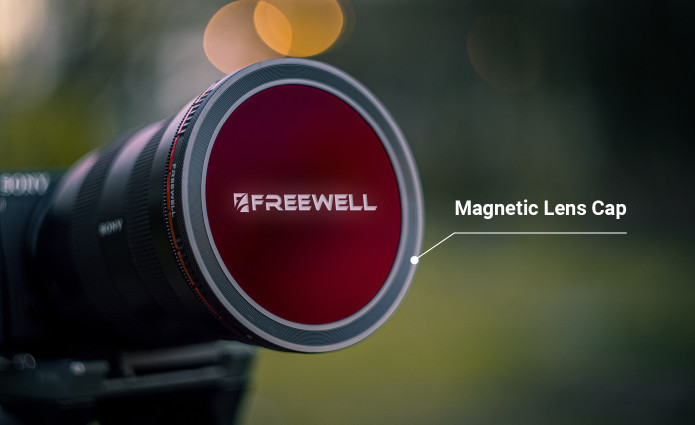 The Freewell Magnetic VND Kit offers the convenience of carrying just two filters with you when traveling or shooting outdoors, with an overall control of 2 to 9 stops whenever you need them. Additionally, a circular polarizer feature is integrated on both filters, plus a GLOW MIST bonus is included in the set for added creativity.
Allowing you to control the amount of light coming into your camera with the use of one single filter, VND filters offers filmmakers the ability to take advantage of a wider aperture in daylight exteriors, highlighting a sharp, clear subject against a blurred background or stabilizing the frame during run-and-gun shooting.
The flexibility offered by the Freewell magnetic VND filters will make this system become the irreplaceable choice for all content creators and photography lovers, including any YouTuber or vlogger in need of the perfect shots spontaneously in any environment or lighting condition.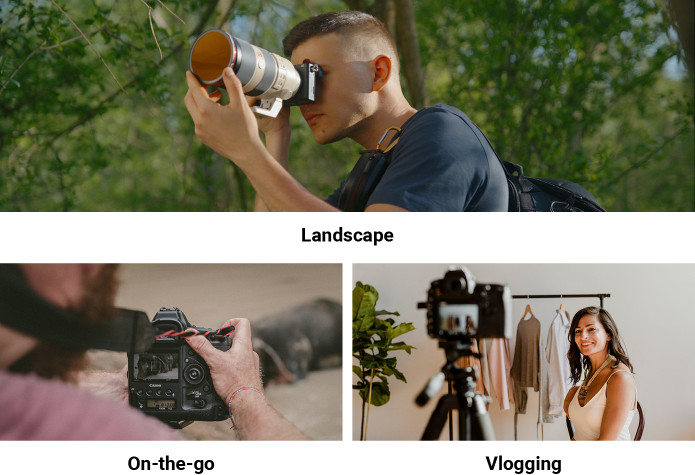 Freewell filters are accessories that can be taken anywhere. 
Stored in a convenient, compact and functional case, each filter has a dedicated compartment so you can carry it safely and mount it fast, letting you capture perfect shots instantly with less clutter in your kit.

Conveniently save your Freewell filters from dropping and scratching while carrying them in this functional protective case. In addition for all orders received to date, the Freewell Protective Case will be automatically upgraded to the Freewell Protective Case (Premium Edition) as soon as the campaign reaches the US$400,000 funding threshold. 

The full set of Freewell Magnetic VND Filters costs almost a third of the price if you were to buy the same set of individual (threaded) filters separately.
Check out our comparison chart to see the great deal you will get by purchasing our Freewell Magnetic VND Filter Kit right now!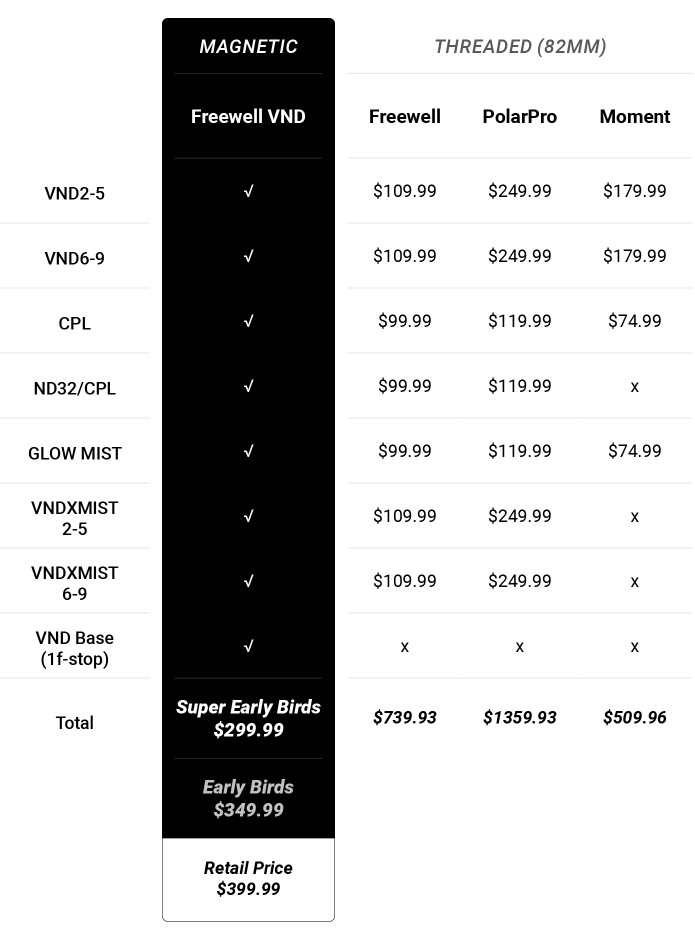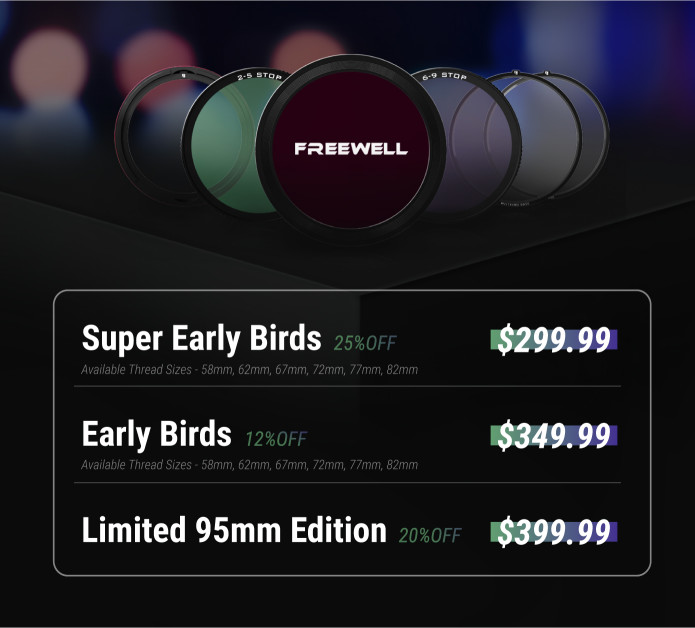 All you have to do is select the thread size you want and get ready to receive everything you need in one compact package.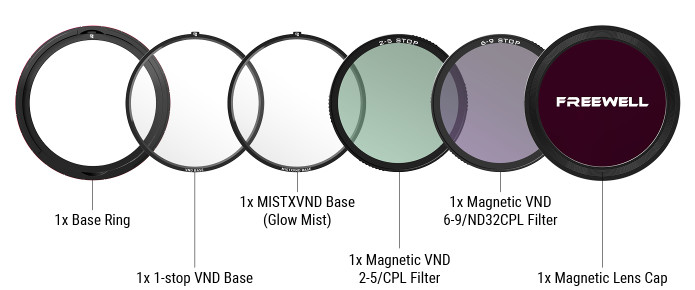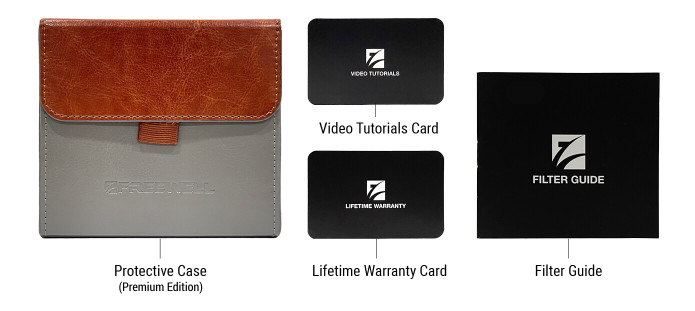 For all orders received to date, the Freewell Protective Case will be automatically upgraded to the Freewell Protective Case (Premium Edition) as soon as the campaign reaches the US$400,000 funding threshold. 
Not sure how to find your camera lens thread size? Here's a tip.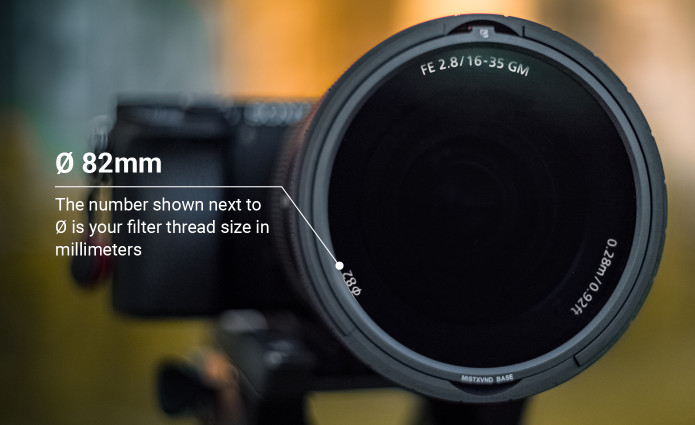 The filter thread size is usually located around the rim printed underneath your lens cap, or written somewhere on the lens barrel.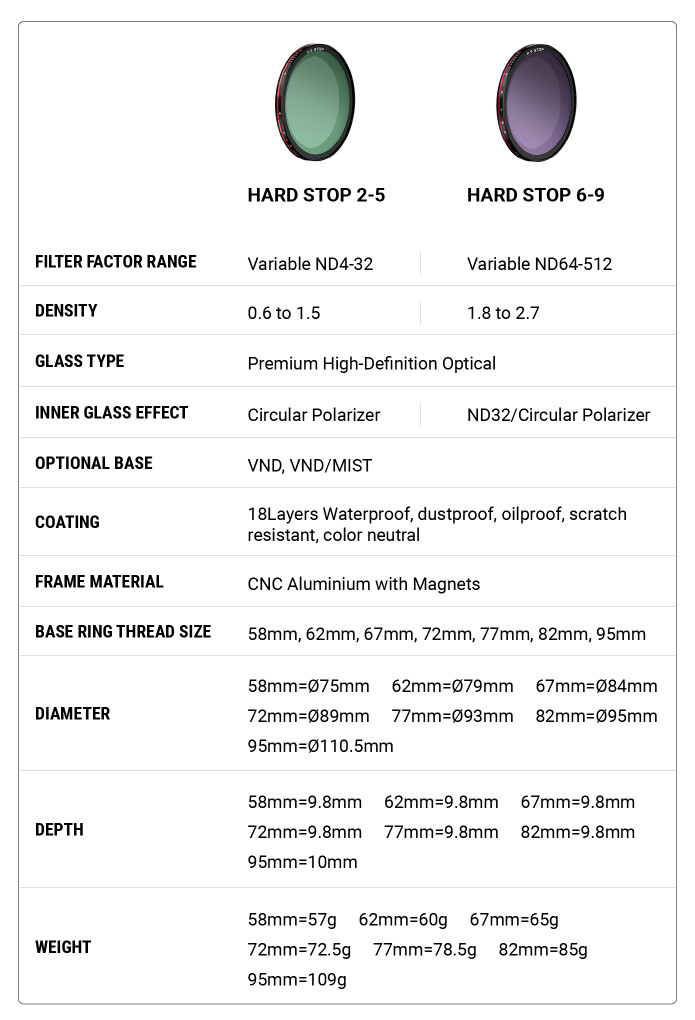 Thanks to the support of each one of you, our crowdfunding campaign reached the goal we set for ourselves at Freewell, and it placed a milestone for the professional camera filter industry on INDIEGOGO!
So now, it's time to offer something unique to keep this momentum going!

All our backers will receive the exclusive Protective Case (Premium Edition), which has been uniquely designed to offer maximum protection to each filter during storage and transportation, AND it is completely FREE!

An extra layer of protection for the safety and longevity of your filter kit.
This is what we do – We offer our customers the best gears for their camera equipment, and the best accessories to protect those gears.

Join our Referral Contest and share the news of the Freewell Magnetic VND Filter Kit with your family and friends! The more you refer, the higher your chance to win our FREE PRIZES from Freewellgear.com.
1st Referrer - WIN up to $499 value coupon on the purchase of any item
2nd Referrer - WIN up to $299 value coupon on the purchase of any item
3rd Referrer - WIN up to $199 value coupon on the purchase of any item
How to participate
- From smartphone:
1. Make sure you are logged into your INDIEGOGO account
2. In the lower right corner of your screen, click on the Facebook icon
3. Tag @freewellpro on Facebook to share your (public) post

- From desktop:
1. Make sure you are logged into your INDIEGOGO account.
2. Click on the icons below the title of our campaign World's 1st Versatile Magnetic VND Camera Filter and share on Facebook or Twitter (or both).
3. You can also copy your personal referral link (the last icon on the right) and share it wherever you like.
4. Tag @freewellpro on Facebook or @Freewell_Gear on Twitter when sharing your (public) post.

We will announce our winners at the end of the campaign. 

Freewell Gear was born in 2012 with the intent to offer a reliable and appreciated alternative to the major companies in the niche market of accessories and photographic equipment. 
Our goal is to provide our customers with quality products at a minimal cost, and to offer them an all-round customer experience that listens to their needs, learns from their feedback, and proposes the most appropriate solution to meet their current and future requirements.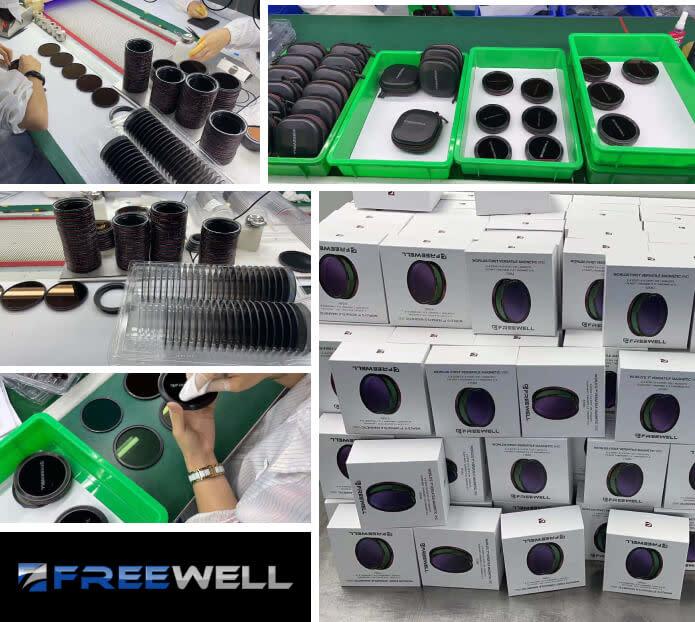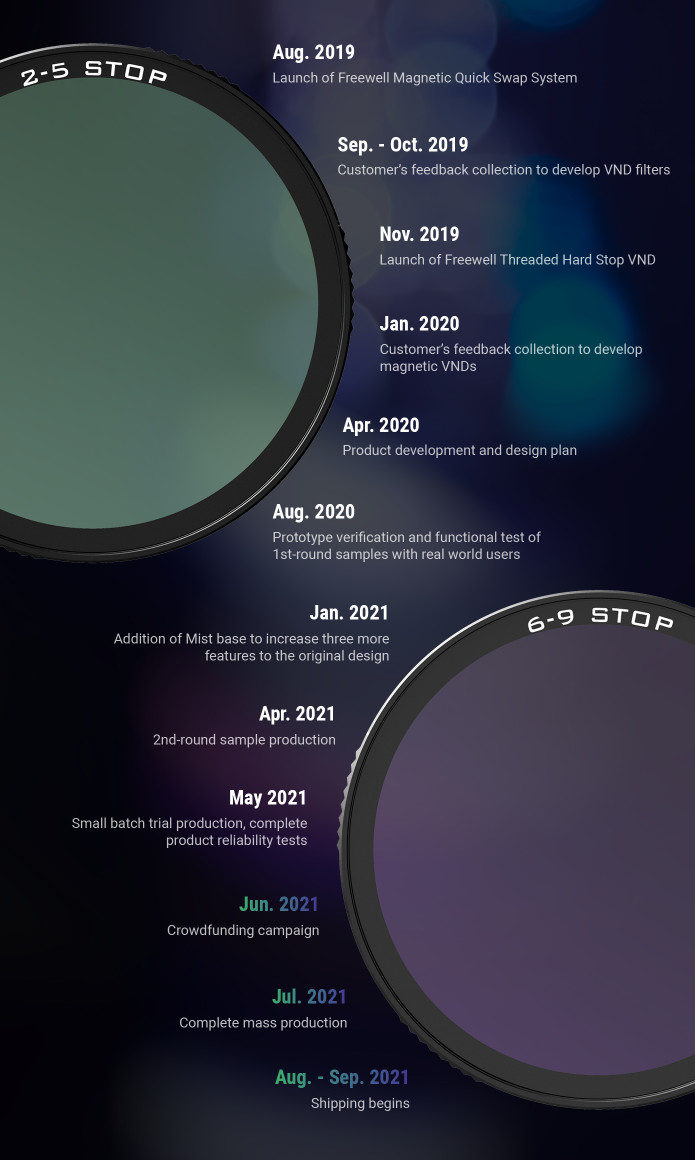 All Freewell filters carry a lifetime quality-in-manufacturing warranty to protect you from all but user damage that can occur while they are in your care. The Warranty is not transferable; it belongs to you alone. It does not cover second-hand purchases or purchases from unauthorized sellers.
To make a claim, include a dated receipt naming the Freewell product along with the purchase invoice you bought and email us at [email protected]

Do you like our product? Still have questions? Check out our answers in the FAQ section, or leave us a comment by email or through our official channels. We'd love to hear from you!







*Shipping Terms & Conditions:
Buyer shall be responsible for any customs tax, VAT import duty, warehouse processing fee that may be charged upon delivery under the local laws of the country where the goods are shipped.
There is no express shipping to Russia/Brazil. Goods will be delivered by regular postal service. Freewell reserves the right to cancel orders for countries where the shipping process is too complex or takes too long to process.
For shipments to China Mainland, Hong Kong, or Taiwan it is required to fill in the address using the Chinese language.
Any change of address after an order is locked is not guaranteed.