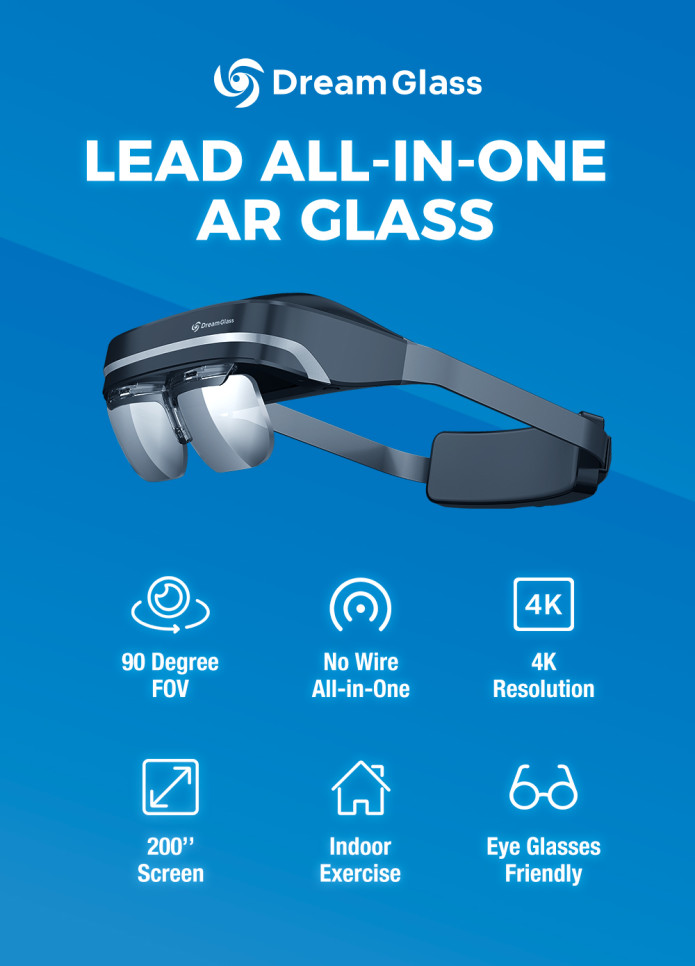 Hey Backers, Dream Glass is back!
Thanks to your incredible support back in 2019 and 2020, we were able to bring our Augmented ideas into Reality and made to the MOST funded project of Augmented Reality Glasses in crowdfunding history. Since our previous successful crowdfunding projects, we've fulfilled rewards and connected over 10,000 users worldwide.  We are now back with the brand new Dream Glass Lead,  World's First 4K All-in-One AR Glasses, with all the functions people loved in our previous generations, along with powerful new features.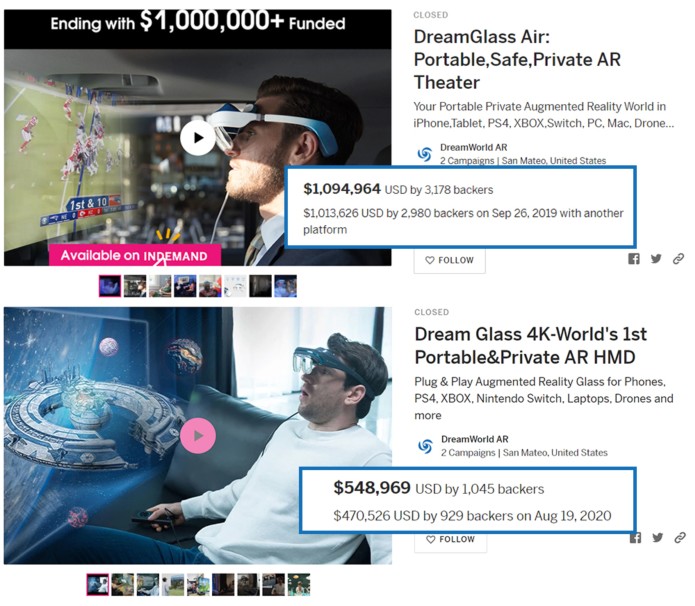 Hands on Review

We all have always been wondering, what is the future going to look like? With 5G is rolling out all over the world,  Augmented Reality is becoming the next spatial digital platform, which is going to completely change how we work, communicate, and entertain ourselves. 
Being a pioneer sometimes can be challenging,  because it takes courage to be different. We are looking for leaders like you, who challenge the status quo and make the new rules.
Together, we can push the world forward;  Together, we are seeing the future.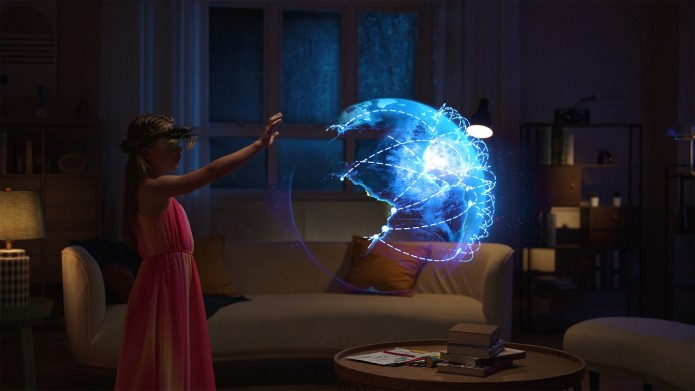 Tired of the tiny screen window of your phone? Dream Glass Lead provides a stunning 200" display, with 2D, 3D, and 360 degree supported. Explore the future in the most natural way, as every digital content is multi-dimensionally presented in front of you, no more phubbing!
Immersive 3D, 4K & Panoramic AR Display 
Dream Glass Lead elevates your cinematic experience to a massive 200 inch AR display with a 90-degree FOV that naturally merges augmented details into the real world. Fun or Work, everything will look so real with 3D, 4K resolution and panoramic viewing.  Always dare to dream, with a 4K glimpse of the future.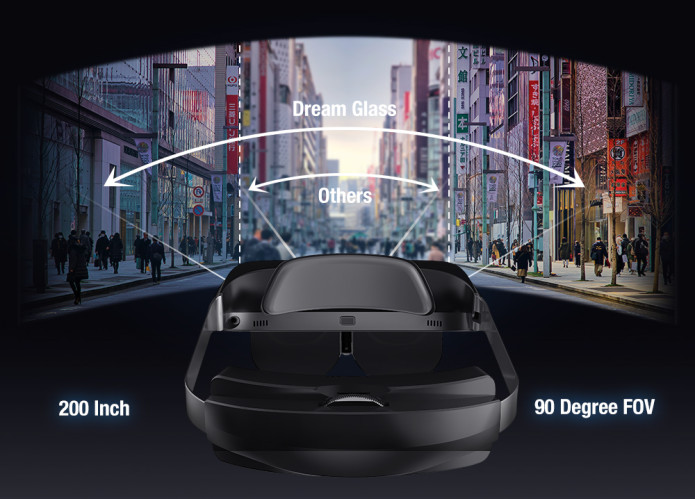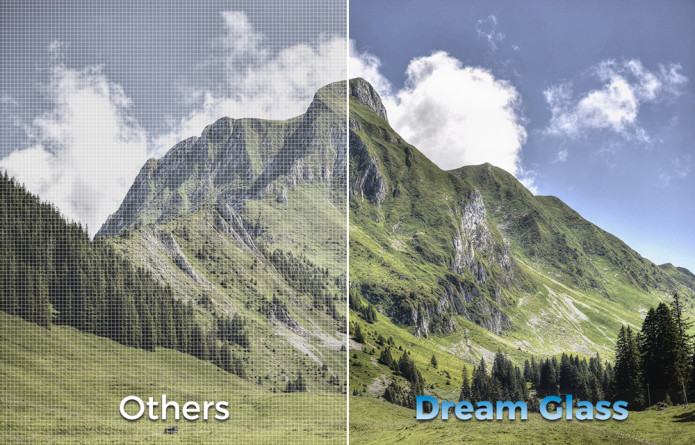 WirelessLy Cast All Your Device
Through wireless casting, now you can beam your favorite contents directly from your phone for an unrivaled AR experience. Dream Glass Lead supports Android, iPads,iPhones, MACs and PCs. Versatile than you can imagine!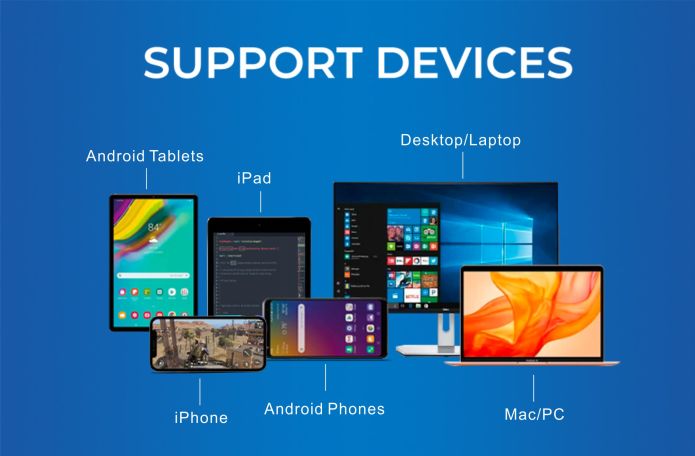 Compatible Apps and More
Major Apps, such as Youtube, Netflix and TikTok, Facebook, are all supported.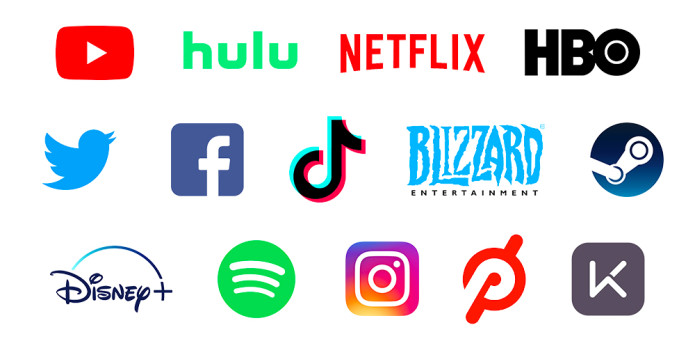 Who don't love the safety and convenience of home fitness/training during this special period of pandemic?   As the leader, Let's do it in the futuristic way.
No longer limited by a fixed position, small screen phone/tablet, you can now follow the guidance of the trainer from the 200" screen every second, no matter what pose you are in.  Dance or Yoga,  You can learn the movements in every detail because you can always see the coach clearly, more vivid than ever before.
No Wire, Head Tracking and Safety
Move freely with no wires to slow you down. The AR glass instantly tracks your head movements, so the 200 inch screen moves with you no matter which direction you are looking into, providing the the most intuitive coaching all the time.  Surrounding awareness make sure you do not bump into your furniture or punch other people like using VR headsets. 
Streaming from Peloton & Keep
Major fitness Apps such as Peloton & Keep are supported. So your favorite trainer is just within reach, anytime and anywhere. Although currently those fitness Apps are in 2D, they are moving into the 3D space now.  Dream Glass is also capable of display the coach in 3D in the future.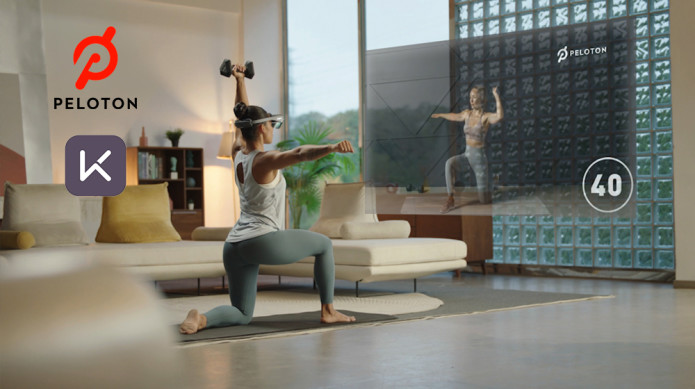 Working from home?  Let's use Dream Glass Lead communicate with colleagues, clients, or friends.  Major Meeting Apps such as Zoom, Skype, Messenger are supported.  With the RGB camera, you can also cast your work site situation to the other side,  perform remote assistance or live sessions.

Does your work or hobby involve 3D design or 3D Printing?
Dream Glass Lead can load 3D models such as STL files. Select, drag, or rotate,  you can check your design in real 3D, and get the most natural and accurate evaluation before the expensive prototyping process (Lead Pro version is recommended) .  

Ready for games that blow your mind?  With the wireless 6 degree of freedom tracking set, Dream Glass Lead Pro allows you to dive into the game. Shoot, dodge, slash, punch -- enjoy yourself in the augmented 3D world.  Steam 3D games such as Beat Saber are supported, in the new augmented fashion  (Lead Pro version and 6DOF tracking set required).

Nothing delivers science or other abstract concepts better than 3D display and interaction. Dream Glass Lead brings so much fun into learning, allowing you to experience the universe or natural scenes as if you are there. You can also communicate with teacher or classmates naturally because you can see the digital and real world as the same time.

With Dream Glass Lead, you are the only one who can see and control the AR contents, unless you choose to share. On the other hand, while you are exploring the future, you are not isolated from your social network -  feel free to reply a message on your phone, talk to a friend, or just keep an eye on your loved ones.

The Dream Glass Lead Pro has all the entertainment function of the regular version, but with more features for developing and enterprise applications, such as 6 degree of freedom tracking and SDK . It also have a more powerful processor for faster rendering and high demand tasks. Steam 3D Game play is also compatible with Dream Glass Lead Pro. 
What if I already wear correction eye glasses?  Can I still use Dream Glass?
Don't worry,  Dream Glass Lead is designed to have enough eye relief for any optometry glasses you may already have.  Glass or no Glass,  you can all enjoy the same fun!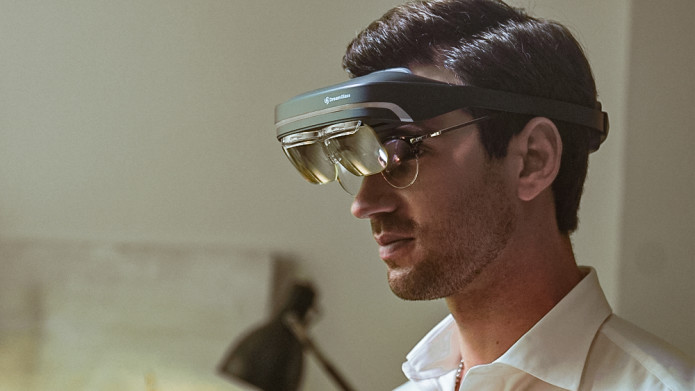 Ensure Maximum Eye Comfort
Has your eyes felt tired after watching a movie on your phone?  You will not have the same problem with Dream Glass. Our CEO Kevin,  who has a PhD in Vision Science from Indiana University School of Optometry,  carefully designed our optical lens to the maximum eye comfort.  All digital contents are projected at meters away with our advanced optical technology, and over  10 layers of special optical coatings were used to reduces blue light and glare.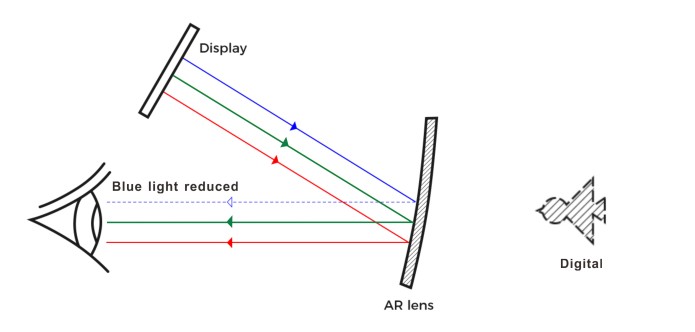 Dream Glass Lead is an standalone All-in-One AR Glass with its own CPU, Storage, and its own 3D operation system, the Dream OS.  The naturally designed system let you to interact with Apps in the most intuitive way. 

Most head mounted displays are front heavy and thus difficult to wear for long.  With the battery in the back of your head,  Dream Glass Lead has a front-back balanced weight ratio of almost one to one, which is easy to put on/off, and ensure maximum comfort even for long sessions.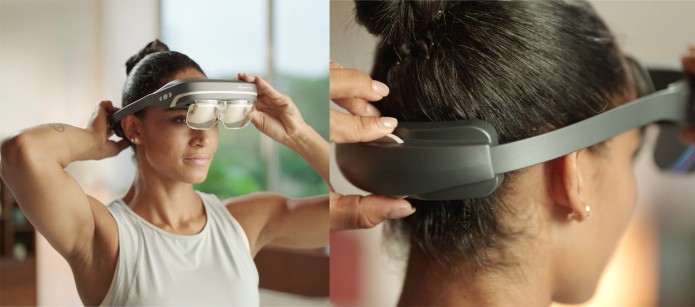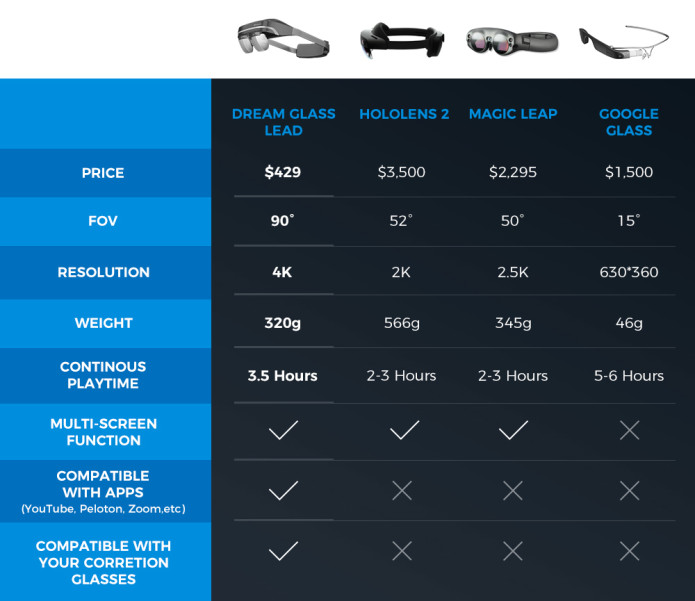 Our previous crowdfunding projects were successfully fulfilled and we have received numerous constructive feedbacks, which are the ultimate key to a premium product.  The most common feedback we received is the dislike about the cable.  Your are listened! The new Dream Glass Lead is cable-free and with other many improvements requested by our users.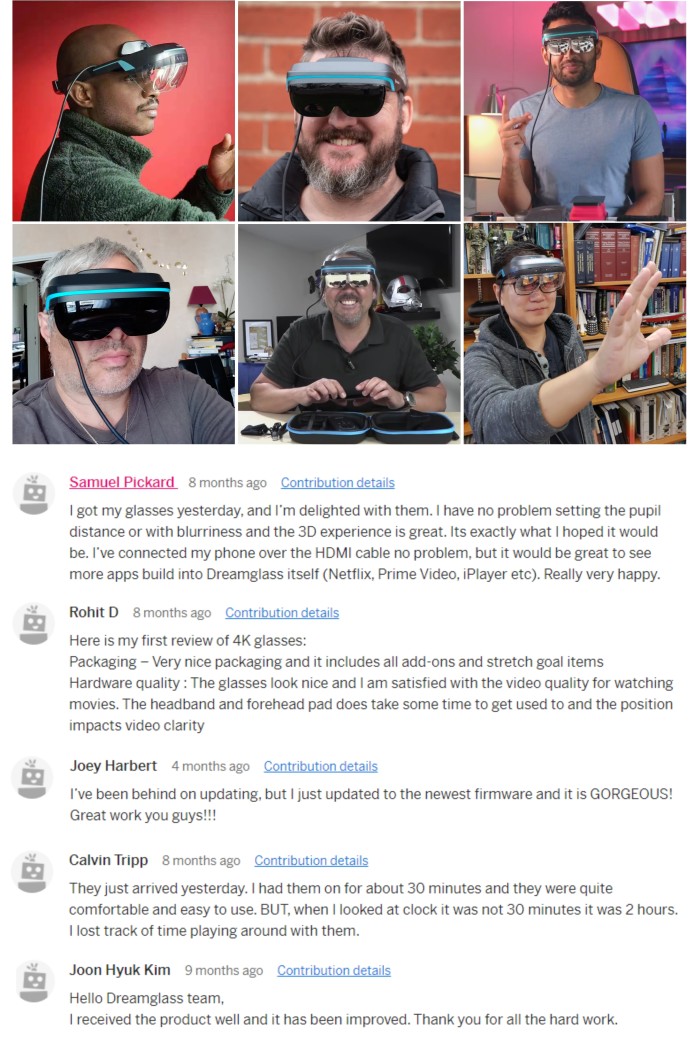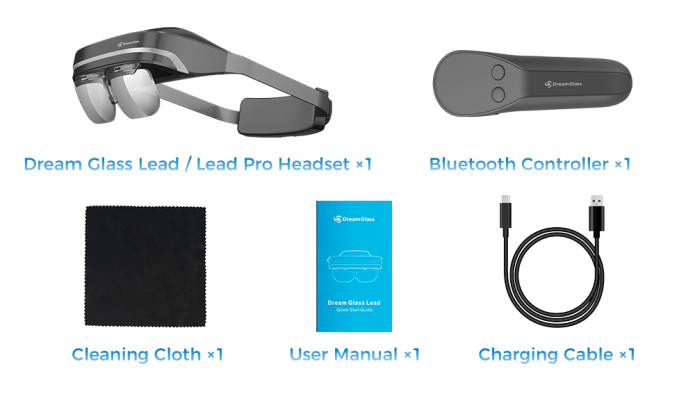 Thanks to our previous successfully campaigns and shipping experience, we have become the veteran of the high volume production. We have moved very far this time and have started the trial production, with the mass production starting next month.  If we can not ship within 3 months after the campaign ends, we will provide refund option to you, no question asked. 
Initial Idea Phase (Completed)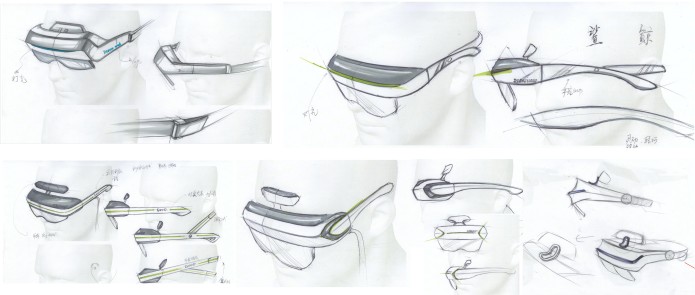 Design Phase (Completed)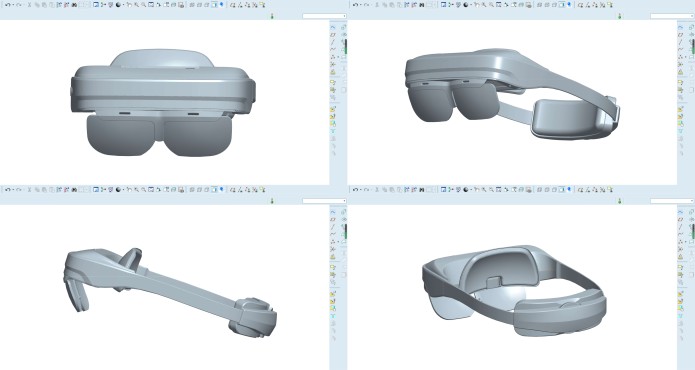 Trial Production (Started)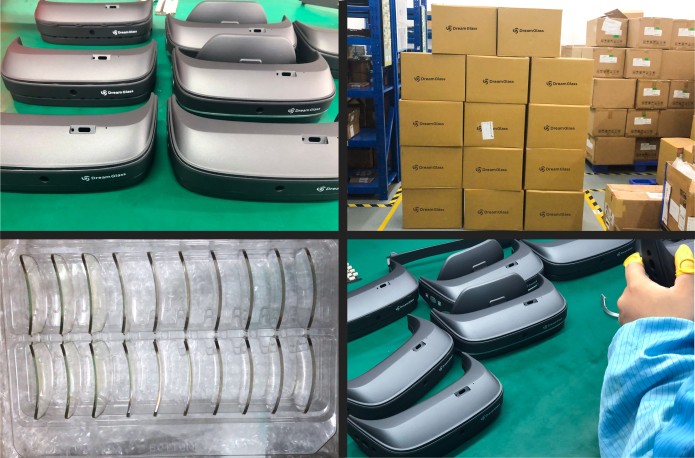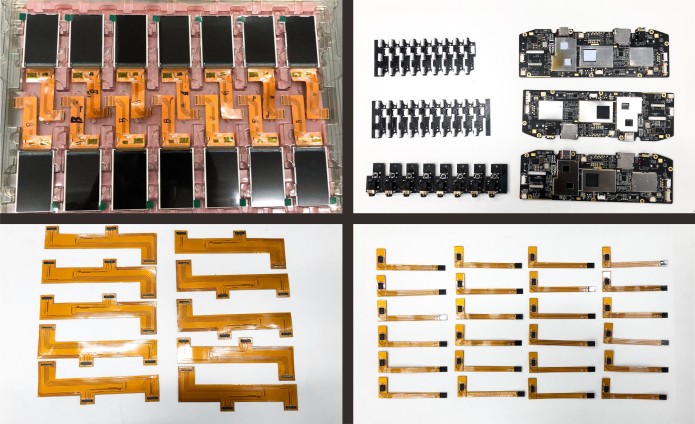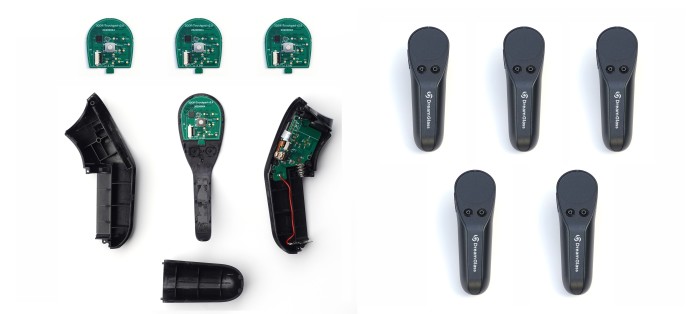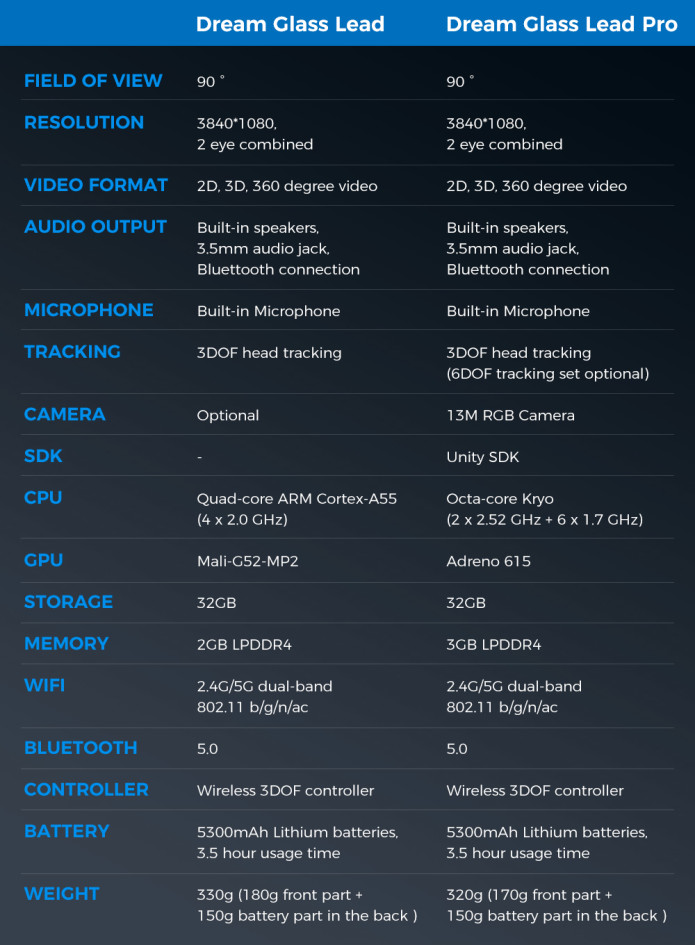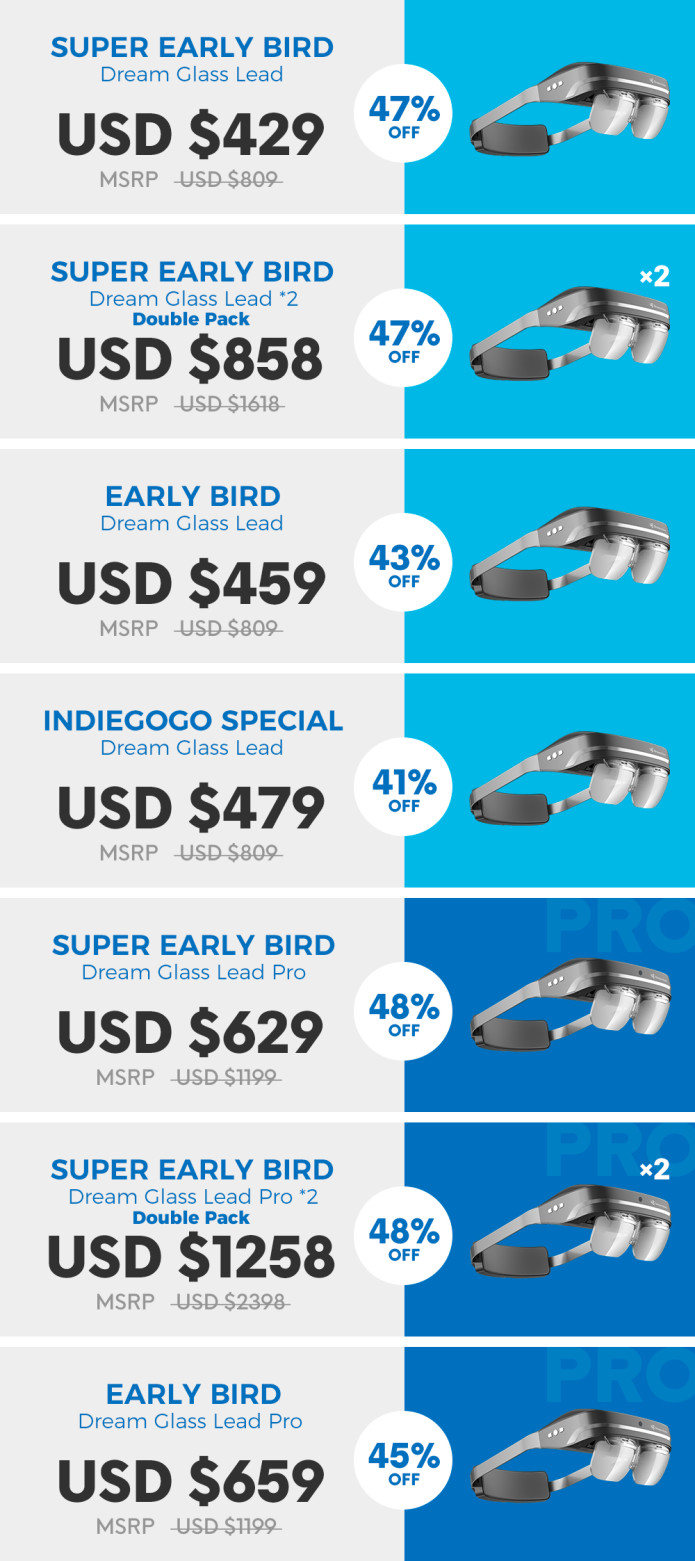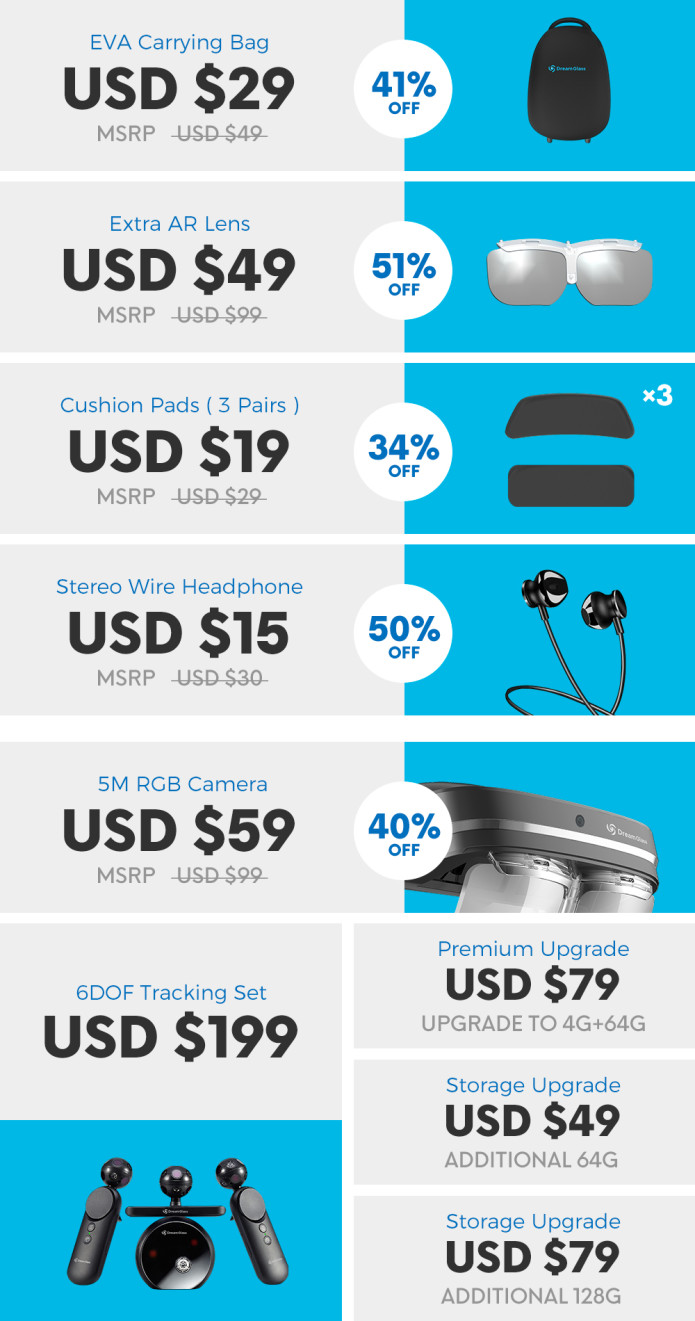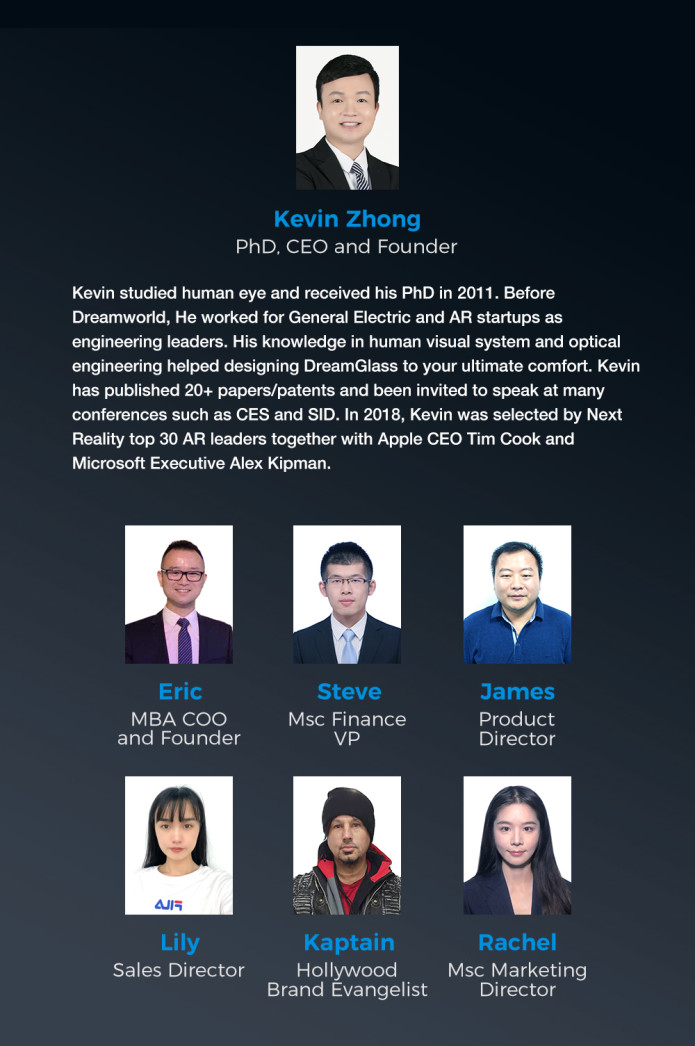 Hi,  Dreamers:
My name is Kevin,  CEO of Dreamworld AR.  I will be writing this part myself, because I want to thank you for your support personally.  Let me start by sharing with you my favorite quote from all time:
"The people who are crazy enough to think they can change the world, are the ones who do"
                                                                                                                       -Steve Jobs, 1997
Dreamworld was founded in Silicon Valley about 5 years ago.  In the past 5 years, the AR industry have been through its ups and downs, so does our company.  Augmented Reality is so new and disruptive that it can completely change the world on one hand,  and on the other hand, is very difficult to fit into today's user habit. A lot of our colleagues in this industry disappeared because we can not find solid product-market fit. 
Dreamworld sticked around.  it is not because we are smarter.  All the progress we made is because of you, our backers. We managed to ship over 10 thousand AR headsets and made over 10 thousand friends, with more coming from this campaign.  The constructive feedbacks we received from you built the foundation for our product iteration and let us know: We are not alone. 
Dream Glass Lead is our answer to the trust and support from you. It has some remarkable features that you can get from nowhere else. It empowers you to enjoy your digital life in a total different way,  and better.  It does take courage to be different, which in my mind, is the foundation of being a leader like you. Leader Sees the Future. 
Things are turning around for the AR industry.  With the Metaverse concept and 5G rolling out, people are getting much more willing to try AR products. We will keep doing what we do: collect feedbacks, iterate, and deliver the best AR products possible to you. 
Thank you.  
Sincerely yours,
Kevin, Dreamworld AR
About Dreamworld AR
Founded in 2016, Dreamworld is an industry leader in Augmented Reality. The company's previous AR headset, Dream Glass 4K, are the most shipped consumer AR headsets in 2020.
Dream Glass was ranked as the Top 5 innovative AR products in 2018 together with Apple and Magic leap products. Our CEO, Dr. Zhangyi Zhong, was selected as one of the Top 30 leaders in AR together with Apple CEO Tim Cook and Microsoft Executive Alex Kipman .  DreamWorld is a frequent exhibitor at CES, AWE, SID, and many other tech conferences and trade shows. Our products were liked and appraised by Oculus founder Palmer Luckey, and many other happy customers.