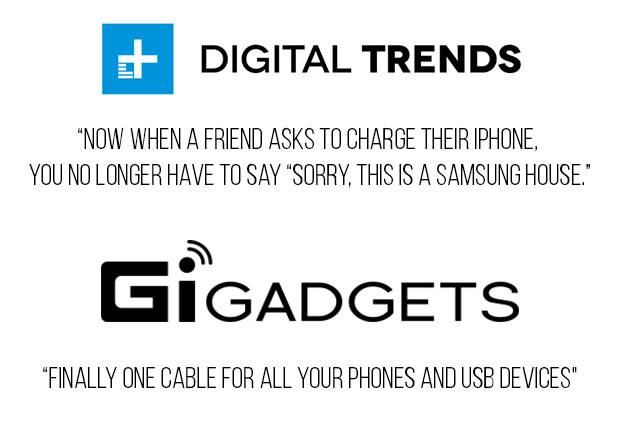 We often overlook the impact of our phones on our daily lives. We rely on our phones for just about every part of our day: from the alarm to wake up, to the GPS to get to work and avoid traffic, to checking emails to stay up to date with work to even social media to stay connected with our friends and loved ones.
Too many times have I heard someone say: "my phones playing up" and 6 months later they finally get a new phone and exclaim how life changing having a new phone is. The way you interact with your phone is crucial to your daily productivity and happiness and we hope to bring you that life changing experience with asap x-connect: the world's first cross-compatible magnetic USB cable.
Become a backer of this project and choose a reward. You will essentially be pre-ordering one of our new cable sets. You'll get a huge special backer discount and you'll receive your stuff before it is available in stores.
We're a startup that is backed only by ourselves. We have no external investors. Instead we launch products through the magic of crowd funding. The funds raised here will not only go towards manufacturing, they will also help us to design future products.
If you have any questions please email [email protected] and we will respond within 48 business hours.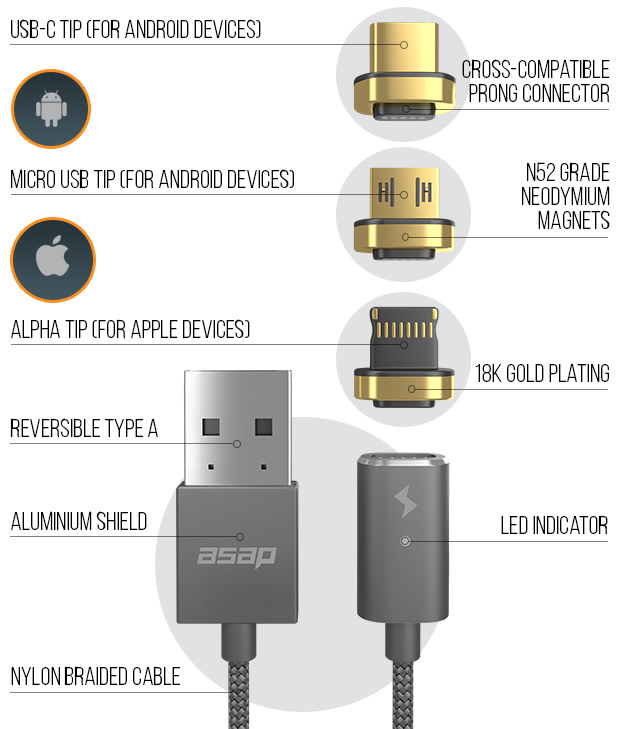 Each asap x-connect cable features 2x N52 grade neodymium magnets which are the world's strongest commercial grade magnets. For all you oldies who still think magnets will affect your phones function, mobile phones use SSD (solid state drives) which aren't affected by small magnets like ours. In fact your phone itself has over half a dozen magnets inside it to power features such as your speakers. The magnets will also have no impact on your GPS. We've clocked over 100 hours both driving and playing Pokemon Go (not whilst driving of course) and can verify this with personal experience.

Once you plug the tip into your phone or USB device, you leave it in there for all your charging and data transfer needs.

When we mean 1 cable for all your phones, we mean it. We've designed 3 connectors to fit all 3 types of main connectors today for all mobile phones, tablets and USB devices.

Our cables feature a reversible magnetic connection which means instant connection every single time. Please note this is the asap connect original cable featured in the GIF below.
Sick and tired of flipping your cables back and forth to connect it on the right side? We were too, so we engineered asap x-connect to have a reversible Type A (which is the side that inserts into your wall charger, laptop or power bank). We've evolved it from the older reversible Type A connector which moves back and forth and tends to break over time rather than stay stationary. This means first connection every time, no more fiddling around to connect your cable!
asap x-connect features a reversible Type A connector that we hope to see become a standard for all USB devices one day. Check it out in action below.

An often overlooked feature of magnetic cables is that it will protect your phone port from dust and dirt entering. By leaving the tip in there, it will also extend the life of your phone port from the normal wear and tear of cables being inserted and pulled out on a daily basis.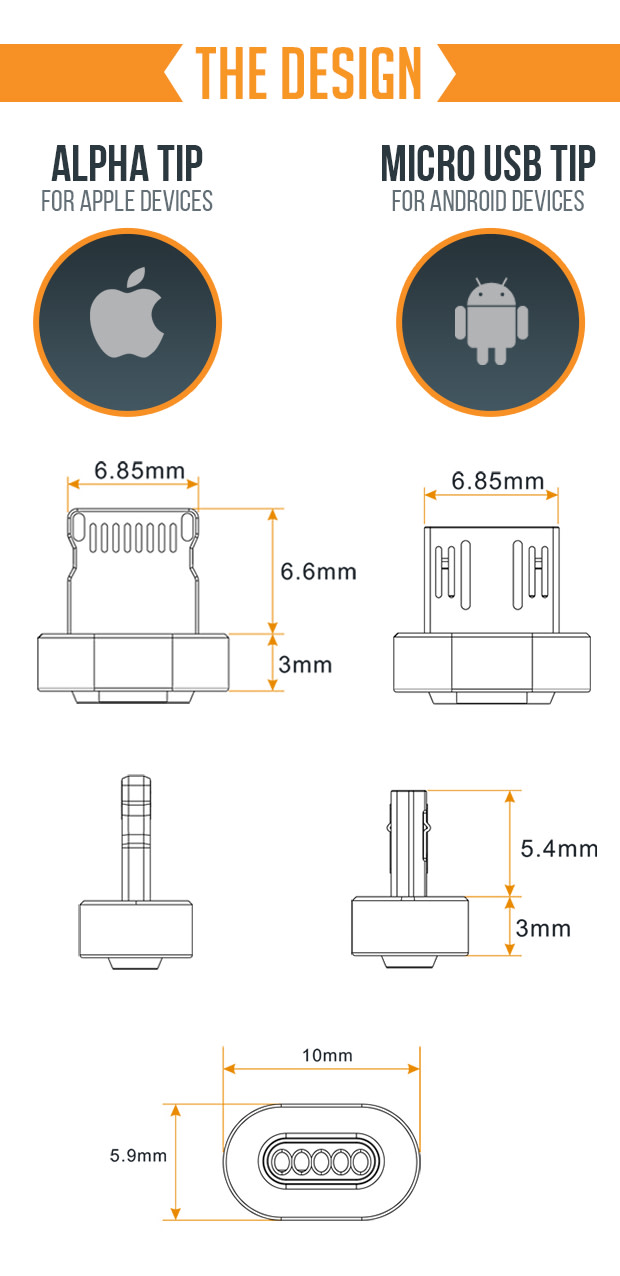 asap x-connect's major design improvement over the original version is the stronger magnet. We've increased the magnet size from 1.9mm (0.07") to 3mm (1.2") for a magnetic connection that holds 33% more weight.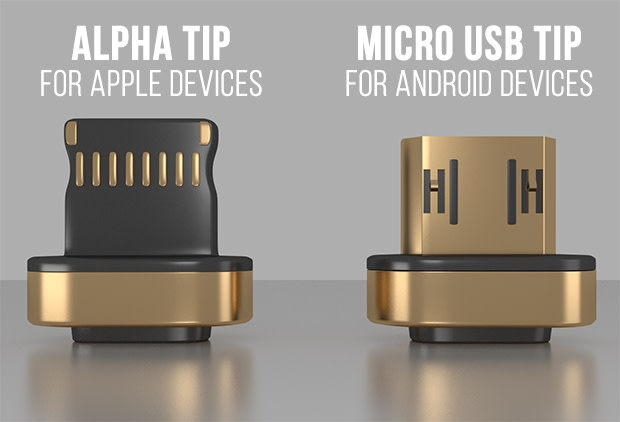 The Alpha tip (for Apple devices) design has also been upgraded. With the first version we tested an incompatibility rate of 1 in 100. We've now reduced that to 4 in 1000 which is a far lower default rate than consumer electronics industry standards.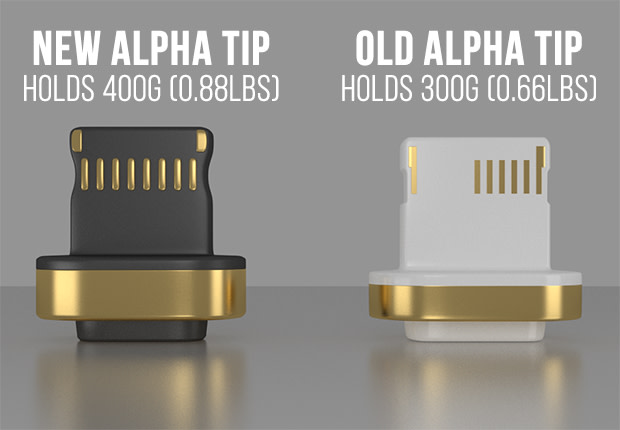 What truly sets ASAP Connect apart from other magnetic connectors is its unique bevelled and concave magnetic connector design on both the tip end and cable head end.
Through this careful 360° exterior positioning of 2 strong N52 grade neodymium magnets on both ends, the tip only needs to be within 38mm of the magnetic field of the cable tip to be quickly attracted and connect seamlessly.
Competitor designs require the tips to be correctly aligned inside the cable head which requires guidance to be connected correctly if missed. Competitor designs also use weaker magnets and require a very perfect alignment of the cable and tip for a correct connection. See if you can guess which is ASAP Connect (original version) below.
Don't be folled by the similar external look of competitor magnetic cables, asap connect original version (on the right) will connect correctly even if the tip is flipped 180°, due to both the strong neodymium magnets having their polarity perfectly positioned and the unique outward and concave magnetic connector design.
asap x-connect has upgraded the magnetic connection to be 33% stronger with the ability to connect from a distance of 38mm (1.5"), up from the original asap connect's 28mm (1.1"). See the comparison below.

asap x-connect features the world's strongest commercially available magnets known as N52 grade magnets. When we say we're using the world's strongest magnets, we mean it! Enough with the technical blah blah, how strong you might ask? Strong enough to hold an iPad Air which is 437g (0.96lb)!


We've tested our cables on dozens of Apple and Android phone and tablet devices with no compatibility issues. As long as you have any device that requires a Lightning connector (such as iPhone 6, iPhone 6 plus, iPad, iPad Mini etc.) a Micro USB connector (such as Android phones, mini speakers, headphones etc.) or a USB-C connector (such as Galaxy Note 7, Nexus 6P or OnePlus 2), asap x-connect will work every time.
asap x-connect supports data transfer, however due to the LED light creating a max voltage barrier, fast charge technology including QualComm 2.0, QualComm 3.0 and Samsung Adaptive Fast Charge will charge about 5 - 10% slower from our initial testing. This is something we are looking to overcome in our development phase. Please note that as with all cables that are longer, there is more resistance in the wires and the charge speed will decrease as the length of the cable increases.
The best feature of ASAP Connect 2 is it's cross-device compatibility. This means you'll only need 1 cable for all phones and USB devices.
Through years of design and material testing, we've reduced the size of the ASAP Connect tip to only 10mm (0.39") wide which fits perfectly into all your Apple and Android devices. We've tested the tips on over 100 phone cases and found it fit on all of them. The only exception is for some phone cases which have a protective flap on the charging port which may not be able to close properly with the tip in place. This also the case for the Samsung S5 phone due to its inbuilt protective flap.
We've tested asap x-connect to work on a variety of popular cases. The most popular question we received is if our cables are compatible with the Lifeproof Fre case for iPhone 6/6s. Here's a video below showing the compatibility.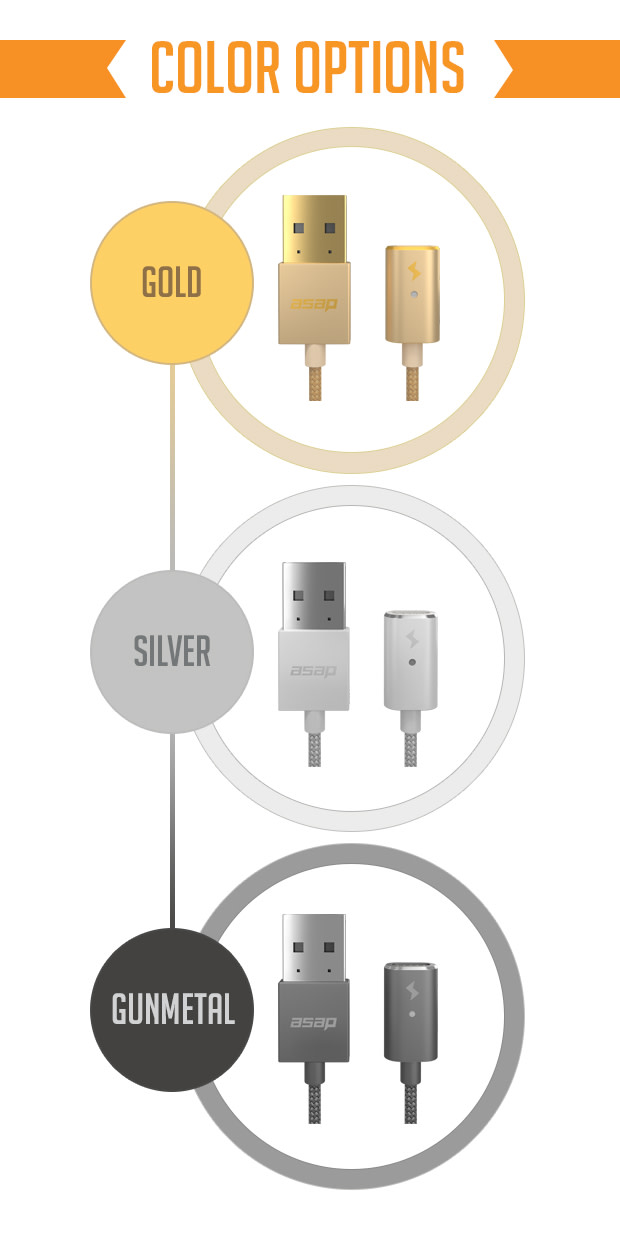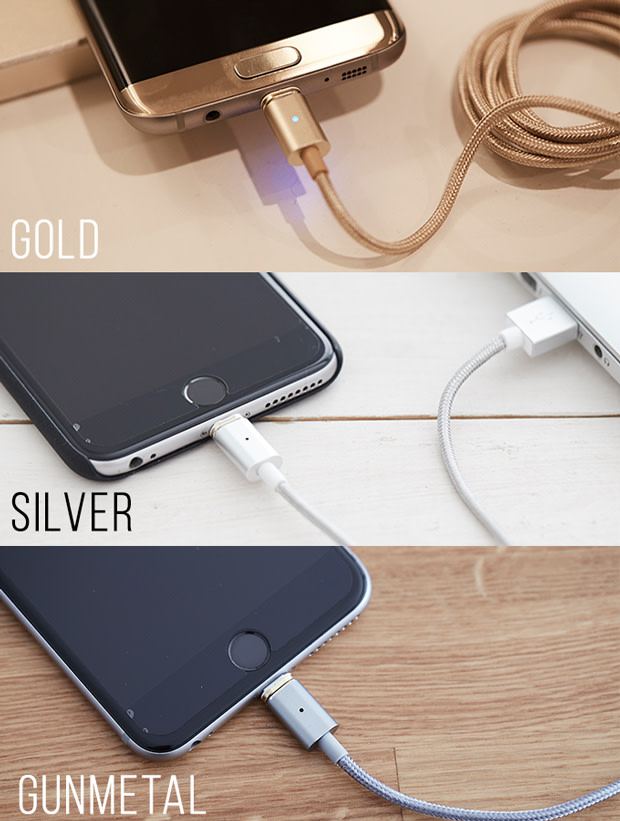 We have evolved the traditional Lightning tip for Apple devices to create what we call the "Alpha" tip for 2 important reasons:
REASON 1: Have you ever had your Lightning tip start wobbling and eventually break off? This happens because the tip and base are made of 2 different components which break apart over repeated use. The Alpha tip solves this problem by integrating both the tip and base into 1 piece.
REASON 2: As Apple has not currently released their own magnetic Lightning tips, anyone seeking MFi ("Made for iPhone/iPod/iPad") certification from Apple will be refused as they will need to purchase the tips from an Apple MFi certified magnetic Lightning tip manufacturer which does not currently exist as of September 2016.
Without MFi certification most major retailers will not sell a USB cable for Apple devices and leaves the brand potentially open to law suits from Apple. The integration of the Alpha tip bypasses this certification process by not using the Lightning tip and allowing ASAP Connect to be manufactured and sold in major retailers worldwide.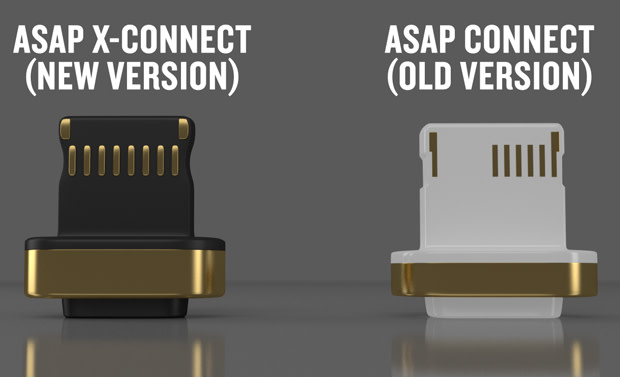 ASAP Technologies is currently dedicating our research and development into a magnetic USB-C connector as that is the future of phone and USB devices due to its faster speed. There have been significant challenges in this process as USB-C cables carry a higher electrical current (3.1Amps vs 2.4Amps) which also presents an array of safety concerns. Currently no company in world has released a functional magnetic USB-C connector.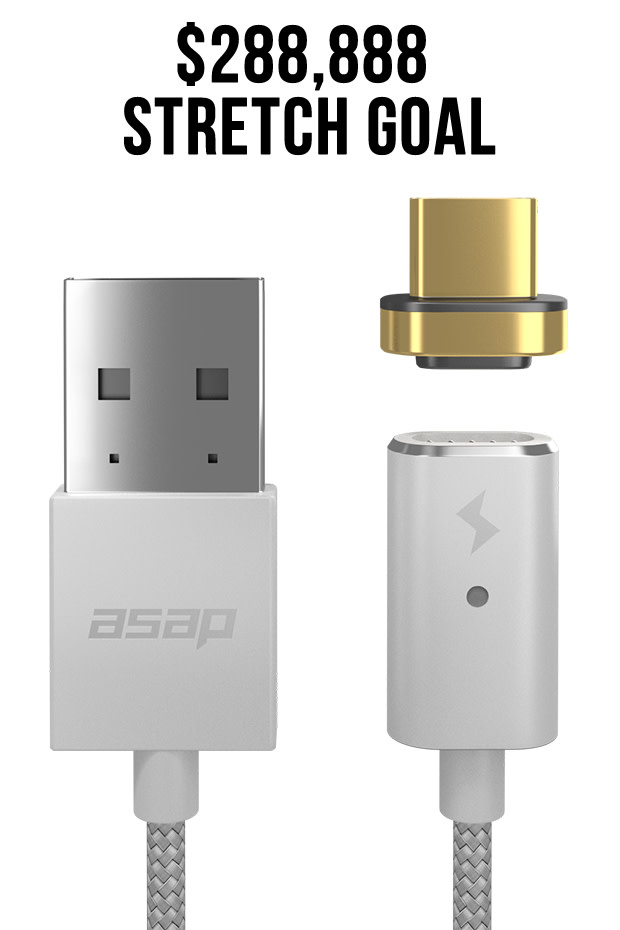 We have already made the first few steps towards producing a USB-C tip, the missing ingredient is your support. In helping us reach our stretch-goal of $288,888 you'll help cover the initial mould cost to produce the world's first magnetic USB-C cable.
Please note: We do not know the max output current achievable due to technological limitations. The true potential of USB-C is 5 Amps whilst the most advanced USB-C phones in the market currently only charge at a max of 3.1 Amps. A Type A to USB-C cable (Type A is the power input end of your regular wall adapter or laptop) may only be able to reach the max range of 2 - 2.4 Amps.

Over the past 2 years we have been working closely with our manufacturer and possess both a registered design and utility patent-pending to protect our unique technology and its potential future applications. For further information regarding this please contact us via email on [email protected]
ASAP Connect 2 has also been granted the following international certifications: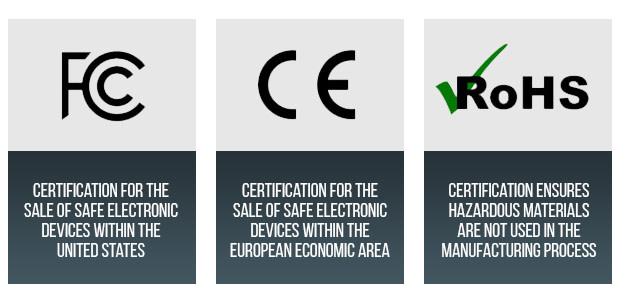 Beware of imitations, fake and low quality magnetic cables on the Internet. We have purchased samples directly off dozens of suppliers who claim to produce premium magnetic USB cables and performed both extensive laboratory and daily-use testing.
Here are our findings:
- We have found many to not work as claimed, not be reversible, not transfer data nor charge your phone as it's maximum speed. We have even found some to create smoke and even damage your phone
- Many of these companies offer cables that do not have the following international certifications: FCC, CE, ROHS and hence may not be approved for sale in your country. You should always ask the seller first if they have these international certifications before making a purchase
- Any company which claims to have Apple MFi certified lightning magnetic tips is completely false as of 8th September 2016. Apple has not currently produced nor approved any magnetic Lightning tips commercially and hence will not provide a MFi licenced magnetic Lighting connector to any company attempting to selling magnetic connectors as of 8th September 2016
- We have found many companies to use poor quality magnets that have weak magnetism or lose their connectivity over time due to no magnetic plating
- We have found many companies produce tip designs that are too bulky to fit most phone cases

ASAP Technologies is a consumer electronics startup based in Sydney with a global team who believe users should be the creators and innovators of products. We realise that your mobile phone is the one object you interact with every day more than any other object or person, so why not simplify this interaction?
Our mission is to create highly innovative phone accessories that improve your relationship with your mobile phone.
Our team consists of serial entrepreneurs, creatives and engineers who've worked together since 2014 to overcome painstaking obstacles to bring to life the vision of each life-changing product.
Our 1st crowdfunding campaign was asap dash: the world's fastest pocket-sized portable phone charger which successfully raised over $212,538 since January 2016 via Indiegogo found here.
Our 2nd crowdfunding campaign was asap connect: The original version of this magnetic USB cable which successfully raised over $408,828 since May 2016 via Indiegogo. You can purchase it for an October 2016 delivery found here.
asap x-connect is the 3rd crowd funded product from asap Technologies. Thank you to the entire crowd funding community for your support in bringing a user-driver technology startup, asap Technologies to life.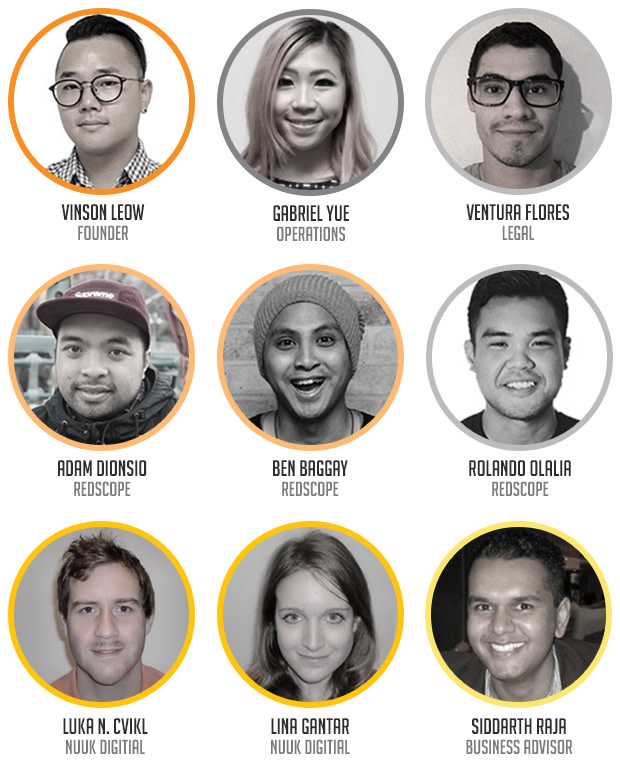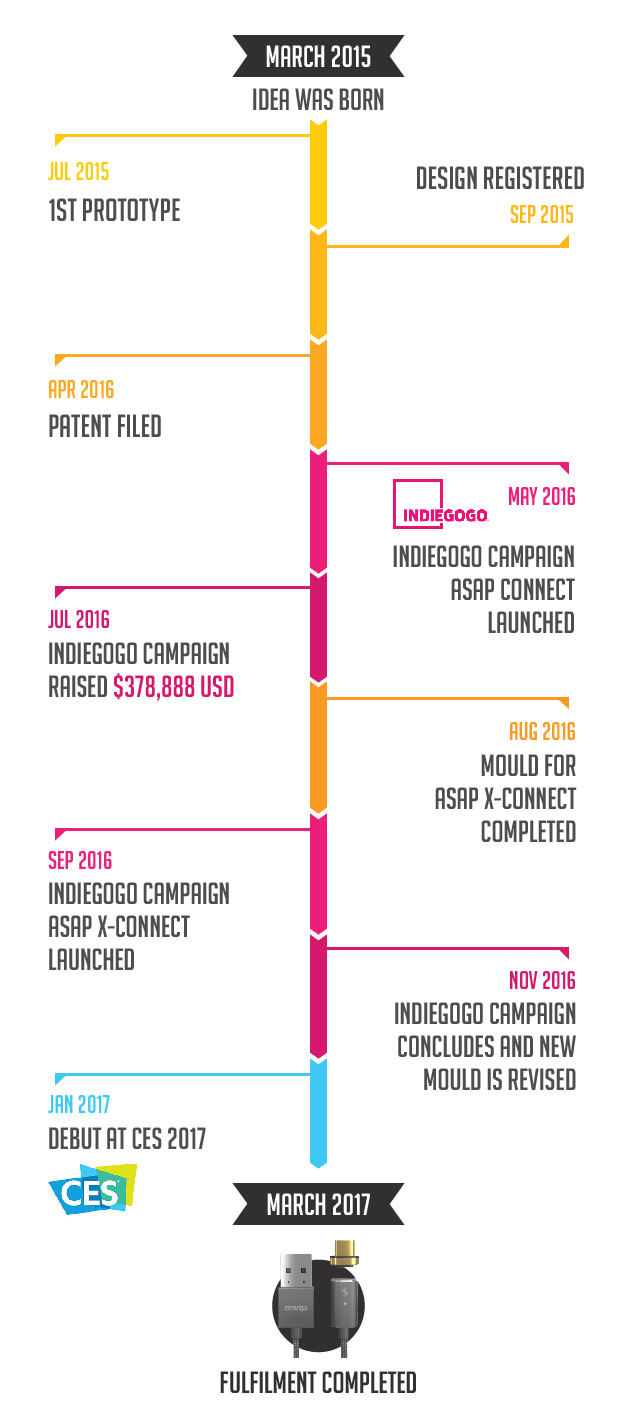 asap x-connect is a simple idea but we believe it can impact our daily lives in a huge way. We're still a new start up that's been launched with our personal savings so that's why we need your help. You can support by pledging and sharing the campaign on social media. Every dollar will go towards this production and developing future products aimed at improving your relationship with your mobile phone.



We've Partnered up with Backerkit!
We've partnered up with Backerkit for a smooth, streamline experience for the fulfillment process. Once the campaign closes we will send you out a survey within 10 business days that will help us to review and break down your order into the specific items you ordered. This is also where you will be given the options to choose the colors, connector types and also purchase addons.

CAMPAIGN
How do I choose my colour and connector type?

You will be emailed a survey to your inbox via Backerkit at the end of the campaign within 10 days of the campaign ending.
Can I choose a different asap x-connect connector type and colour for each cable I order, even if I order them together as 1 perk?

Yes, you can choose a different connector type and colour for every cable purchased. For example if you purchase a TWIN PACK, you can choose 1 Apple and 1 Android cable in 2 different colours.
How will my order be shipped?

All orders will be shipping with tracking, out of our fulfilment centre in Hong Kong and will be delivered in most cases by your local national postal service.
Which countries do you ship to?

We ship to all countries excluding the following which have been flagged by courier services as restricted or high risk: Belarus, Cote d'Ivoire, Cuba, Democratic Republic of the Congo, North Korea, Sierra Leone, Sudan, Syria & Zimbabwe. If you would like a shipment to any these countries we will make alternative arrangements that may cost more, however we can't guarantee the shipment's arrival.
Your campaign seems similar to these other crowdfunding campaigns "ZAPTIP" and "ZNAPS" which both are way past their delivery date and also have poor communication with backers so we're very concerned that they are "scams" and this campaign is too.

This question has been added as we feel it's important that we are 100% transparent about our project and to establish trust with our backers. We have during our last campaign (asap connect) reports from the Indiegogo Trust and Safety Team in regards to concerns about these campaigns. Neither our product nor any member of our team is in any way associated with those 2 campaigns. Our technology is proprietary to asap Technologies and we have a utility patent-pending with patent filing number P103013.AU. This is our third campaign on Indiegogo with the first campaign already delivered to customers.
So did your company actually invent the original magnetic USB technology?

It is very important that all backers understand that this technology has been available in Asia since 2014. No company has claimed to have invented the original magnetic USB technology in the form of a patent so we will never truly know who originally invented it as magnetic power connection has been around for over 20 years and predates even the invention of "Magsafe." We can use the analogy of car brands to best explain this. Even though BMW, Ferrari or Lamborghini did not invent the original car, they each have their own unique engine, materials and design. Similarly, ASAP Connect uses our own patent-pending magnetic technology with 18K gold plated connector design. We've solved significant issues found in the existing competitor designs and have created a more advanced technology for magnetic USB cables.
Is there likely to be any manufacturing delays like all the other crowdfunded magnetic cables and adaptors which have all failed to deliver?

Unlike all those other campaigns, we have already paid up front from our own pockets for the tooling cost and produced samples for testing. With the positive response of the final samples we will be able to begin production right after the campaign closes with no manufacturing complications. We've accounted for potential delays with our expected delivery date and are confident we will deliver on time.
FEATURES
What makes asap x-connect better than other magnetic cables/adaptors in the market?

There are many features, though the most important is that we are the first to incorporate our patent-pending magnetic connector technology and as our magnets are positioned at the exterior of both the cable and connector tip it will always connect easily. We also have a fully functional cross-device compatible cable that works with all Apple and Android devices for both charging and data transfer.
Will the magnet interfere with the phones function?

For all you oldies who still thinks magnets will affect your phones function, mobile phones use SSD (solid state drives) which aren't affected by small magnets like ours. In fact your phone itself has over half a dozen magnets inside it to power features such as your speakers. The magnets will also have no impact on your GPS, we've clocked over 100 hours both driving and playing Pokemon Go (not whilst driving of course) and can verify this with personal experience.
How strong is the magnetic connection?

We've designed asap x-connect to be strongest magnetic cable on the market, strong enough to lift 400g and even lift an iPad Air!
Is it easy to remove the tip from the phone?

The tip will stay in place from any general daily use even if the phone is dropped, yet it can be easily removed with just your fingers when needed.
What is the length of the cable?

The length of all asap x-connect cables is 1.2m (3.94ft). You can purchase additional cables that are a longer 1.5m (4.92ft) for $15 on the Backerkit survey. Please note these cables may have a slightly slower charging speed due to increased resistance which is standard with all longer cables.
Does asap x-connect support data transfer for Apple and Android devices?

Yes, this also includes tethering.
Does asap x-connect come with international warranty?

Yes, all asap x-connect cables will come with an international 365 day warranty.
COMPATIBILITY
Is asap x-connect backwards compatible with the original asap connect cable?

Though we advise not using them together, asap x-connect is backwards compatible with the original asap connect for micro USB only. However the connection may not be as stable.
Can I plug asap x-connect into my laptop, computer, car charger or power bank?

asap x-connect is compatible with everything your existing USB cable is, so it will work with all devices that are USB compatible.
Will asap x-connect affect the charging speed?

asap x-connect will not alter any device's charging speed and can handle the maximum charging speed for mobile phones.
Can I connect a Micro USB cable with an Alpha tip or vice versa?

Yes, asap x-connect most unique function is that it is cross-device compatible. This means a cable designed for Apple will work with an micro USB tip and vice versa.
Why have you not chosen to use the original lightning connector or have MFi certification?

Apple has not released a magnetic lightning connector, hence it is not possible to apply for MFi certification and by producing a lightning connector that is not MFi certified, it leaves that company open to legal action by Apple. Any company claiming to have a MFi magnetic connector is not possible as of September 2016. You can ask the company for a PPID number from Apple as proof.
Does asap x-connect support QC2.0 or QC3.0?

asap x-connect will support up to 5V/2.4Amps, which is more than most cables available, but it will not support the maximum speeds of Qualcomm Quick Charge technology due to the 5V limit of the LED light. We have tested our cable with a QC2.0 charger and charge speeds are 10% slower from 0 - 50% battery power, and exactly the same speed from 50% - 100% battery power.
If you have any questions please email [email protected] and we will respond within 48 business hours.