Beacon Light - The Original Bike Rack Light
Beacon Light improves your safety when hauling bicycles on the back of your vehicle.
Category: Technology
Ratings
There haven't been any ratings yet.
Comments
Campaign Info
Introducing Beacon Light - The Original Bike Rack Light
Beacon Light - The Original Bike Rack Light improves your safety and visibility while hauling bikes on the back of your vehicle.
Beacon Light is a multi-function, 11 inch light for car racks that works on any rack!
FEATURES INCLUDE:
Tail light (with headlights on)
Brake light - super bright!
Turn signals
Hazard Lights
Universal fit - quick and easy!
Convenient carry & storage case
Beacon Light will illuminate when your tail lights are on and will brighten to full brightness when you apply the brakes. Beacon Light also works with your turn signals and will flash when you activate a turn signal or the hazard lights.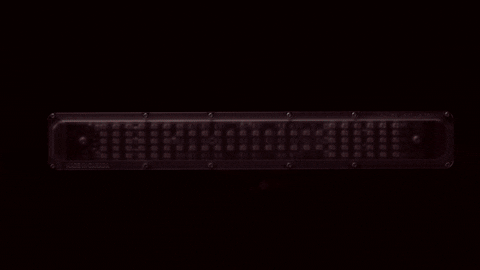 IMPROVE YOUR SAFETY
We designed Beacon Light to make you, your passengers, and your bikes safer by having a bright multi-function light at the back of your vehicle that can be easily seen - even with multiple bikes mounted.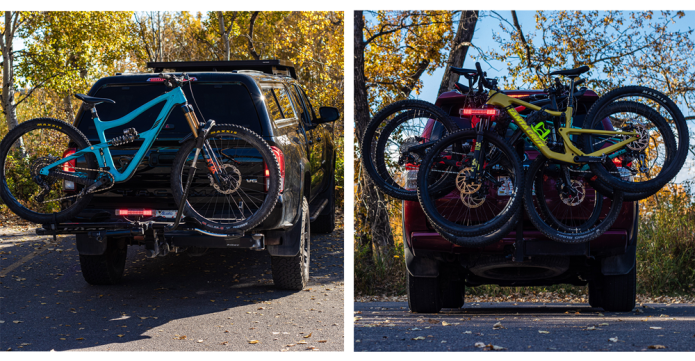 UNIVERSAL MOUNTING
How do we do it? Using our innovative, proprietary mounting system, you simply and quickly secure Beacon Light to your car rack or any of the bikes on your rack. Plug the other end into a standard 4-pin trailer connector and you're all set!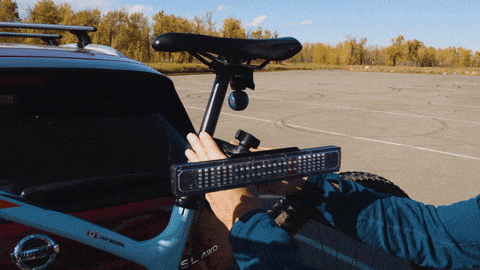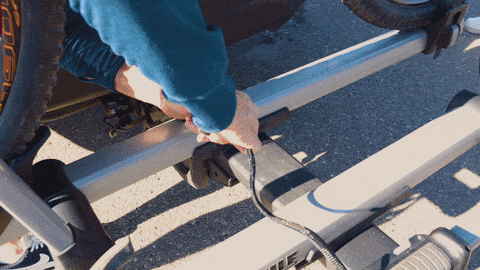 CONVENIENT CARRY CASE
When you're ready to ride, simply remove Beacon Light and store in the included carrying case until you need it again. Beacon Light can be mounted in under a minute!
Size of light bar: 10.75" L x 1.5" H x 0.75" W (depth)
Includes: Beacon Light and universal mounting hardware. All of this in a convenient Beacon Light carry case.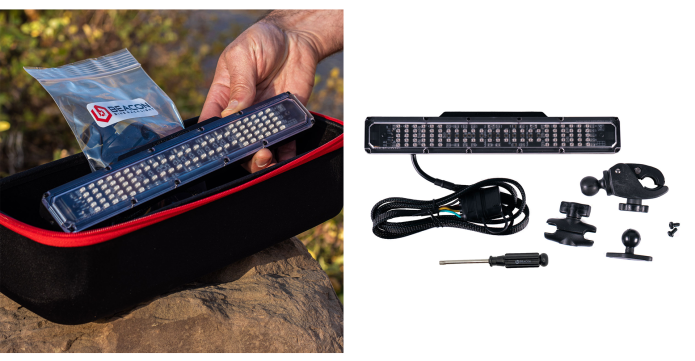 NOT JUST FOR BIKE RACKS
With the universal mounting system, you can mount Beacon light just about anywhere! Trailers, RVs...put Beacon Light where you need it to make you, your passengers and your bikes safer!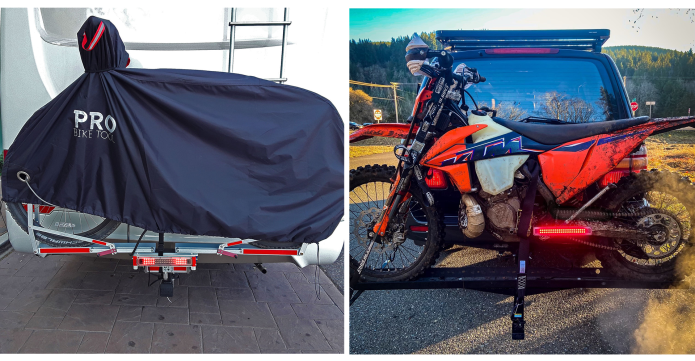 ADDRESSING SAFETY & COMPLIANCE ISSUES
Our bike rack light bar is a unique lighting solution that addresses safety and compliance issues related to hauling bicycles on the back of a vehicle. Typically, when a vehicle has a bike rack installed and has one or more bicycles loaded on the rack, the vehicle's lighting (tail, brake lights, and turn signals) are obscured thereby creating safety and vehicle compliance issues. Beacon Light is a simple yet innovative LED light for a car rack with meaningful benefits to the user.
Protect you, your passengers, and your bikes! Order Beacon Light today!
WHY INDIEGOGO?
You may have noticed that we have set a very modest financial campaign goal. This is because our goal in launching this Indiegogo campaign has less to do with raising money and more to do with creating awareness of this new product category and the Beacon Light brand specifically. Of course, finances are important and we are fortunate to have sufficient initial funding to cover the mold costs as well as the costs associated with the first production run. So, for us, at this time, we are using the Indiegogo platform to help us launch this exciting new product and to create awareness of the need for this important safety solution.
WHAT PEOPLE ARE SAYING...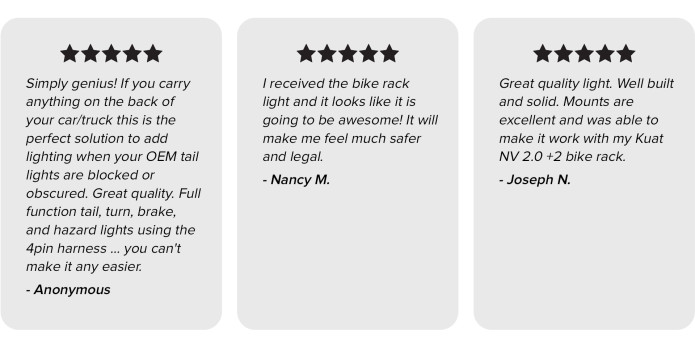 DESIGN & PRODUCTION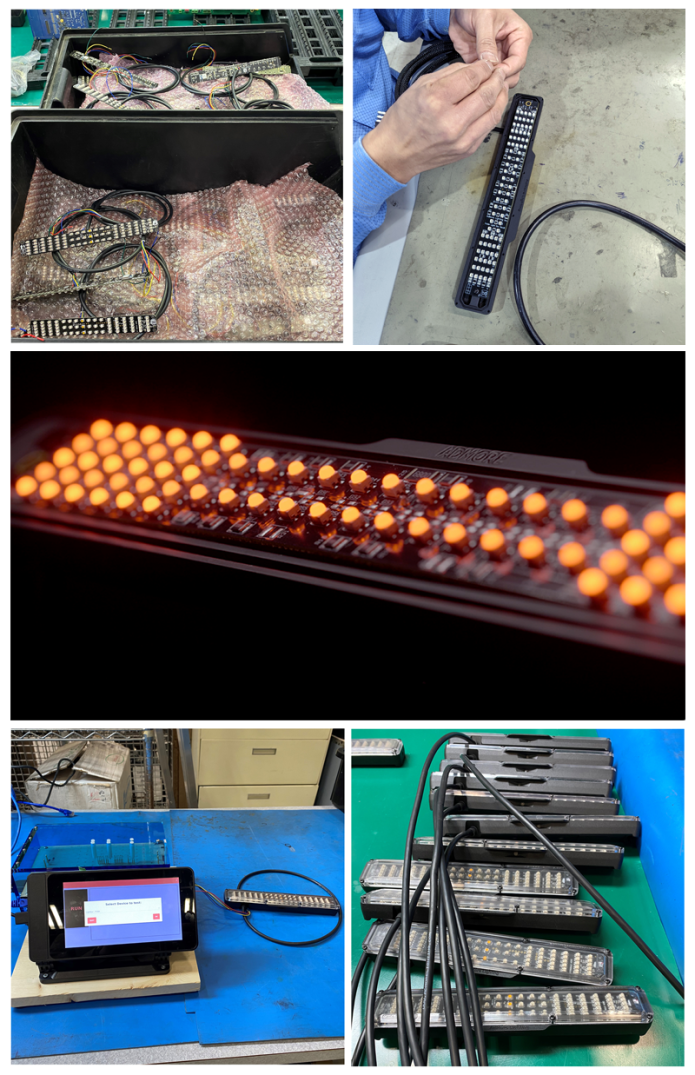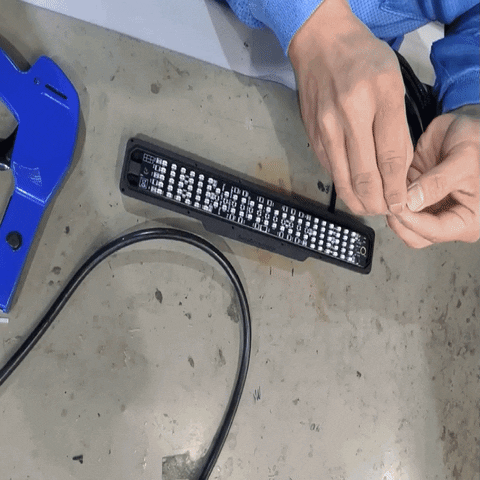 WARRANTY
Beacon Light is warranted to the original purchaser against any defects in workmanship and materials for a period of one (1) year from date of purchase. If during the warranty period, a defect should develop, we will repair or replace, at our discretion, the product at no charge to the customer. This warranty becomes void if the product is tampered with or serviced by anyone other than us. This warranty does not cover misuse, abuse or damage from impact.
OUR TEAM
Our team is a small one, but we bring with us years of experience in developing top quality lighting products. This is not our first rodeo! We have leveraged the safety lighting technology that we developed for the motorcycle community to bring Beacon Light to life. Since its inception in 2006, AdMore Lighting Inc., the Beacon Light brand owner, has launched several successful safety lighting solutions for the motorcycle industry. AdMore Lighting products can be found on motorcycles all over the world.
DEALER INQUIRIES
We welcome dealer inquiries! We already have a dealer program in place with a very low order threshold and the availability of a dealer display that shows Beacon Light in operation. Simply plug Beacon Light into any wall outlet using the included wall charger and Beacon Light will sell itself to your customers! Please reach out to us for more information on our dealer program.
RISKS & CHALLENGES
At this stage of the product development, our single greatest risk is having sufficient product available to meet demand for the 2022 riding season. With the ongoing supply chain issues, procuring all of the required components necessary to assemble Beacon Light has been very challenging.
One of the greatest challenges that we face is creating market awareness. Beacon Light is very much a new product category as broad-based safety lighting specifically for car racks does not exist today. Millions of people across North America are driving around with car racks loaded with one or more bicycles and have not even considered the safety risk they face every time they get in their vehicle. For many car rack owners, they have not realized or considered to what extent their vehicle's lights are obscured by the bikes on their rack. We need to create market awareness and educate car rack users on the safety risk. We need to educate users that even when vehicle lights are not obscured, the driver behind has a depth perception challenge as the lights the driver is looking at do not represent the rearward most part of the vehicle.
As we create market awareness, we believe that demand for this important safety product will grow. People who haul their bicycles on the back of their vehicle have spent many thousands of dollars on their vehicle, their bicycles and even their car rack, Purchasing Beacon Light is a small price to pay to significantly increase visibility and safety!
HOW CAN YOU HELP?
By sharing this campaign with your social networks and anyone else you think that can benefit from this innovative safety product, you are helping a small business to grow. You are also building awareness of this important product category that will help reduce the number of rear-end collisions the more we can get Beacon Light on the backs of vehicles.
Even if you are not able to contribute to this campaign, helping us to get the word out is also a huge help. You can use the Indiegogo share tools to share this to your Facebook or Twitter feeds or just grab the campaign link to share with friends and family. Thank you for your support!
Select a perk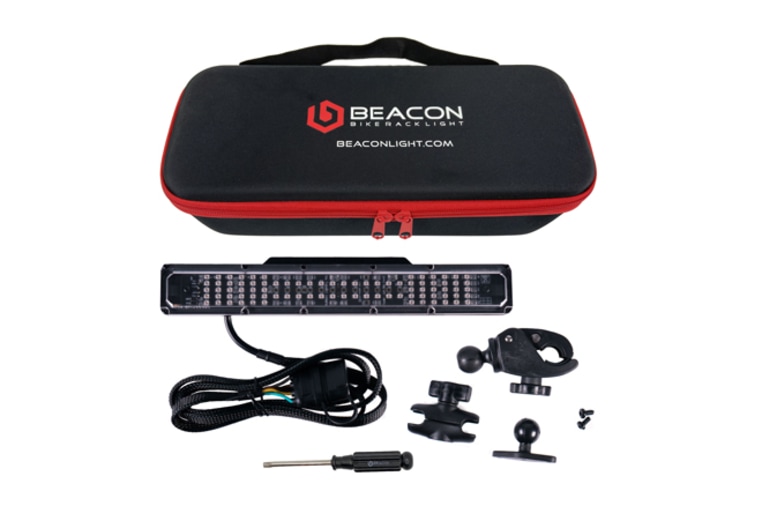 Beacon Light
$135 USD $159 USD (15% off)
Ships to United States of America, Canada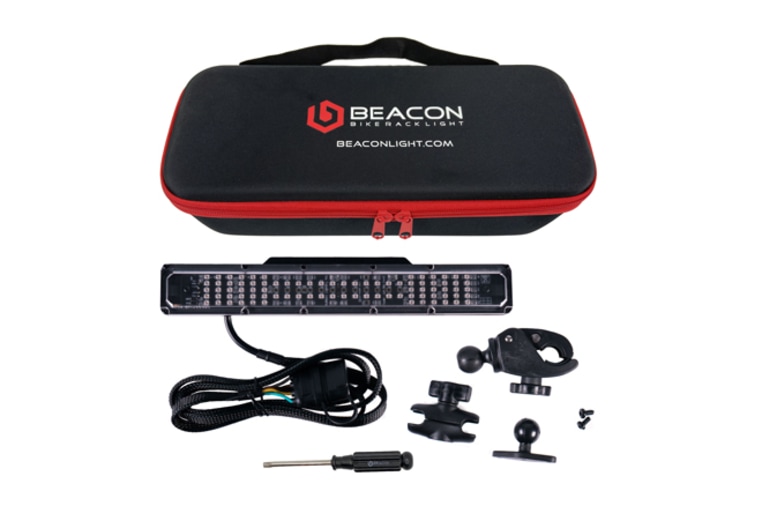 Beacon Light
$143 USD $159 USD (10% off)
Ships to United States of America, Canada