Lanmodo Vast M1: Night Vision System with Dashcam
Industry-leading 0.0001 Lux night vision system with dashcam with 984ft view distance and 75° view angle
Category: Outdoors & Sports
Ratings
There haven't been any ratings yet.
Comments
Campaign Info
Ending Soon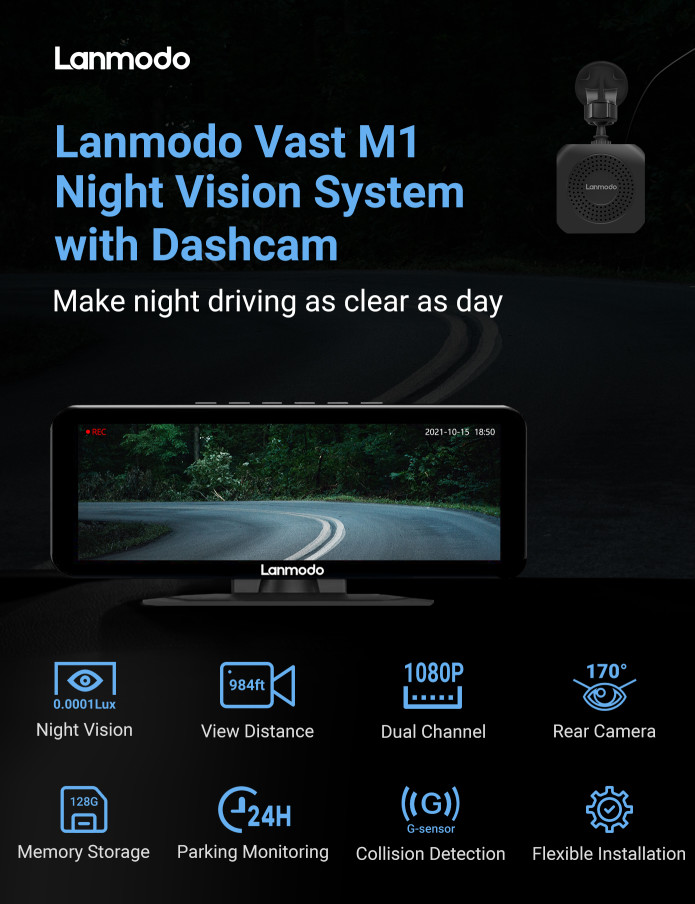 Lanmodo Vast M1 is an industry-leading starlight-level night vision system with dashcam that is dedicated to delivering crisp images in any lighting conditions, improving safety and visibility massively in extremely dark environments and inclement weather conditions. Equipped with HD dual channel, a collision detection feature and a parking monitoring function, Lanmodo Vast M1 ensures 24-hour all-round protection for you and your car, giving you the tools you need to keep your passengers, and yourself, safe in even the worst conditions.

There are various dashcams and night vision systems in the market. Surely you are wondering why you should choose the Lanmodo Vast M1? The built-in infrared night vision systems in some premium cars are only compatible with designated car models while most of them only present monochrome images, which cannot assist driving effectively. Many dashcams in the market also claim to have night vision features, but the performance is highly limited, which does not guarantee safe driving in extremely dark conditions/bad weather.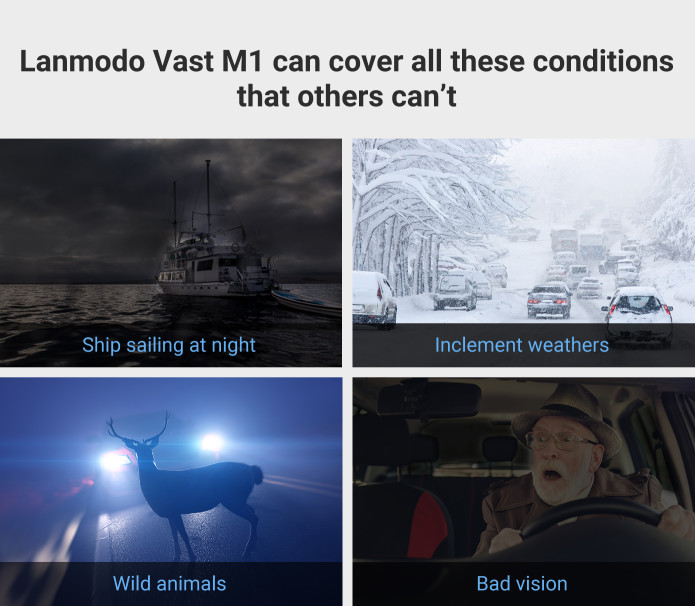 The Lanmodo Vast M1 can provide a night vision distance farther than your high beam can reach, whether on dim-lit country roads, narrow mountain roads with wild animals, or even in heavy rain, snow, and fog. During the day, Lanmodo Vast M1 can capture road conditions just like any other normal dashcams, whereas at night, it can provide a much safer driving experience that other dashcams can't. And the Lanmodo Vast M1 can be applicable to driving and sailing at night. The Lanmodo Vast M1 is not only a night vision dashcam, but also a sense of security and a sense of responsibility towards your family!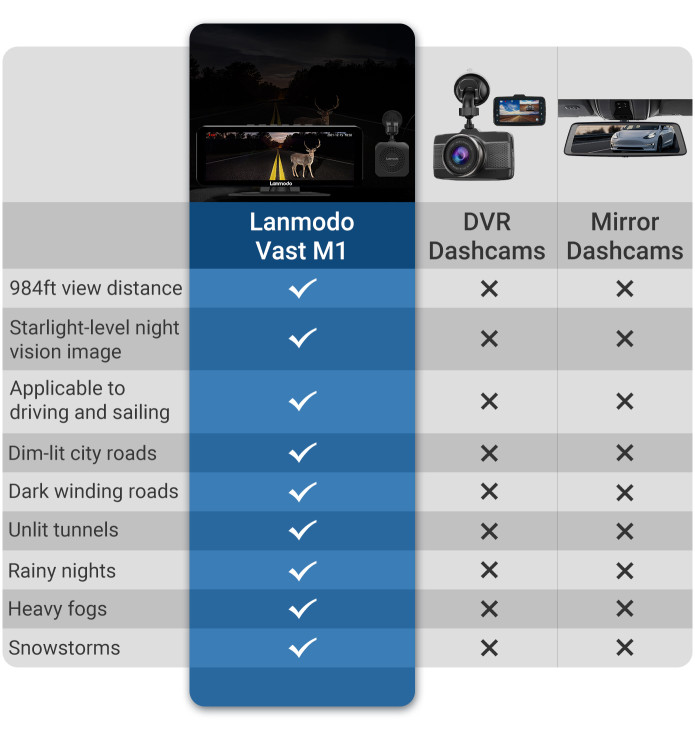 *Please note that the actual night vision image on the Vast M1 screen is even clearer as the clarity of the video presented is limited by the dark shooting environment.


There's almost nothing as dangerous on the road as a lack of visibility, particularly for elderly or mildly sight-impaired drivers. That's why the Lanmodo Vast M1 utilizes state-of-the-art technology to provide unique and unparalleled night vision. Utilizing multiple proprietary hardware and software innovations, the Vast M1 provides unrivaled clarity, even at the lowest light levels. No matter where your road takes you, the Lanmodo Vast M1 can show you what's coming, clear as day.
*Please note that the actual night vision image on the Vast M1 screen is even clearer as the clarity of the video presented is limited by the dark shooting environment.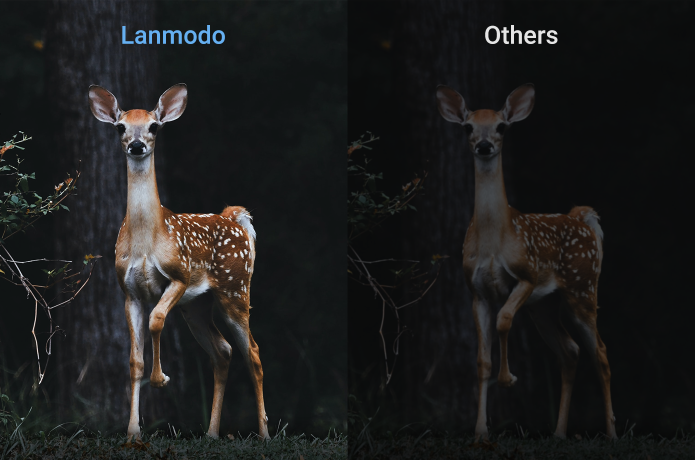 Featuring:
F1.0 aperture fast lens – delivers increased light intensity, perfect for taking pictures in dim light
7-Glass lens – the combination of multiple lenses gathers a wide spectrum of light, which can enhance the resolution and contrast of images
Sony CMOS low-light imaging sensor – allows the camera to magnify even in extremely low light, achieving 0.0001lux starlight-level night vision
Exclusive algorithm optimization – algorithmic adjustments to parameters such as saturation and contrast help balance brightness in an image, improving clarity

Darkness isn't the only visibility problem on the roads, of course. The Lanmodo Vast M1 leverages our proprietary DSP chip with advanced image-filtering algorithms to generate crisp images and filter out visual "noise" from images – allowing it to correct for droplets or fog that might otherwise obscure your vision.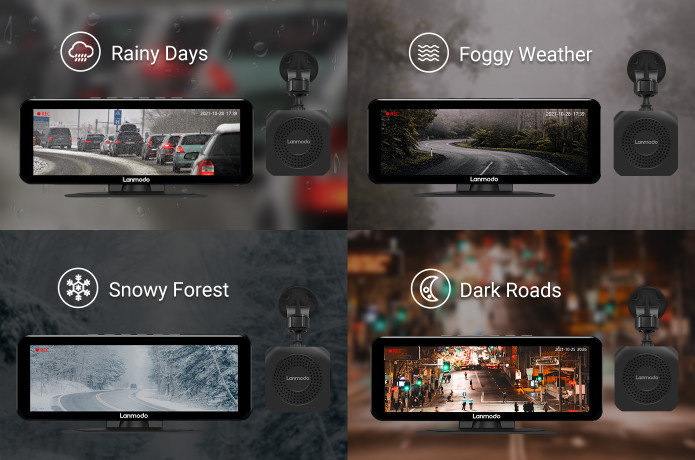 From rain to snow to fog, even in the worst weather conditions, the Vast M1 has been relentlessly optimized to generate the clearest images possible, in any circumstances.
*Please note that the actual night vision image on the Vast M1 screen is even clearer as the clarity of the video presented is limited by the dark shooting environment.

Lanmodo is committed to providing you with the clearest possible picture of the road, and that means seeing as much of it as possible. The Vast M1 utilizes the widescreen monitor and wide-angle front-facing camera to provide a broad, adjustable 75° field of view and a whopping 984ft night vision distance – a 45° improvement over previous generations.
The Vast M1's 75° field of view is the widest angle available in the night vision dash cam market, providing an unparalleled depth of vision at night, and over a wider segment of your car's surroundings, to help maximize your reaction time and avoid accidents. Worried about animals or pedestrians in your blindspot? With the Vast M1's 75° field of view, your vehicle won't have any blindspots – you can always be sure of what's around you.


Most dashcams can't capture much light in the dark, and even 4k options generally present such dim images as to be useless at night. However, the Vast M1 starlight-level night vision delivers is clear as day on even the darkest nights, under starlight alone. And the Vast M1's extra-large 8-inch screen is perfectly suited to help you see what's out there in any kind of lighting, displaying 1080p images in an unrivaled combination of breadth and depth of view.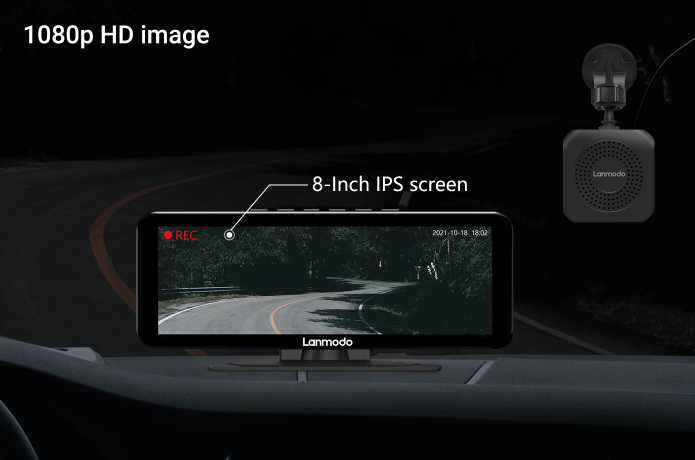 Lanmodo's rear-facing night vision camera is here to make parking and driving in the dark much easier, and safer. The remarkable IP67 water resistant rear camera ensures the smooth operation of Vast M1 even in the heaviest rain. And it could capture up to 20m view distance. Lanmodo has your back- no matter what you're facing.
The 170° Field of view (FOV) wide angle and 1080p resolution of the rear camera offer all-around protection whether you're cruising on a busy highway or maneuvering around a crowded and dim parking garage. And with a 66ft (20m) night vision distance, you'll be able to see what's behind you in any lighting.


The Lanmodo Vast M1 provides numerous features to make sure you never need to worry about your parked car again. With our loop recording function, the Vast M1 will automatically record new videos, continuously replacing previous recordings, with no need to micromanage.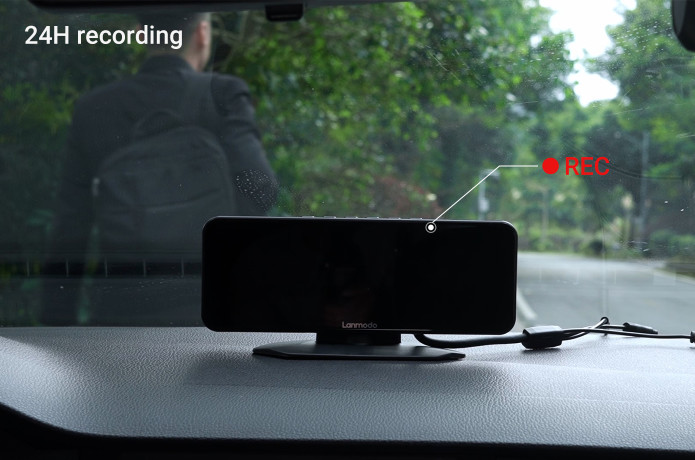 And the Lanmodo Vast M1 supports a massive 128G storage, enough to store up to 28 hours of footage!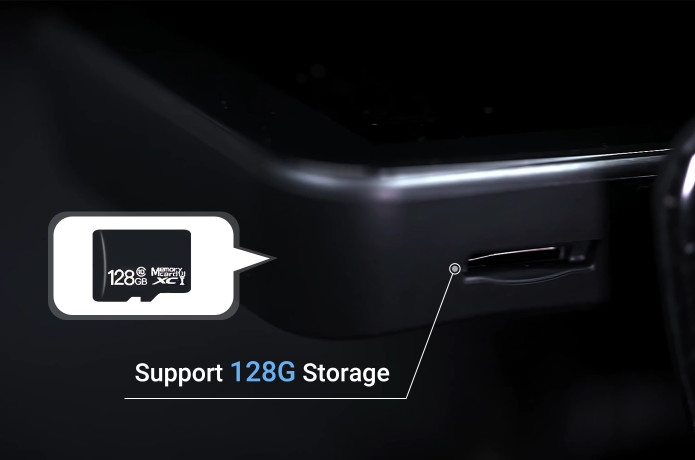 The Vast M1's in-built G-sensor can detect collisions and lock the accident footage, preventing the most important footage from being erased. If your car ever gets hit while parking, you'll always be able to check the recording to see and prove, what happened. And with our phenomenal night vision and wide-angle viewing, you'll be able to see the license plate of whoever is involved in any lighting, clear as day.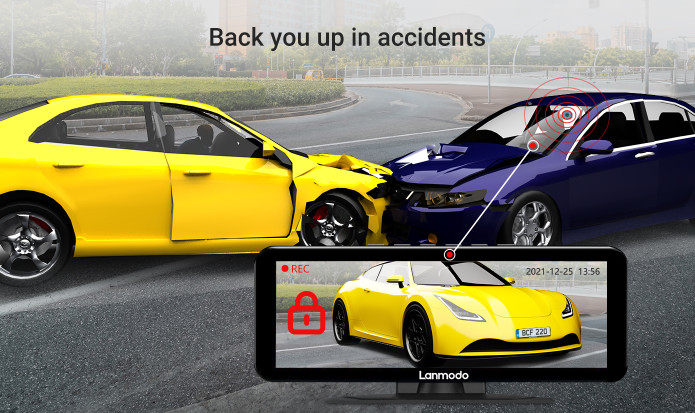 A dashcam is only useful if it can help you see better, and since night vision systems by design magnify ambient light, other night vision systems often suffer from overexposure when facing headlights. That's why the Lanmodo Vast M1 uses a glare-reducing front camera to avoid being blinded and correct for overexposure. Each layer of glass in our proprietary 7-glass lens helps refract incoming light, minimizing the glare. No matter what's coming down the way, Lanmodo can help you see it coming. Worried about glare from oncoming headlines washing out your view? Worry no more – Lanmodo has what you need.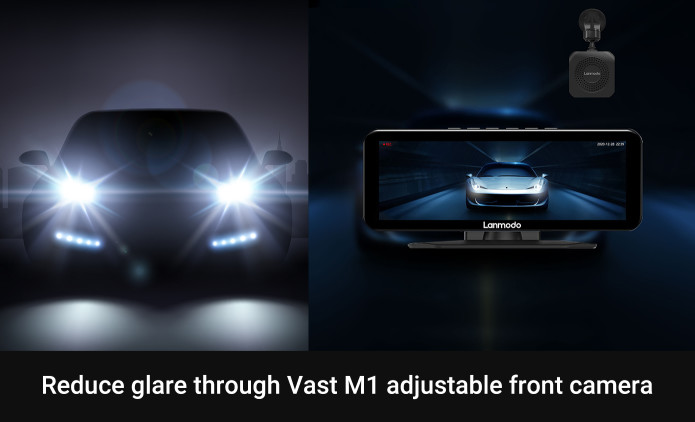 Vast M1 is as tough as you need – it can withstand temperatures from 158°F/70°C to -4°F/-20°C while operating without pause. Parked in a blizzard? Driving nonstop through the desert? No problem here – you'll have Lanmodo Vast M1 with you, the whole way.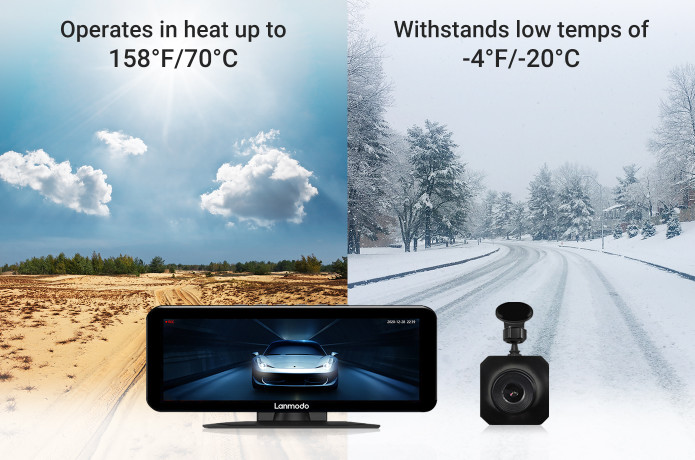 Worried about getting the Lanmodo Vast M1 installed? Don't sweat it. Our simple installation methods for both the front camera and screen allow you to quickly and easily install the Vast M1 without any need for professional help. And the nano glue base and suction cup ensure M1's stability and reusability – you'll be able to easily move it from one vehicle to another, whenever you need it. And with 3 monitor installation methods, getting the Vast M1 up and running is fast, easy, and flexible enough to meet your needs, in any vehicle.
Method 1: On the dashboard
Remove the screw from the bottom of the display, connect the base with the screw.
Place the system on the flat car dashboard, make sure it won't slip away.
Connect Vast M1 to the cigarette lighter or OBD for power supply.
Method 2: On the windshield
Remove the screw from the bottom of the display.
Connect the display to the suction cup, and attach the suction cup to the windshield closely.
Connect Vast M1 to the cigarette lighter or OBD for power supply.
Method 3: On the rearview mirror
Insert 2 back clips into the mounting holes accordingly, fix them with screws on the backside of the display, then connect the rubber straps.
Place the display on the rearview mirror, and attach it to the rubber straps.
Connect Vast M1 to the cigarette lighter or OBD.
We also provide installation videos for you as a reference.

The flexible installation methods allow users to install Vast M1 in any kind of vehicle, so you don't ever need to worry about whether it'll work for you.
Adjustable front camera: Compared with the previous generation Lanmodo Vast Pro, we have separated the front camera from the screen. The installation position and angle of the front camera are more flexible, which is more conducive to adapting different car models.
Two power supply options: M1 supports connection from the cigarette lighter or OBD port. The standard installation package will come with 2 different power supply accessories for users to choose; it will also be equipped with a 3-meter-long cable, which is basically suitable for the installation of any car model.
Adapt to different voltage: The supported voltage of Vast M1 is 12V, which is suitable for most small and medium-sized cars. We have prepared 24V voltage converter add-ons for models with a high voltage of 24V, such as trucks and RVs so that you can rest assured to install the Lanmodo Vast M1 in almost any vehicle type.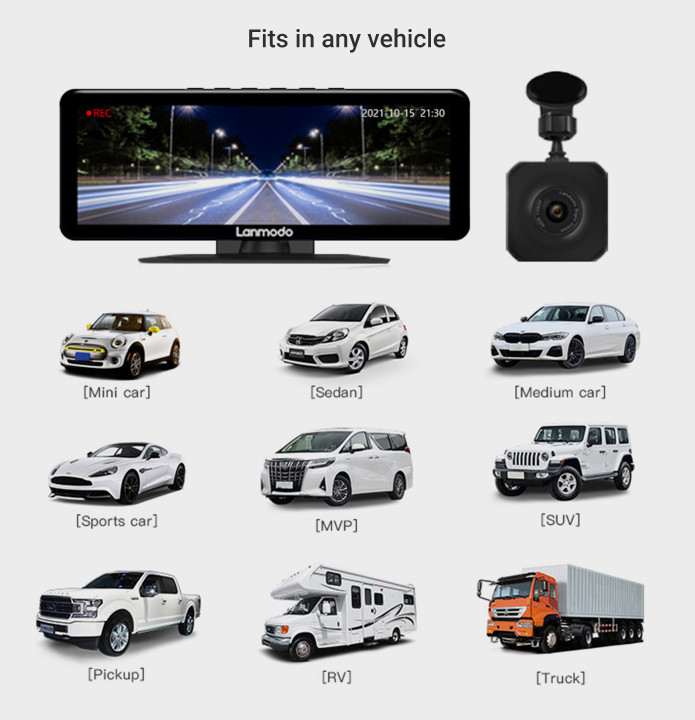 Founded in 2015, Lanmodo has built its own R&D and production team and believes that technology changes lives and development comes from innovation, digging deep into the car industry to bring more creative and practical products to more users.
Lanmodo has been on Indiegogo since 2017 and has already launched 3 crowdfunding projects, all of which were loved and supported by more than 100,000 happy users around the world. With the knowledge and experience gained from the Indiegogo platform over the past few years, we are launching our fourth new product on Indiegogo, the Lanmodo Vast M1. For more information about our brand, please visit official Lanmodo website at https://www.lanmodo.com/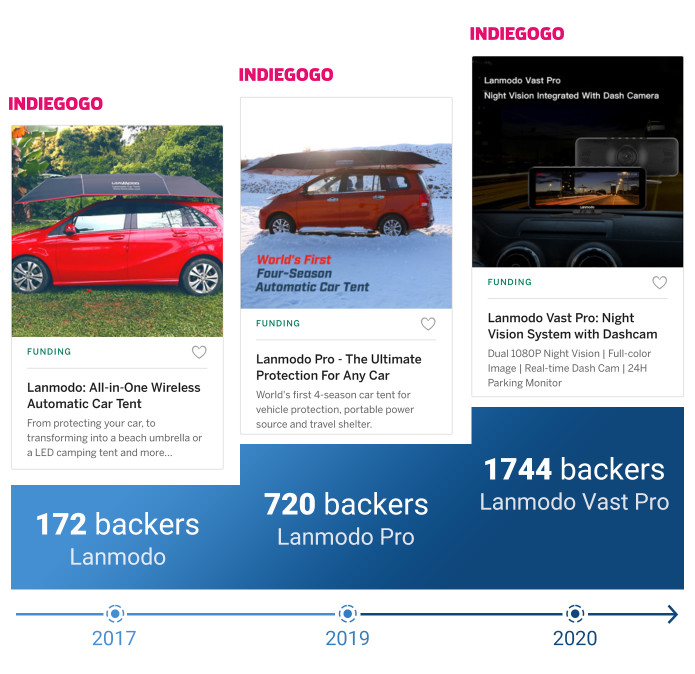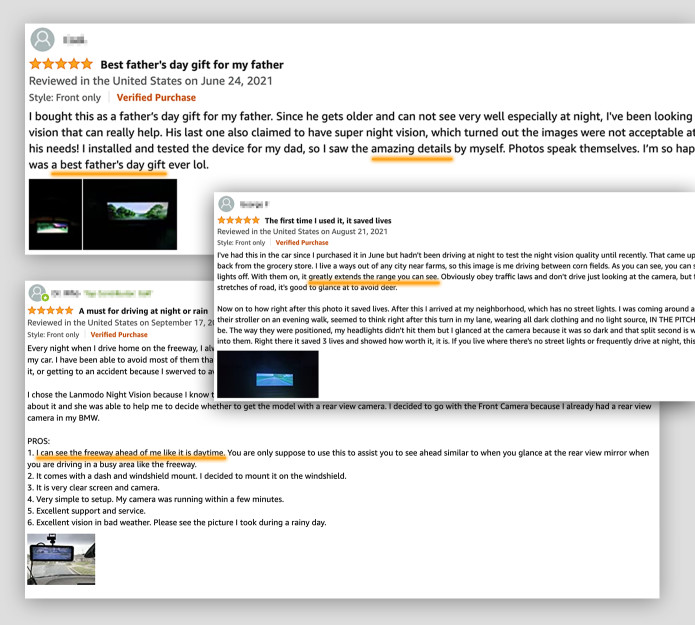 Since the launch of the Lanmodo brand in 2017, hundreds of media reports have been generated, with 5M+ views on the videos released by cooperative influencers, attracting the attention of millions of users around the world.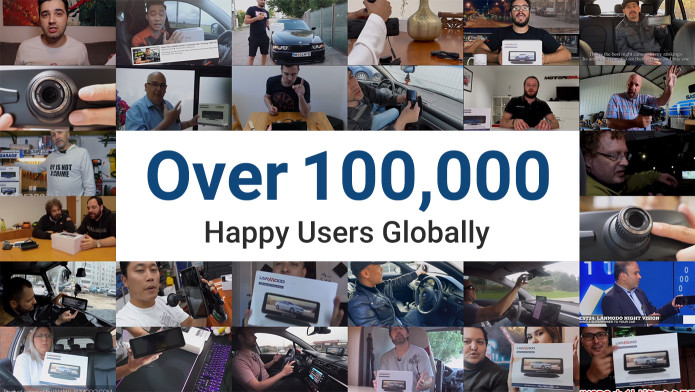 Lanmodo has been dedicated to the car industry, from the development of the real-time night vision device: Lanmodo Vast, to the first generation of the night vision system with dashcam: Lanmodo Vast Pro, and finally to this 2022 upgraded version of the night vision system: Lanmodo Vast M1. Each generation of products in the past has undergone multiple internal tests and external professional influencer tests, which have been unanimously recognized by many users and influencers.
To better the night vision performance as well as user experience, we have optimized and upgraded the Vast M1 according to the feedback from previous users. Compared with the Vast Pro, the Vast M1 adopts a separate design for the front camera and the display, making the front camera placement and angle more flexible, which can better adapt to various car models. Compared with the 45° FOV of Vast Pro, the M1 is upgraded to 75°, which allows you to see much wider. At the same time, according to the feedback from Vast Pro users that the screen is too bright sometimes, this new product has also been optimized to reduce glare, ensuring a safer and smoother night driving experience.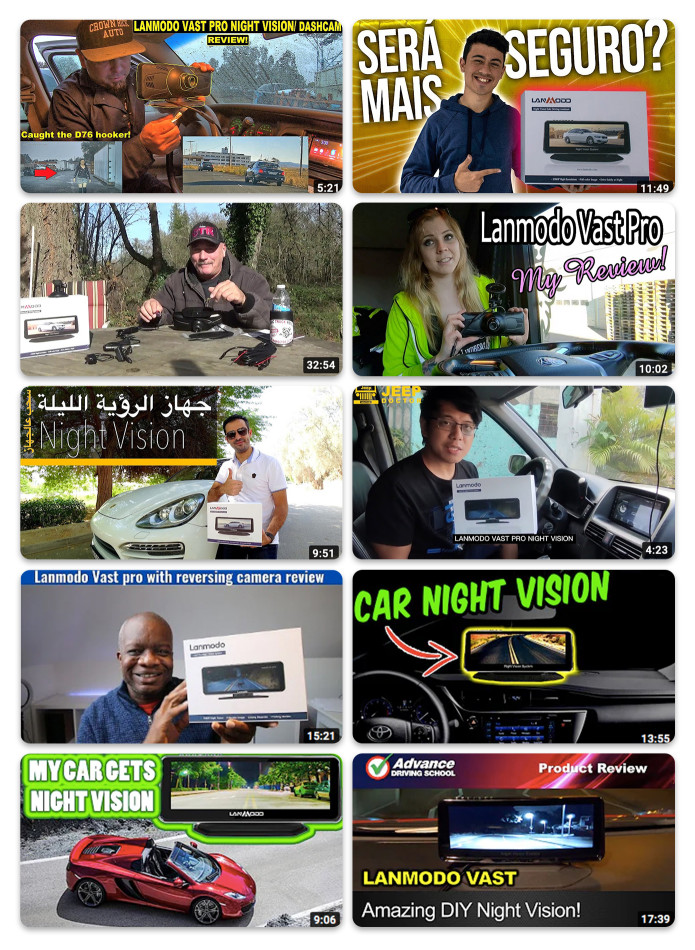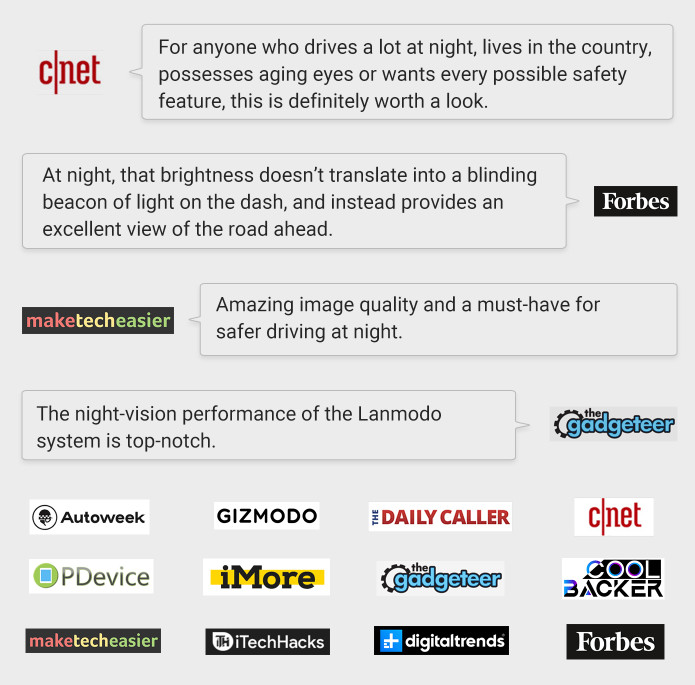 This is the influencer review collection video of the Lanmodo Vast Pro Night Vision System with Dashcam. And we received plenty of positive feedback from them. Now, we are launching our new generation, Lanmodo Vast M1. We believe this upgraded night vision dashcam will not let you down. We have invited some professional tech reviewers to review our Lanmodo Vast M1 and will share it with you all soon. Do stay tuned for upcoming videos!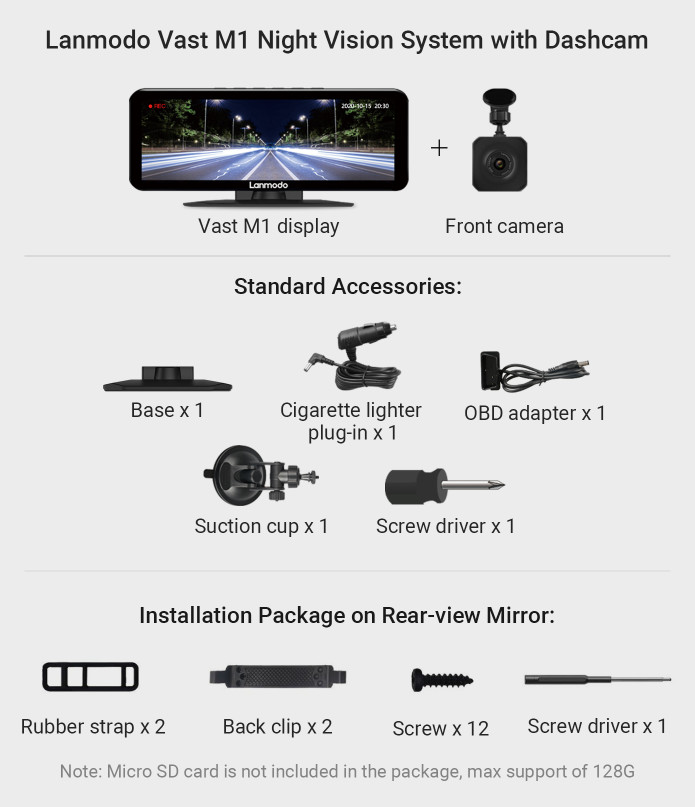 *In addition to the Vast M1 display and front camera, an installation package is also included for the convenience of self-installation of the backers. All the accessories required for the 3 installation methods are included.
*Please note that the 128g memory card and rear camera are both add-ons that require additional orders and are not included in the standard package.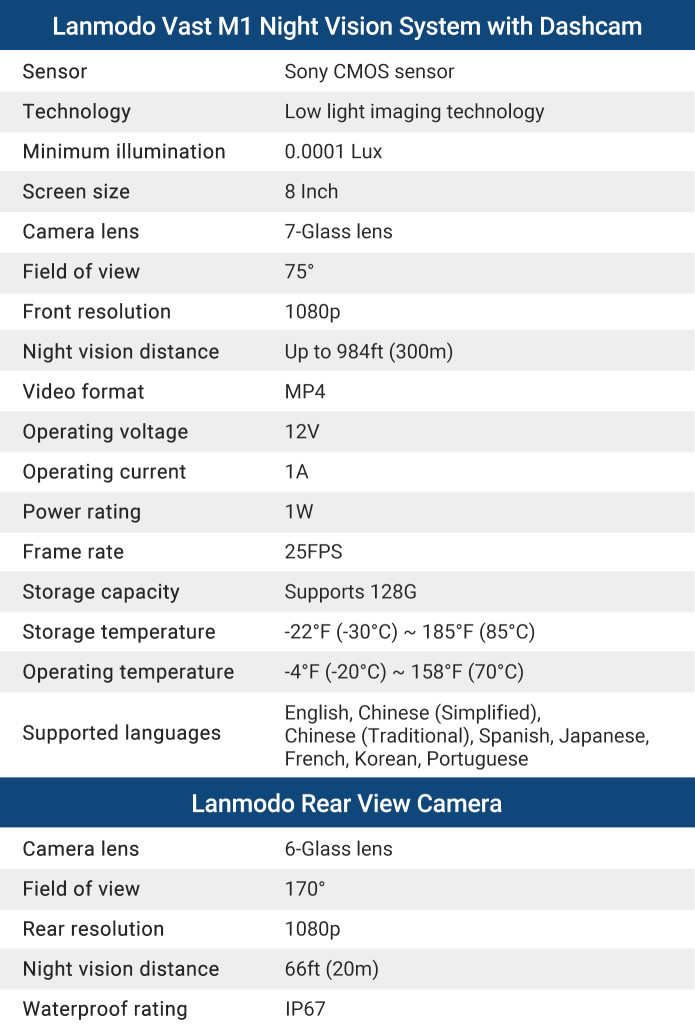 The Lanmodo Vast M1 is the industry-leading night vision dashcam featuring advanced low light imaging technology. Compared with those premium built-in night vision systems in the car, Lanmodo Vast M1 can also provide you with the superior night vision image in full-color 1080p with its wide front camera and rear camera. You don't need to worry about missing the important recording as we feature loop recording and G-sensor detection. And it is much more flexible and easy to be installed by yourself, which is in a much more economical way.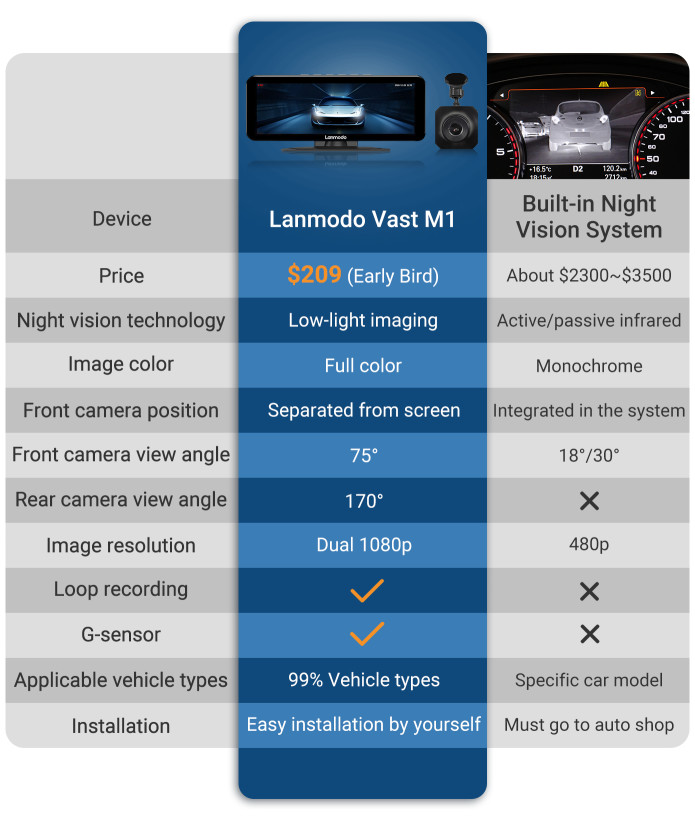 In addition to Lanmodo Vast M1 main unit (front camera and display), we also provide 3 kinds of accessories. No extra shipping fee for all add-ons. The add-ons will be sent together with the Vast M1 main unit after the order is placed.

We suggest backers get the rear camera installed by a professional auto shop, which will be more convenient and stable. If you do want to install the rear camera by yourself, you can refer to this video:

*For recording the front & back view, the continuous recording is about 14 hours.
*For recording the front view only, the continuous recording is about 28 hours.

The voltage converter is specially made for cars of 24V. Connect the voltage converter to the cigarette lighter socket and then link it to the Lanmodo night vision system with the input cable.

Lanmodo Vast M1 ships globally. For US orders, we will start shipping after this campaign goes offline, and US backers can enjoy free shipping; EU backers need to pay an additional $30 for a single unit due to VAT, the product will be shipped directly from local warehouses in Europe. Orders from other countries and regions will be shipped directly from our factory to backers, who would need to pay an additional fee of $20 for a single unit.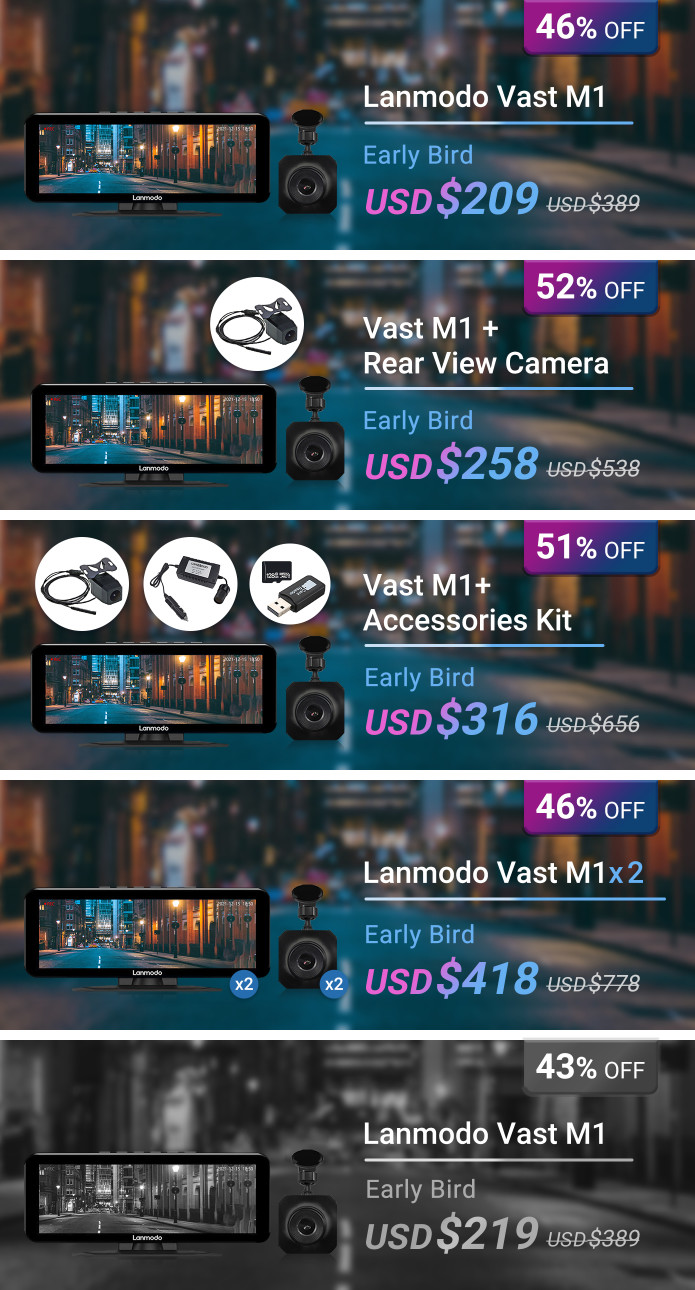 We are now entering the mass production stage and are planning to start shipping in April 2022. We will keep you updated about the shipping status in the update section.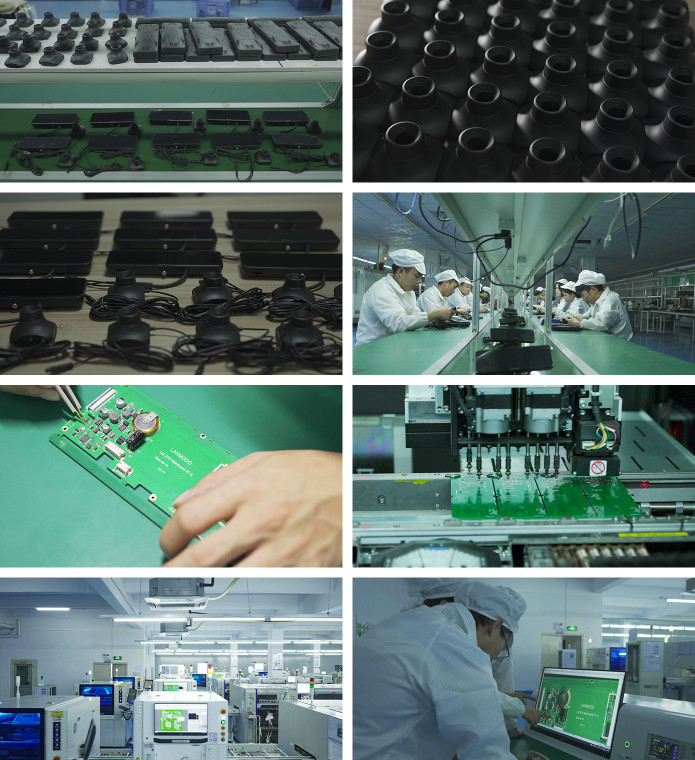 To thank each one of you for the support we received so far, we prepared a BIG SURPRISE that everyone can take part in for 6% CASHBACK through Kickbooster. Don't miss out!
Sign up on Kickbooster via the link below and get your personal referral link. For each order you refer successfully, you'll receive 6% of the pledged amount as a cash reward. Check out the detailed rules through the link below.
Kickbooster Link: https://lanmodo-vast-m1-night-vision.kickbooste...
Note:
1. If you or your friends request a refund during the campaign, you will be ineligible for the Kickbooster referral program and the cash reward will not be sent to you.
2. You can share your referral links on your own Facebook, Twitter or other social media.
3. You will automatically receive the cash reward through the Kickbooster platform after the campaign ends.
*The Lanmodo Team reserves the right to explain the Terms & Conditions at any point during the referral event