MOGABI: NEW PARADIGM OF TRAVEL GUITAR
One Man Guitar Band Made Possible. Multi & Original Sound Recording. Carry it ON BOARD!
Category: Audio
Ratings
There haven't been any ratings yet.
Comments
Campaign Info
About MOGABI..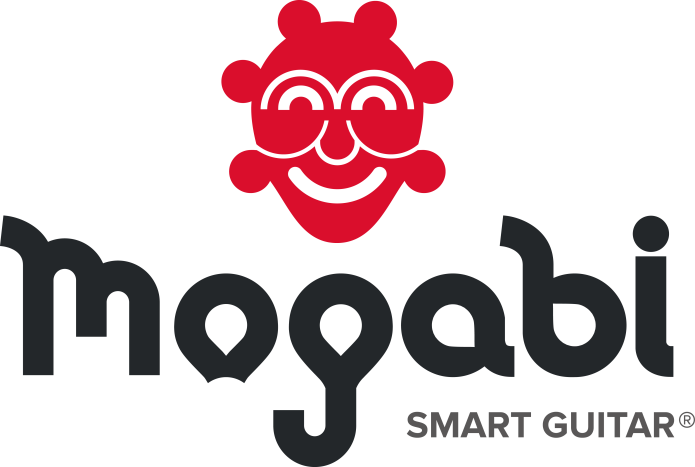 Mogabi is the name taking the conservative instrument market by storm. Our innovative technologies take the tried-and-true craftsmanship of classic guitars and combine them with the connectivity and convenience technologies of the 21st century. With the Mogabi Smart Guitar, you're getting one heck of an instrument – plus, all the potential for innovation that comes with layering, sharing, and recording your tracks with a community of collaborators all over the world.
But our dream doesn't stop at just guitars. We want to adapt Mogabi's recording and performance technologies for other instruments, including bass, cello, and more. We won't stop until there's a whole ensemble of Mogabi instruments, each with their own innovative recording and layering features.
Our ultimate goal for Mogabi is to create a global platform where Mogabi users can share their tracks and get inspiration from one another with just the push of a button. This ties directly into our vision for more Mogabi instruments. We want to give musicians access to collaborations across a diverse span of instruments, through which a celloist in Italy can play along with a guitarist in Argentina with just the push of a button. We want to bring the world together through the power of music and connectivity – all under the Mogabi name.
Your Mogabi, Your Journey
Whether you're on a plane, train, taxi, or subway, you can bring Mogabi with you to store easily in any trunk or overhead compartment. With Mogabi, you're traveling light with a speaker AND instrument all in one sleek package.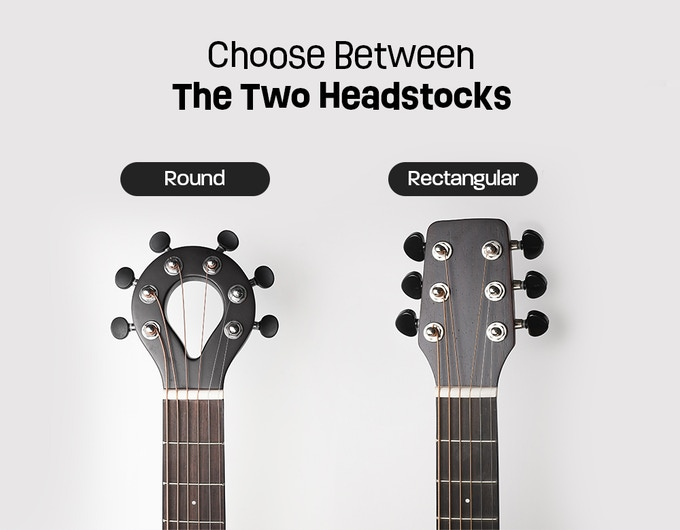 Customize your Mogabi Smart Guitar with your favorite headstock shape. Whether you go with a classic rectangular style, or Mogabi's iconic round headstock, you'll get the same great Mogabi sound and feel. And no matter which headstock you choose, your Mogabi will still fit snugly into the Mogabi fabric case.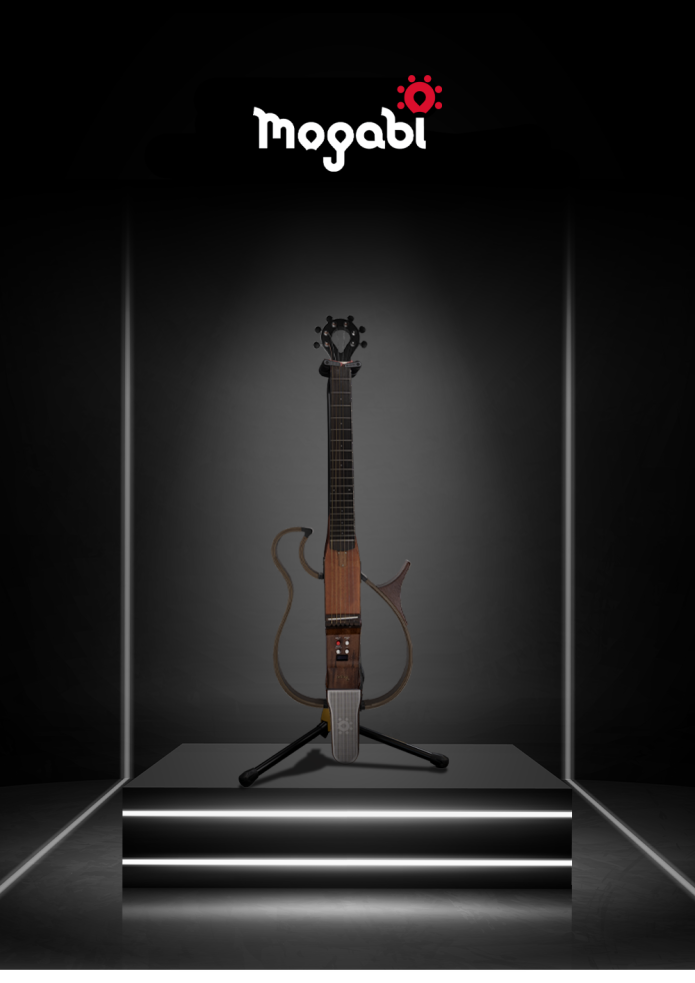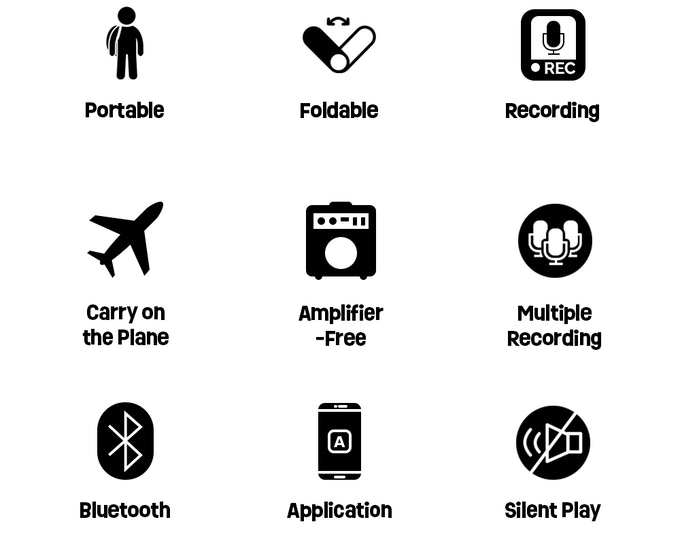 Anyone that has played a conventional guitar knows its flaws and inconveniences. They are too big and too heavy to freely carry around, and renting out a recording studio costs a fortune.
Your musical inspiration does not gently knock and ask to enter your mind. It just barges in while you go for a walk, lay down to take a break, are on vacation, or while you are on your business trip.
There is a smart instrument that would allow you to record your musical inspirations instantly anytime. Its name is the "MOGABI Smart Guitar."
https://www.youtube.com/watch?v=zo1p0mvy2WA
https://www.youtube.com/watch?v=cezYtIYuiVM
Click the image to see how they enjoyed traveling with the Mogabi guitar!
The Mogabi Smart Guitar lets you:
Carry around your guitar to play anytime, anywhere
Play at home in silence
Play while camping, outdoors, or traveling
Record your tunes with the highest quality
Play, record, mix, and share all at the same time
Play and save multiple recordings at a time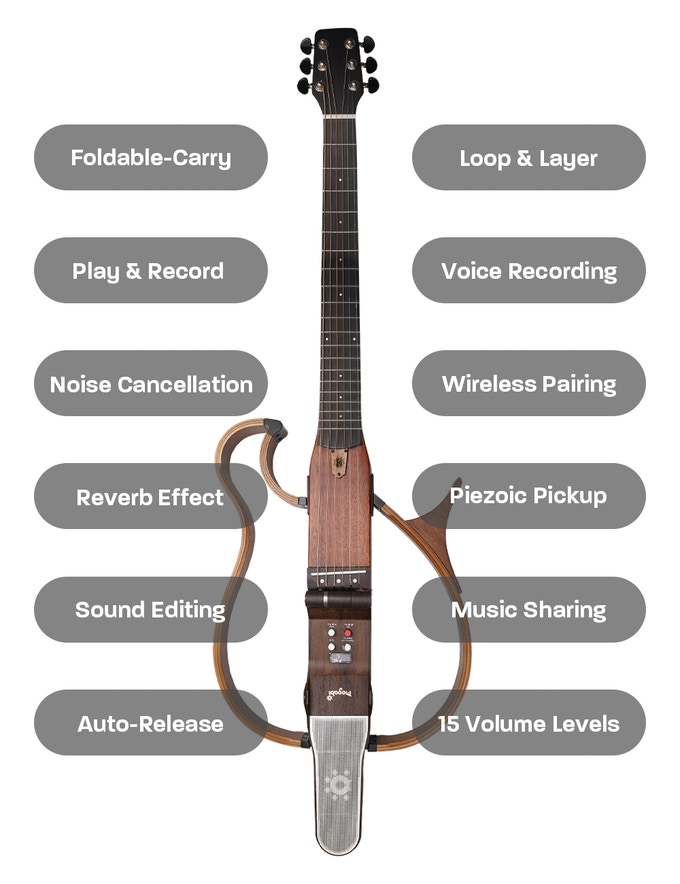 The Mogabi Smart Guitar comes with a hinge in the neck and audio box for an easy fold. Once the hinge is locked, the entire body will lock in-place without any major movements. With a double-locking rest frame, Mogabi gives you a whole new level of stability.
Mogabi's body is designed without an internal soundbox, so its size and weight were cut down drastically. When you hit yourself with that musical inspiration, take Mogabi out of your bag, assemble, and go to town!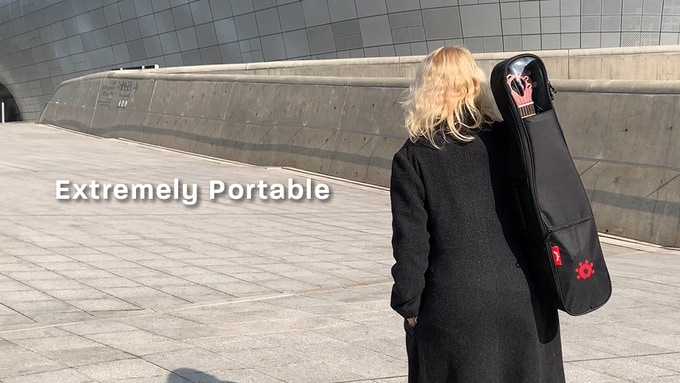 TSA Safe / Airplane Carry-on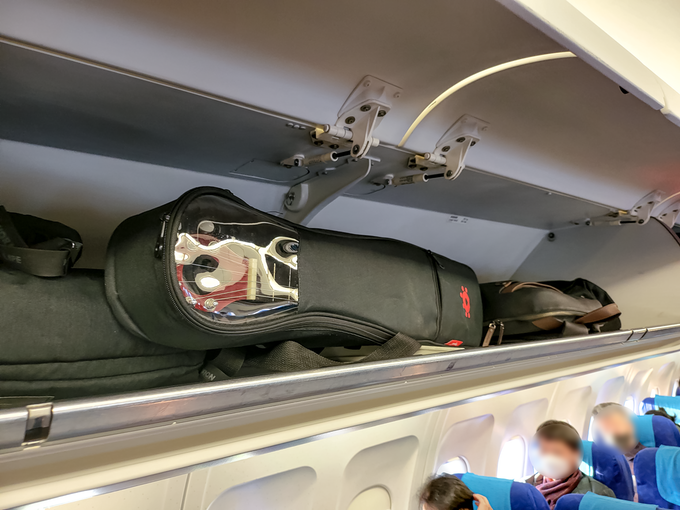 *Photo taken on economy class commercial airline

Now, you no longer need a mic, amplifier, and a recording studio to record your tunes. With Mogabi, you can register your authentic guitar tunes without any noises interfering. All you need is just a touch of a button! So you can even play by the beach, construction sites, shopping malls, or outdoor parks.
The internal 32GB memory allows you to save up to 300 high-quality songs. If you want to edit a piece of recorded music on the go, just attach the C-type cable and download it on a smart device or a computer to edit, copy, or share.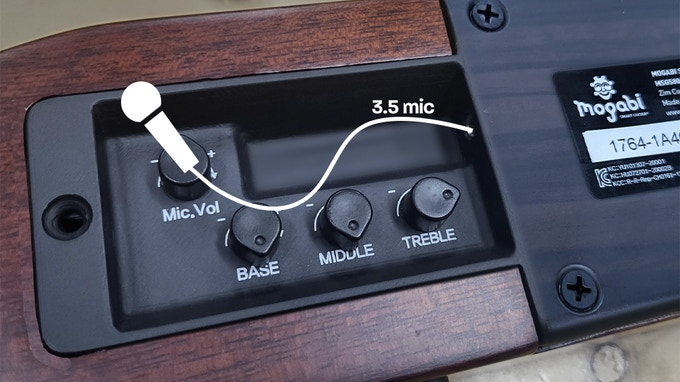 The world's first original sound recording technology has just added a whole new level of innovation. Now, with Mogabi, you can record your vocals together with your guitar tunes. Just use Mogabi's microphone connection port, and Mogabi will record your vocals and guitar audio without any background noise.
The Mic Pre-Amplifier is Only Comptible with Dynamic Mics.
Just select the mic.preamp to enjoy Mogabi to its finest without the need for external mixers. ​

You can adjust the reverberation volumes by turning the recording button.

You might want some alone time while playing your guitar, but we bet you might want to jam alongside other players. For those moments, try the mix-mode. You can play duets and quartets even if you are playing solo!
Mix Mode
Mix Mode lets you jam all night long with world-famous artists. Play over the tunes of your favorite artists with the Bluetooth pairing mode. With Mogabi, you too can be a part of your favorite world-famous bands.

If you have made a mistake during your recording, you can simply just cancel. When you cancel your recording by pressing on the 3rd nob, the tunes will delete without saving. Now you just keep your perfectly played songs.
Recording Cancellation


With Mogabi Guitar's Bluetooth pairing, users can connect with computers, smartphones, etc., freely. You won't even need to bring a Bluetooth speaker on your vacation if you bring Mogabi.
The best thing about Bluetooth pairing is its sharing function. Need to play a solo for your band, but don't have time to practice because of your business trip? Just share your recording! You will feel like you are playing right next to them!

Mogabi is exceptionally portable, and since there aren't any sound boxes, you might worry if its sounds are too low. But that would not be an issue. With Mogabi's own MCU application, the guitar will keep a stable sound balance and blast its 40mm, full-range speakers.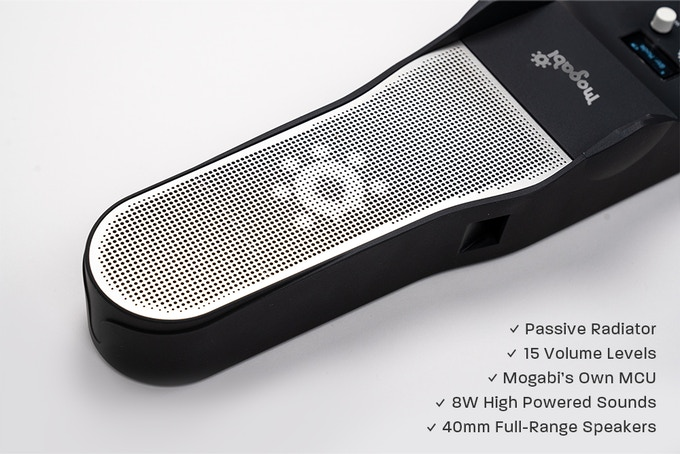 While on vacation or if you are camping, you might want extra power to your sounds. Then utilize the 5.5 line out port to create a more abundant sound. With Mogabi, you will experience the most extraordinary sounds a guitar can offer.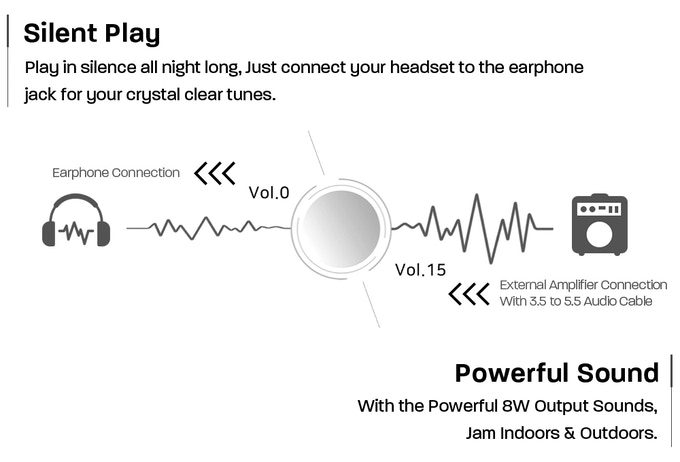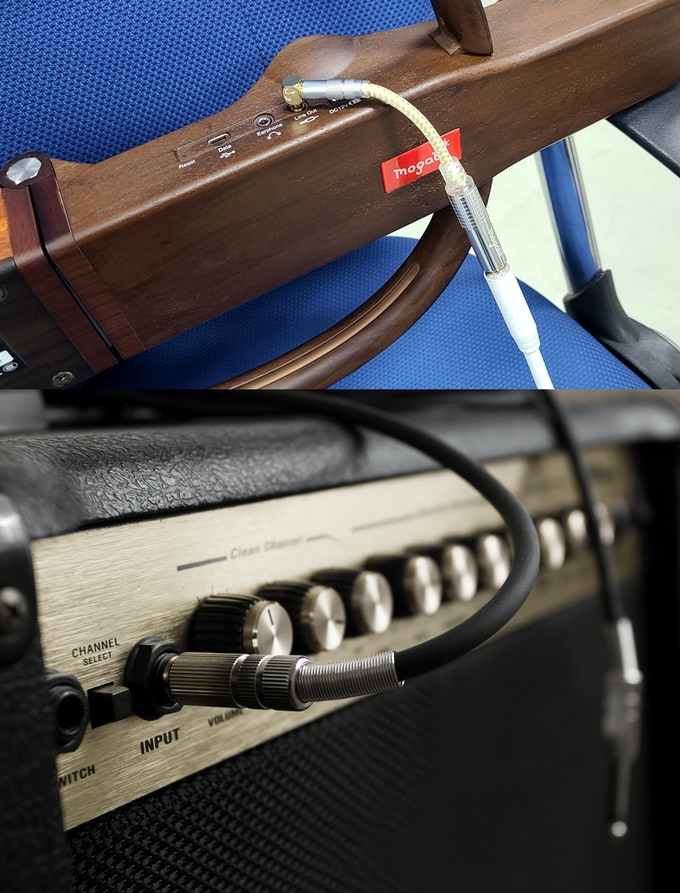 The 2600mA Lithium-Ion Batteries can be fully charged within 3 hours, and have a battery life of up to 6 consecutive hours. Mogabi can be used for hours and hours without having to bring along a charger, making it way more appealing for those who want to jam outdoors.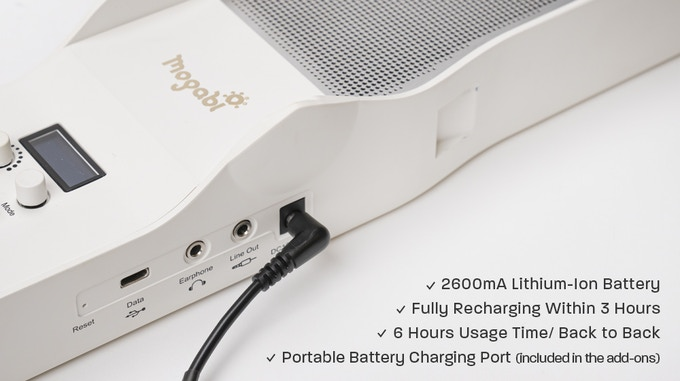 Even though Mogabi is an electric guitar, it still rocks a retro feel. Mogabi's cutting-edge DA Converter adds another level of retro sound and sensation. By selecting either the acoustic or classic versions, you can customize Mogabi for just the right touch while you play.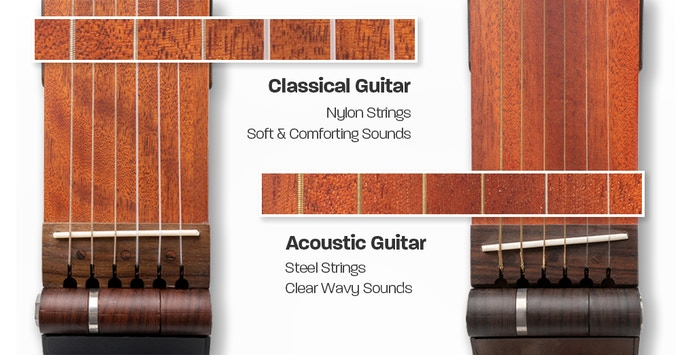 Mogabi's mahogany neck and rosewood keys add a touch of warmth, and the saddles and nuts made from ox bone add clarity to the sound. With Mogabi, you're getting cutting-edge technology AND analogue feel in one package.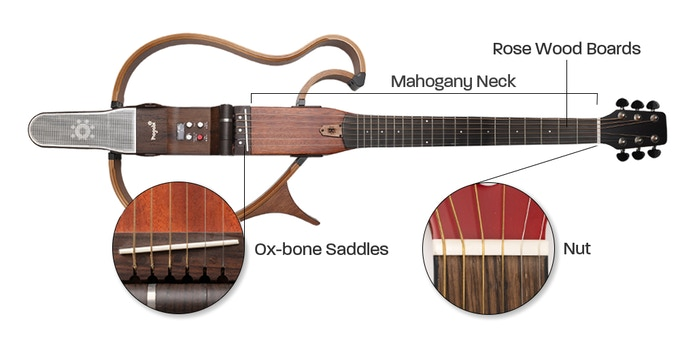 Both a guitar's body and strings deserve the utmost care. That's why Mogabi gives you a clear headcover to safely protect the head and strings, and prevent dust from piling up. When traveling with Mogabi, now you no longer need to worry about the strings getting damaged by other items in your suitcase.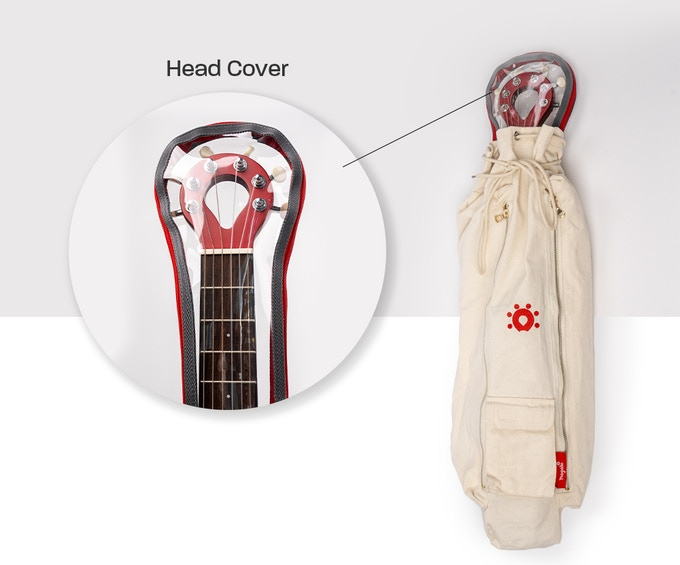 * To prevent damage during product shipment, Mogabi will be shipped in a styrofoam casing separate from the guitar case.
Hegihten the Mood with Mogabi
The Mogabi Smart Guitar is perfect for when you want to show that special someone in your life just how much you care using the love language of MUSIC. ❤️
Record those unforgettable family moments.
Those chords you played while watching the sunset by the campfire.
The song your daughter strummed when she first picked up the guitar.
Every song you play and replay is another memory to cherish.
MOGABI recordings let you give to your friends a true gift from the heart.
Here are just a few of the ways Mogabi can heighten the mood on a date night!
Turn a recording of your partner's guitar solo into a romantic duet.
Tug at your lover's heartstrings by performing on top of a recording of their favorite track.
Play backup to a recording of your partner's voice – whether you're together, or apart.
Share your recordings back and forth in an all-night long romantic jam session.
Whatever the imagination allows – your creativity is the limit!
We can't wait to see what creative works of love the Mogabi Smart Guitar inspires. Mogabi is our love letter to you. ❤️

With the newly developed Mogabi application, users can enjoy various effects like music uploads, downloads, edits, mixing, music sheet editing, tuning, etc. This feature will broaden your musical skills, and you can share your guitar tunes worldwide by utilizing the music cloud. Make the whole world your stage.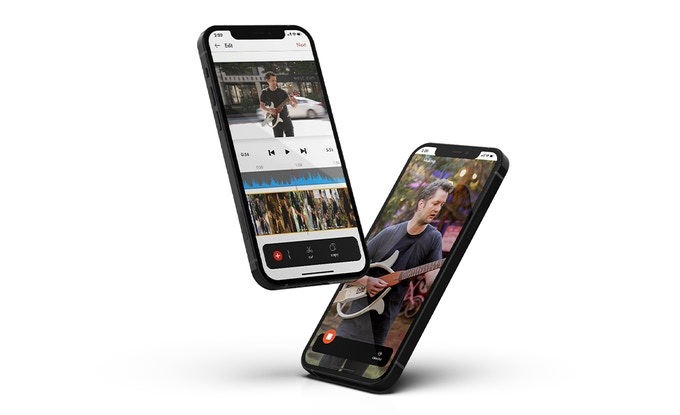 APP MAIN FEATURES:
Audio and video synch made easy.
Balance mixing with recorded tunes and videos
Playing at the beach or out in nature? Mogabi makes it easier than ever to mix all those natural sounds in the background seamlessly into your recording. You can always use the pure sound of the guitar, of course, but maybe you want to have the sound of the guitar at 85%, and the background noise at a smooth 15%. With Mogabi, you can blend your tracks with just the right balance of natural and sensual sound.
Individually save the tunes in separate parts (Within a video)
ex) Want a recording of just the bass from a 3 instrument ensemble? Extract and save just what you need so you can practice on your Mogabi later!
Cloud Server Sync
Uploading/Downloading Anywhere at Anytime.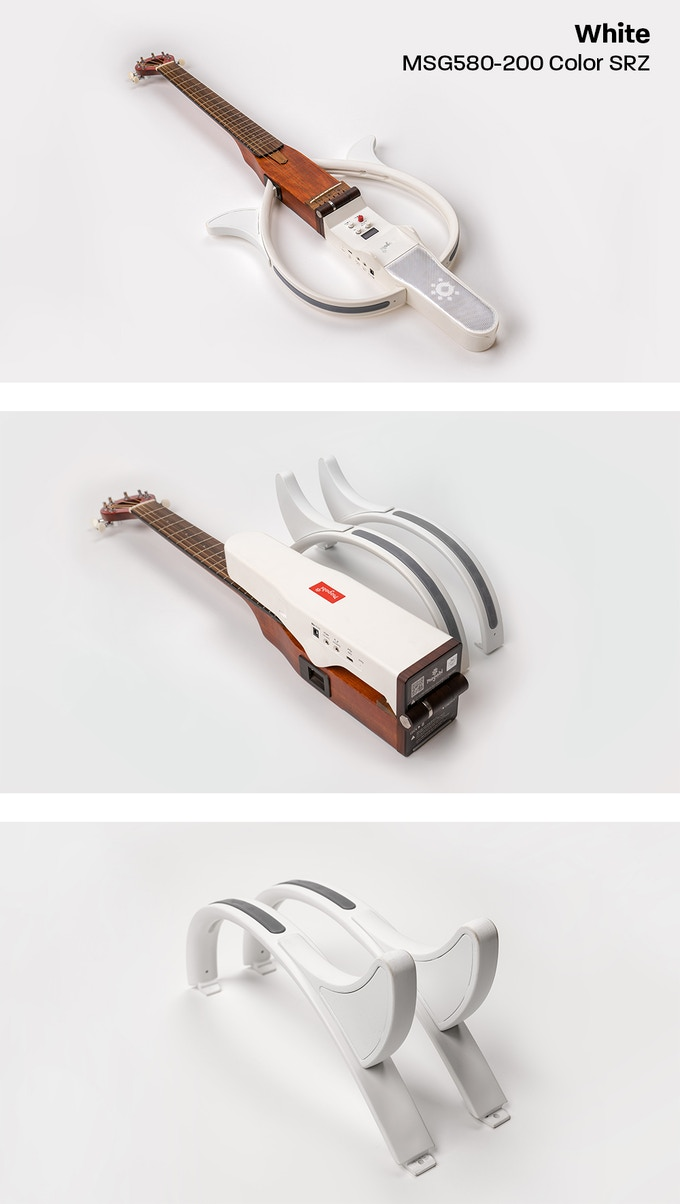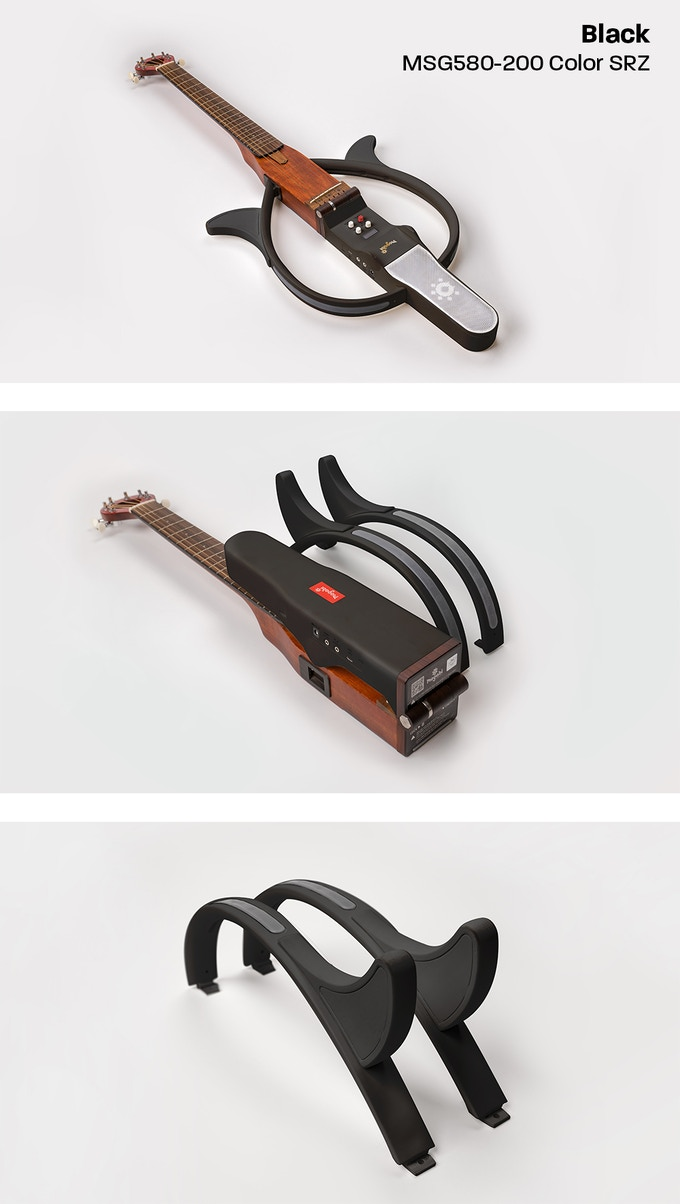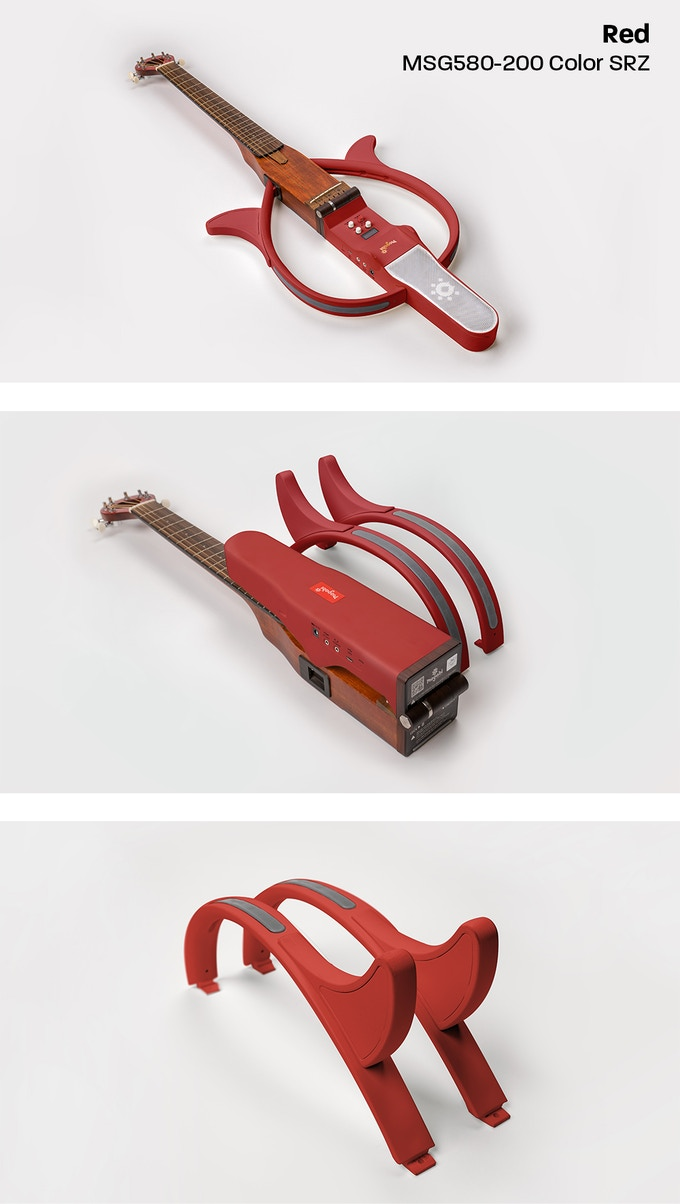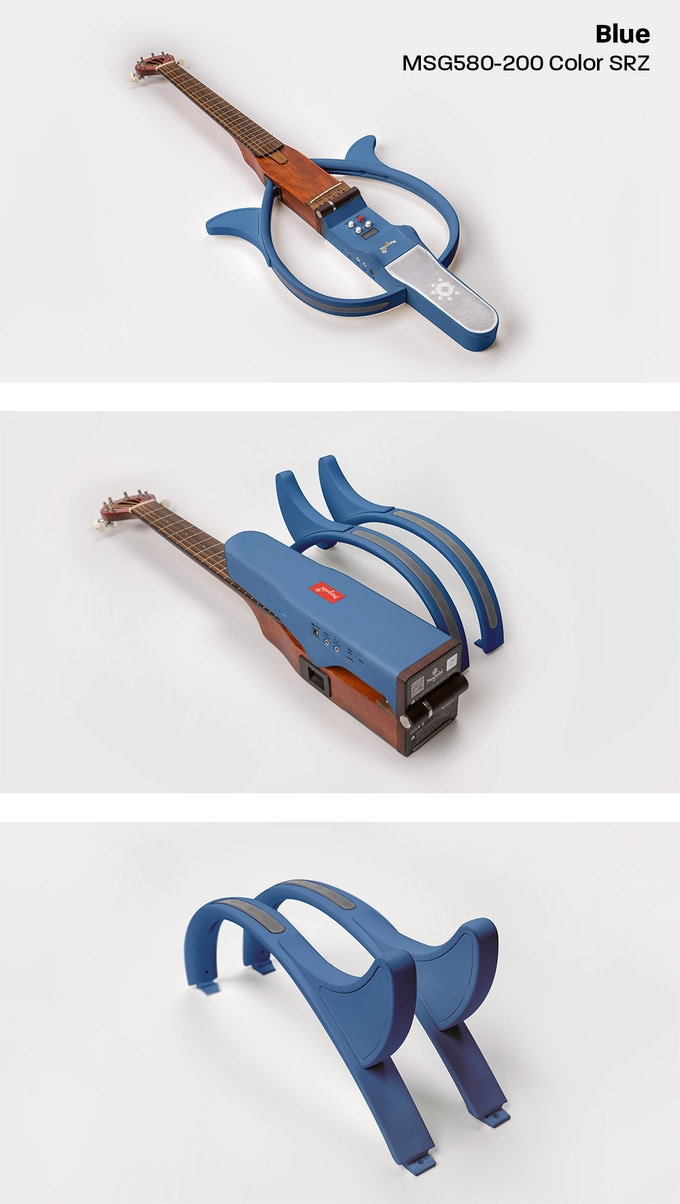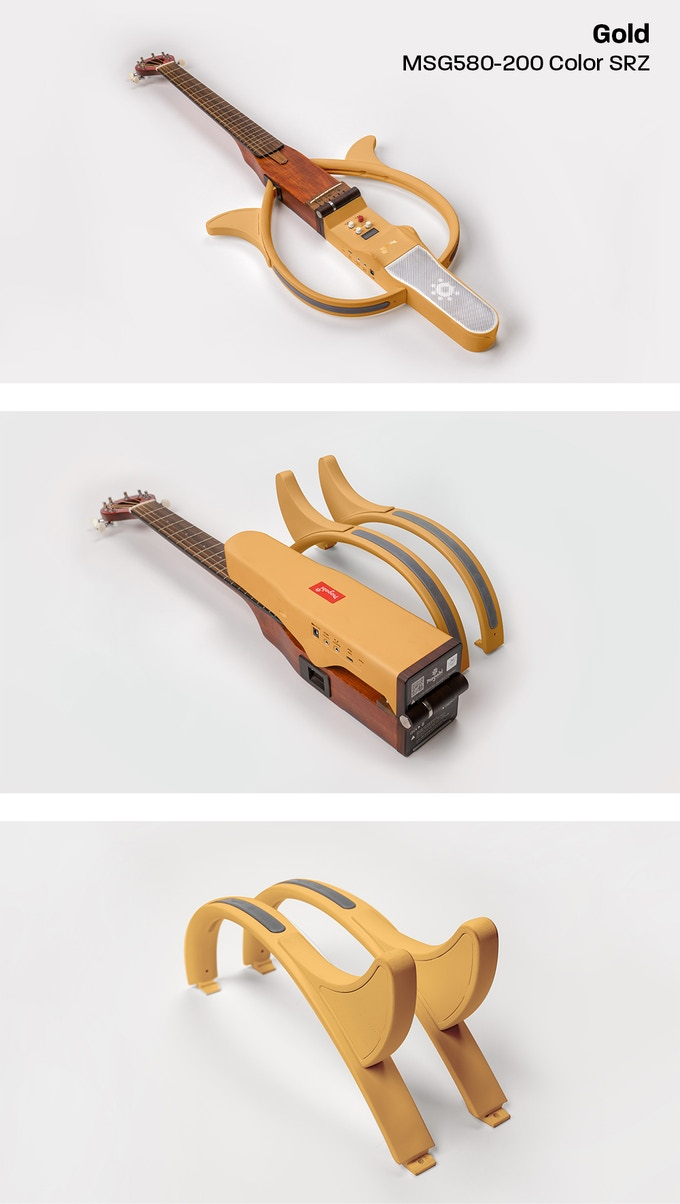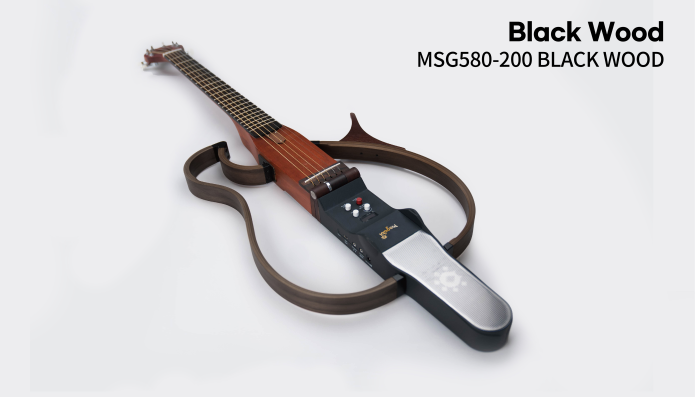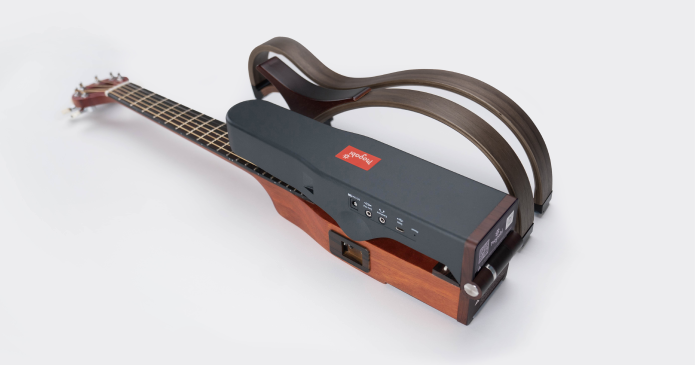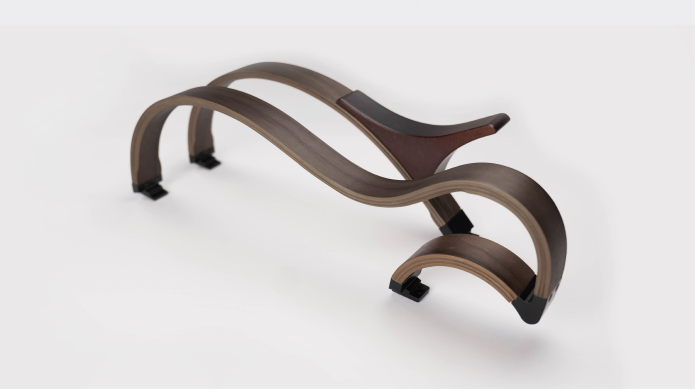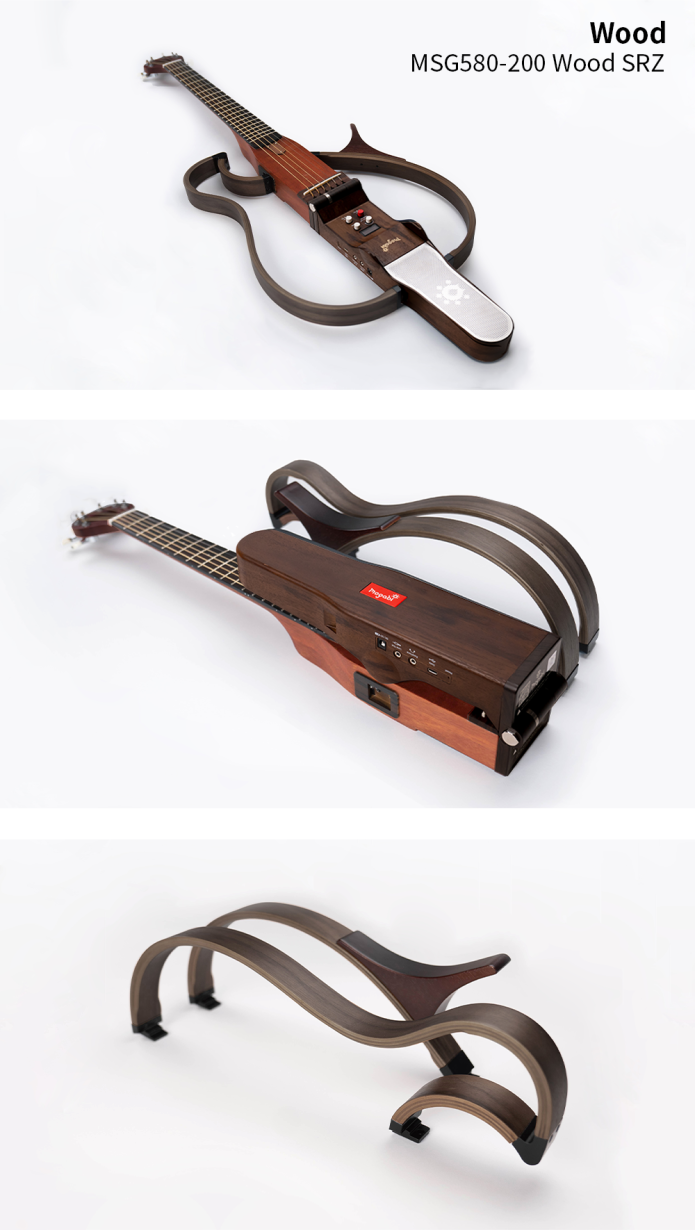 The details of final products can have minor changes.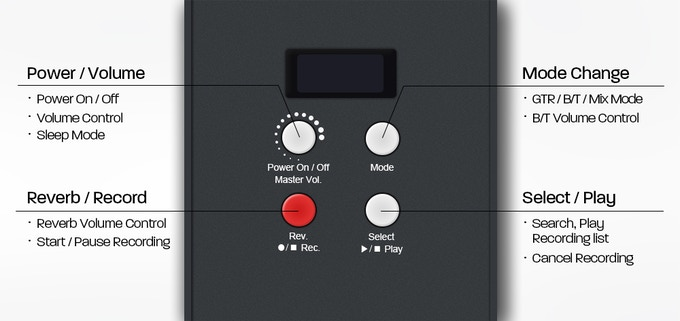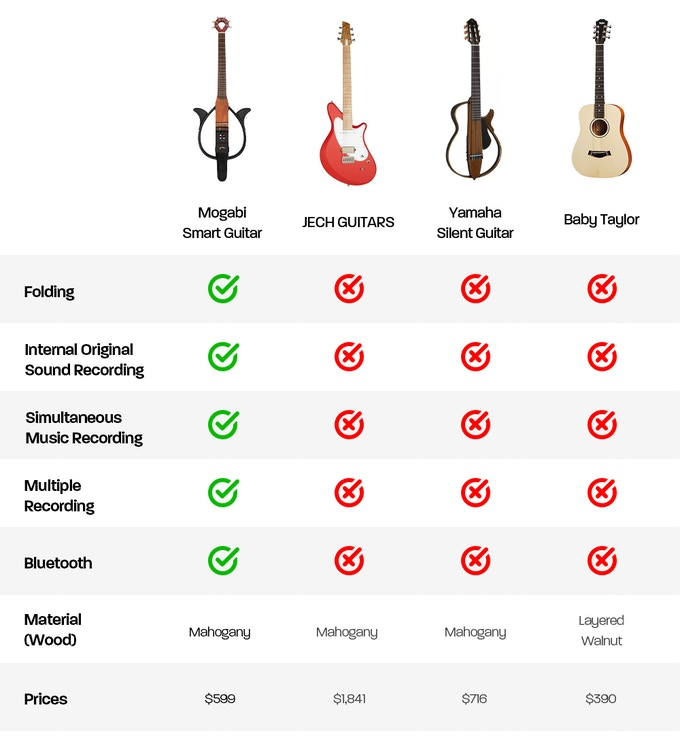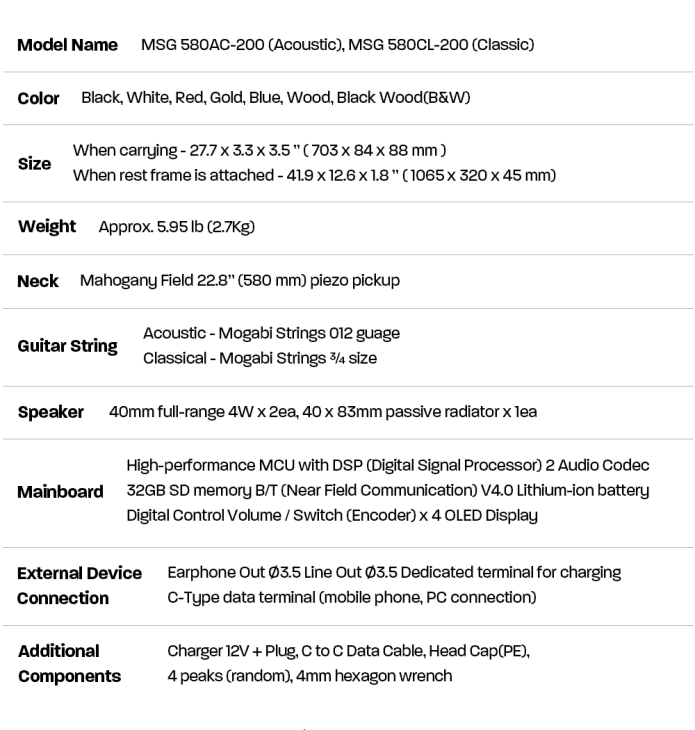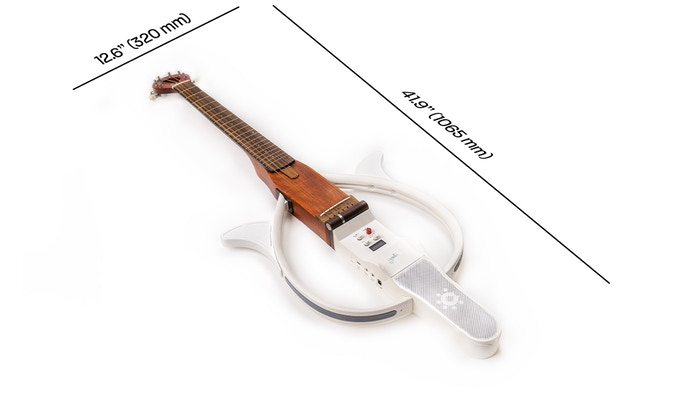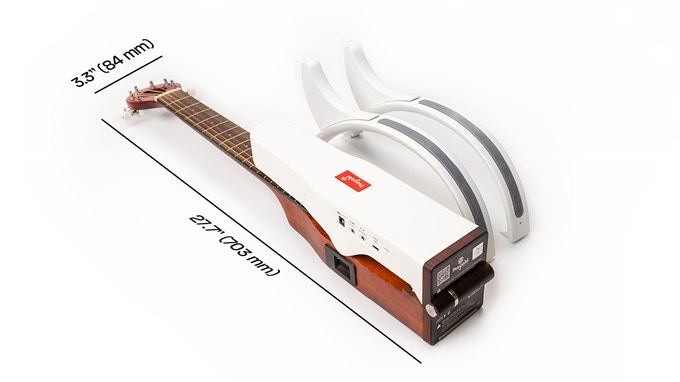 The size specifications of Round and Rectangular-headstock guitars are the same.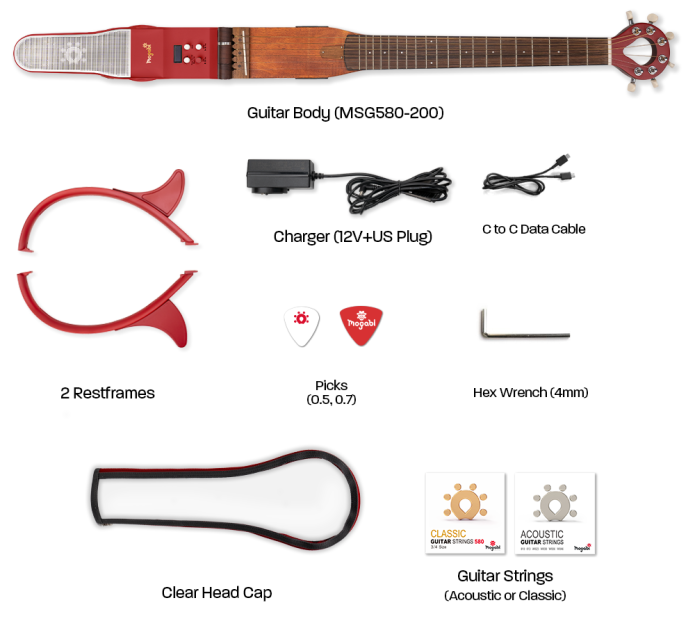 There are more countries available, so search your country on the contribution summary page.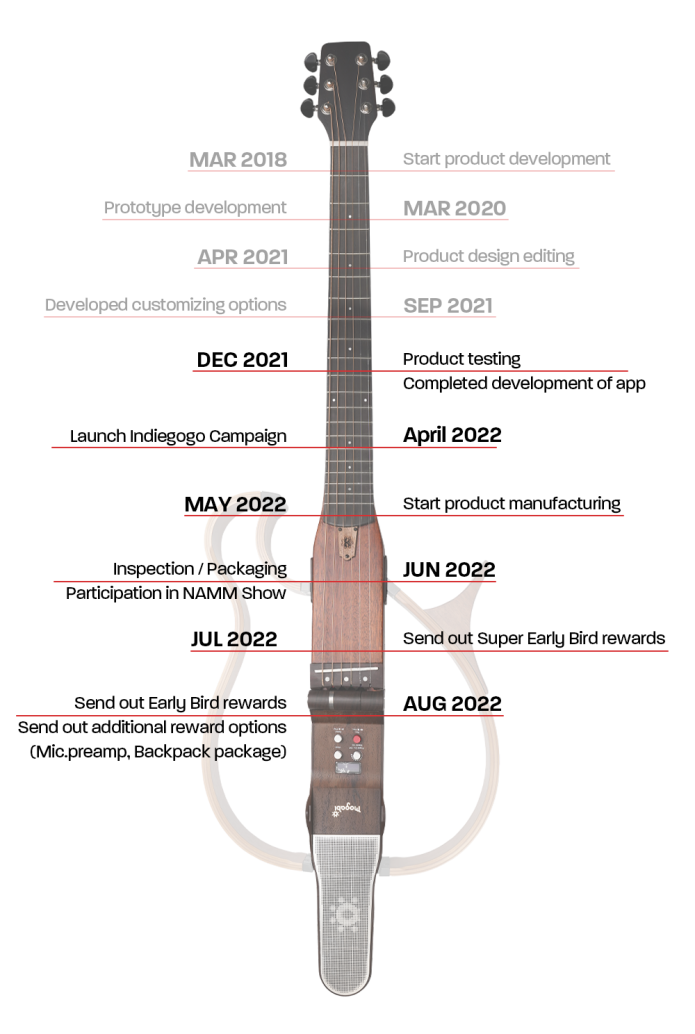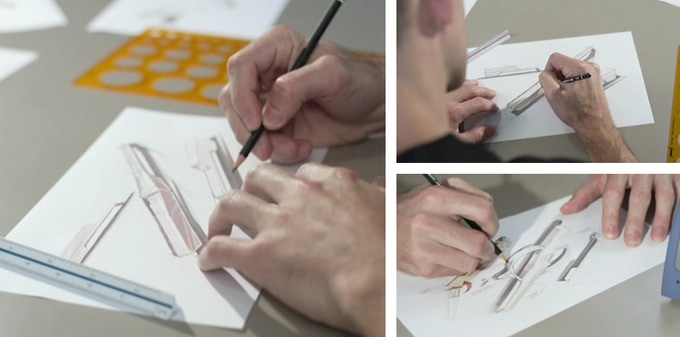 '
We always dreamed of completely solving every possible stumbling block you may find while playing a musical instrument. That's how we came up with the Mogabi Smart Guitar. After 4 years of intensive research with professional guitarists and musical experts of 'MOGABI AMT Inc.,' we finalized the Mogabi Smart Guitar.Not only did we want cutting-edge hardware, but we also wanted to create a new, innovative guitar design. With our US patented technology, we're confident that Mogabi is the right guitar for our US backers. After several series of development, we upgraded and improved our hardware to significantly decrease Mogabi's white noise levels. We promise that we will continue to improve any other issues that may arise. Mogabi needs the love and support of our backers to bring Mogabi to all guitar lovers – beginner, professional, or anywhere in-between.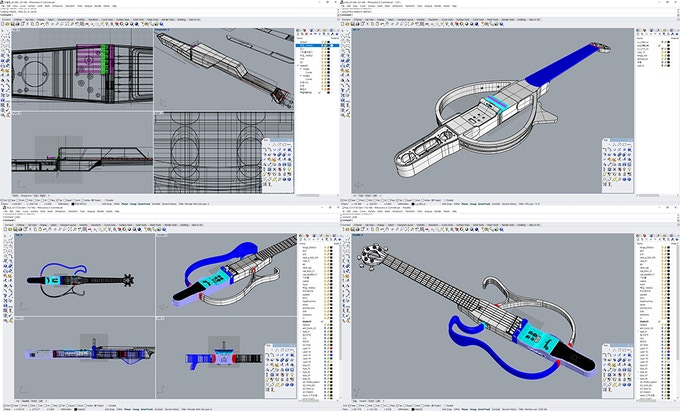 With Mogabi's dream of developing something more than a traditional musical instrument, we can redesign the standard of the musical instrument market. With our expertise and patented technology, we will bring this dream to life. We hope to bring Mogabi's innovation to bass, cello, or whichever string instrument you can imagine, so you can play it whenever, wherever.
Picture the world full of intelligent instruments with Mogabi. We will always be waiting for any collaborations to open up a brand new market in the music industry.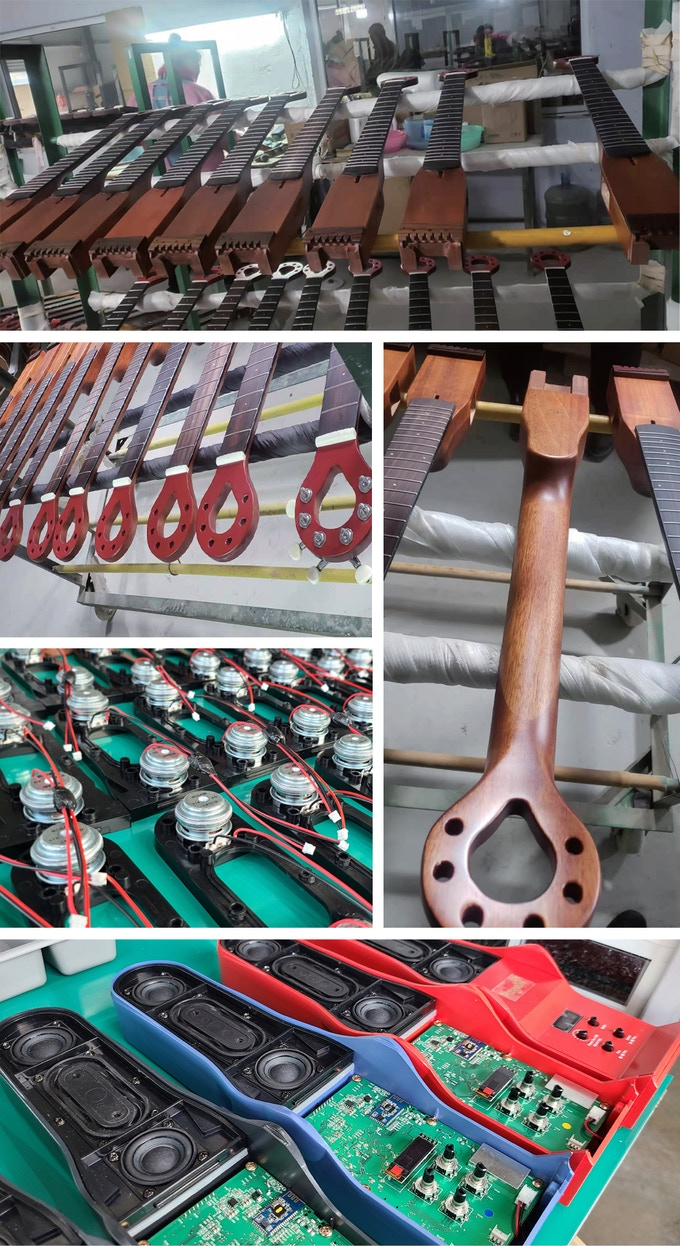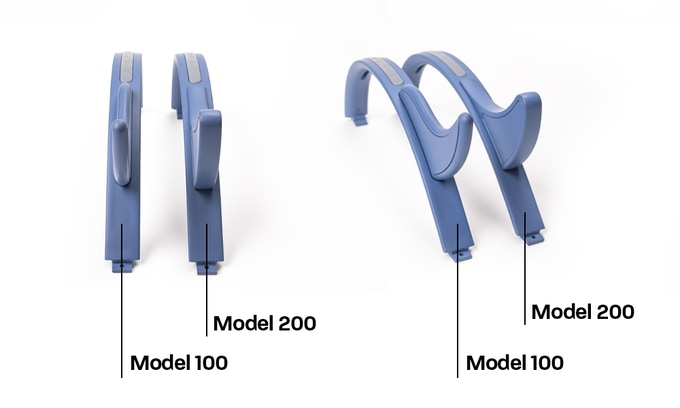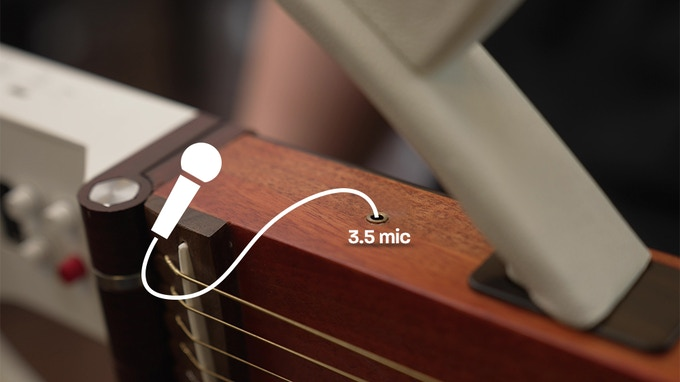 Pin mics are not included in the pledge.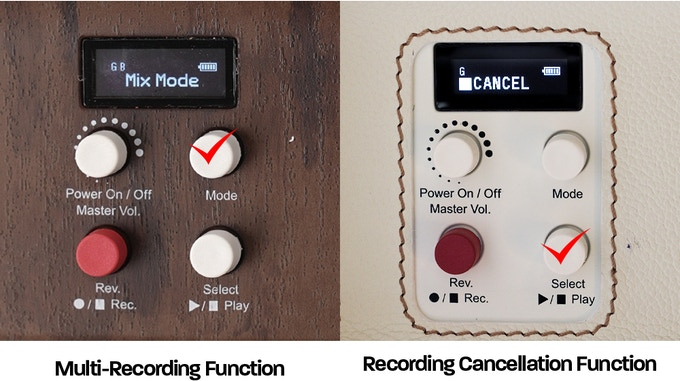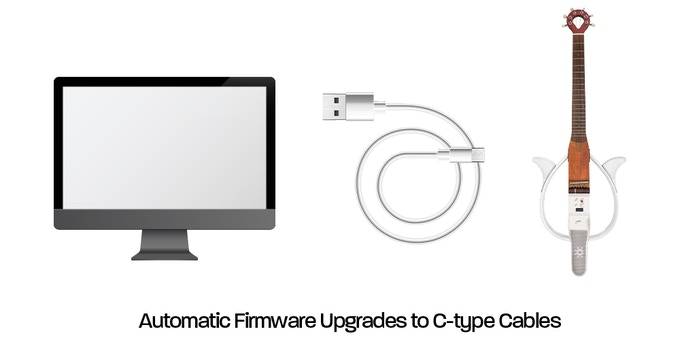 A new wave is coming to the conservative musical instrument market. Various innovative guitars with cutting-edge technology have emerged, and the users loved them. We wanted to bring another form of revolution in the rapidly changing guitar market. So, we have incorporated Mogabi in the United States and developed the Mogabi Smart Guitar after 4 years of design and development. We can proudly say that such a device developed through prolonged research, design, and development is like no other. With our backers' love and support, 'MOGABI AMT Inc.' will develop further and take another leap in our field.

All products will be thoroughly inspected before shipping by our QC team.
For any exchanges or refunds within 7 days of purchase, please email [email protected] for assistance
If the product is proven to be faulty upon manufacturing, 'MOGABI AMT Inc.' will cover all shipping charges for initiating an exchange.
The Mogabi Smart Guitar's battery is optimized for approximately 1 year of use. The Mogabi Smart Guitar comes with a battery warranty that is valid for 6 months only, due to prevent potential issues that may result from overuse. After the 6 month period, battery repairs and replacements will incur a cost.


'Mogabi Smart Guitar' results from 3 years of intensive developing planning, and to globally spread the word, we have established'MOGABI AMT Inc.' in New York. With various comments and feedback, we were able to fix and edit our weaknesses. We were able to successfully develop the upgraded 'Mogabi Smart Guitar.' Currently, Mogabi is fully developed (not a prototype) and has inspected over 100 pieces upon manufacturing. After successfully completing our campaign, we are fully prepared to start producing the next day and periodically ship out after a month. We have opened up a feedback communication line for customizations to fully take in our backers' taste and for a more delicate production. Thank you in advance for your unfailing love and support for the 'Mogabi Smart Guitar.'

This project is promoted by NewBacker - Helping projects raise over $50MM to date.
Select a perk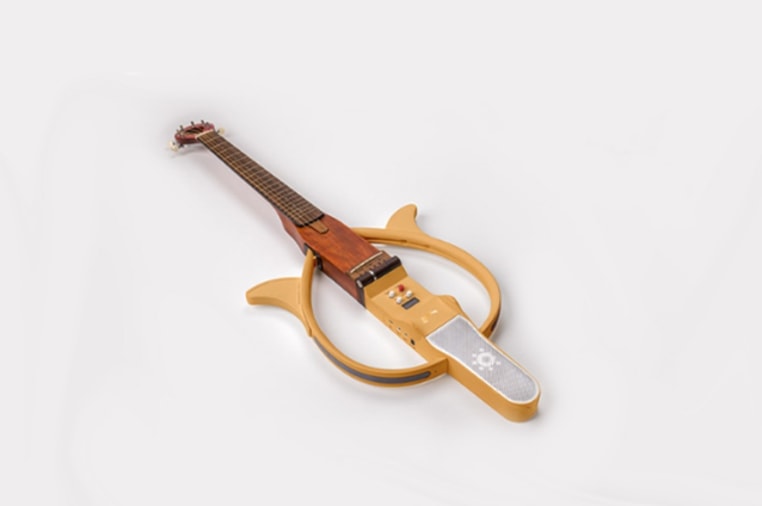 SuperEarlyBird:Color
$599 USD $1,100 USD (45% off)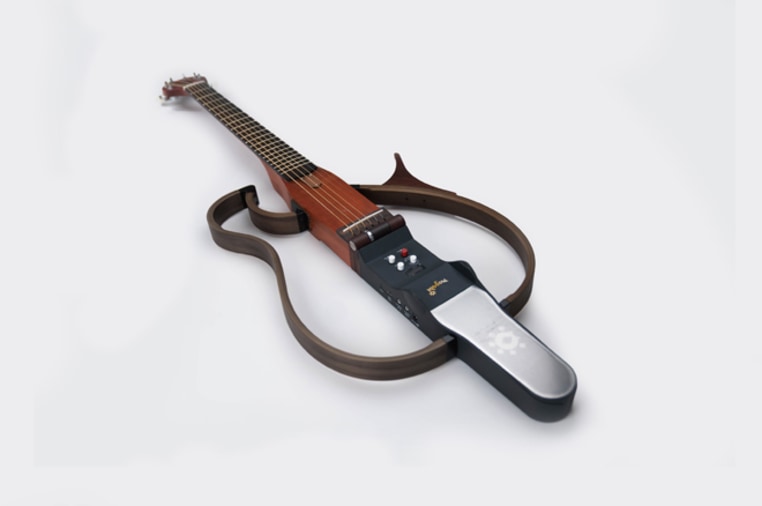 SuperEarlyBird:B&W
$634 USD $1,150 USD (44% off)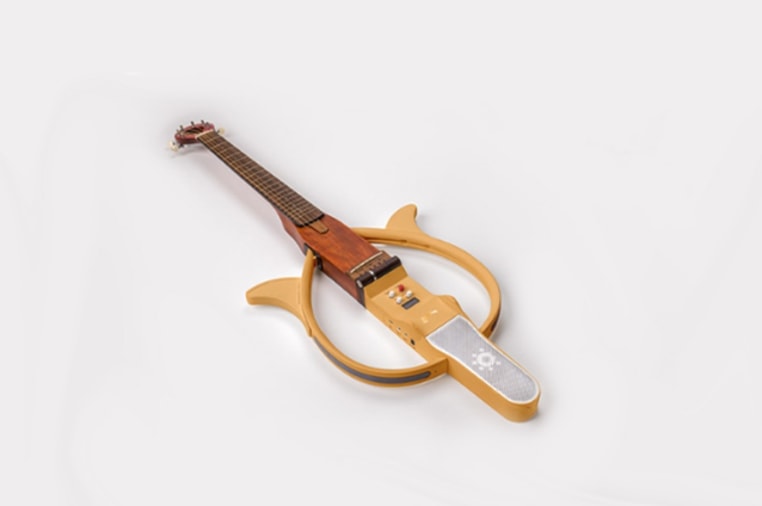 EarlyBird:Color
$659 USD $1,100 USD (40% off)
Estimated Shipping
Original: July 2022
Current: August 2022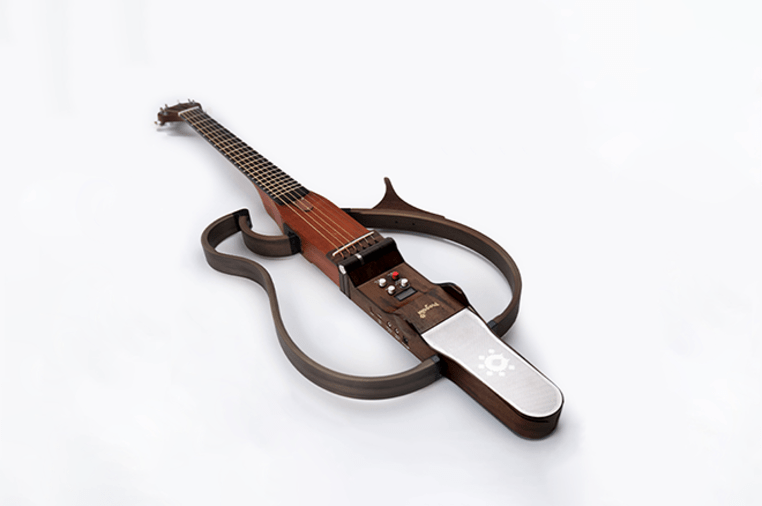 SuperEarlyBird:Wood
$669 USD $1,250 USD (46% off)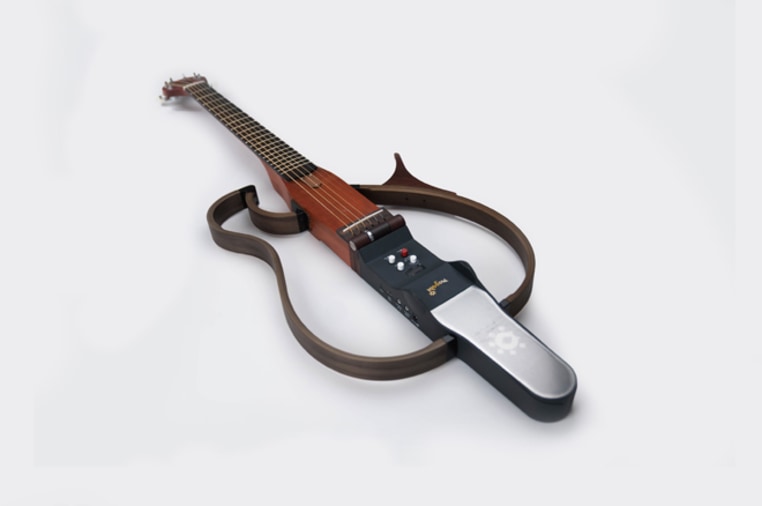 EarlyBird:B&W
$700 USD $1,150 USD (39% off)
Estimated Shipping
Original: July 2022
Current: August 2022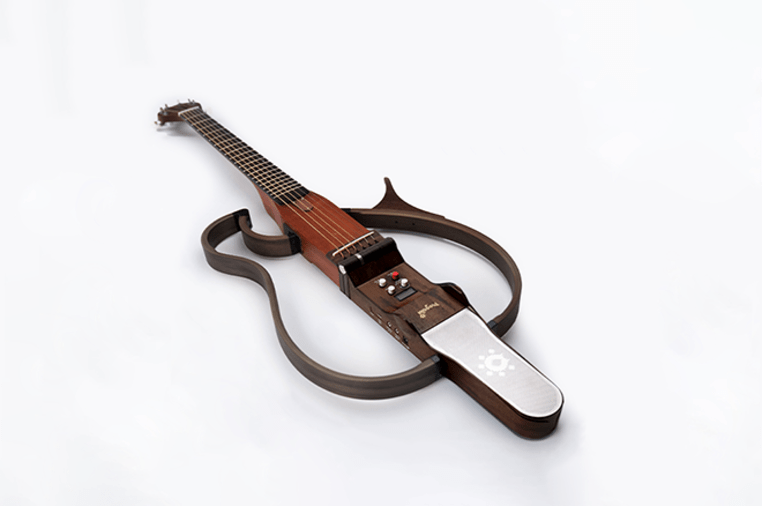 EarlyBird:Wood
$757 USD $1,250 USD (39% off)
Estimated Shipping
Original: July 2022
Current: August 2022