Unpluq 2: Tag - Block Distractions & Focus Better
The Physical Tag That Helps You Block Distracting Apps & Be More Productive. Save 69 Min Every Day.
Category: Technology
Ratings
There haven't been any ratings yet.
Comments
Campaign Info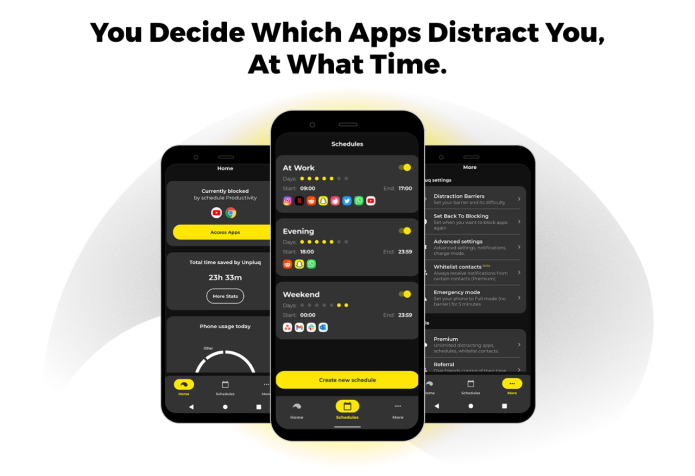 Create schedules to help you stay on track throughout the day by choosing which apps you want to block during what time of the day. Work mode, chill mode or weekend mode… You name it!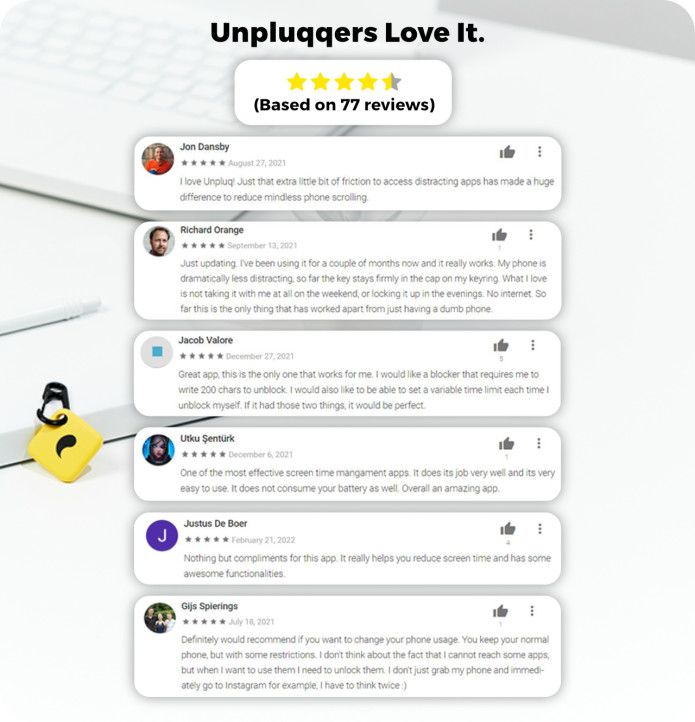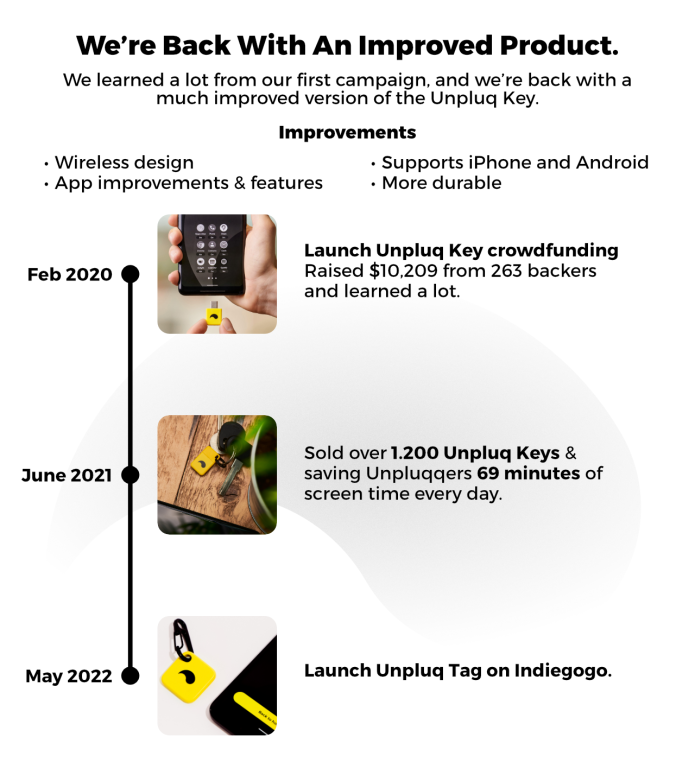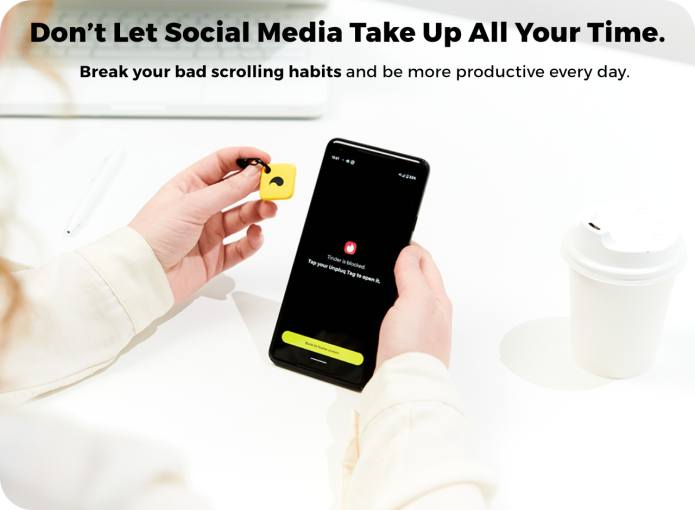 Tap the Tag to the back of your phone to open them - making a conscious choice to engage and access them - to take back control of your time.

On Android, we will also block the notifications of your distracting apps. Also, on Android you can block any app on your device, instead of the pre-defined apps that we provide you with on iOS (On the iOS version, we'll continually add new apps you can block together with you, based on your input and feedback).

The physical Tag makes using distracting apps a conscious choice. Leave it further away to make the barrier to use an app even harder, or even leave the Tag at home when going out for dinner. It's not just a couple of taps on your screen anymore–it's a physical barrier!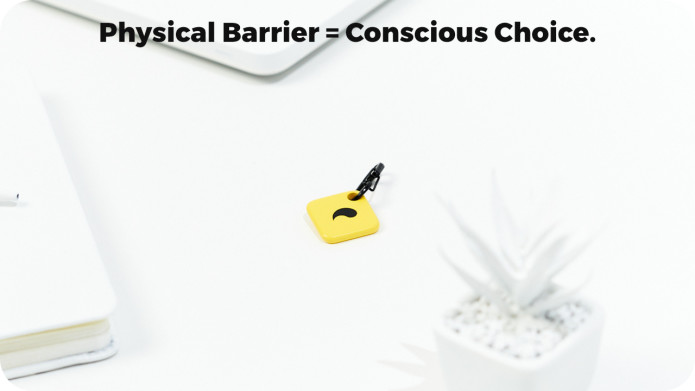 Our attention and our time are the two most valuable resources we have. The unfortunate reality is that big tech has become very good at stealing away that time and attention, making it harder and harder for us to do what we actually want to do.
It's time for us to take back control of our smartphones.
We also know that most people would love a little help with that. Research has shown that willpower acts like a muscle, which can also become fatigued. We created the Unpluq Tag to help you regain control of your time and attention, helping you reduce smartphone distraction.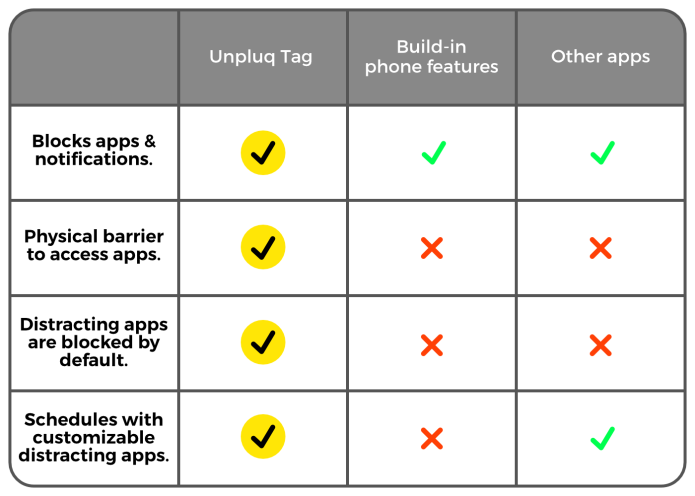 Current solutions are too easy to circumvent or can't be circumvented at all resulting in you deleting the app. Unpluq gives you the perfect balance, you can't easily access your apps but if you really want to you can still access them. The physical barrier helps you to change your habits.

Unpluq Premium is the subscription of our app that works together with the Unpluq Tag. With Unpluq Premium, you'll be able to use all of the rich features Unpluq has to offer, like creating multiple schedules for distracting apps, unlimited distraction barriers and much more.
The Unpluq Premium Subscription
Unpluq is a combination of the Unpluq Tag and the Unpluq app. Developing software takes a lot of time and effort. With the Unpluq Premium subscription, you support us to keep creating updates for the Unpluq app and provide you with the best possible experience in the Unpluq app.
Lifetime option
Because we know not everyone is a fan of subscriptions, we do offer you the option of a lifetime subscription for Unpluq Premium with a huge discount, exclusively on Indiegogo.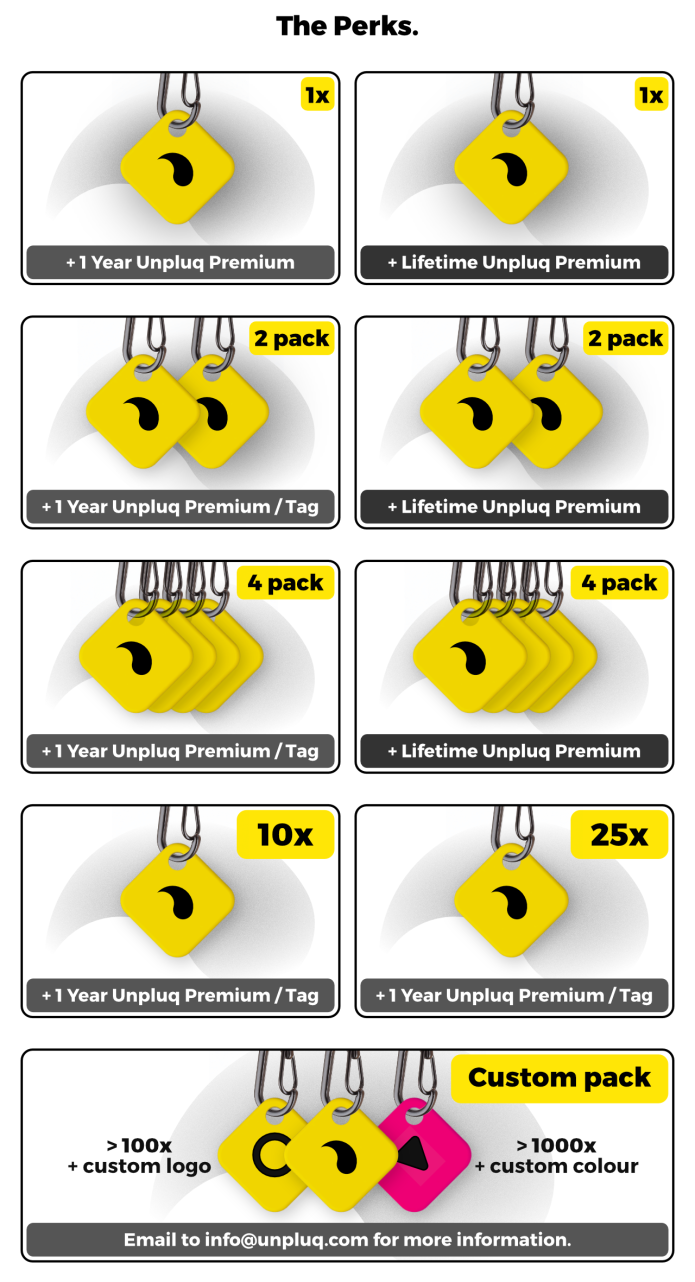 With every perk we offer, you have the option to add a lifetime subscription of Unpluq Premium during checkout.

Unpluq blocks distracting apps of your choice.
You have the freedom to choose which distracting apps will be blocked. Your distracting apps will be blocked by default, until you tap the Unpluq Tag to the back of your phone. Next to that it will also block the notifications of blocked apps.
Focus on what really matters.
The Unpluq Tag transforms your smartphone into a distraction-free and minimalist phone, and helps you focus on what really matters. You focus on what you want, let Unpluq take care of the rest!
Track your screen usage statistics.
You can track the statistics overview about your phone usage. Unpluq lets you compare the previous data with today. It keeps you motivated to stay away from your smartphone by enabling you to be aware of your progress.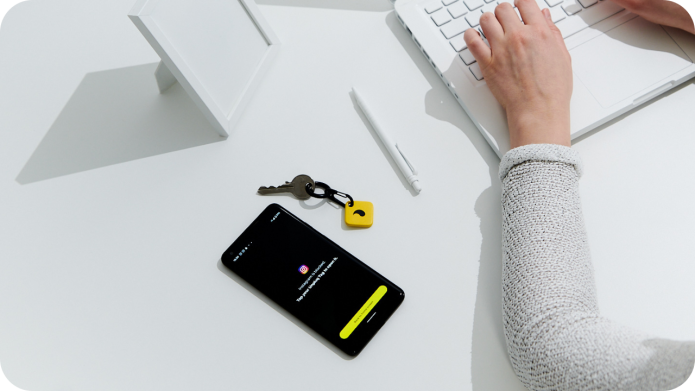 Break your bad scrolling habits.
Using a physical barrier to access the blocked apps makes your choice to use distracting apps more conscious. This powerful physical barrier helps you to break unconscious habit loops.
Think twice before you open a distracting app.
With the physical Tag, you have to make a conscious decision to physically tap the tag to the back of your phone and access distracting apps.
It is not easy to circumvent like other apps.
The current software solutions don't offer enough to help you regain control over your smartphone. The Tag is different, since you have to have it physically near you before you can use a distracting app again. The Unpluq Tag is designed for you to be easily attached to your keychain, so you won't lose it.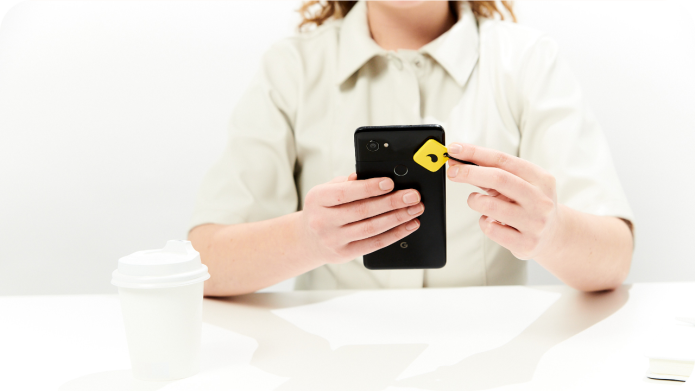 Create schedules for when to block apps
You decide which apps are available during what day and time of the week, and how long you can use a certain app during the day. This way, you will not have to worry about mindlessly scrolling through social media all night long.
You decide when apps get blocked again
Unpluq blocks distracting apps of your choice by default. When you tap the Tag to use a distracting app, you can decide when you want that app to be blocked again: when you lock your phone, or after a certain time period like 5 or 10 minutes.
You can personalize it to your needs completely
Work mode, chill mode or weekend mode… You name it! You can customize the settings according to your needs. This makes you have full control over your smartphone.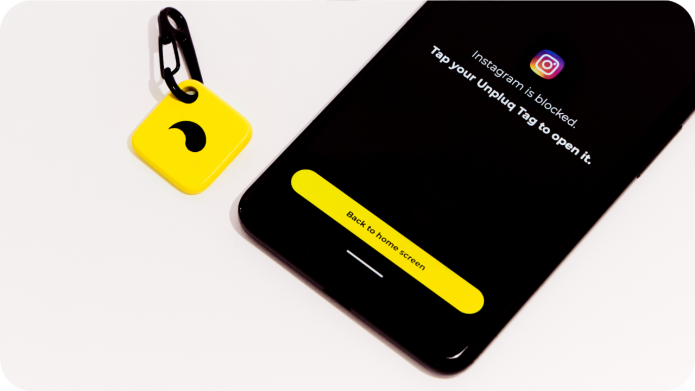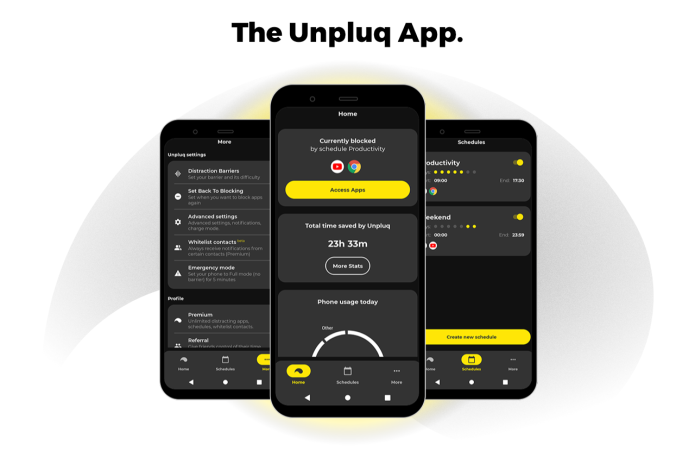 The Unpluq Tag works with the Unpluq app (available here for Android). The iOS version will be released this summer.
The app has the following features:
Home screen with an overview of currently blocked apps.
Create advanced schedules for when to block your distracting apps.
Set back to blocking apps after locking your phone or after a preset time.
Usage statistics (App usage & time saved)
Emergency mode (5 minutes a day full access)
Choice of many other distraction barriers with difficulty levels, like shaking your phone for some seconds or tapping a number of buttons (see this video for more info).

We will be blocking internet access for distracting apps through a local VPN, to block your distracting apps within your schedules. So, the blocking screen you see for the Android phone, will not be shown on iOS.
Additionally, we aim to integrate another way of blocking apps, by making use of Apple's Shortcuts app, but this is still being investigated. With this, when you would open a distracting app like Instagram, Unpluq would open automatically. This would take about 2 minutes to set up for you. We'll keep you up to date about the development, and always aim to be as transparent as possible with this communication.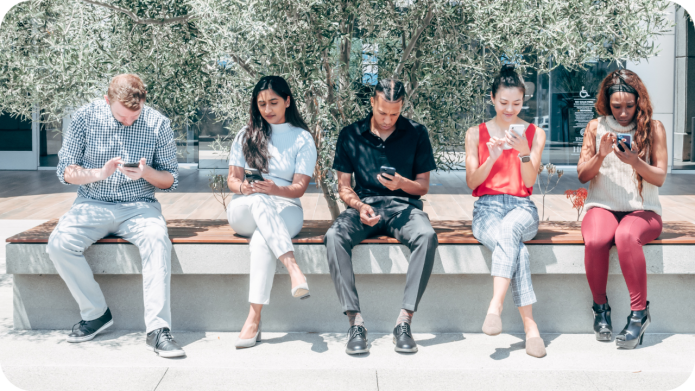 We live in a world where our attention is being mined for profit. It's unfortunate, but big tech is spending millions of dollars to make their platforms as sticky as possible, so you spend as much time on their platform as possible. This is a reality everyone is aware of these days, but the current solutions don't work for many people because they're too easy to circumvent.
The Unpluq Tag is designed to help you win back the fight over our time and attention and save some serious screen time. It's time we take control in our own hands.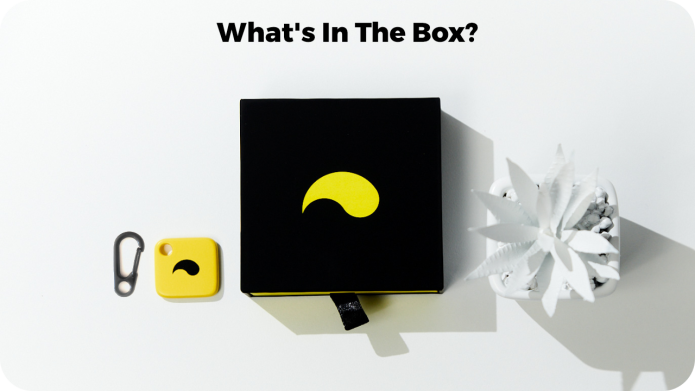 Unpluq Tag
Metal Keychain hook
Start Guide + Unpluq Premium activation code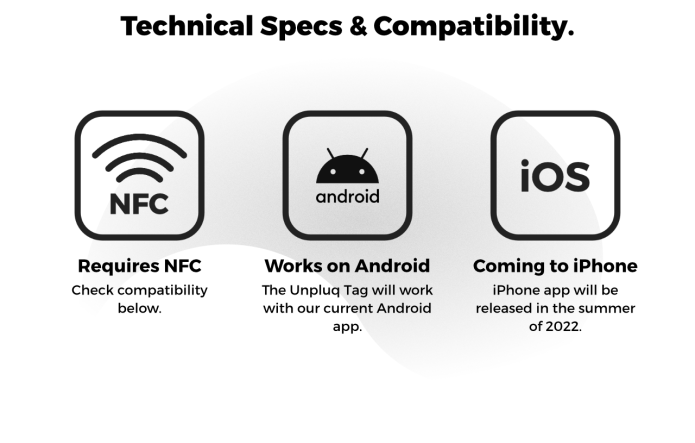 Check if your phone has NFC here.
Warranty One Year Limited Warranty.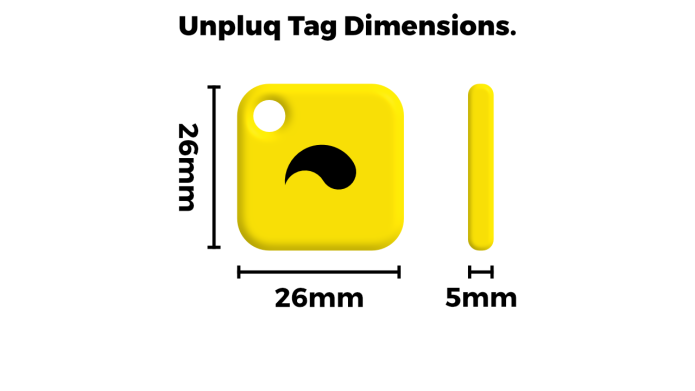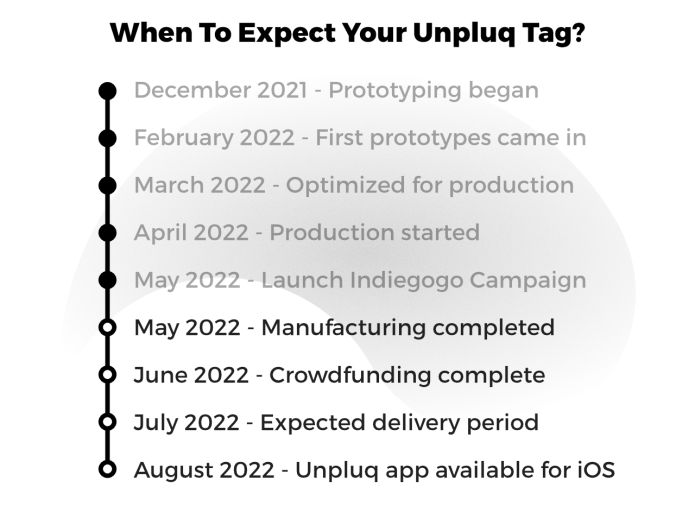 We started production of the Unpluq Tags in the beginning of May. Here you can see some photos of the production process.

We can't wait to get the Unpluq Tag into your hands. We put all of our hard work into this product, for a beautiful design and an app with amazing capabilities.

Everyone has a right to live a more balanced digital life, and focus on the meaningful things whenever they want. This belief reinforces our commitment to deliver innovation which empowers your productivity and provides freedom of mind. Our vision is to enable everyone worldwide to live a healthy digital life.
Unpluq was founded in 2020 by Jorn Rigter and Tim Smits, with a background in Industrial Design Engineering and Computer Science at the Delft University of Technology in the Netherlands. Right now, Unpluq has a team of four, working from Rotterdam and Barcelona.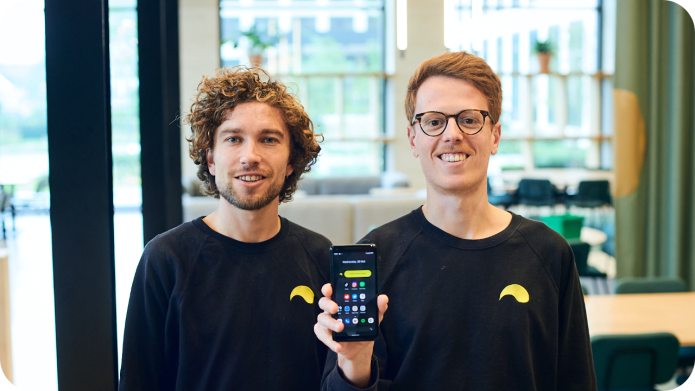 Using our smartphone less is something we strived for, but also struggled with. We saw this problem all around us. During our studies, we were often very distracted by our smartphones. Also, when we looked around in restaurants and saw couples that were not talking to each other, but both on their smartphones half of the time, we realized the impact our technology has on society at large.

Solutions existed, but were far too easy to circumvent or way too restrictive. By getting rid of digital distractions, we want to enable everyone in the world to focus on the important things in life.

We've put the Unpluq Tag through the most gruelling of tests in dire situations. We promise that these tags will stand the test of time and live up to the hype. We're production-ready, and can ship right after the campaign has finished.

Support us. We need your help to get us going to fund larger production, and continue research and development of the Unpluq app to help millions of people regain control of their time and attention, like you. Let's fight digital distractions together!
Why Indiegogo?
You might ask, if you have production ready then why do you need indiegogo? The answer is, we like crowdfunding. Through our first crowdfunding project we got our first group of loyal customers and they helped us a lot getting Unpluq to where it is right now. We love the community that a crowdfuding gives. We want to interact with you, learn from you and improve our product together with you!

It might sound ironic, but we also have an online presence on different social media platforms, along the motto "find your customers where they are hanging out".



We have worked extremely hard to get the Unpluq Tag ready for Indiegogo and full-scale manufacturing and fulfillment, but here are what we see as the risks and our plan to assess them:

Manufacturing.
The manufacturer is lined up, and we have quality assurance people on-site during production. We don't have full control over the production timeline because of the external party, but have great connections with them. The moulds have also already been produced, so we're ready for production.

Fulfillment.
Sometimes things get a bit crazy and stuff happens that can't be planned for: a supplier misses a deadline, customs clearance or a shipment gets lost. Those things could cause a delay. We are using an experienced logistics team to get our products to you. We'll keep an open and honest communication with you throughout our process, so you know where your product is and when it's going to get to you.
Looking for more information? Check the project FAQ