AGA : The World's Most Powerful Car Jump Starter
The AGA A40 is the world's lightest, most powerful car jump starter that can start your 12V gas up to 6.0L or diesel up to 4.0L car 40 times.
Category: Outdoors & Sports
This was previously on Kickstarter and we reached out to the creator as to why it was suspended after raising $50,000 in pledges. They replied that "Kickstarter suspended because the product was already done and my funding was to launch worldwide. They say they only back idea to live".
Ratings
There haven't been any ratings yet.
Comments
Campaign Info

There are a number of reasons why batteries can weaken and fail. A few common ones include:
Leaving headlights, interior lights, flashers, and the CD / radio on when the car isn't running.
Using the air conditioner when the car is not running.
Not starting a car for long periods of time (e.g., while it's in storage).
Lack of battery maintenance (e.g., not keeping terminals clean).
Failure of the diode bridge or voltage regulator in the alternator; the alternator charges the battery when the car is running.
Low air temperature, which causes batteries to freeze.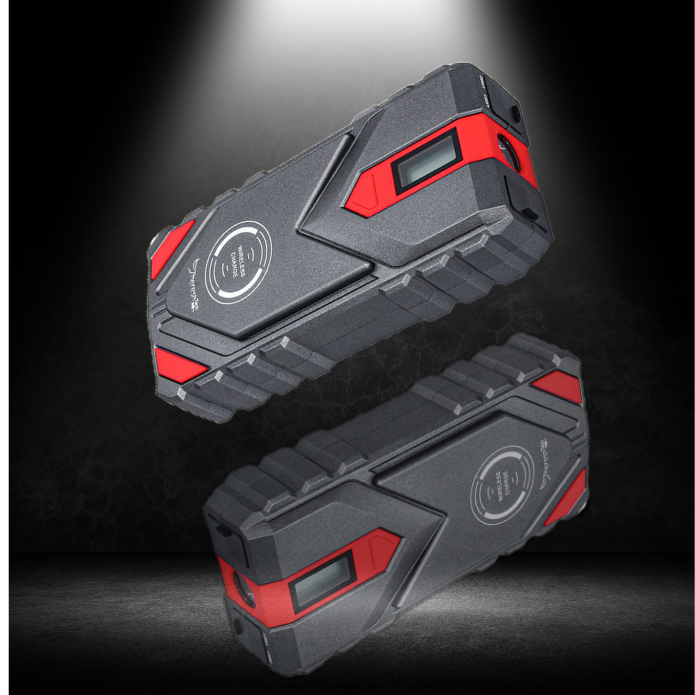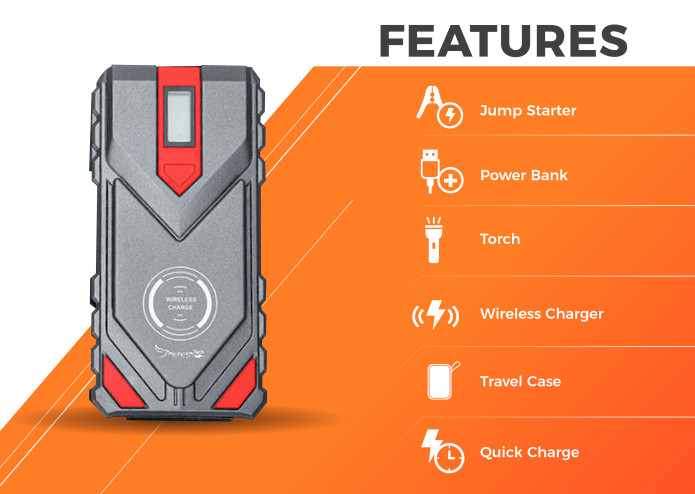 Start your car in few seconds: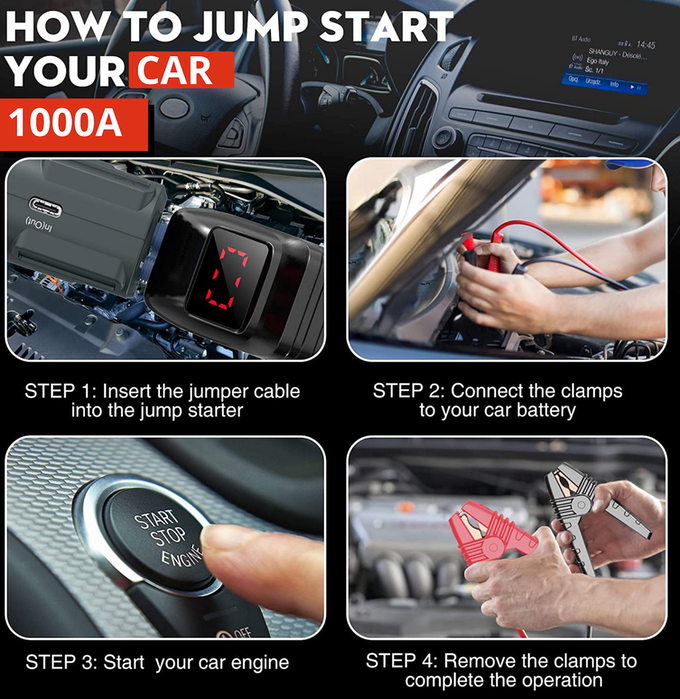 Easy To Use
Car accessories are not meant for everyone. It can get very complicated and even dangerous when it comes to dealing with dead batteries.
AGA TECH products are designed for every car owner to use easily and safely. The A40 is the most advanced product series in the market, boasting intelligent matching technology to make the product ready to automatically jump-start. In just three quick steps, you can jump-start your car and hit the road.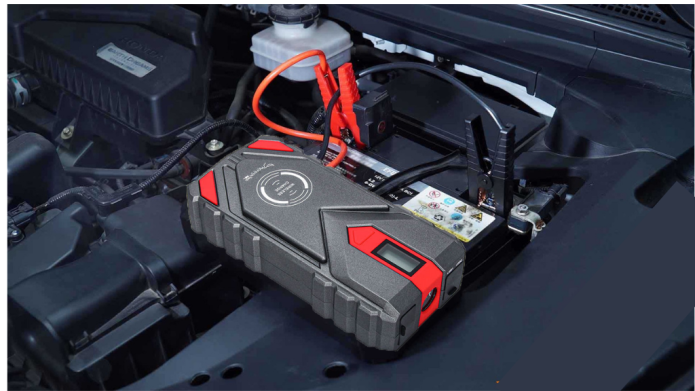 Heavy-duty Copper Clamps for Safety ➤ Premium copper clamps and 10 protections make A40 car battery jump starter pack safe for anyone to use. Jump-start your vehicle without worrying about sparks if it's connected incorrectly. This jump starter has passed all UL2743, FCC, CE, PSE, and ROSH regulations. Protections include reverse polarity protection, reverse connection protection, reverse and overcharge charge protection, short circuit protection, and more.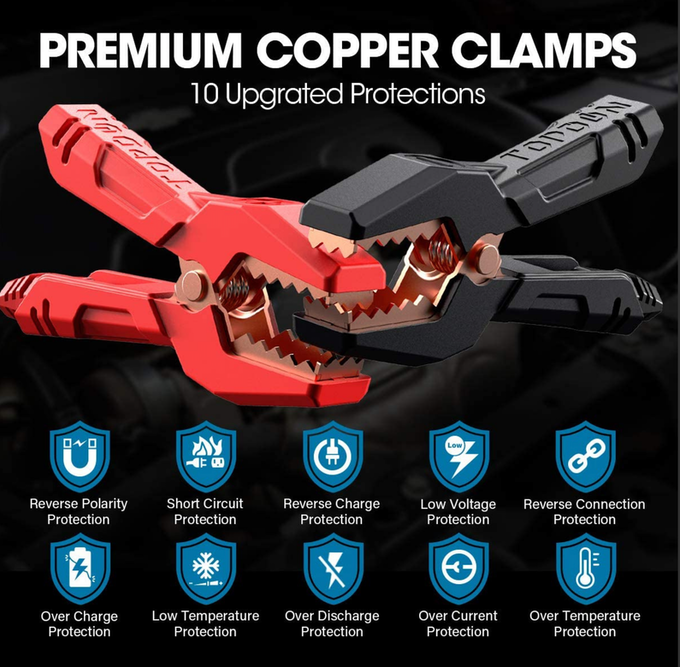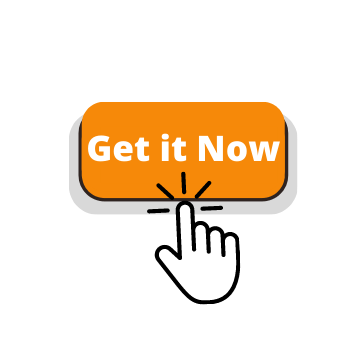 Having trouble understanding when it is safe to jump start your engine?
AGA has got your back. With his screen, you are able to see the indicators clearly on the screen, such as the power display, operation warnings, and user tips. This digital screen is easy to use and understand.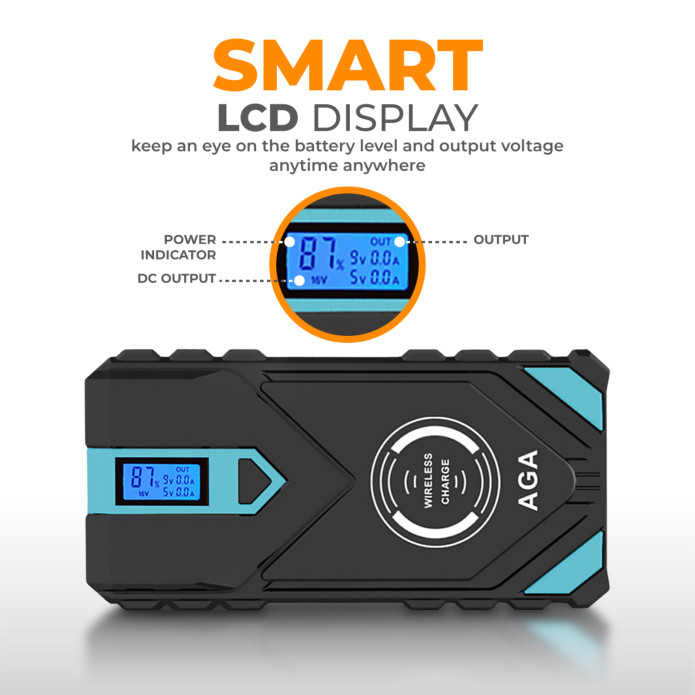 World's Lightest, Most Powerful Jump Starter
With 12,000 mAh ultra-large battery capacity and 1000A peak current, the A40 can cover the jump starter needs of 12V vehicles and works with vehicles such as cars, motorcycles, watercrafts, ATVs, UTVs, SUVs, lawn mowers, yachts, boat, pickup, and snowmobiles. The A40 is a power monster in the jump starter market.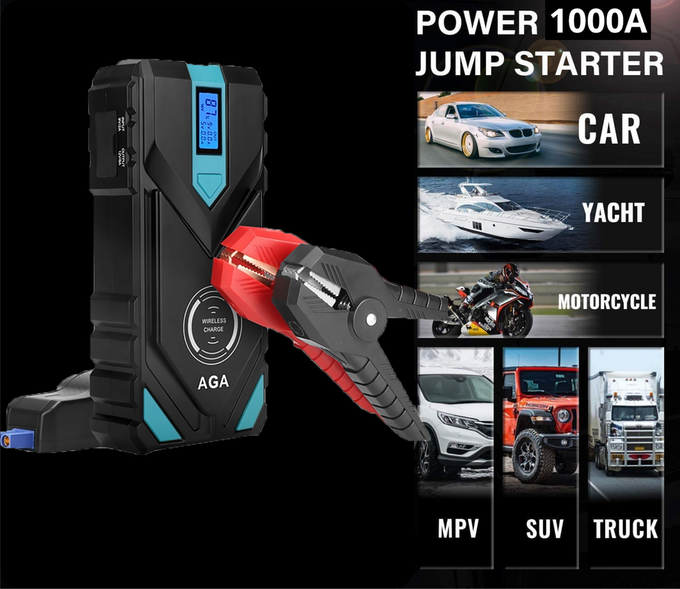 The best Jump starter in the market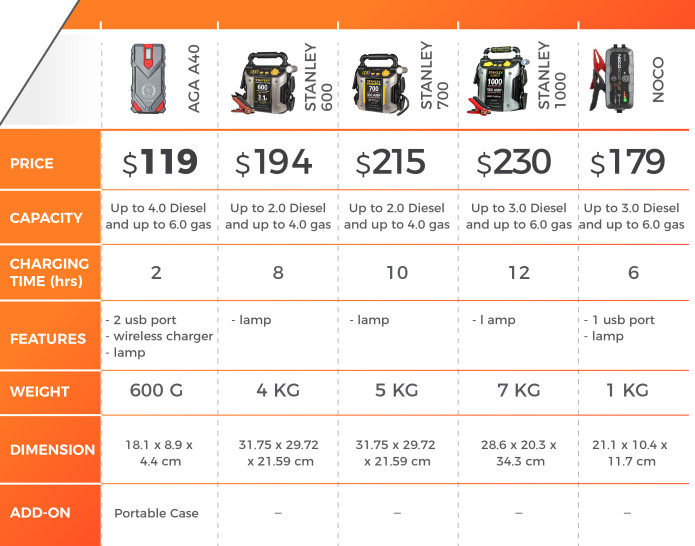 It also doubles as a flashlight, USB powerbank and a wireless powerbank for all your devices, too.
The AGA A40 is the world's lightest, most powerful car jump starter that can start your 12V gas up to 6.0L or diesel up to 4.0L car 40 times.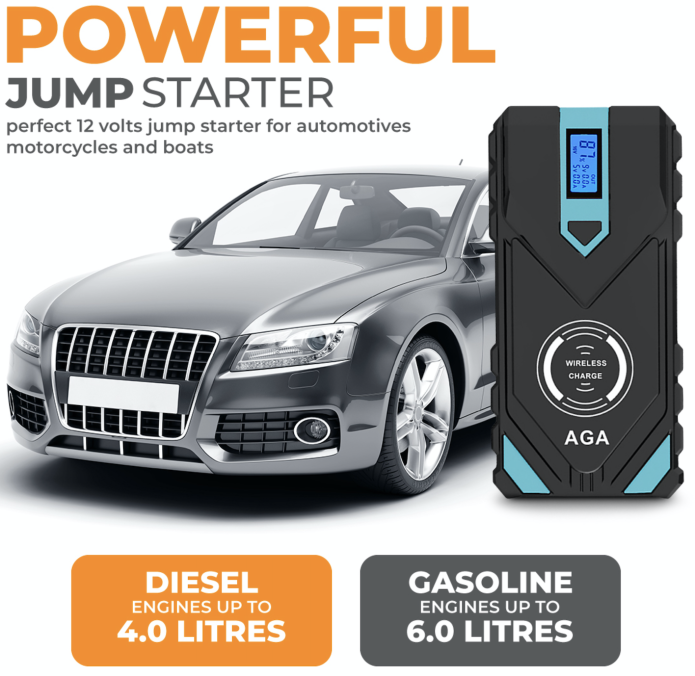 With his portable design and the case included you can bring it everywhere with you: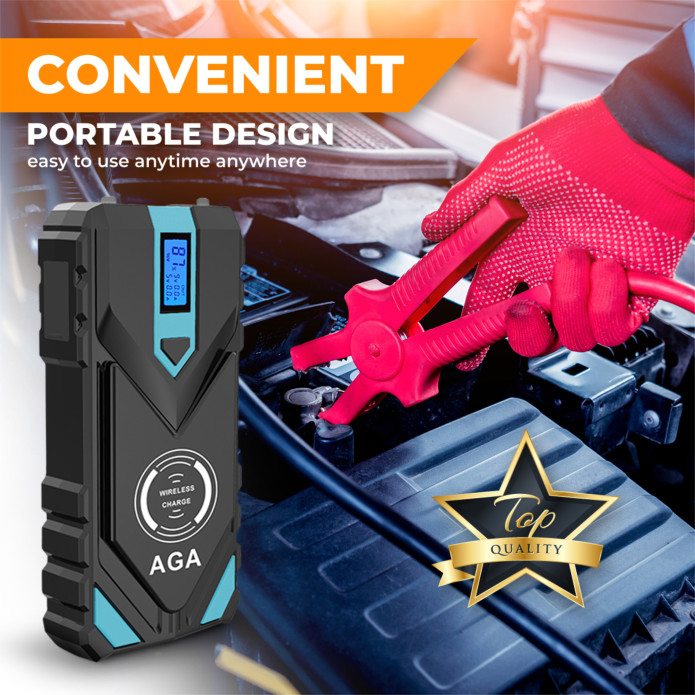 The A40 comes with a travel case worthy of 40$ to help you brings it everywhere you go.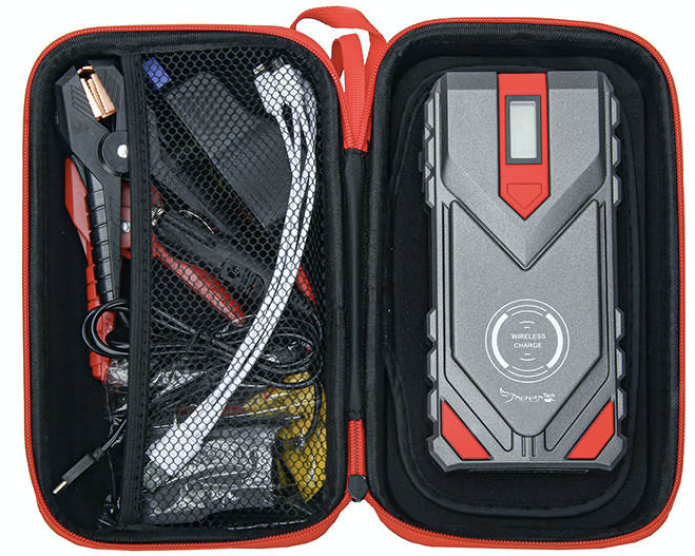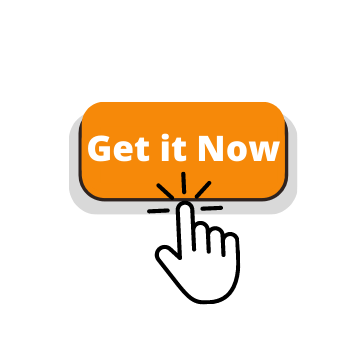 Made for extreme conditions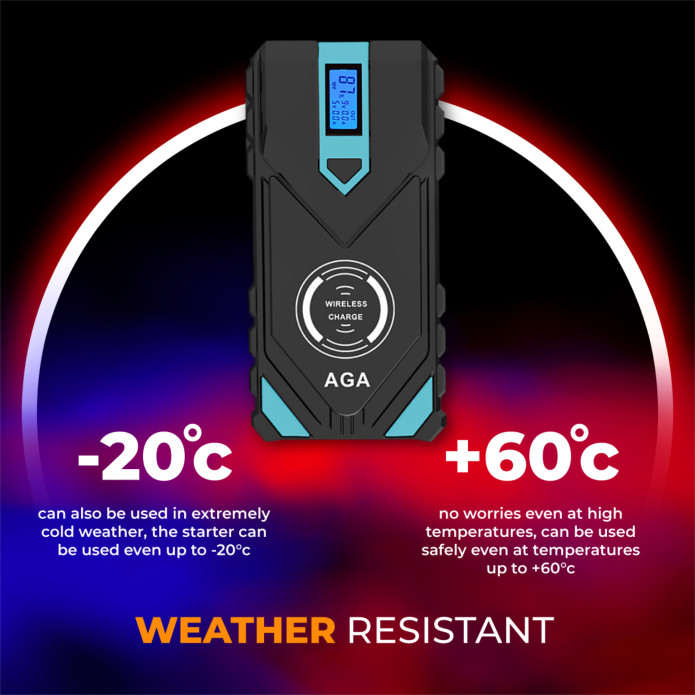 The A40 can stay in -40℉/40℃ refrigerator for 5 hours; the product works perfectly after the test.
Water resistant
The Only Power Device You'll Ever Need
Get an all-in-one jump starter a 10W Wireless Charger ➤ Simply place your phone or other Qi-enabled devices on the center of the jump starter and A40 jump starter will do the rest. Its 10W wireless charger with 10800mAh power bank is suitable for travel and business trips. The AGA A40's 10W wireless charging is compatible with all Qi-enabled devices.
Youtuber Reviews | On our previous model A13 that we really improve with this new model A40.
The A13 generation of AGA has been the best selling product on Amazon and Ebay with 1,2000 units sold last year. And Comparing to our previous generation, A40 is the enhanced version with an integrated compact design, easier operations, and better performances.
INCLUDES:1.SC 65W Wall Charger | 2.3-1 USB CABLE (Out) | 3.AGA A40 | 4.DC 12V Cigarette lighter socket adapter | 5.12V Ergonomic Needle-Nose Battery Clamps | 6.CARRY BAG | 7. User Manual & Warranty Card | 8. 12-Month Warranty
The A40 prototype is finishing, currently we have 200 units for the first backers so they will receive their multipurpose Jump Starter as soon as possible.
Please be aware that Duty & Taxes (EX-US) are not included in the reward package. Shortly before the A40 ships, we will email you a link to our "pledge manager." In the pledge manager, you can:
Enter your latest address
Pay Shipping and Tax/VAT
We plan to ship AGA product units directly to backers within the US, EU, UK and CA, using existing fulfillment partners with local warehouses. That means your rewards will arrive promptly with no international shipping hassles. Enjoy!
To thank each one of you for the support we received so far, we prepared a BIG SURPRISE that everyone can take part in for 10% CASHBACK through Kickbooster. Don't miss out!
Sign up on Kickbooster via the link below and get your personal referral link. For each order you refer successfully, you'll receive 10% of the pledged amount as a cash reward. Check out the detailed rules through the link below.
Kickbooster Link:
Note:
1. If you or your friends request a refund during the campaign, you will be ineligible for the Kickbooster referral program and the cash reward will not be sent to you.
2. You can share your referral links on your own Facebook, Twitter or other social media.
3. You will automatically receive the cash reward through the Kickbooster platform after the campaign ends.
*The AGA NEWS TECH Team reserves the right to explain the Terms & Conditions at any point during the referral event