Magnito Cables: Superb Quality at Best Price
World best magnetic, 6-in-1, long-lasting, most affordable fast charging cables, one cable for all your devices.
Category: Technology
Ratings
There haven't been any ratings yet.
Comments
Campaign Info

Charging has never been more effortless, efficient, convenient, and safe.
Do you hate having to fumble around with multiple charging cables?
Well, say goodbye to those days with Magnito! This fast-charging, 6-in-1 magnetic cable is compatible with all your devices and is designed for long-term use. Plus, it comes with a new, safe design that makes charging your devices a breeze.
Here are some of the benefits :
Fast charging up to 100w with high-speed data transmission.
Compatible with all devices ( 8-Pin, Micro-USB, Type-C, you can charge your laptop too)
Magnetic for easy use
Long-lasting design
Easy to plug and find in the dark
Our products come in two lengths of 1M/2M, making charging more convenient while playing games, chatting, in the office, or lying on your bed.
MC-100: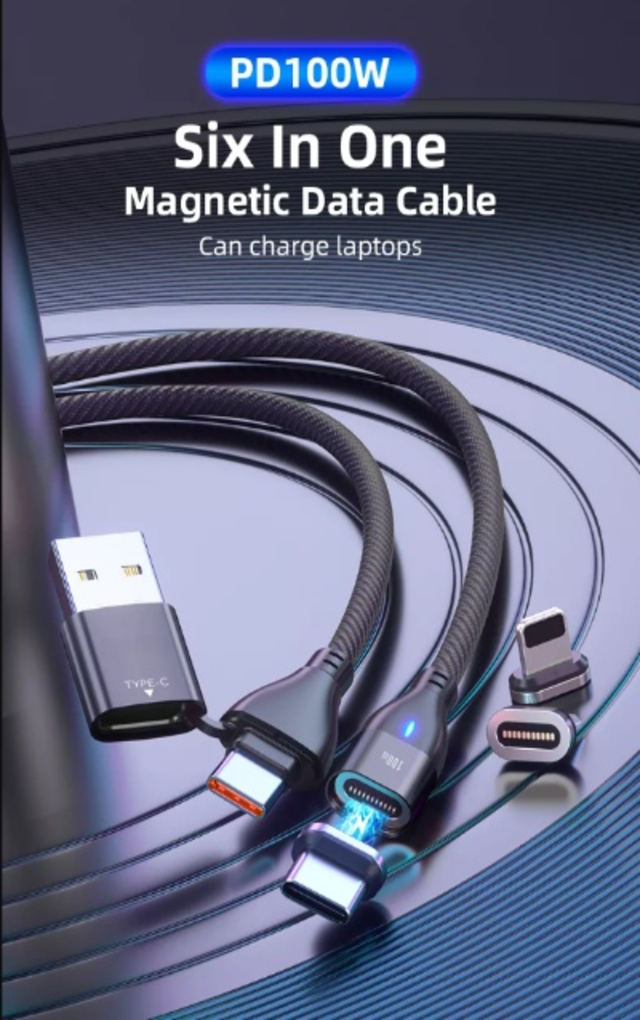 Compatible with all your devices, stop struggling with multiple charging cables and try Magnito.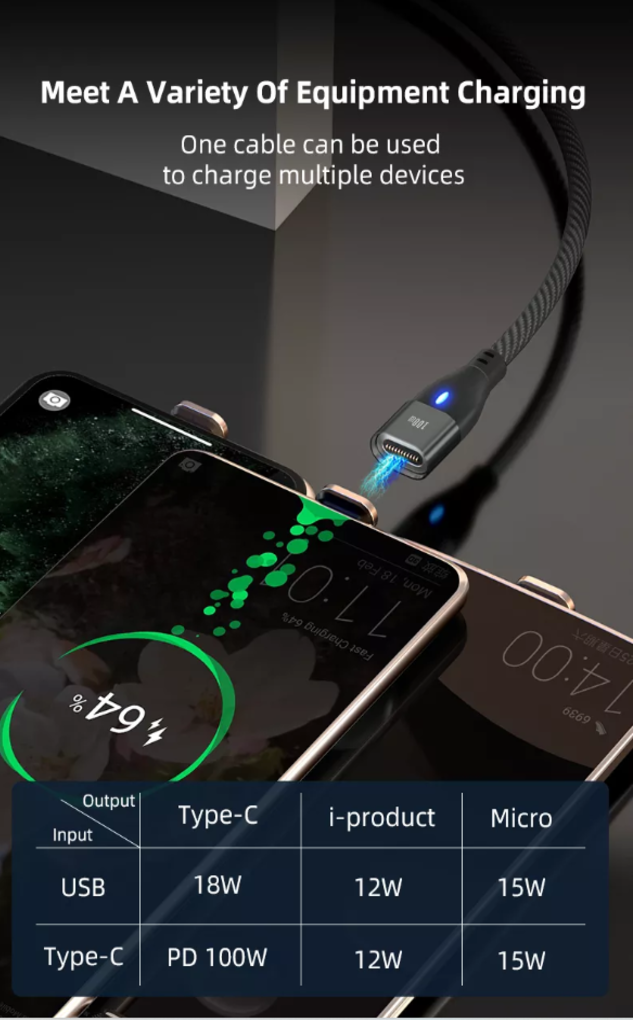 One for All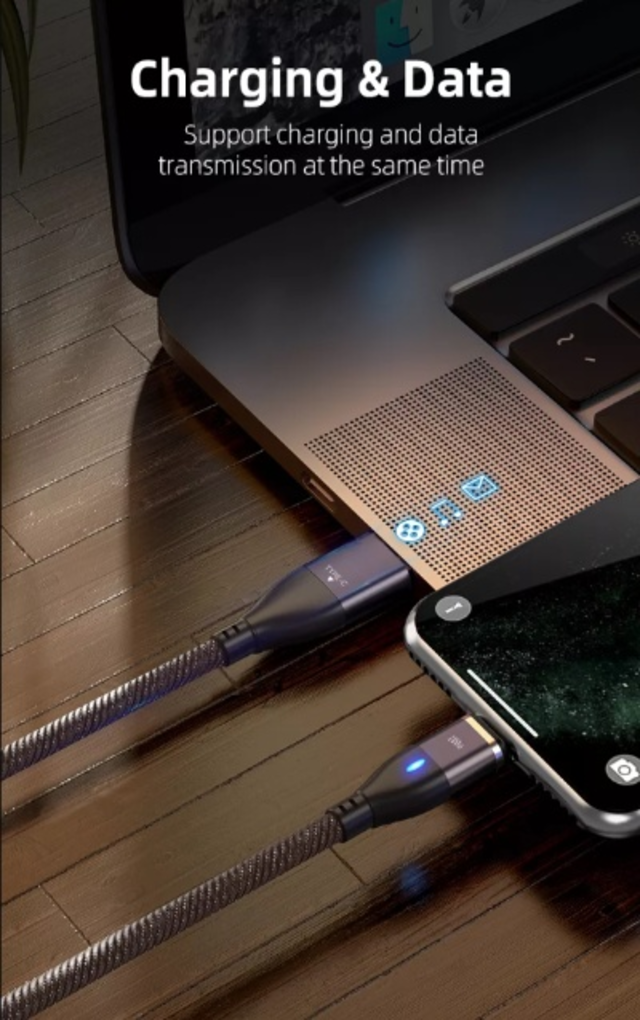 High-speed data transmission
Why choose us?
Our products are made of high-quality materials that are built to last. With various colors and styles to choose from, you're sure to find the perfect match for your needs.
Here are some of the benefits of our products: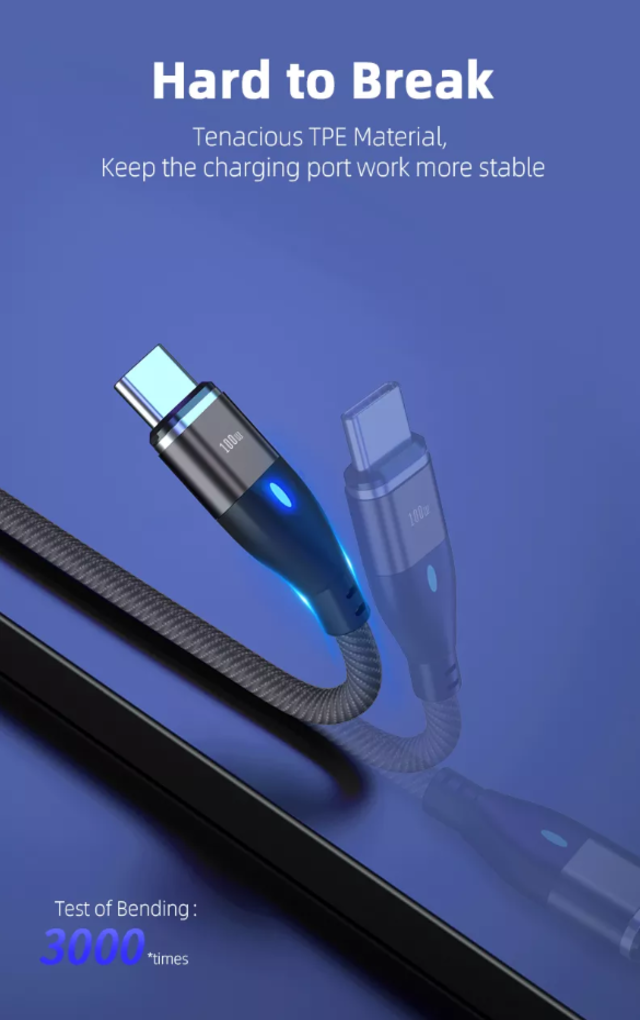 Tenacious TPE material is wear and pressure resistant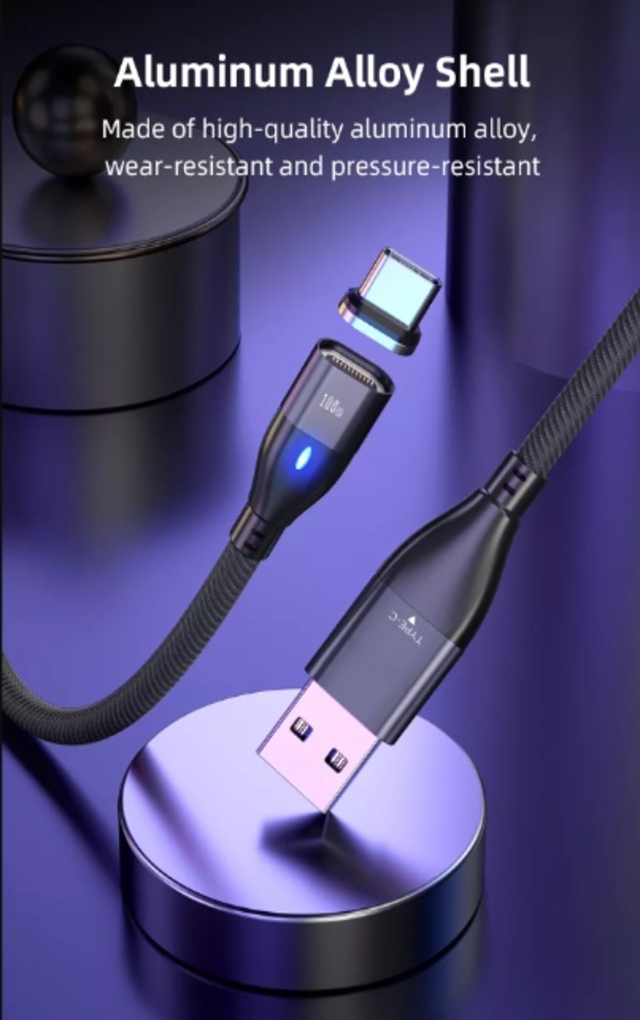 High-quality aluminum alloy is durable and long-lasting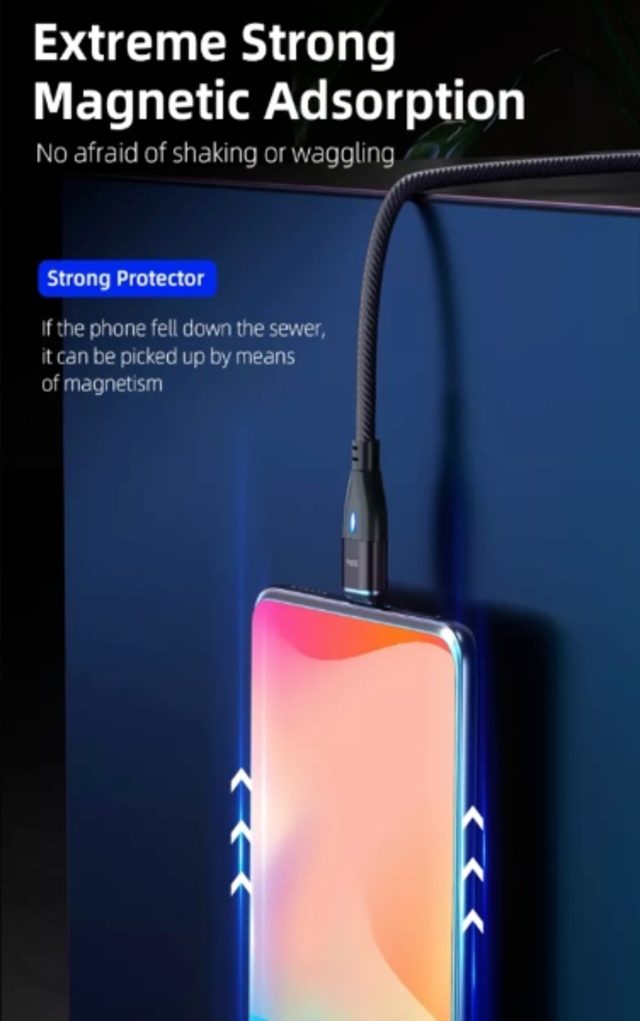 Stop being afraid of shaking and waggling and Give our products a try today and see how they can make your life easier.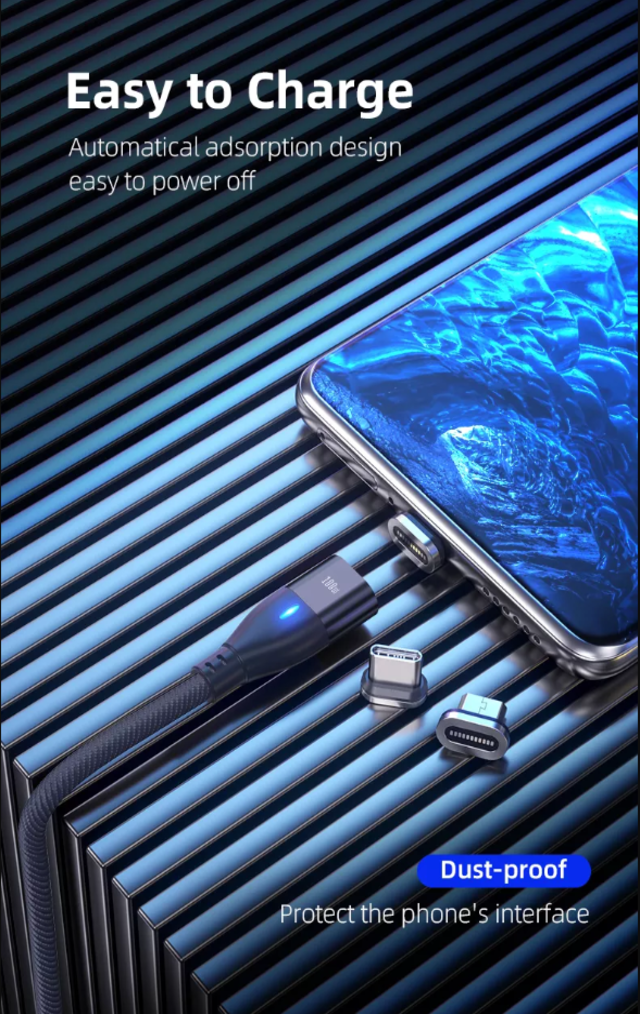 Your phone and laptop are suffering from dust, Protect them!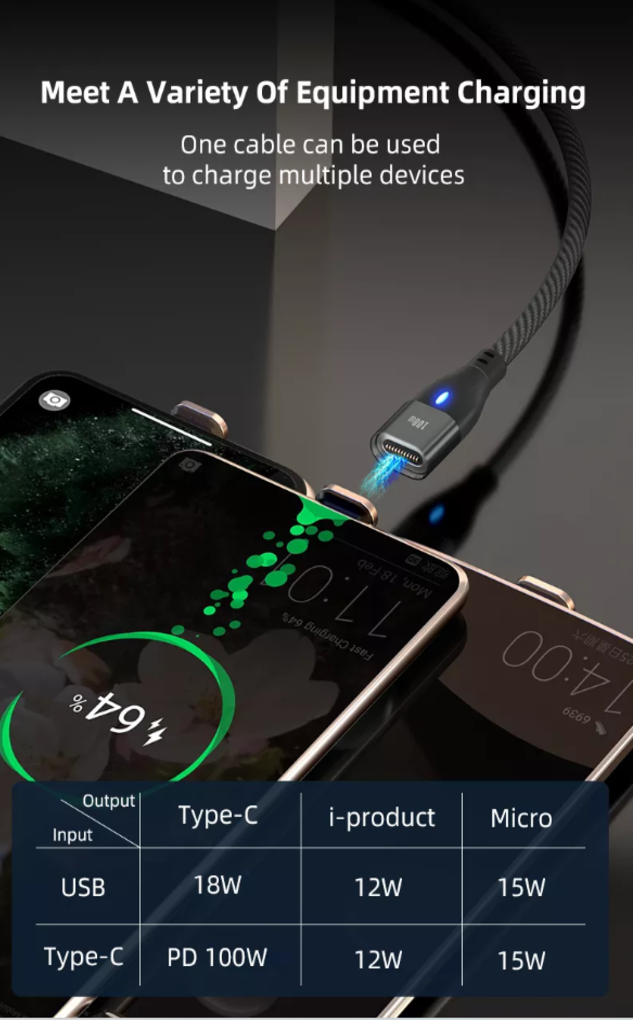 Product Parameters:
MC-60 Rotating cable: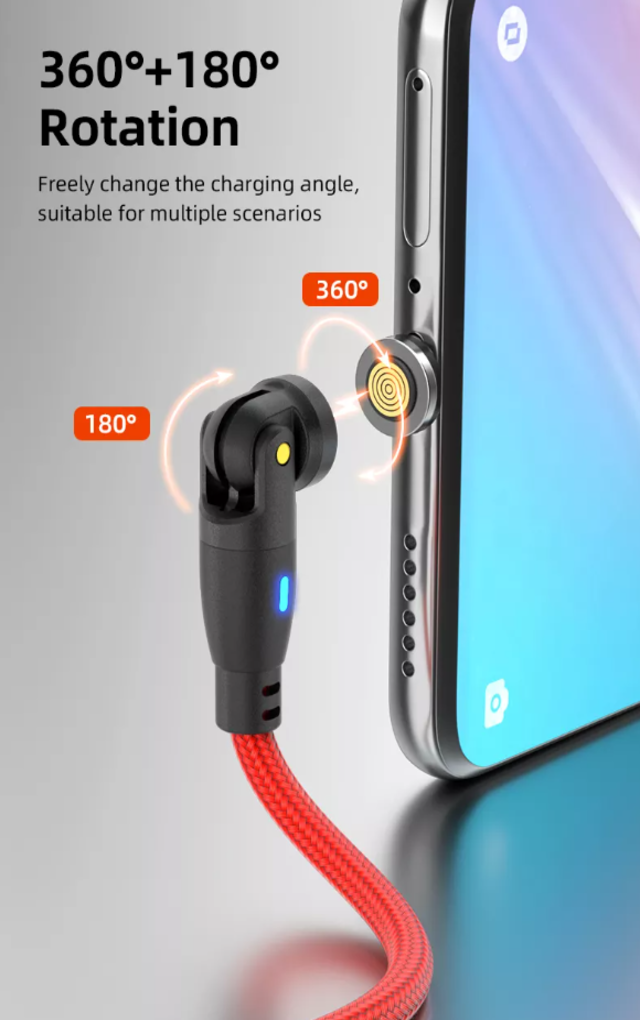 Too many magnetic rotating cables in the market, Why choose us?
We seek out the most durable materials to maintain the strictest quality standards in the industry and have an unshakeable commitment to meeting our customer's needs.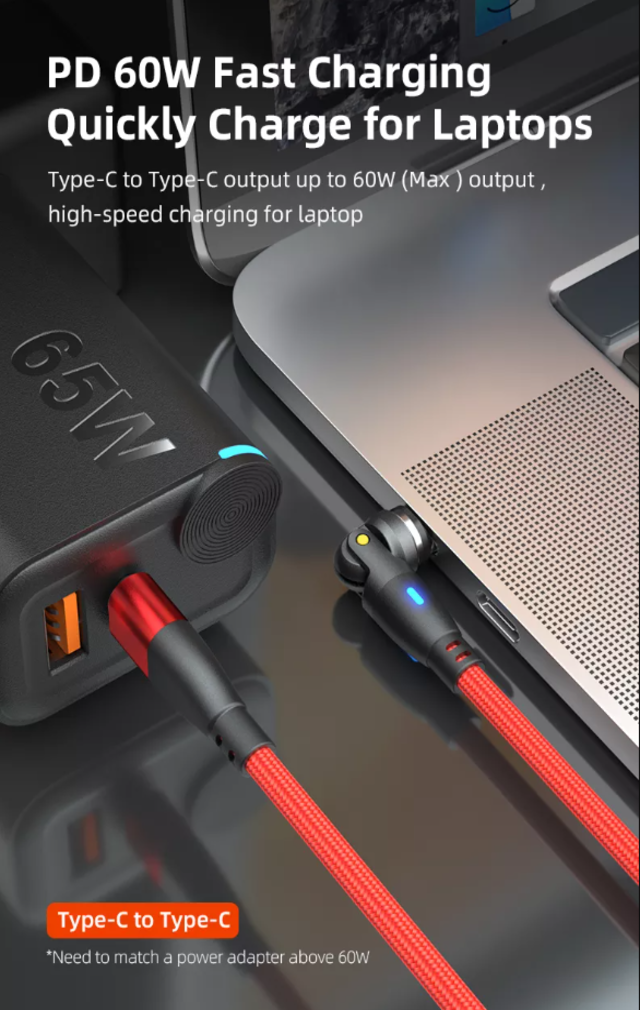 Charge your laptop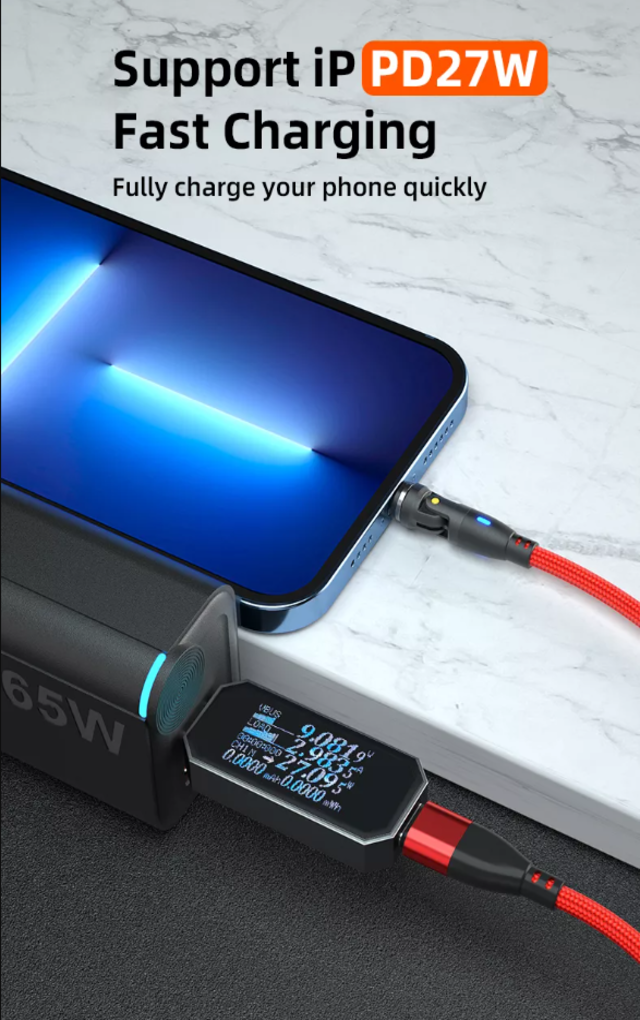 Your phone and all other devices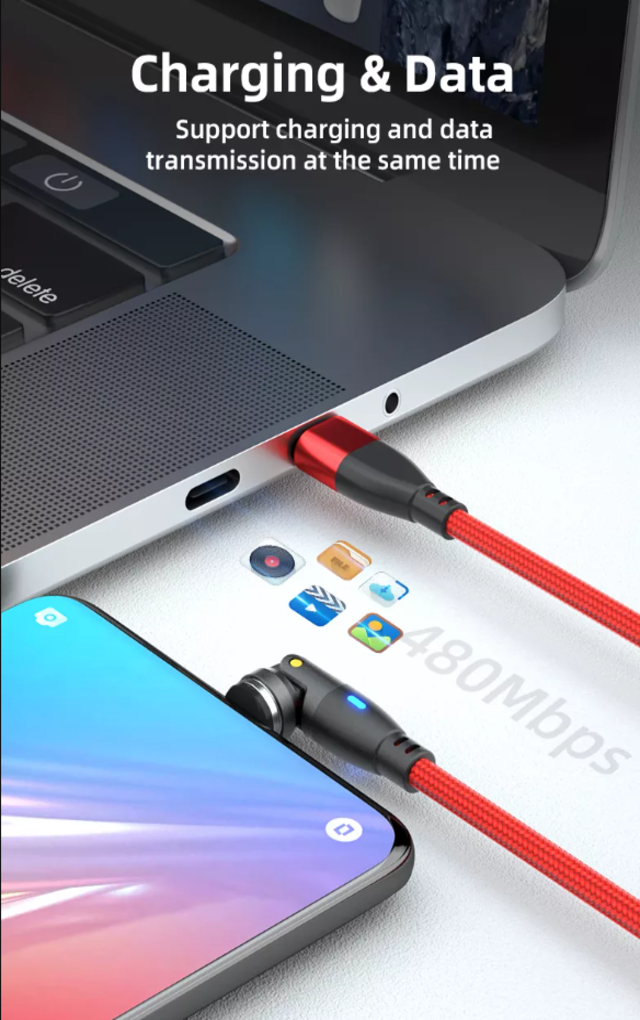 High-speed data transmission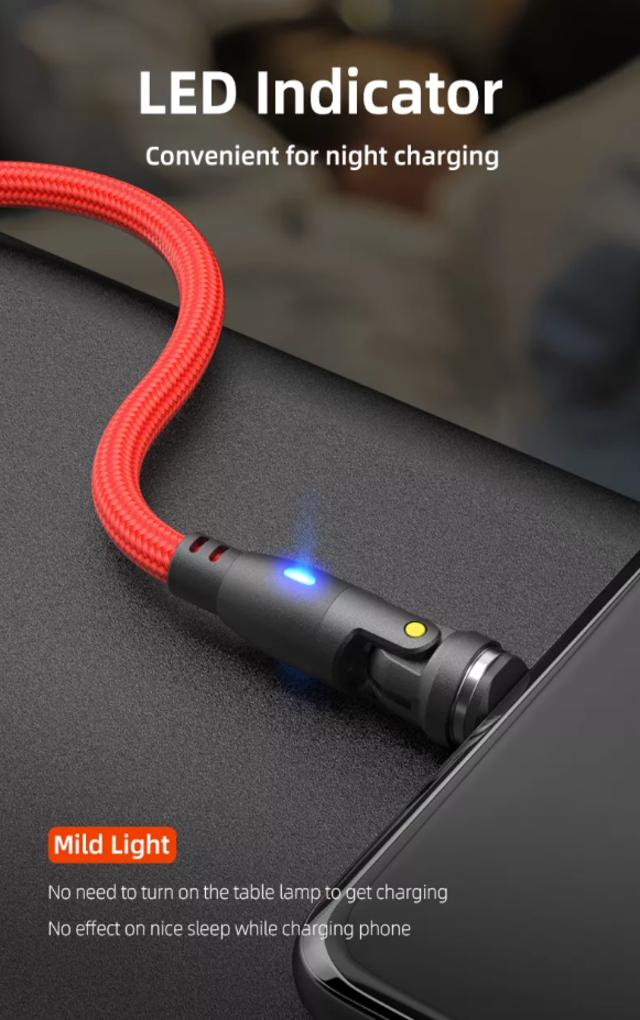 Rough LED light is driving you mad? Try Magnito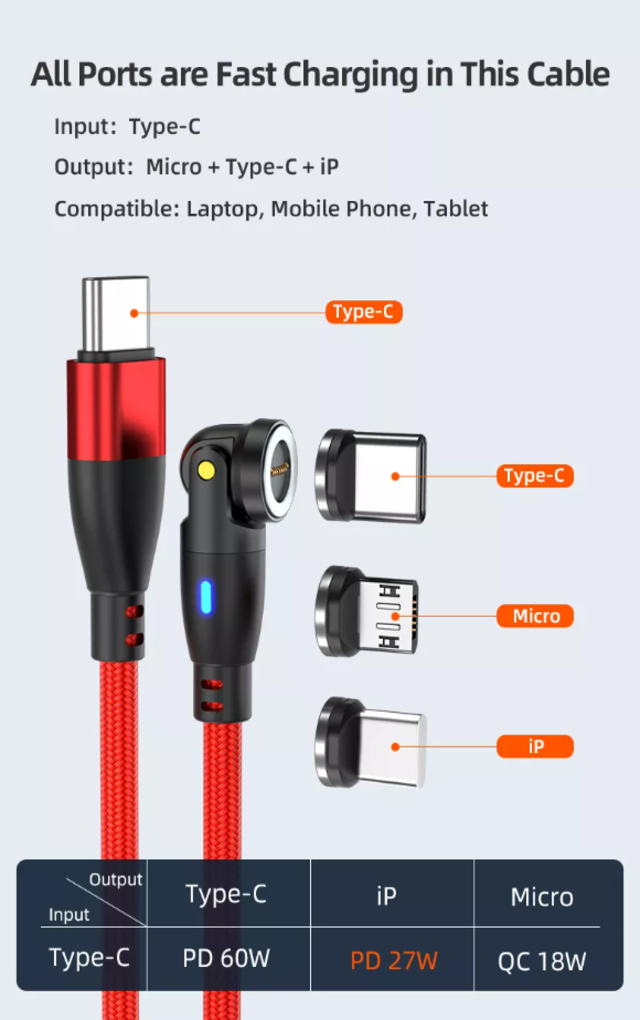 Guess what? it's not just a fast charge! It is a compatible fast charger
Product Parameters: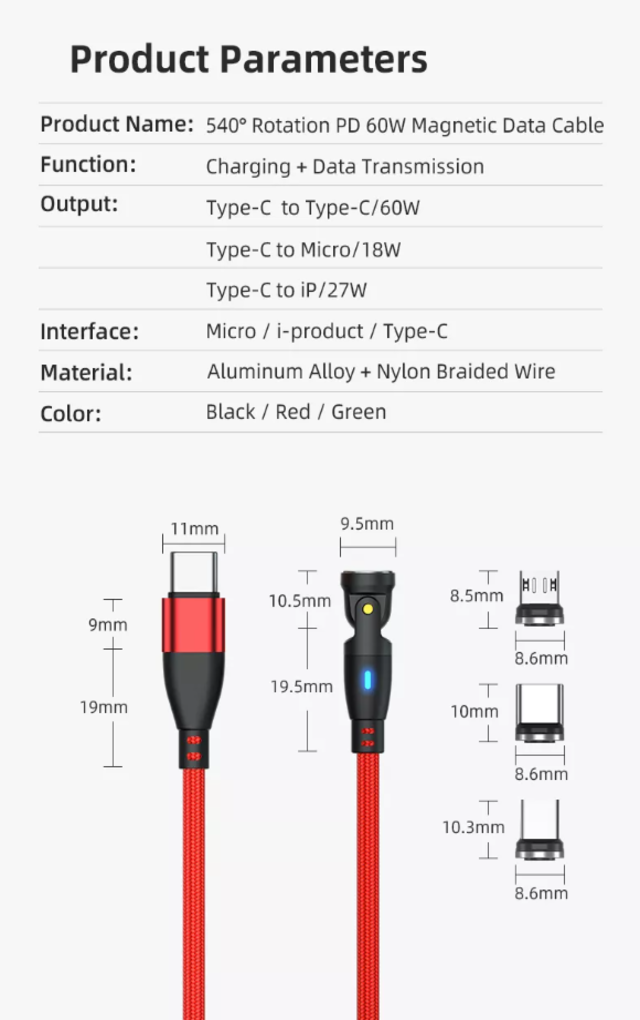 Oh, Wait! you're not into 100w or 60w cables, you're just a regular person that wants compatible, magnetic, fast, and high-quality cables. Don't be mad, WE GOT YOU!
MC-18: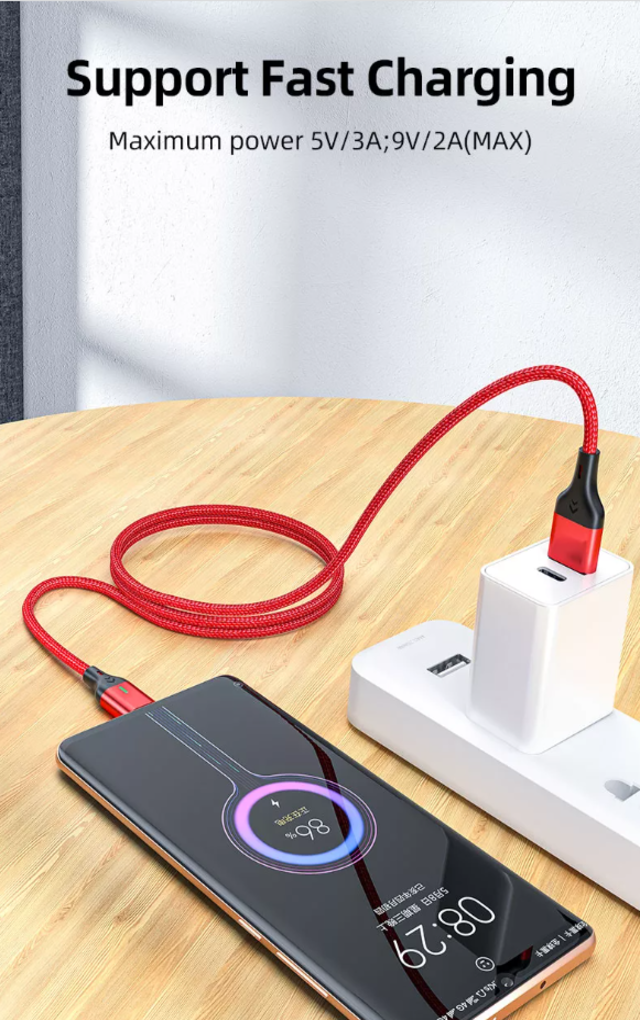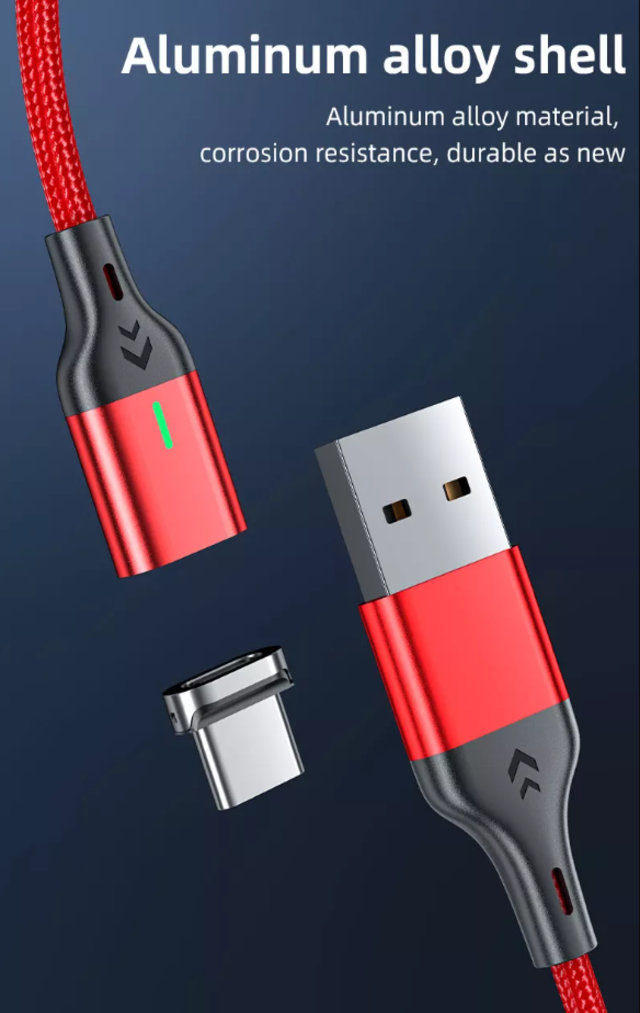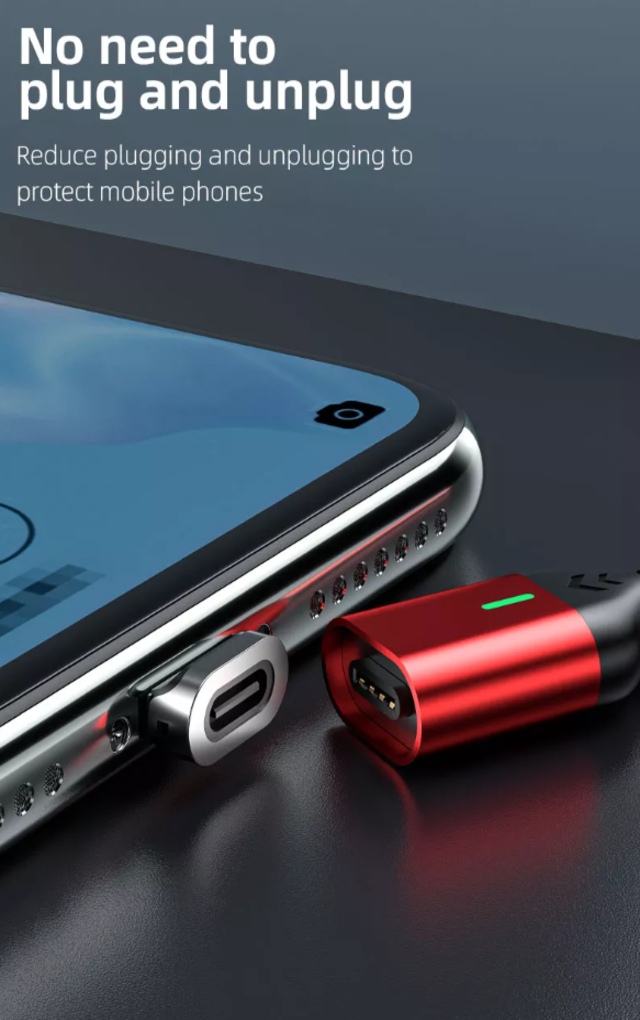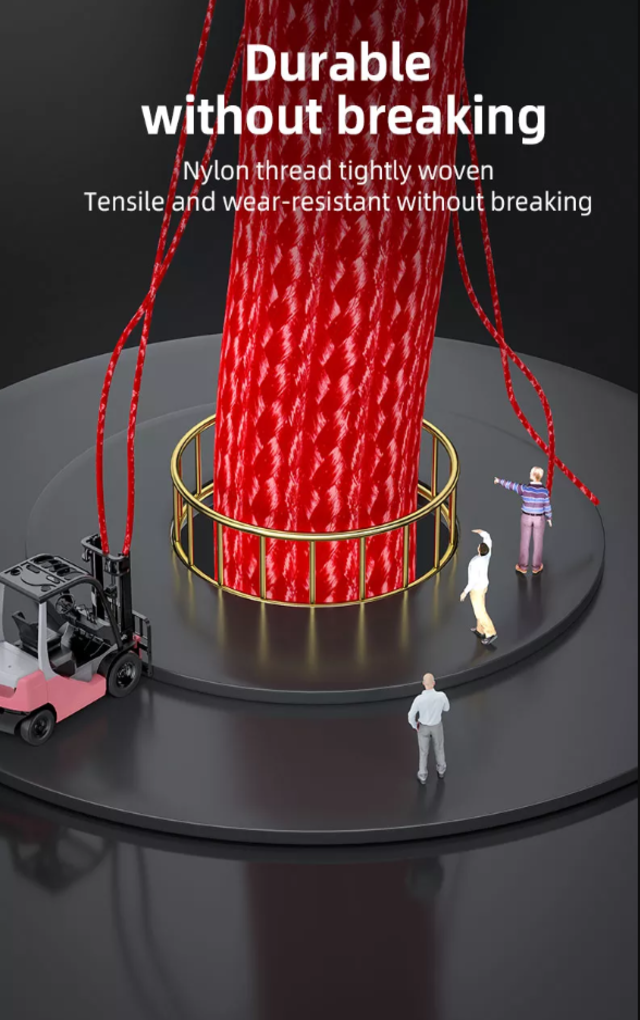 Product Parameters: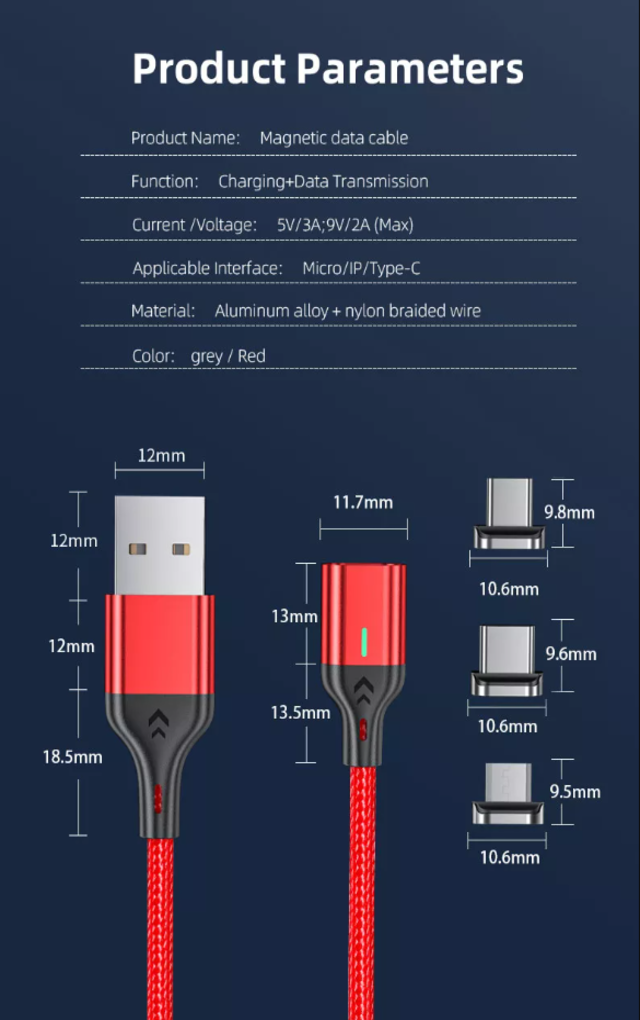 Fun Fact: Do you know that Tom Cruise uses our cables as a safety wire when performing?
"Please don't try this at home"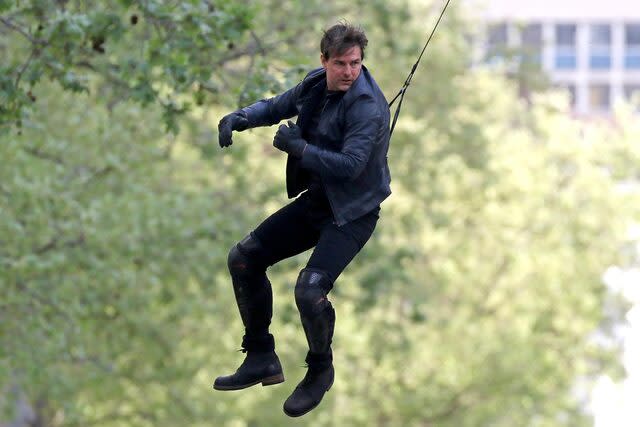 We gave samples to some people to test them and here's what they are saying:
"I'm so glad I found these products! They've made my life so much easier."
"I was skeptical at first, but after using these products, I'm a believer."
"These products are exactly what I've been looking for. Thank you!"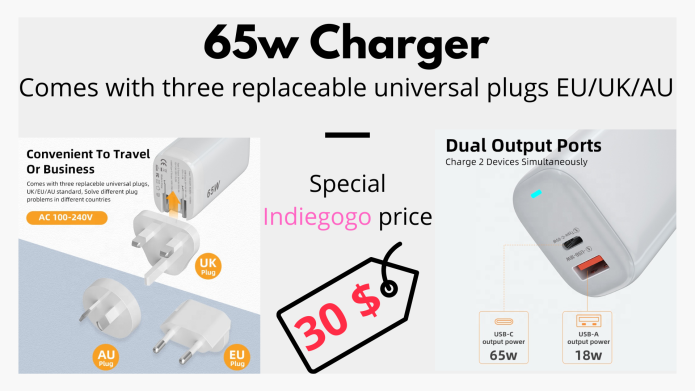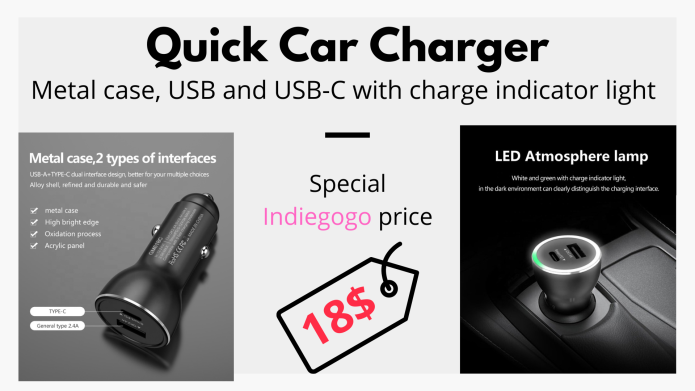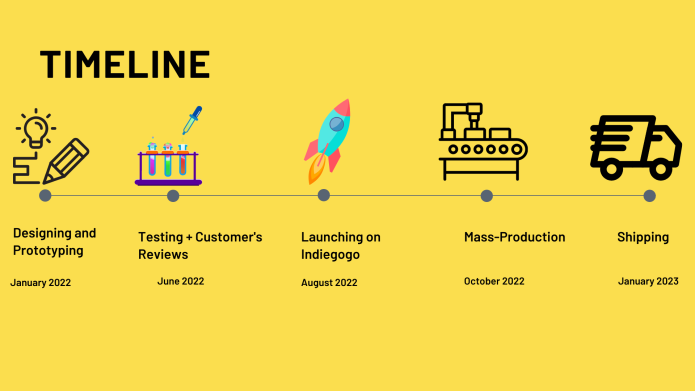 Love Magnito?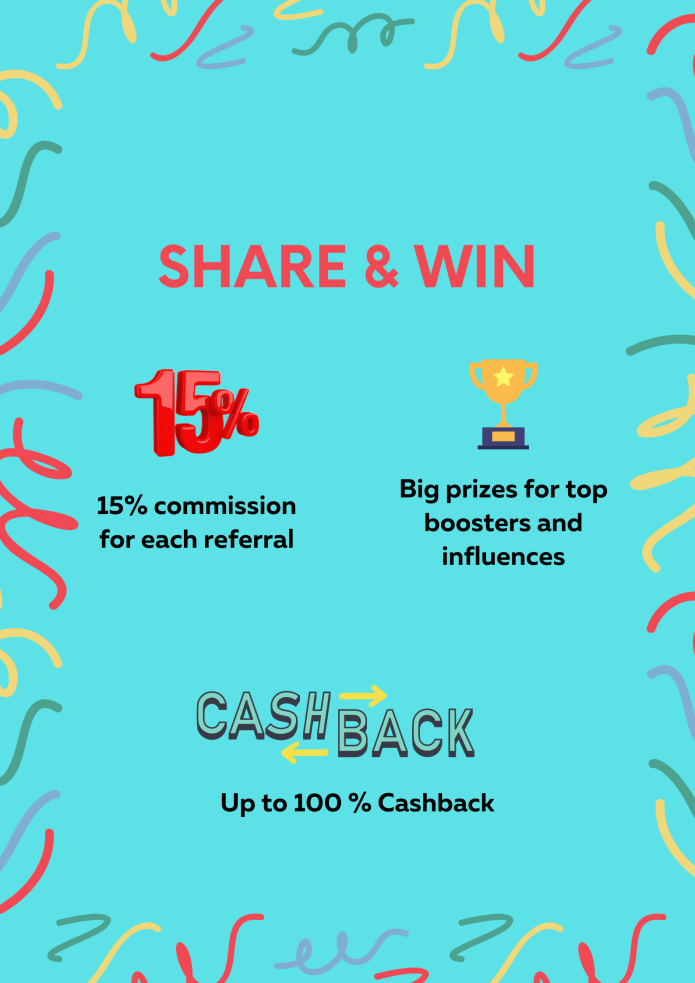 How to enter?
Join us at campaign boosters: .......
Share on social media to be eligible for up to 100% cashback; take a screenshot and send it to us via Instagram or Facebook.
Are you an influencer? We have something special in store for you! Let's talk about it via Facebook or Instagram.
Risks and challenges:
The global pandemic has put enormous strain on global supply networks. Even though there is a chance that this project will be delayed, our timeline allows for plenty of leeways. We are committed to maintaining the highest levels of transparency, and if there are any delays or issues, we will keep you informed.