Grandstand- The Last Stand You Will Ever Need.
Standing Desk, Swappable Media Plates, Built to Last and Huge Vertical Range
Category: Technology
Comments
Campaign Info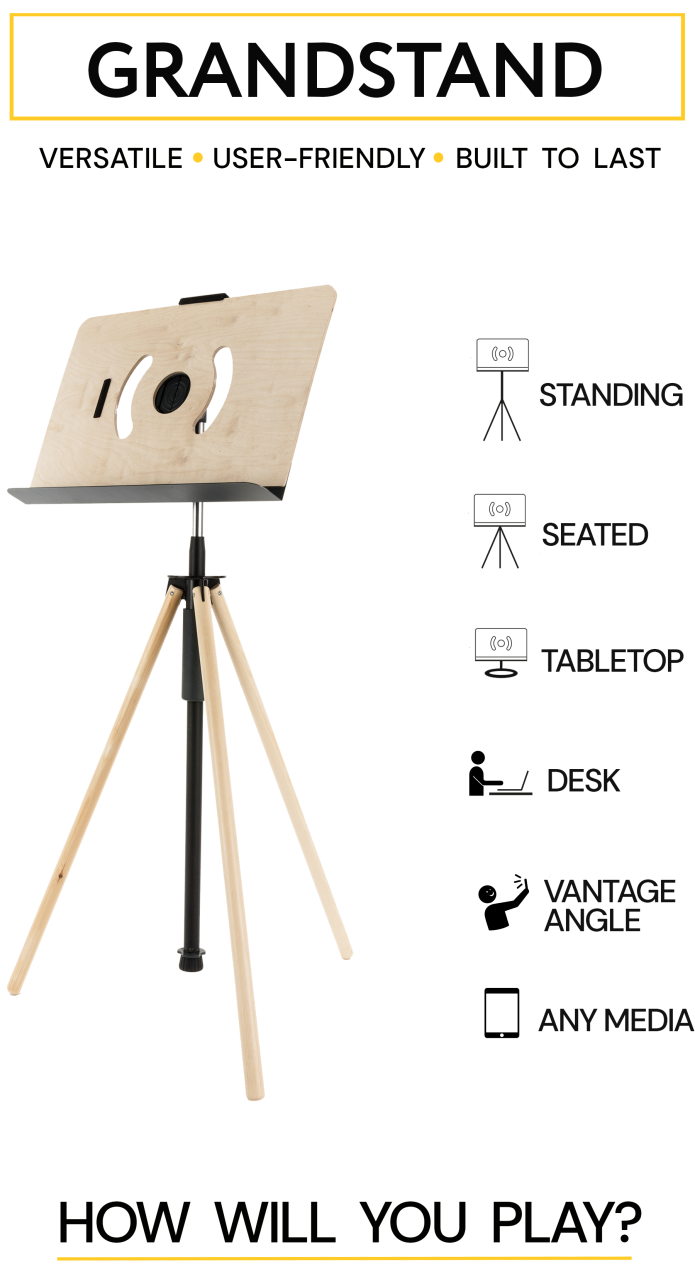 Grandstand is a music stand system designed to fit the way you play. This innovative music platform offers unmatched height range, interchangeable media plates, secure ways to hold a tablet or even laptop and a desk mode providing an instant standing desk. Grandstand's sleek, modern design and finely finished wood fits beautifully into your decor.

You're proud to display your instrument, so why not your music stand? Music stands have always been plain and boring - we decided to raise the standard, with premium materials, finishes and patented features.
Like a grand piano, Grandstand is beautiful and designed to be admired. It commands attention and will be by your side for years to come. It is versatile, aesthetically pleasing, and oh-so practical. This revolutionary platform offers maximum playing options, without sacrificing style.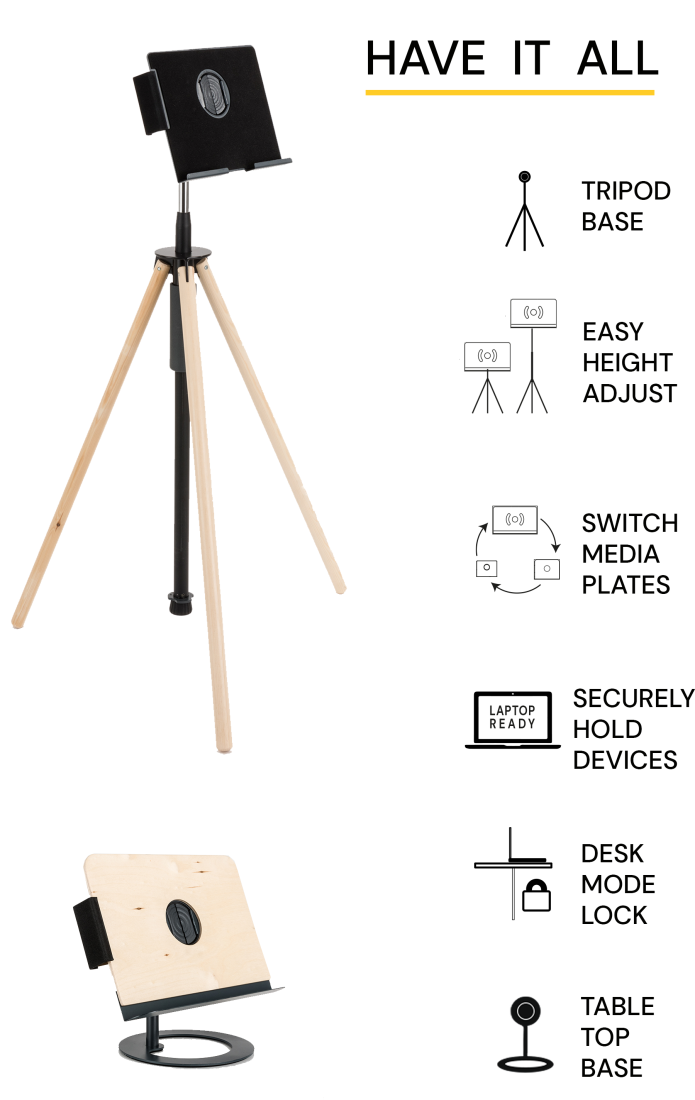 The system's Tabletop Base is always on hand whenever - or wherever - you need it. You'll be setting up for impromptu performances quicker than ever before. Switch our versatile media plates from full standing height to tabletop with a single, satisfying click.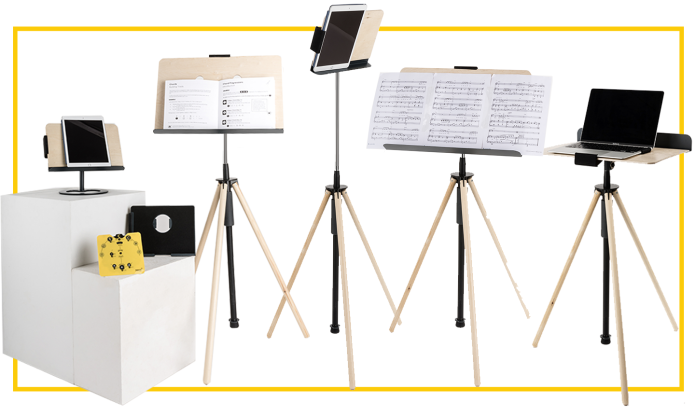 The way we view sheet music has changed a lot over the last 100 years. Unfortunately, home music stands haven't kept up. Musicians need more versatility than ever before. You need a stand that easily adjusts to your playing style. A stand that can accommodate both traditional and modern media. For many of us, this meant owning and storing multiple music stands. Grandstand leads the way in modern music stands, with media plates that accommodate tablets and laptops in addition to the classic books, binders, and sheets. All media can be displayed at any angle within seconds.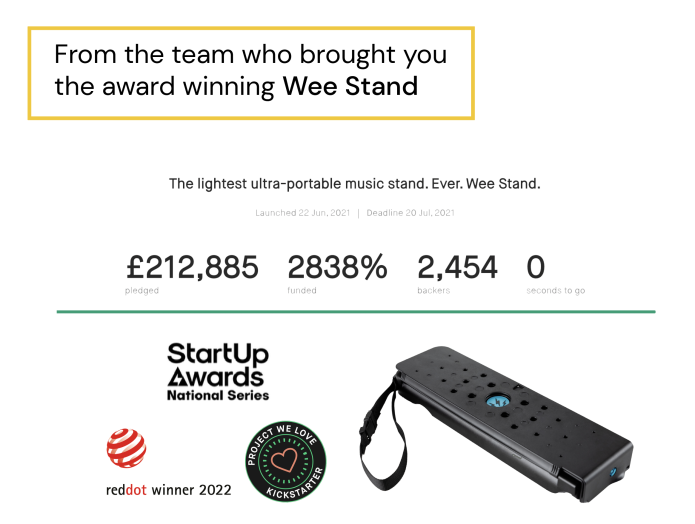 Here at Noisy Clan we want more people playing more music. Last year we delivered Wee Stand, the world's lightest, ultra-portable music stand. Wee Stand's Campaign was a huge success and we raised over $300,000 in pledges and shipped stands to over 47 countries via Kickstarter and Indiegogo InDemand.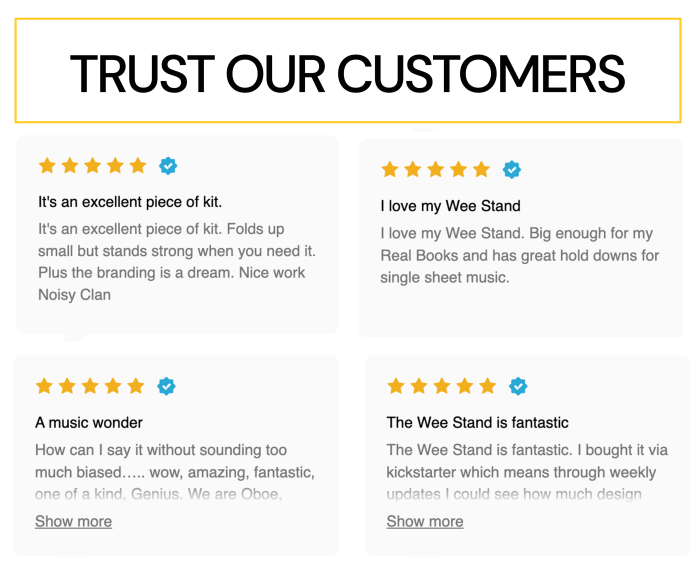 Our campaign was incredibly rewarding and exciting, we experienced our fair share of challenges and learned a great deal along the way. This has led to a number of changes in how we will manufacture and deliver Grandstand. We are working with manufacturers located in both China and the UK as we strive to bring as much of the manufacturing and assembly as possible to the UK.
We are committed to a top-notch customer experience. Communication is at the forefront of everything we do at Noisy Clan; our regular backer updates were crucial in our previous campaign. From launch to delivery, our weekly updates will keep you in the loop throughout the entire process. We want you to love your Noisy Clan products. Our Noisy Clan will assist you every step of the way, so we are on hand to guide you through our 30 day money back guarantee should you need it.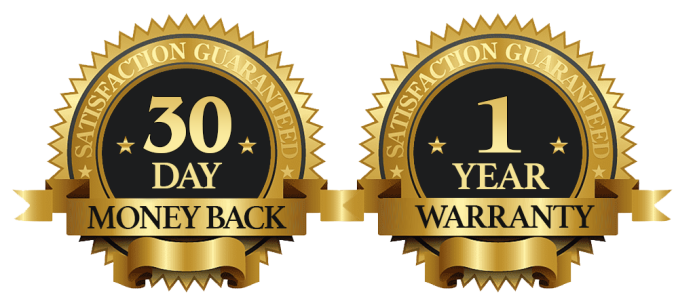 Since the reveal of Wee Stand our customers have been incredibly passionate about music and vocal about what they'd like to see from music stands of the future. This real world insight was invaluable and the design of Grandstand addresses these shared pain points. Wee Stand tackled challenges faced by musicians outside the home. Grandstand solves issues for at home musicians and is a piece of furniture you'll be proud to display in your home.
We received a wealth of customer suggestions and requests for features that we incorporated into GrandStand.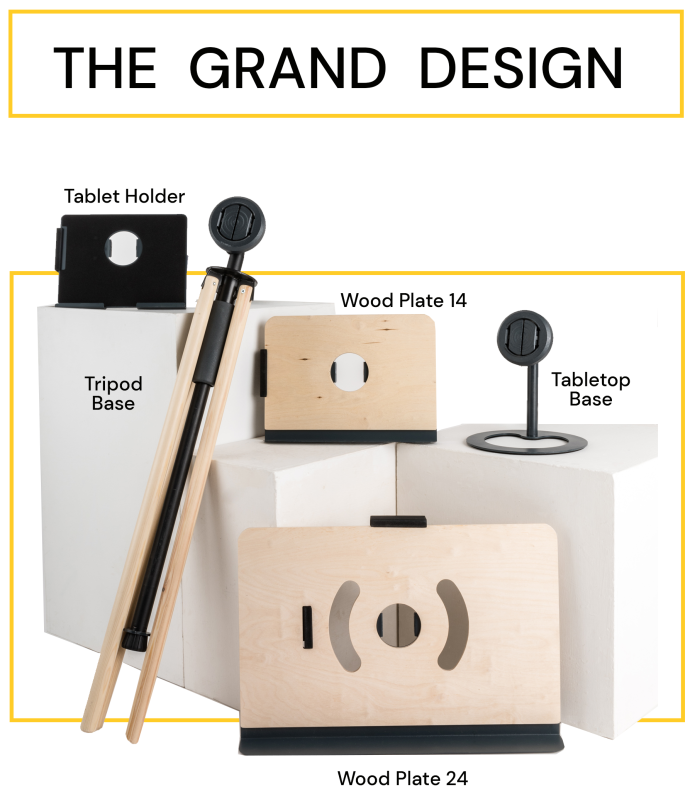 One of Grandstand's core features is our Quick-Click swapping system. The unique centre clip allows you to change your media plate in seconds, adapting to your musical needs. You can swap from a traditional music stand setup to a specialised tablet holder with a simple, satisfying click.
All of the plates that fit the elegant Grandstand base are also interchangeable with the Tabletop Base that is perfect for smaller spaces. Whether you are composing at your desk or video chatting with gran, this little wonder is always 'handy' to have around!


This tripod boasts a double-telescoping system. The base features a friction mechanism for quick, 'instant gratification' adjustments, and a twist-lock mechanism for extended range adjustment. This dual approach means that Grandstand Tripod Base works equally well for a seated musician or a 6'5" trombone player!

Grandstand's Tabletop Base is always on hand whenever you need it. You'll be setting up for an impromptu performance quicker than you ever have before all while using the same media plates as the Tripod Base which can be swapped out with a single click. Turn your music stand into a tabletop stand, recipe book holder and more.

This feature locks your media plate in a horizontal position for additional security when using laptops and other devices.

Grandstand is designed to accommodate your preferred viewing angle. Enabled by the Secure Clip, the unique over-vertical feature means that the plate can safely point downward. A useful feature, particularly during video calls or virtual lessons and performances.

Grandstand is more than a music stand; it's a piece of music furniture designed to be displayed in your home. The sleek wooden finish on its legs and media plates turn a music stand into a lovely and useful addition to your space.

Grandstand's tablet holder is made of sturdy, powder-coated steel. The cushy top layer and padded Secure Clip offer further protection for your valuable devices and there is a gap in the shelf to allow for easy charging. The tablet holder works in either portrait or landscape orientation.

Grandstand easily adjusts from full standing height to a comfortable seated position with a simple pull of the central pole. Quickly adjust to the perfect height with our twist-lock range adjustment. Using the Grandstand System, you can go from 20cm in Tabletop Mode to 52cm (20.5in) in Seated Mode to 160cm (63 in) in Standing Mode. Now that's some range!

Our interchangeable media plate systems allows you to click and swap from one media plate to another or from the Tabletop Base to the Tripod Base in seconds with a simple and satisfying click. You can tilt it up to 90 degrees with our tilt and lock system.

Quickly rotate your media plate 360° on Grandstand's Tripod Base or 45° on Tabletop Base without extra adjustments. Get to the fun part - PLAYING!

Our strong, padded Secure Clips hold your tablet or laptop firmly, without fear of it flying off mid-performance. They also hold your device securely, without interfering with your view of the music.


Grandstand Tripod and Tabletop Base have the ability to swap media plates with a simple and satisfying click means they can be used in a variety of ways. Play seated, standing or at a desk. With our easy-to-use friction-based system AND twist and lock mechanism, all is possible. Make music your way - or use the system in many day-to-day life scenarios, such as Zoom calls and holding recipe books.

Grandstand's Quick-Click mechanism, sturdy lock hinge, easy adjust pole, and Secure Clips were all designed to be accessible and user-friendly for our customers. Adjust your music stand to adapt to your playing environment or situation without fuss.

Say goodbye to clunky, unattractive music stands that look out of place in your home. Grandstand's high-grade wood and superior finish ensure that it looks "at home," no matter where it's placed.

Grandstand's Tripod and Tabletop Base are both sturdy and designed to stay in place thanks to the design and weight of their base units. No more worrying about knocking over your music stand!

Sheet music has changed a lot in the past 10 years we've made a large shift to using tablets and laptops, so it's important our stands were designed with this in mind. All our media plates are equipped with easy to use secure clips which won't scratch or damage laptops or tablet screens. Focus on playing instead of worrying about your devices

Can't stop won't stop! Not seeing a plate perfect for your needs? We have many ideas in the pipeline and plan to produce additional plates to build on your Grandstand platform. Future plans include conductor, trap stand and extra wide plates (for 5+ sheets side by side)! Plus, media plates are easily replaceable in the event they are lost, stolen, or *insert strange ways we somehow break stuff* without having to replace your base.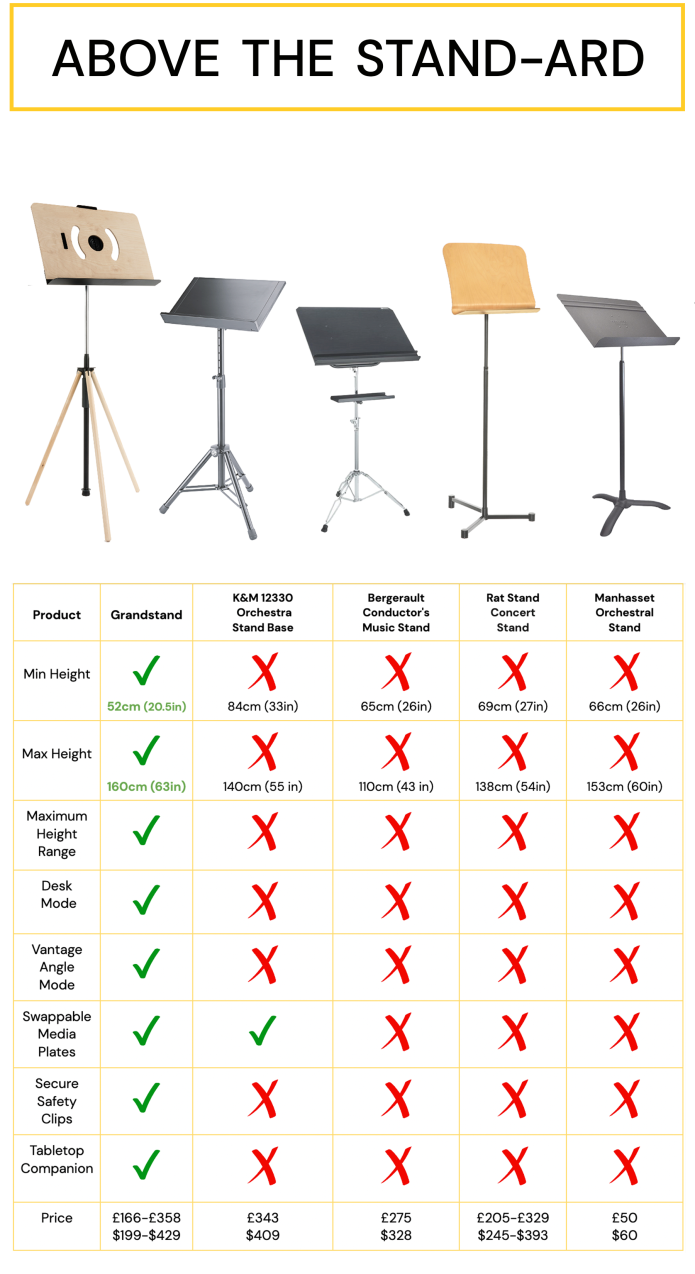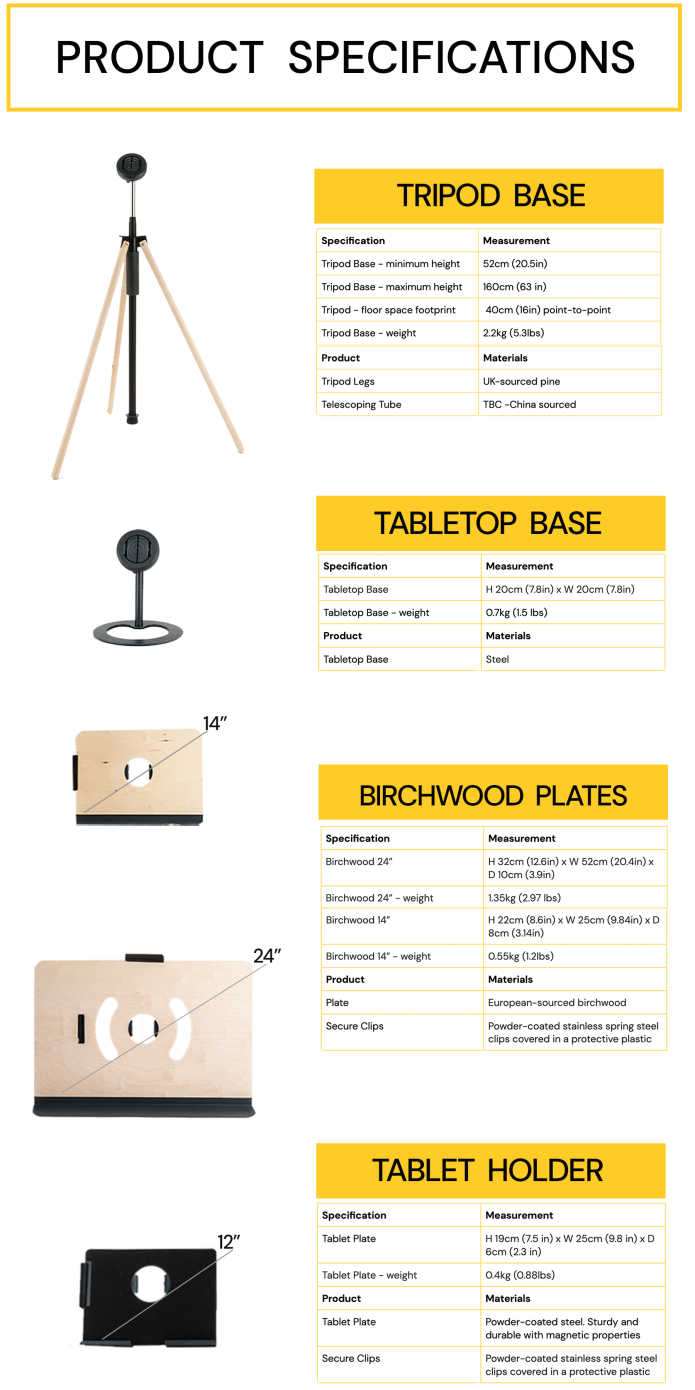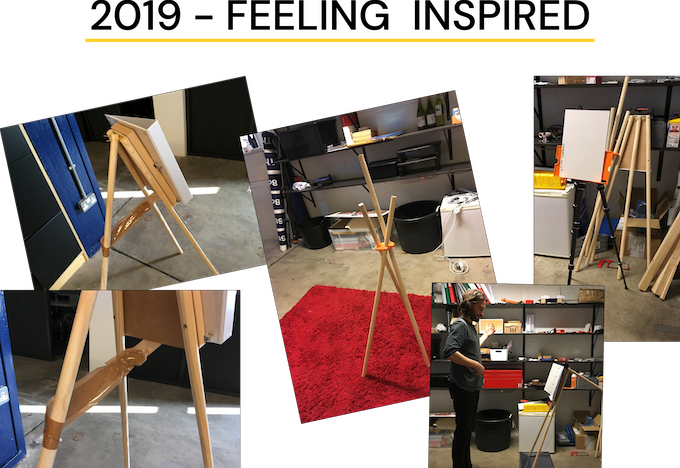 As we were working on Wee Stand we generated hundreds of ideas that we considered, rejected or agonised over. We obsessed on whether they would work for the most portable stand on the planet. Many of those ideas were great but would have compromised the design and performance of Wee Stand. As we focussed in on Wee Stand we kept the best concepts and ideas that weren't used in Wee Stand and banked them for a music stand that would work in the home and that was not focussed on versatility over portability.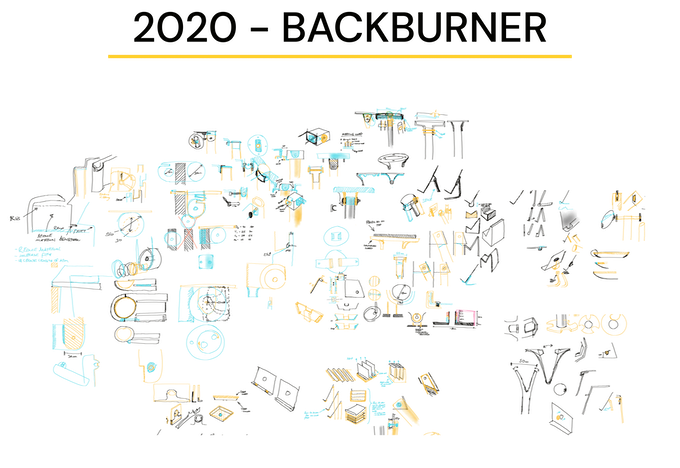 As we were working on Wee Stand we generated hundreds of ideas that we considered, rejected or agonised over. We obsessed on whether they would work for the most portable stand on the planet. Many of those ideas were great but would have compromised the design and performance of Wee Stand. As we focussed in on Wee Stand we kept the best concepts and ideas that weren't used in Wee Stand and banked them for a music stand that would work in the home and that was not focussed on versatility over portability.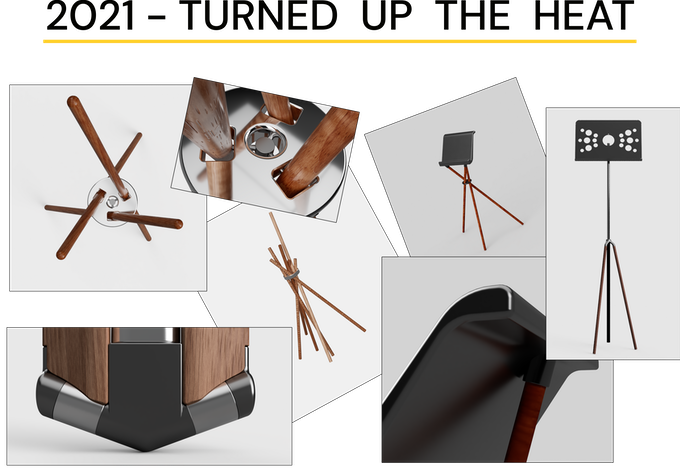 We wanted to follow up the success of Wee Stand with a stand that addressed home use. We went back to the drawing board (ok maybe our CAD tools) and reimagined how a music stand might fit into the home. Initially we considered how to make it stow away, but quickly realised that Wee Stand could do that and we wanted something more for the home. The final design direction embraces being proud to leave your stand out in your home, making music more likely to happen on a daily basis.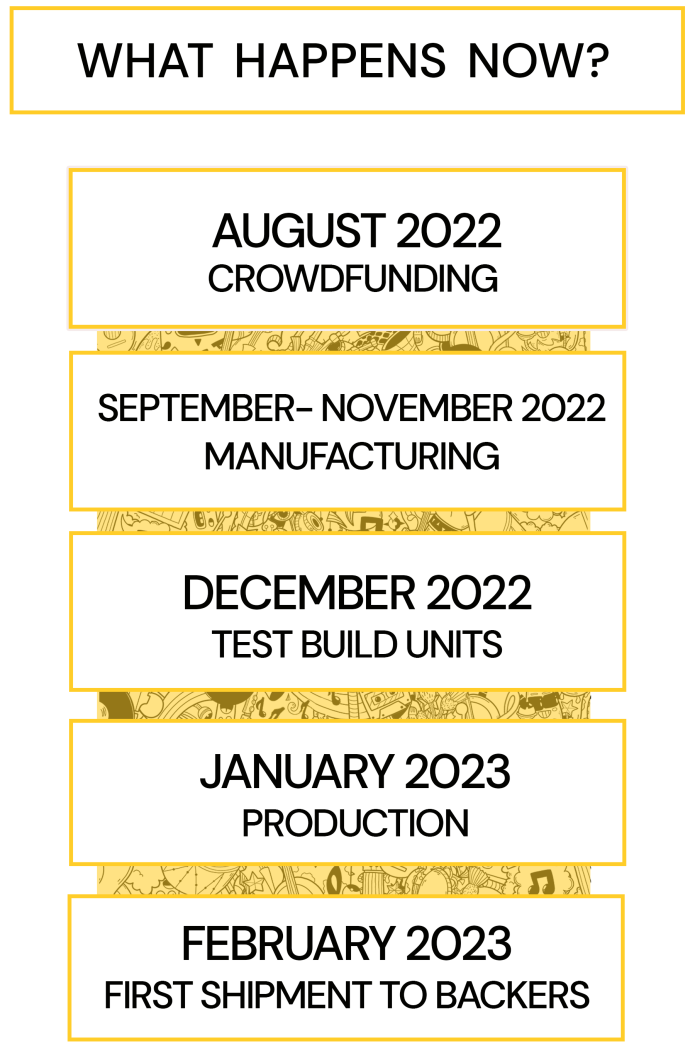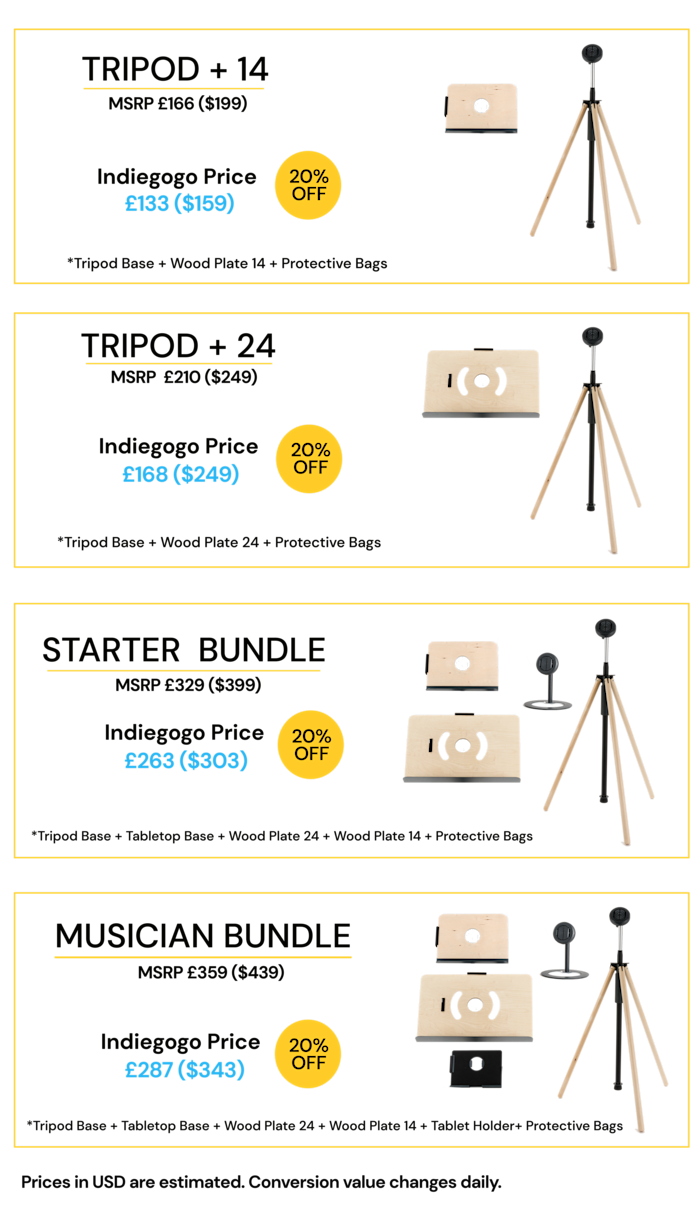 Like most incredible things in life, making music is best when it's done together. We want to collaborate with you to create more innovative music accessories. Sign up for our mailing list, follow our social media channels, or contact us directly for more information about the Grandstand Platform or to stay up-to-date on future products!





Risks and challenges
Manufacturing: Due to ongoing travel, shipping, and logistic issues, we are diversifying our manufacturing. We are doing as much of the part manufacturing and assembly locally (in the UK) as possible. We have been quoting the project to a number of UK suppliers to find a group that we can work with. We have built multiple rounds of prototypes and have identified the better vendors through our journey. This means we will be able to easily visit UK facilities at short notice and troubleshoot any issues on the same day they come up. The ongoing situation with Russia and the Ukraine has put the supply of high grade plywood in jeopardy and our suppliers have concerns about the price and availability of sheet material which we are following and working to mediate by considering alternative materials and suppliers. We will continue to source some parts from China, as certain parts have proved either impossible or uneconomical to build here in the UK. For these parts only, we have found existing suppliers in China that have weathered the pandemic and who are able to manufacture the components at scale.