Tern: Healthier Homemade Ice Cream in Minutes
Make artisan style ice cream in 5 mins & enjoy healthier frozen treats just how you like them
Category: Food & Beverage
With Tern, you can make healthy ice cream at home. But we're wondering if you can make wine or whiskey Icecream in this bad boy!?!?! 👀 🤣
Ratings
There haven't been any ratings yet.
Comments
Campaign Info
A la mode. Anytime
The Tern craft ice cream maker combines the artisans desires for quality finished ice cream with a fast, interactive experience for your family or friends. You can also use healthier ingredients and craft your recipes exactly how you want them.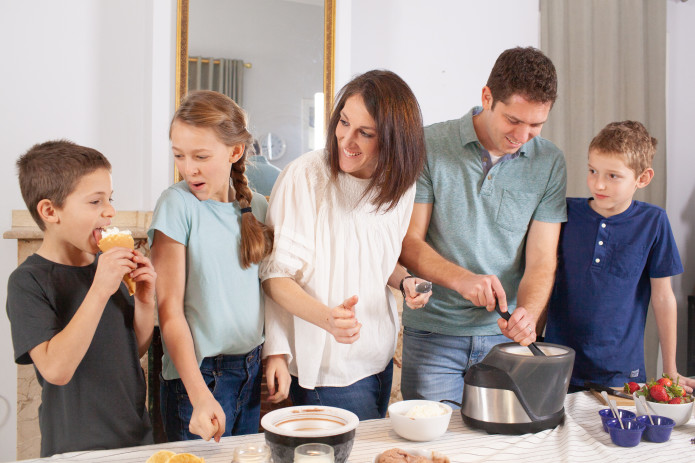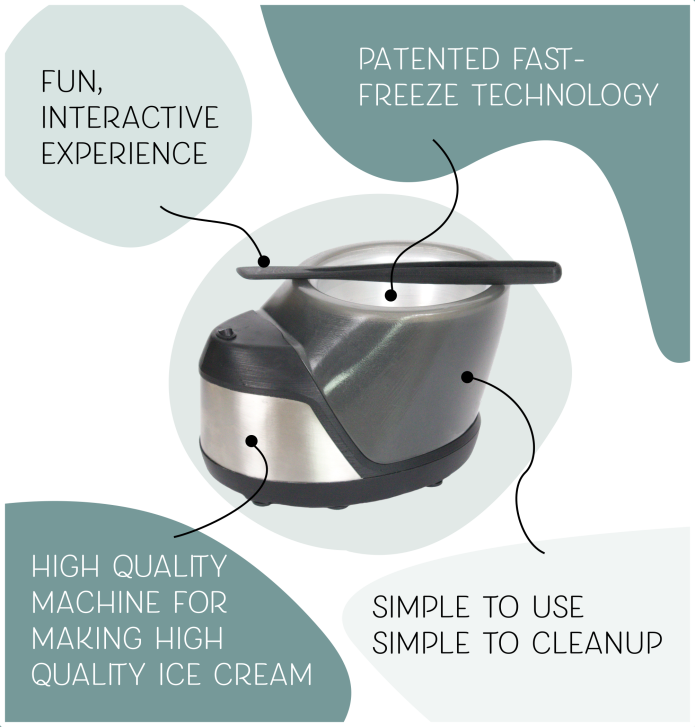 Faster Churn
With Tern, you can churn a pint of ice cream in 5 minutes, the speed of a professional artisan machine used in ice cream or gelato shops. The faster a batch of milk, sugar and cream freezes into ice cream, the smaller the ice crystals and air pockets folded inside. And tiny particles create a richer, creamier finished ice cream, while still using healthier ingredients.
How fast a batch of ice cream freezes depends on multiple things, such as temperature and volume of mix and mix ingredients but the freezing time with Tern can be as little as 2 minutes for a half pint or 10 for a pint of very sweet sorbet.
Higher Quality
By churning your ingredients very rapidly, your Tern craft ice cream maker lets you create an artisan-style product. The result is a smooth, dense ice cream with a rich consistency and superior flavor.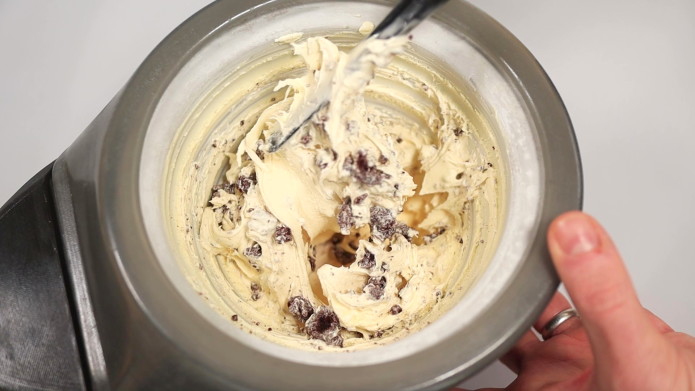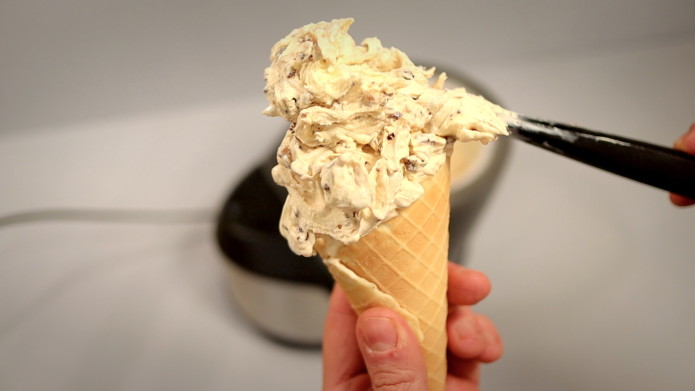 Healthier Ingredients
You can customize your recipe by using non-dairy milks, pureed fruit, avocado or nut butters for healthier frozen treats.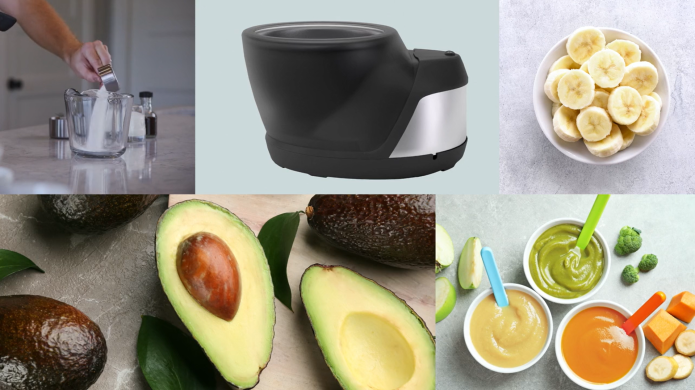 Make sorbet or a frozen smoothie bowl in minutes from fresh fruit and veggies for a fresh start to the day.
High quality ingredients make the highest quality sorbet, gelato and ice cream. Just like this strawberry sorbet made from fresh strawberries, churned in minutes.
Interactive and fun
With the Tern craft ice cream maker, making homemade ice cream becomes an experience the whole family can enjoy. From taking turns churning to picking flavors and mix-ins, there is more than just amazing ice cream - there is an activity to look forward to. The churning is just a matter of minutes so it is fun to watch how the ice cream progresses toward the smooth finished ice cream that everyone is anticipating. Some compare the experience to throwing a clay pot on a wheel - gently moving the mix as it transforms from a liquid to a creamy ice cream. You really are the artisan making a one-of-a-kind dessert just how you like it.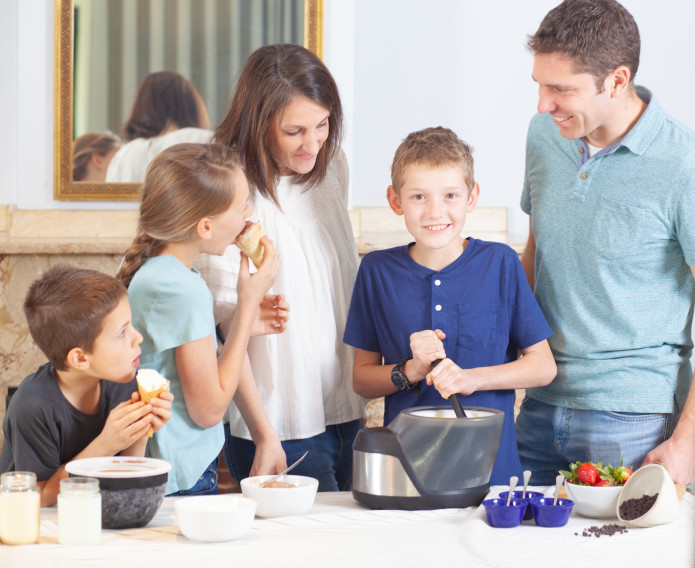 What Makes it Better
Compared to other home ice cream makers, Tern makes a higher quality product in a fraction of the time. We also designed Tern with a streamlined shape and ultra-quiet function, to make the ice-cream-making experience fun for everyone. With a removable cover and rinseable base, the cleanup is quick and easy as well.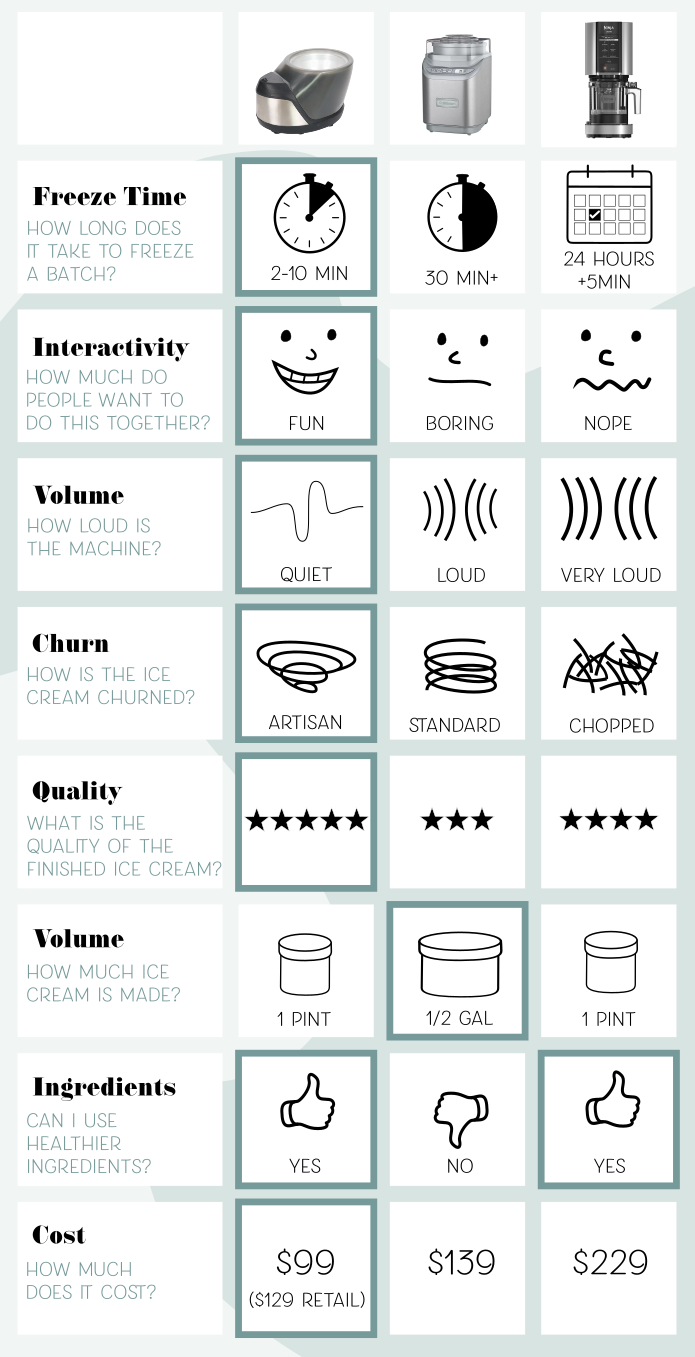 What Others are Saying
Don't take our word for it! We have had the privilege to share our creation with many people and here is what some of them have to say:

We have also received this positive feedback:

Backer Options
Exclusive Indiegogo Pricing:
Show Your Team Spirit:
Design
This project came out of a love for ice cream but a limited ability to make amazing ice cream at home. I began experimenting and making more and more ice cream. I also began reading ice cream making books, including the ones written for the ice cream industry, so I was confused why home ice cream recipes use so much fat and sugar, far more than what is found in any premium ice cream at the store. I thought buying a bigger, more expensive ice cream machine would make a higher quality and smoother finished ice cream, but I discovered the more expensive units were not any better than the lower cost machines. What I learned was that the key to higher quality ice cream is fast freezing. So that is what I focused on - how to get the ice cream to freeze quickly and therefore make higher quality ice cream at home.
After years of trial and testing, dozens of design integrations and hundreds of hours of making ice cream, we found what we consider the ultimate home ice cream maker.
From my experience designing, testing and launching new products that are sold all over the world, I know what it takes to bring a product to market. Every detail needs to be considered for use and quality so that the machine can be enjoyed in a reliable way, and that is exactly what we have done with the Tern craft ice cream maker.
Timeline
We have been thinking about ice cream and ice cream makers for a long time. Our experience and history will now allow us to offer an ice cream maker that will benefit other ice cream lovers as well.
Our design is finished and we are ready to move into production, but we need your help by backing this project!
Who we are
We hope that the ice cream made on the Tern craft ice cream maker will be the best in the world.
We are a team of people passionate about ice cream but even more passionate about joy in the lives of the people we work with. Between the five of us who are involved in Tern, we have decades of experience doing product design, manufacturing and running businesses. So we are well prepared to make and deliver with the quality and assurance that you expect.
We are also privileged to partner with BIG to support the marketing content and help to launch our company.
Risks and Challenges
Our team is experienced in design and manufacturing so we have been through the process of launching products and delivering even after problems arise in the process. While we cannot always predict different challenges or issues that will need to be resolved, we have experience solving many problems and delivering quality products.
We know that world supply chain management is a big variable but with our manufacturing partners lined up we feel prepared to face the challenges that may arise.
We are also committed to a high level of communication and customer service. As we progress you can be assured that we will be available to talk and share updates if and when anything happens. By supporting the project, you are becoming part of the team and joining the ride of sharing amazing ice cream with the world.
Other Ways You Can Get involved
We can't do this without an amazing community of support. Even if you don't back our project, get involved by telling your friends!
Help us get the word out! Share this campaign on your social media with the link provided above
Thank you!